What is a real-time chat?
Live chat is a tool for immediate communication with your website visitors. Real-time chat can provide convenient answers that customers want, while also adding significant benefits to the staff and the bottom line of your company. Live Customer Chat builds customer's confidence while shopping and increases overall customer experience.
Did you know that: " 63% of customers are more likely to return to a website that provides Live chat? "
Adding a human factor to your website while real-time chatting with your customers can be a game-changer.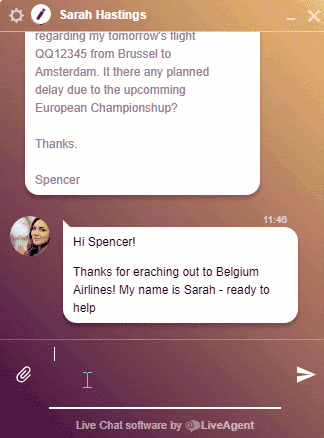 Business benefits of Live Chat:
Affordable
Real-time convenience to visitors
Increased customer satisfaction
Competitive advantage
23% increase in conversions on average
Improved customer experience (CX)
Fewer phone support expenses
User friendly
LiveAgent's Real-time chat functions:
Invite Agent to Chat
While you're having an active Chat session with a visitor you can invite your colleague to help you. For example, with an issue, you are not sure how to solve it. You can invite as many Agents as you need to the Chat. Invited Agents can directly send chat messages or write notes visible only to another Agent.
Chat simultaneously with multiple customers
Easily switch between tabs in customer service software and effectively deal with customer inquires.
Mobile Live Chat
Another great feature of LiveAgent's online chat software is that you can easily provide live chat support on the go. LiveAgent has both Android and iOS live chat mobile app. Always be available to chat through LiveAgent's live chat mobile and gain an advantage over competitors.
Notes in chat
You can easily add a Note to your Chat (note is visible only to you and other Agents).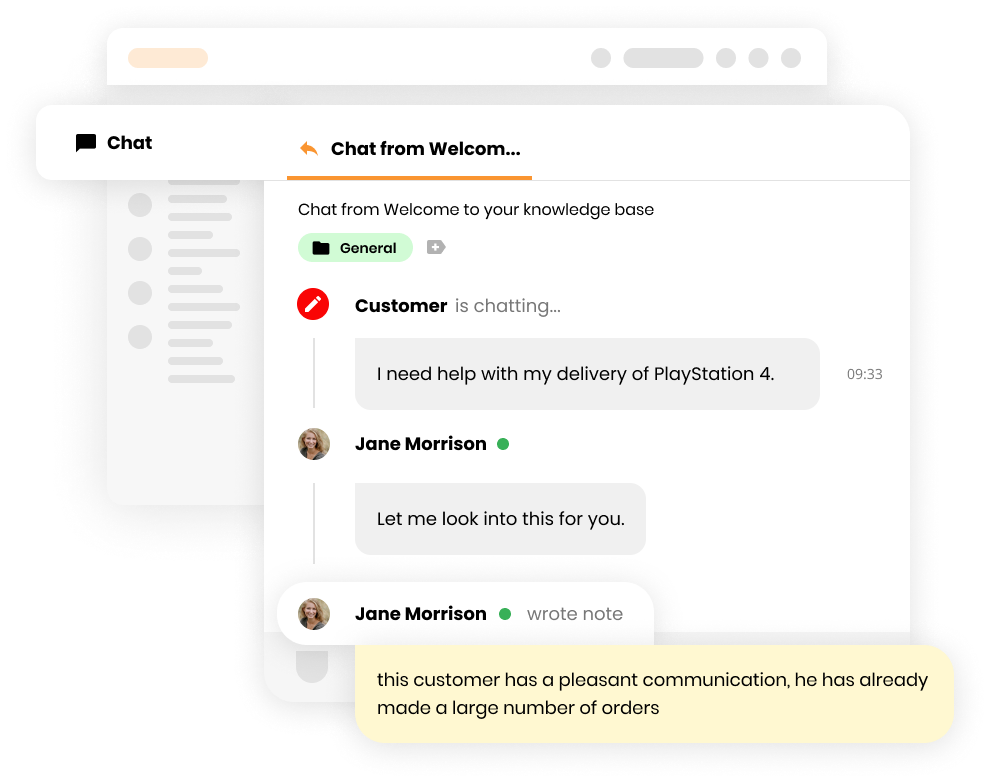 Drag & Drop Files to Chat
Let customers easily submit files while chatting with your support representatives. Make the whole process easier and faster.
Chat Feedback
Avoid delivering poor customer support by letting your customers rate the responses and answers of your customer support Agents. Reward your best agents and support those that are underachieving at the moment. Identify negative trends in your customer support and act accordingly.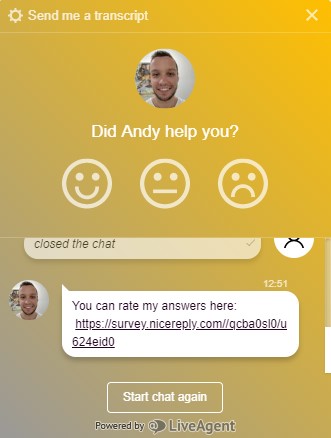 Automatic Live Chat Invitations
Engage your website visitors by inviting them to real-time chat with your Agents. Setup Chat invitations for custom URLs on your website (e.g. your pricing page).
If you would like to learn more, read Proactive chat invitations.
Easy integration
The simple system makes it easy to create customized chat buttons that are easy to integrate into your website. Simply, Copy&Paste a small HTML code.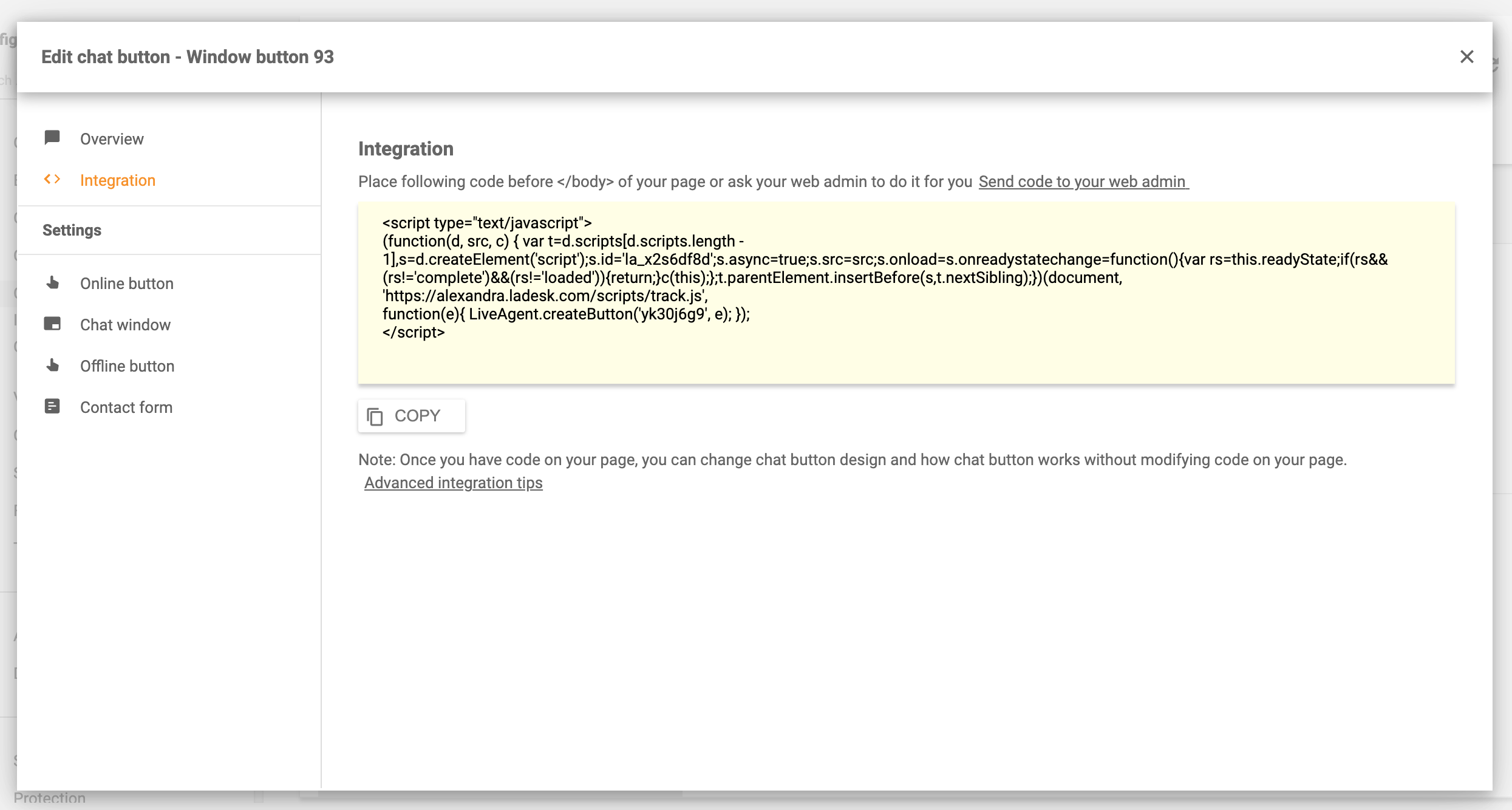 Pre-made Live Chat Buttons
LiveAgent provides various pre-made & customizable live chat buttons. Haven't found the right style for your online chat button? Don't worry, you can create a custom one by uploading an image or by writing your HTML code.
Check out all LiveAgent's customizable buttons – Live chat button gallery.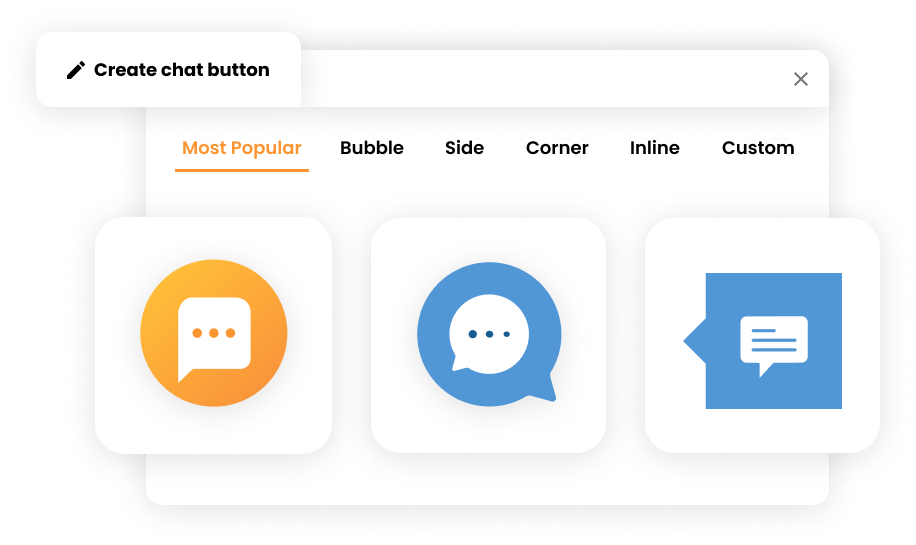 Try out LiveAgent's Live Chat Free Trial
Handle all customer inquiries from one interface. Start improving your live chat support with a 14-day free trial right away!
Live Chat Design and Setting options:
Live chat window design
You can choose a predefined Chat window from 4 style options:
Classic chat
Squared chat
Musho chat
Bubble chat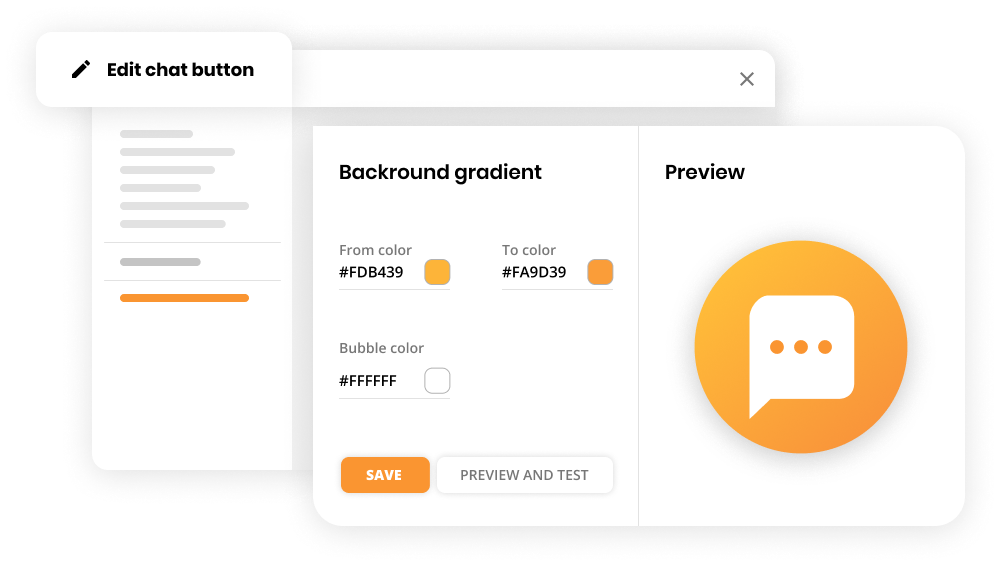 Define the size, position, and color of your Chat window.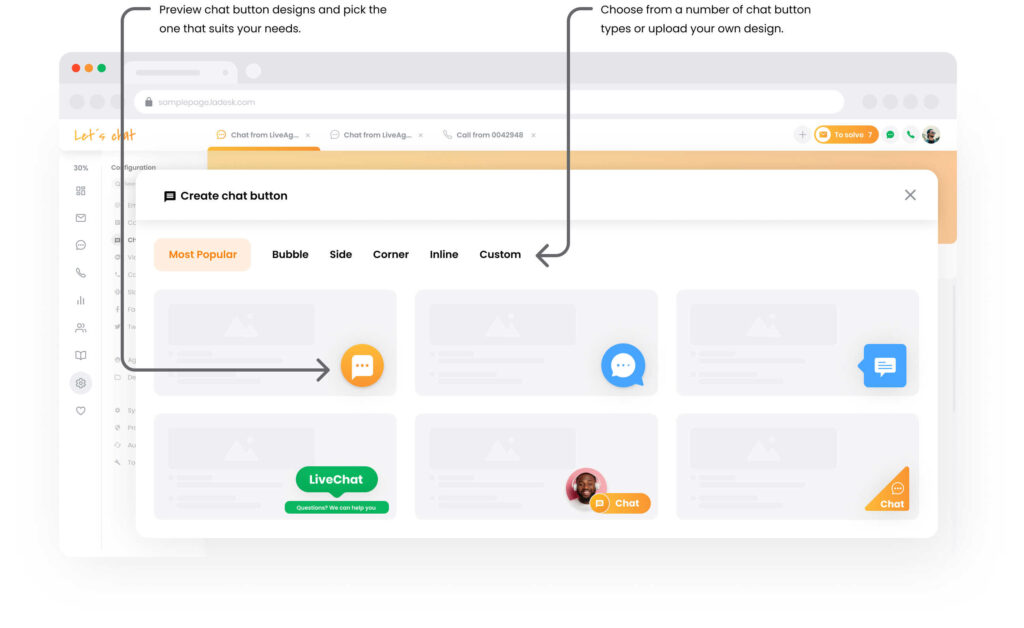 Possible changes in window design:
Title
Welcome message
Position
Enable pop-up window
Size
Border color
Button color
Status color
Agent message color
Visitor message color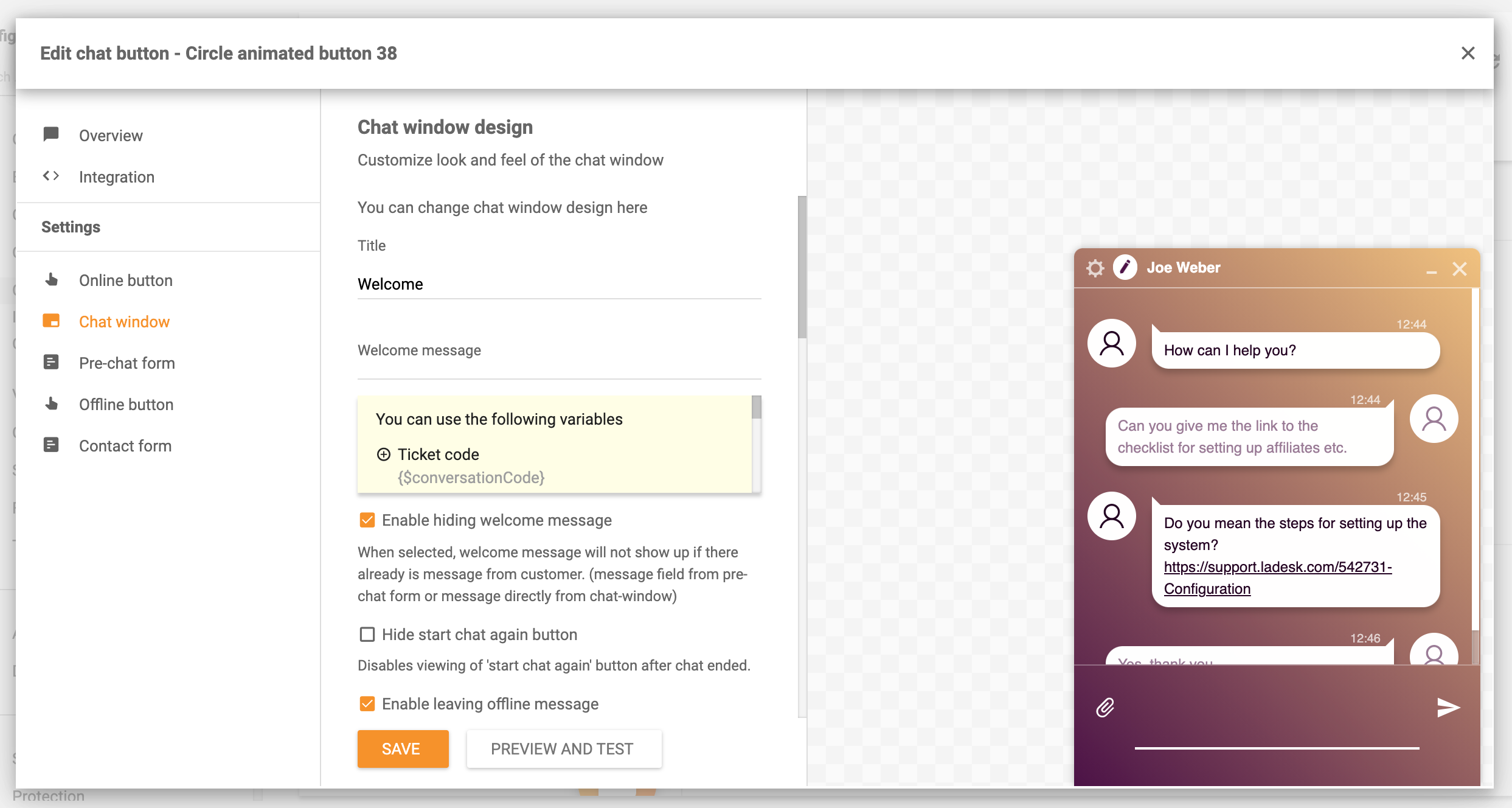 Furthermore, you can also define your custom CSS code to fine-tune the look and feel of each contact window.
Chat Settings & Routing
To ensure fast and accurate communication, LiveAgent assigns Chats to Agents who've had previous communication with chatting customers.
Besides random assignment, there are also 3 other options for advanced chat routing.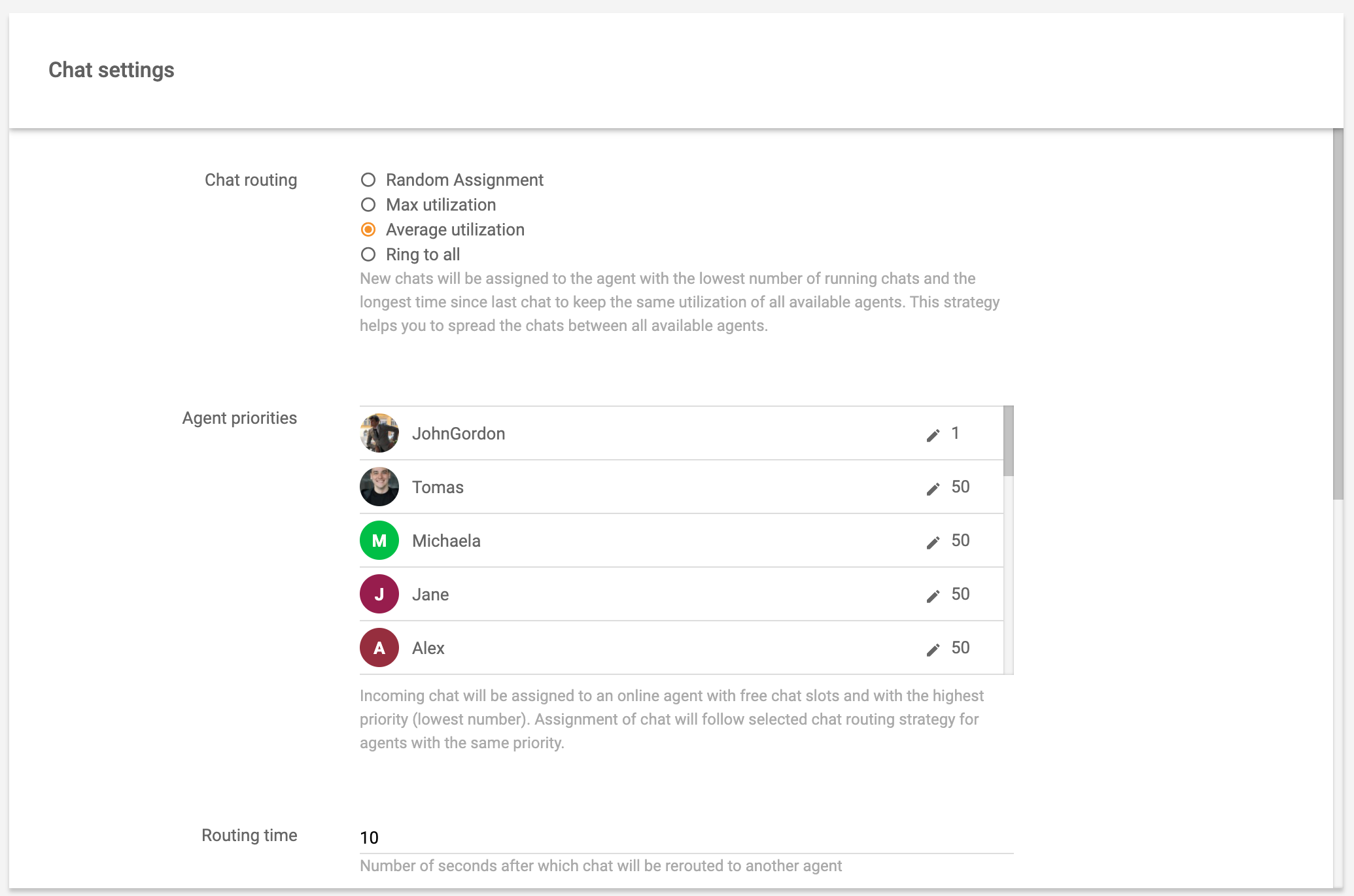 Random Assignment
New Chats will be assigned randomly to one of the Agents available for Chat. This strategy helps you to assign the same amount of Chats to each Agent.
Average Utilization
New Chats will be assigned to the Agent with the lowest number of running chats to keep the same utilization of all available Agents. This strategy helps you to load a balanced number of concurrent Chats between all available Agents.
Max Utilization
New Chats will be assigned to the Agent with the highest number of running chats to keep his utilization on maximum. Once the agent has no free Chat slots, a new chat request will be routed to the next available Agent. This strategy helps you to maximize the load of chatting Agents and let other Agents work on offline Tickets.
Ring-to-all
New Chats requests will notify all Agents available for Chat until one of them will pick it up.
How much does it cost to implement a live chat for my website?
LiveAgent offers a couple of subscriptions to choose from. If you are unsure which one is right for you, here is a 14-day free trial.
Live chat costs can differ based on how many agents your company has. LiveAgent is a complex solution, therefore includes more than a live chat. Find out more about LiveAgent's live chat pricing here.
Live Chat costs are displayed down below: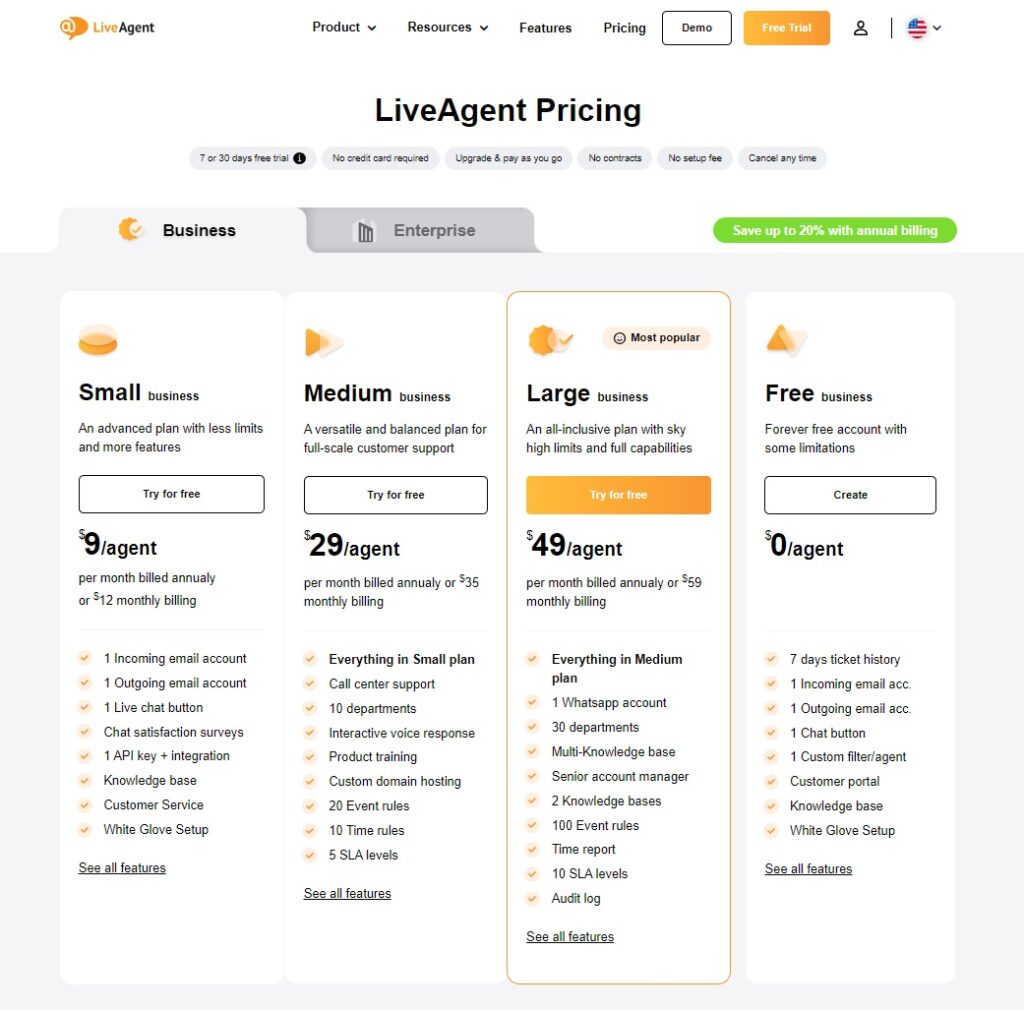 Knowledgebase resources:
Would you like to implement live chat support for your website?
Here is a step-by-step guide to integrate a Live Chat button into your website.
Would you like to know more?
Read 10 reasons to implement a live chat button.
Try out LiveAgent's Live Chat Free Trial
Handle all customer inquiries from one interface. Start improving your live chat support with a 14-day free trial right away!