What is live chat?
Live chat, also known as live chat software, is an online communication tool that allows you to chat with your website visitors in real-time. Instead of calling or emailing your business, website visitors can chat with your customer support agents on your website.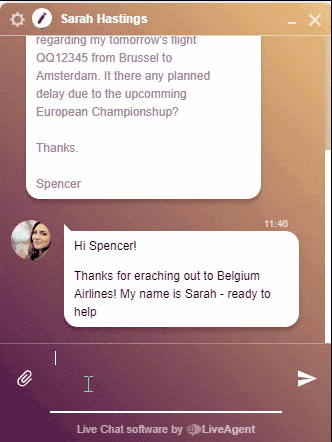 Live chat communication is completely browser-based. To start a chat, website visitors need to click on a chat button. The button is usually placed in the bottom right corner of a website. Generally, live chat buttons pop up proactively while users are browsing a website. This ensures that website visitors are aware that chat support is available if they need it.
What functionality does live chat have?
Every live chat software has different functionality. Some are part of a larger software called help desk software while others are purely live chat tools.
Essential live chat functions include a saved transcript history and proactive chat invitations. Most live chat tools also provide offline forms, chat routing, and canned messages. They also support file sharing and chat button customization options.
Live chat and ticketing software go hand in hand. When a customer and customer support agent initiate a conversation through live chat, it automatically creates a ticket.
Advanced chat tools also provide agents with a real-time typing view. It provides a preview of what the customer is typing into the chat box before they send their message.
Who uses live chat?
Live chat software is used by both website visitors and customer service agents.
Website visitors tend to use live chat to ask questions while shopping. They also use it when they can't find the information they're looking for on your site.
Customer support agents respond to the chats that are initiated by website visitors. Support agents can also initiate chats with the help of chatbots and automation (through proactive chat invitations.)
Why do businesses use live chat?
Businesses use live chat as a communication channel for their customers. Most customers aren't willing to talk on the phone or wait a long time for an email response.
Live chat is a great alternative because it allows your customers to get almost immediate answers to their questions. They can chat from the comfort of their homes and multitask at the same time.
Businesses also use live chat to show their customers that they're available to help. They do this through proactive chat invitations that prompt customers to ask questions.
It's also great for increasing conversion rates and lowering operational costs. It's also proven to improve customer satisfaction.
Convert website visitors to customers in seconds
Live chat can boost conversion rates. By supporting your customers in real-time you can help them make up their minds while they shop. They may have questions about the items they want to buy, and if they can't find answers, they're likely to search for alternatives.
By providing almost immediate answers, you can convert website visitors into paying customers.
Lower operational costs
Because live chat support is almost immediate, ticket resolution times are shorter. As a result, agents can respond to more queries in a shorter amount of time.
This decreases operational costs for your support team and saves you a significant amount of money in the long-term.
Ensure higher customer satisfaction
Customers are impatient and want immediate answers to their questions. Paired with knowledgeable agents and personalized service, live chat can improve customer satisfaction.
In fact, research suggests that 82% of customers are satisfied with their live chat experience, compared to just 61% of email users and 44% of phone users.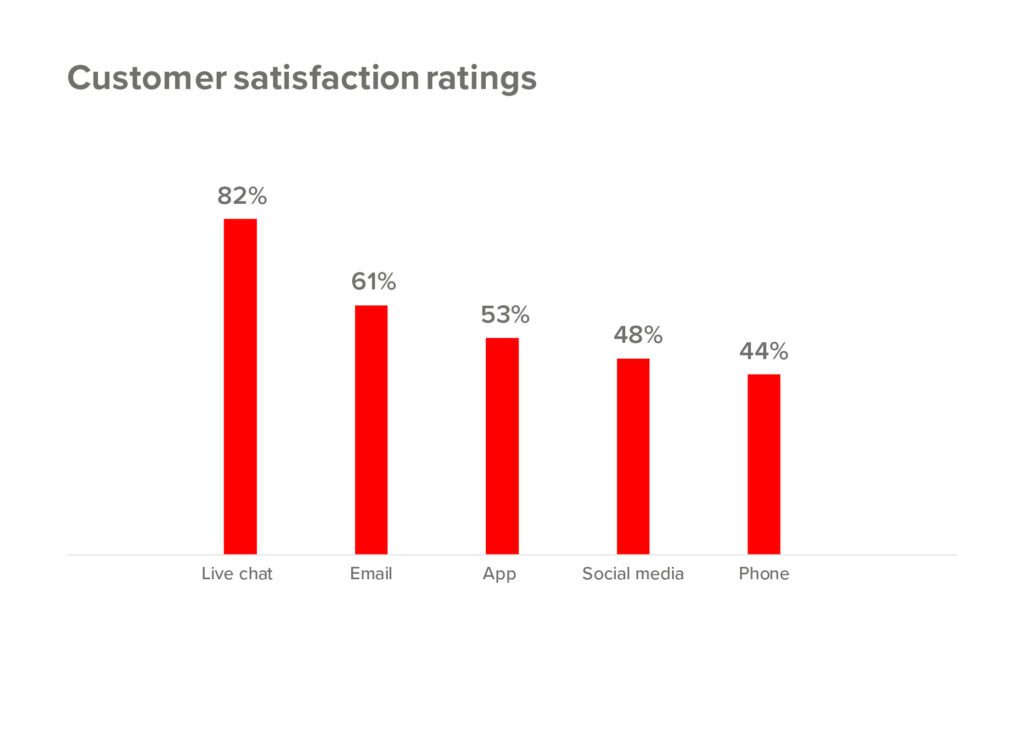 What problems does live chat solve?
Live chat helps businesses reduce abandoned cart rates, improve conversion rates, and improve response speeds.
Abandoned carts
Customers abandon carts for many reasons. Oftentimes, their questions go unanswered or the buying process is too complicated. As the customer gets stuck, they abandon their cart and look for an alternative.
By using live chat customer service software, you can address your potential customer's concerns and provide assistance in real-time.
If a customer tries to contact you on live chat outside of business hours, they can still get an answer to their question at a later time.
By utilizing offline forms, you can receive live chat questions from your customers, and respond to them from email. This reduces customer effort, as it allows your customers to contact you without having to exit your website.
Low conversion rates
Why don't website visitors take the final step to become a paying customer? Why do they view the pricing page of your website just to abandon it?
Because they're not convinced or lack information. With proactive chat invitations, you can reach out to wavering potential customers. You can answer any questions they may have in real-time and push them through the sales funnel.
Alternatively, you can place chat buttons across your website so potential customers can reach out to you on their own.
By placing them on your website, you're showing your customers that you're ready and available to help them as needed.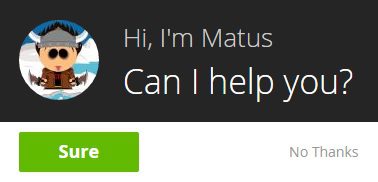 Long resolution times
Live chat can speed up resolution times for two reasons. First, it provides almost immediate responses, and thus queries are resolved quickly.
Second, agents can respond to multiple chats at once. This means customers can have their queries resolved at the same time without having to wait.
Benefits of using live chat
Live chat is a must-have tool. Here are the biggest benefits that it can bring your business:
1. Reduce expenses. According to research by Forrester, live chat customer service is 17-30% cheaper than phone customer service.
2. Increase sales. Live chat can increase revenue per chat hour by 48% and increase conversion rates by 40%.
3. Improve loyalty. According to Oracle, 90% of customers said that seeing live chat on a website gives them confidence in the legitimacy of the business. It also makes them feel like the company is more prone to help with any problems that may arise.
4. Discover customer pain points. Live chat gives you a unique insight into customer problems and thus can help identify areas of improvement. For example, if multiple customers contact you about an issue that they have with your product, it could indicate that it is faulty. As such, you might need to revisit quality control, and take other appropriate actions.
5. Faster problem resolution. Live chat allows customer service agents to reply to multiple chats at once, and thus improves resolution times and decreases ticket loads.
6. Improves customer satisfaction. Live chat is convenient to use, and thus improves customer satisfaction. Customers no longer have to wait hours on end for answers to their questions. They can multitask while chatting, and receive responses almost immediately.
7. Competitive advantage. Many businesses are underestimating the power of live chat. Don't be one of them! Having live chat on your website could be the deciding factor for many customers when they're on the fence about who to buy from — you or the competition?
How can live chat help you? 3 use cases you can put in practice today
Live chat can be used for customer support, marketing, and sales.
If used right, live chat can be a great tool for lead generation. You probably have thousands of website visitors browsing your site every day. However, most of them exit your site without taking any action.
With live chat, you can start engaging with your website visitors instead of waiting for them to take action. Even if your website visitors engage with you via live chat just for a few minutes, you can still manage to collect their contact information.
This can be used later on to send out a satisfaction email, that can potentially re-engage them.
Live chat for sales
Research shows that when customers engage in a live chat conversation on a seller's website, they're 82% more likely to make a purchase and also spend more money.
Why? Most customers have doubts whenever they're shopping. They need reassurance to know that the product is right and will help with their pain points. When they get the reassurance by engaging in a chat with a support agent, they feel like they can trust the business, and on average spend 13% more.
Live chat also gives you the chance to upsell. If you send out a pro-active chat invitation before the customer has a chance to make their purchase, you might be able to sell them additional products such as extended warranty, for example.
All this combined shows you how your business can use live chat for sales in order to turn potential customers into actual customers and therefore increase your profits.
Live chat is a great alternative to customer support via phone calls, emails, or social media. Not all customers like to wait on hold or wait for an email reply.
The modern customer is busy and impatient. They have things to do and places to be. Thus, live chat is a viable option. It lets customers multitask, and receive almost immediate responses to their questions.
As such, chatting in real-time is the preferred customer service option for over 41% of customers. However, not all businesses provide it. This is where you can gain a competitive advantage over your competitors.
Great customer service doesn't mean that the customer is always right, it means that the customer is always honored.
How to choose a live chat software
Write down your requirements
Choosing the best live chat solution for your business can be a challenging task. As with any purchase, it's important to write down your requirements. You should write down which problems you need to solve, and which functions can help you do so.
Why? Because live chat software is a versatile tool. No single tool is alike. Some are standalone solutions, while others are a part of more complex solutions such as help desk software.
Our suggestion is to cut down the number of tools and software you use. Why? Because of three reasons.
1. More incurred costs.
2. More tools = more logins, which means greater security risks.
3. More tools = more switching between apps, which is inefficient and unproductive.
Thus, our suggestion is to opt for a chat software that is a part of helpdesk software, however, that is up to you.
Research different tools online
There are many live chat service providers on the market to choose from. Once you've written down your requirements, you can start researching the providers and their software. Take advantage of different review websites (G2, Capterra, Software Advice, Trustpilot, GetApp) and portals (Product Hunt) to get an idea of how each software works.
Review user testimonials, user-friendliness, customer support, pricing, ease of use, and functionality.
Request a demo or try a free trial
Once you've narrowed down to a few software that you want to use, it's time to either book a demo or request a free trial.
Why either? It depends on your learning style. If you'd rather figure things out on your own, a trial will be the better option for you. If you'd like to be walked through the setup and functionality, a demo is better.
If you've opted for a free trial, set up the live chat on your existing website and see how it performs. Try customizing chat buttons, offline forms, and proactive chat invitations. If you have a different ticketing solution in place, try integrating it with your trial software. This will ensure that you can view chat transcripts and review them at a later time as needed.
If the free trial period is too short for you to make up your mind, request an extension. Most software providers will be happy to extend your trial in hopes of converting you into a paying customer.
If you've opted for a demo, take notes and pay close attention to the use cases presented by the sales rep. If they don't align with your goals, ask them how they can help you with your pain points.
If you're satisfied with the responses, the presentation, and the service, you should try a free trial. This will give you a chance to familiarize yourself with the software, to see if it's a good match.
Once your free trial is over you can ask to extend it or upgrade to a paid plan.
Terms related to live chat
Chat Support Chat Service Chatting Apps Customer Service Tools Canned Response Chat Button Chat Software Chat Tool Conversation First Response Time Free Web Chat Free Chat Client Free Online Chat Instant Chat
Try LiveAgent Today
LiveAgent is the leanest and fastest live chat software on the market.
Frequently

asked questions
What is live chat?
Live chat is a type of online customer service service that allows customers to talk to an agent in real time. It allows for quick problem resolution and customer support. This brings customer service to the next level and ensures customer satisfaction.
Why is live chat beneficial?
Live chat allows for quick response to customer needs. By solving the customer's problem in real time, we increase the chance of conversion, and also build customer satisfaction with contact with the company. In addition, it allows you to automate the activities of the customer service team, as well as increase the efficiency and comfort of agents' work.
How does live chat work in LiveAgent?
Live chat is one of the core features of LiveAgent. It allows you to chat with clients in real time, the chat button is fully configurable and easy to implement, so it is easy to invite a website visitor to chat. The chat can be customized according to your needs and the buttons can be animated. Thanks to the chat, agents also have access to information on which pages were viewed by the recipient and for how long, as well as collect chat history, which can be a source of information about customers and an answer to the question of how to solve the case.
How to add live chat to a website?
Setting up a live chat on your website is simple. All you have to do is pick a provider and sign up for their service. After signing up, you choose a chat button of your liking from the template gallery and copy-paste its HTML code into the body of your website. Once you've done that, you can customize your button, set up forms, rules, and enable chatbots to maximize your live chat efficiency.
What is live chat support?
Live chat support is real-time support provided by customer support agents. Customers can chat with agents on a business website without exiting their browsers. Instead of calling or emailing a business, customers can chat, send files, photos, and GIFs.
How to automate live chat?
If you want to automate live chat you can do so using: 1. Pre-chat forms. Pre-chat forms enable you to gather important information from your customers before the chat begins. This allows you to route the chat to the most appropriate agent. 2. Canned messages. Canned messages pre-made answers to frequently asked questions. When a customer asks a question, simply click on the canned response you want to use. This saves agents time and decreases operational costs. 3. Chatbots. Chatbots are AI (artificial intelligence) programs that can chat with customers and execute simple requests.
What are the main features of live chat software?
A good live chat software should have the following features: 1. A real-time typing view, that lets you see what your customers are typing before they even send their message. 2. Canned responses that speed up response times. 3. File sharing including photos, documents, videos, links, and GIFs. 4. Chat transfers and routing to appropriate support agents. 5. Chat history and archives that allow you to review what was said in each chat. 6. Pre-chat forms that allow you to gather important customer information before the chat begins. 7. Offline forms that allow users to message you on live chat outside of business hours. 8. Pro-active chat invitations that pop up on user's screens and prompt them to chat with you.
How to find previous live chat?
If you want to have access to old chat transcripts and chat history, make sure your software offers a ticketing system as well. If it does, all of your past chats will be saved in the form of a ticket and can be viewed at any time inside your software's dashboard.
How quickly do you need to respond to a live chat?
If you want to provide excellent customer service you should respond to live chats in under 3 minutes. On average, companies take 2 minutes and 40 seconds to respond to an initial chat message.
How to set up WP live chat support?
The first step to set up live chat support on your WordPress site is to find a live chat software provider. Once you've picked a provider, download their WordPress plugin inside WordPress. To do this log in to your WordPress site and click on Plugins in your admin panel. Click Install a new plugin, and search for your chat provider. Once you find it, click Install Now and Activate Plugin. Log in to your chat software, select the chat button you like, and copy its HTML code to the clipboard (Ctrl + C). Head back to WordPress. Click your provider's plugin and paste (Ctrl + V) the chat button code inside the Button Code box. Click save, refresh your website, and your live chat will be ready to use.