What is PipeDrive?
PipeDrive is an easy to use CRM (customer relationship management software) that allows you to manage leads and deals, and also lets you track communications, and automate workflow.
In addition to that, PipeDrive gives you insights into your sales people's performance and allows you to generate reports based on the data in the pipeline.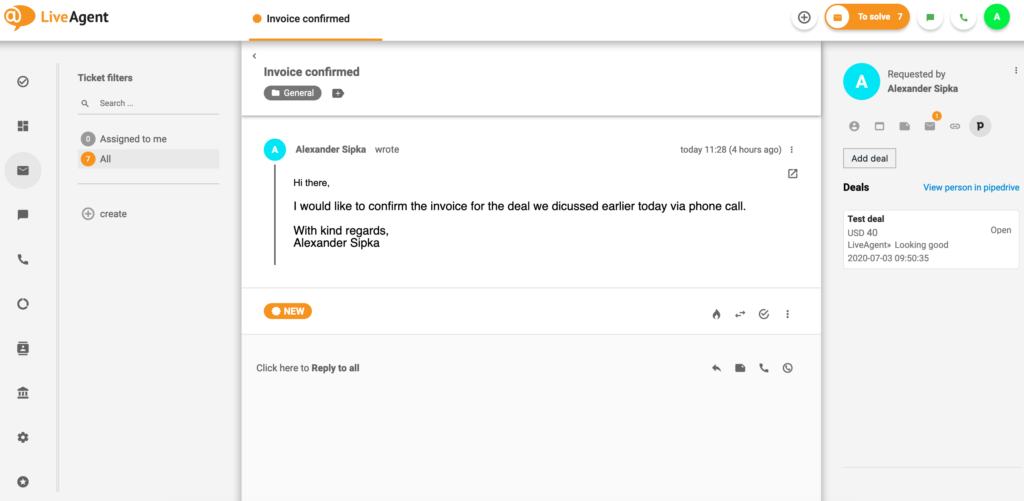 How can you use it?
Using PipeDrive is important for sales teams because it allows them to manage and track the progress of their deals and leads through an intuitive dashboard.
Additionally, PipeDrive users can also store important lead information such as contact information, service level agreements, and deal values in their pipelines.
Users can also utilize a feature that syncs all lead communication with the software, allowing team leaders to keep an eye on all activity and progression.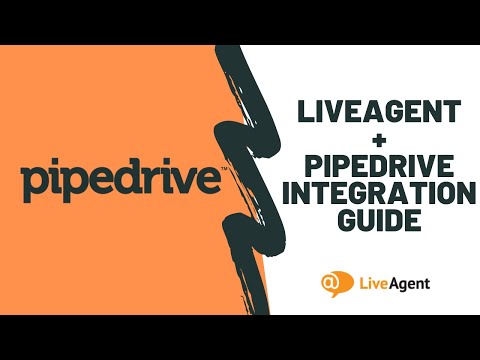 Benefits of connecting PipeDrive with LiveAgent
When you activate your PipeDrive plugin in LiveAgent, you will be able to register new deals and get instant access to information about existing deals pertaining to the customer you're assisting within your LiveAgent dashboard.
When LiveAgent connects your PipeDrive account, it will run background checks on PipeDrive deals, their statuses, and values. All this information will be shown in the PipeDrive widget that is displayed in your ticket info panel. By using this plugin you can view and register PipeDrive deals directly inside your LiveAgent account while communicating with your customers.
Use cases and best practices
Once you click on the PipeDrive icon in your LiveAgent ticket detail panel, you'll be able to:
Register new PipeDrive deals in LiveAgent
View all registered deals pertaining to the customer that you are assisting

In essence, LiveAgent's PipeDrive integration saves you time and makes you more efficient. By having this information at your fingertips right inside of LiveAgent, you can easily determine when is a good time to upsell a customer or offer a discount.
How to integrate PipeDrive with LiveAgent
The activation of a native integration is simple. Open your dashboard and go to Configuration > System > Plugins and find PipeDrive Integration v2. Click on the activate switch and LiveAgent will reload after this.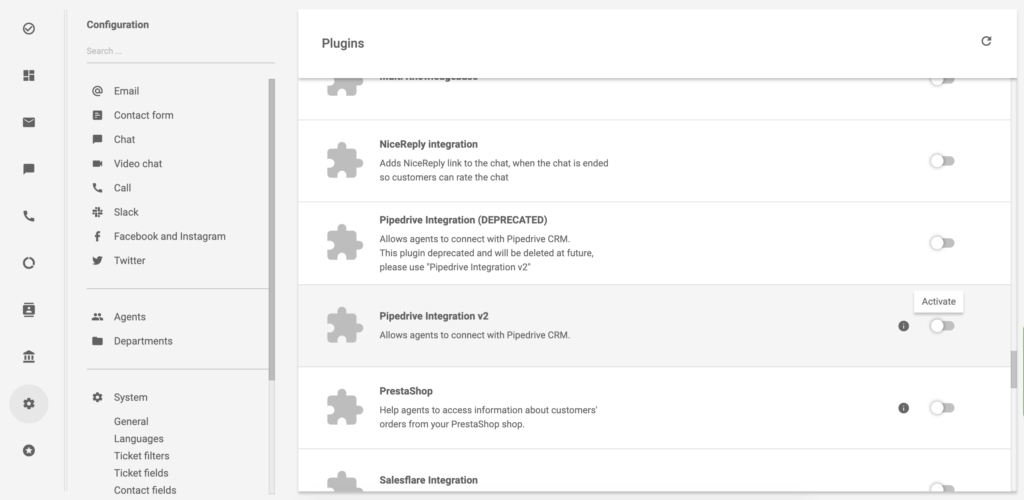 Now find the active PipeDrive Integration v2 and click on the info icon next to the switch. Click on the PipeDrive logo. An install prompt will open up so click on Allow and Install.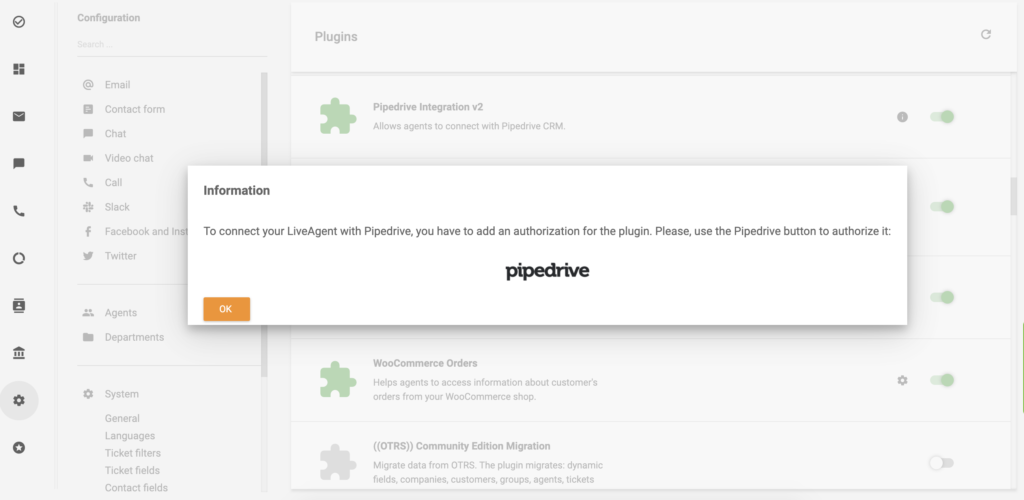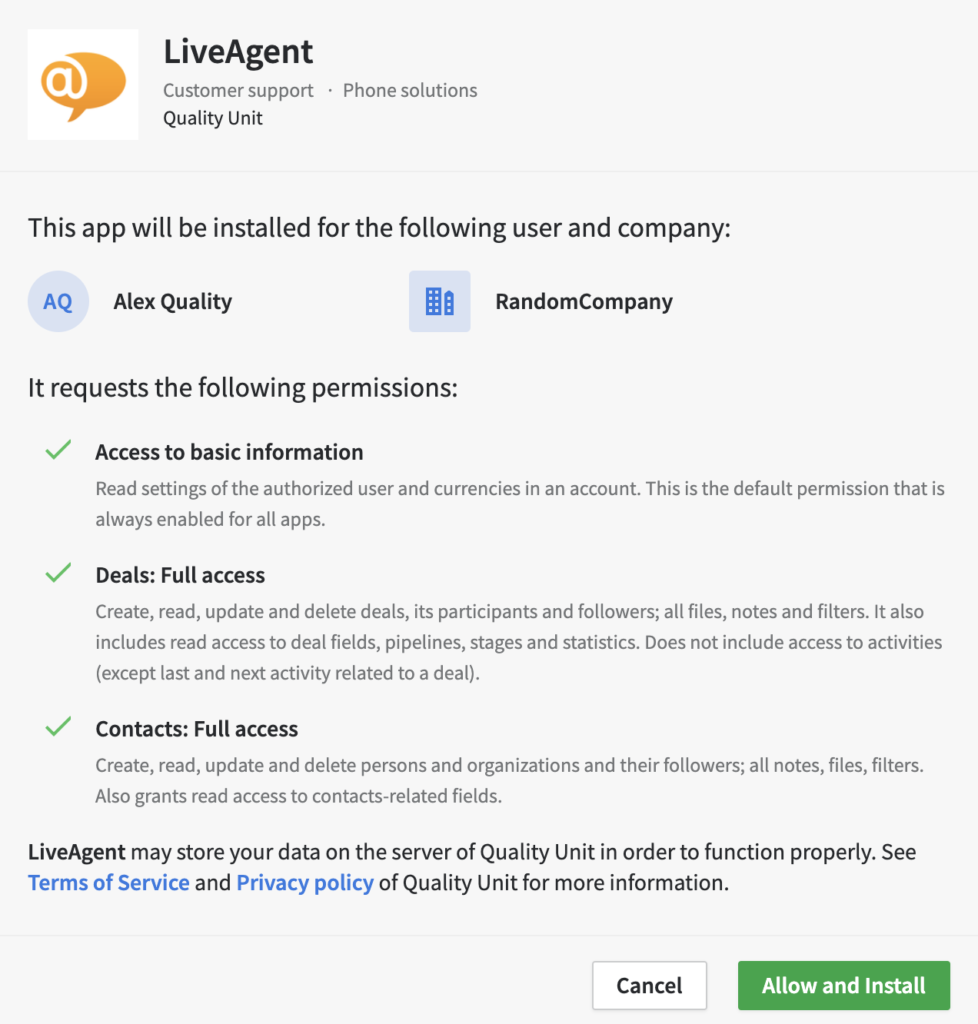 That's it, the integration is active and you can see it in your ticket info panel. Open it and find the active integration in the right panel.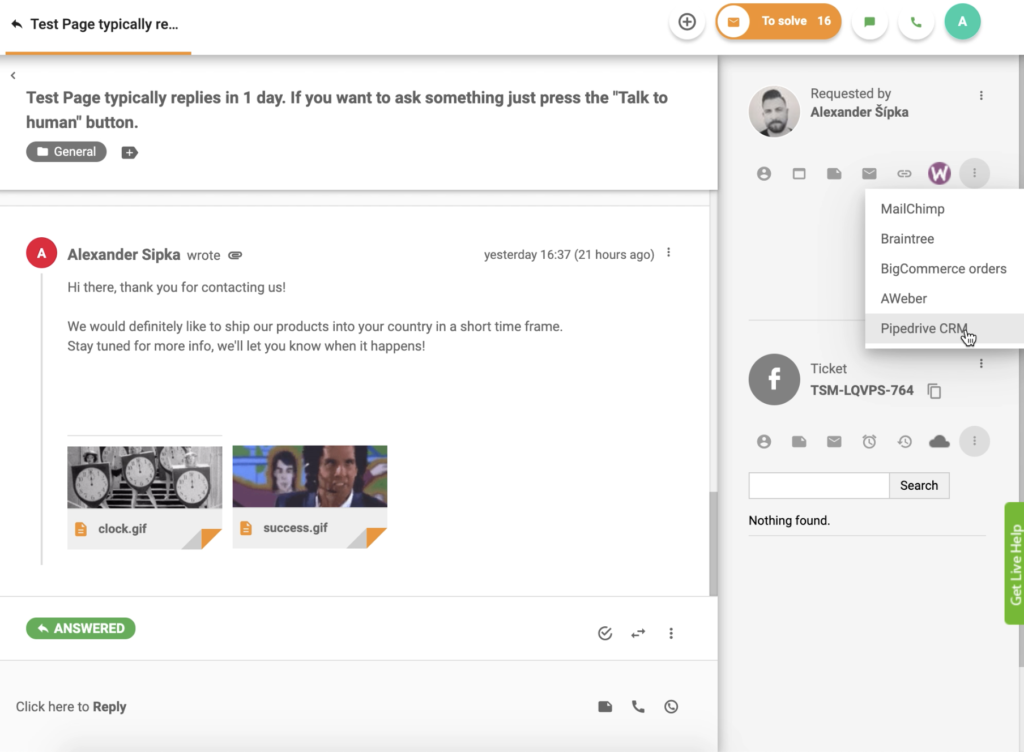 You can view, add, or edit deals from your dashboard.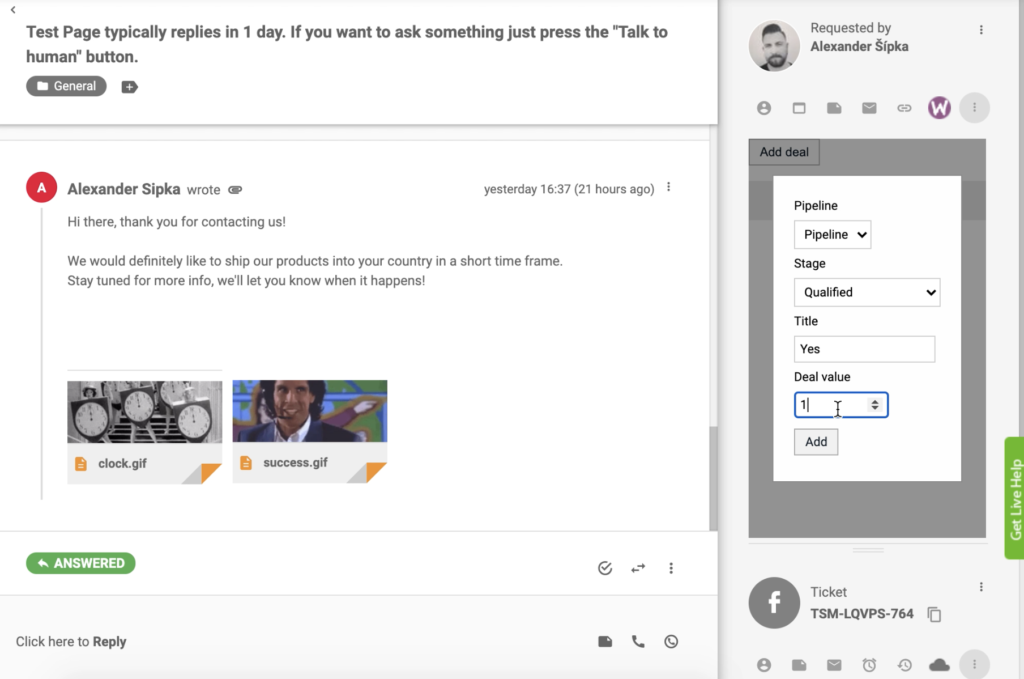 How to integrate PipeDrive with LiveAgent via Zapier
You can also try an integration via Zapier service. Zapier connects two apps to create various kinds of integrations that can help you improve your workflow. In case you don't have an account, create one at this link. Then go to the LiveAgent + PipeDrive integrations page.

Scroll down to the Connect LiveAgent + PipeDrive section. You can combine multiple choices here, so consider what you want your integration to do. A trigger on one app will activate an action in the second app, creating an integration.
We're going to show you an example with the options PipeDrive's New Deal and LiveAgent's Create Conversation. Your setup might differ from this guide but it generally stays the same except for a few detailed fields no matter what options you pick. When you're done selecting, click on the blue continue button.

The first part of the setup is easy. You just need to log in to your PipeDrive account, confirm the selected trigger and test it.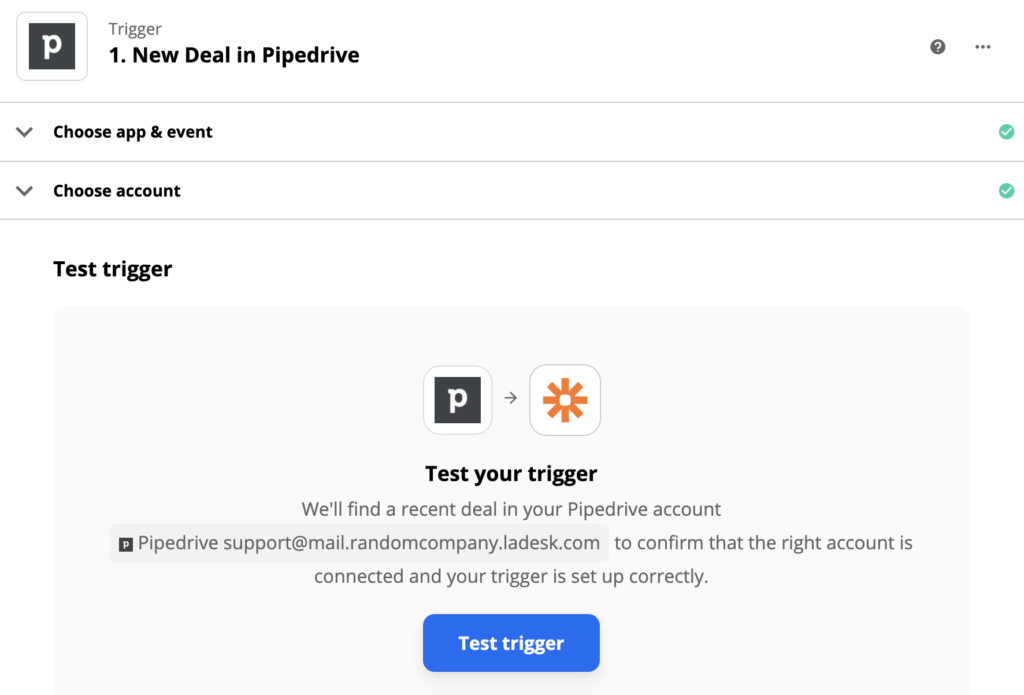 Log in and confirm the action. The setup in our integration requires us to fill in the recipient and sender email addresses, email subject and the body of the message among other fields. There are also some non-required fields but you can opt to fill them out to specify the message. Continue and test the integration when you're done.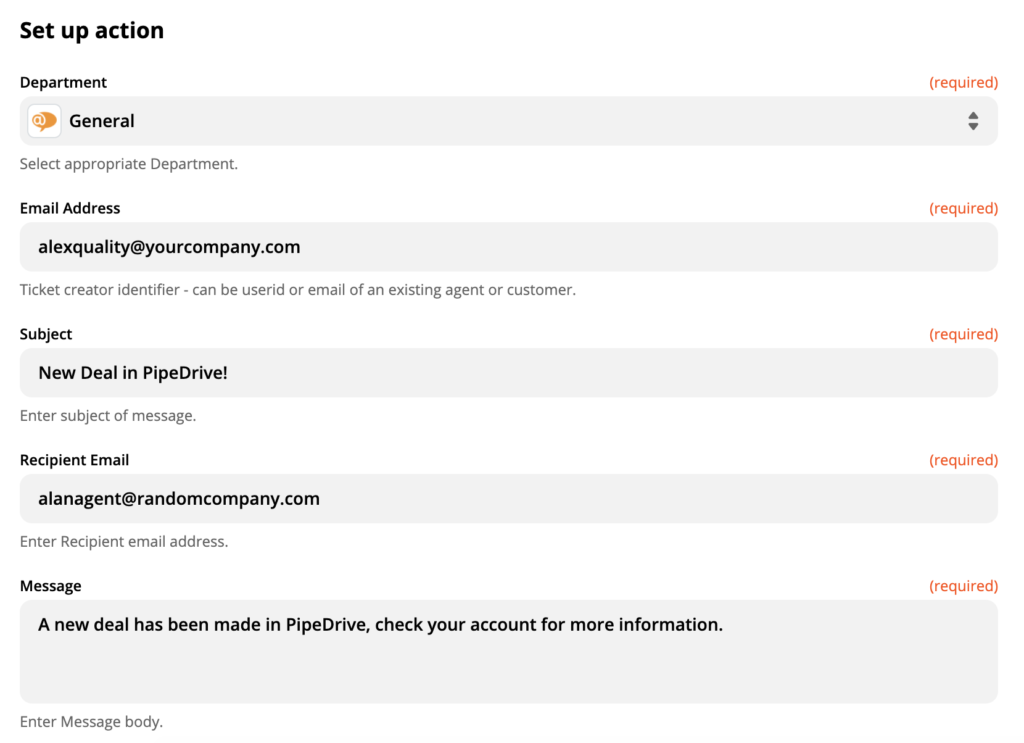 That's it, the process is done and your integration will be active when you turn on the Zap. Check your LiveAgent for new messages from PipeDrive.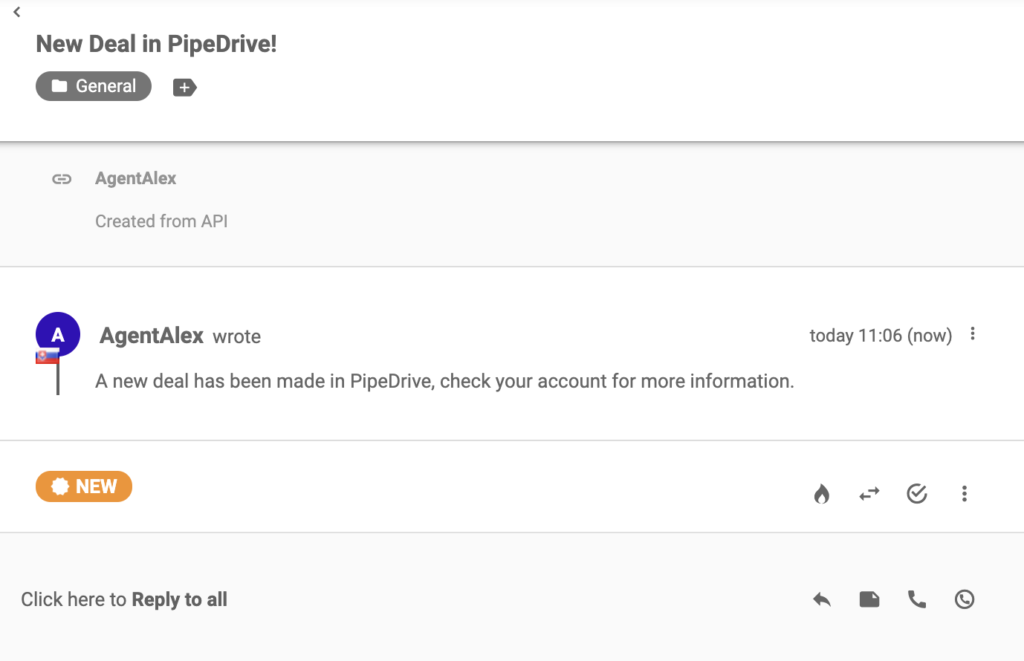 Frequently

asked questions
What is PipeDrive?
PipeDrive is a Customer Relationship Management system. The whole concept was developed from the salesperson's point of view. It gives you data about your leads, performance, and more.
What are the benefits of using PipeDrive with LiveAgent?
The benefits are: efficient workflow, improved CX (customer experience), better customer relationships, competitive advantage, saves time (no need for switching between interfaces).