Every company that strives to provide excellent customer service should offer their customers self-service options like a customer portal, knowledge base, robust FAQ library, agent forum, and community forum. Customers will surely use these tools, appreciate the opportunity to look for information on their own, and take advantage of the possibility to consult with others about issues they may face while using your product or service.
Thanks to an online knowledge base and customer portal, users can check pre-existing assets like product articles, tutorials, or technical tips. They can also ask questions using a forum where they can discuss various topics with other users and your company's representatives.
In this article, we want to discuss the role your representatives play in the daily operations of a customer portal and a knowledge base companies use. Their duties should include:
Facilitating discussion
Providing links to assets that will help users solve product-related problems
Answering tough questions cohesively
We are well aware that dealing with non-standard questions and cases always requires more work and is trickier than following basic procedures. That's why we created a few examples of knowledge base answers that your agents can use when answering questions related to a price reduction or increase, discussing negative experiences customers had with your company, or conversations that resulted in conflict between knowledge base users.
How to answer challenging questions asked via a knowledge base
Joining the conversation when users discuss price reduction, sales, or price increases
Hello [user's name or users' names]! Thank you for starting this discussion. We really value the opinions of our customers, but we also want you to understand certain actions taken by [company's name].
This [price reduction/increase/sales] was caused by [list of reasons for the specific situation].
We didn't make this decision overnight, and it was preceded by a thorough analysis and consultation with some of our clients, who were selected at random.
We hope you understand [company's name] reasons. Please note that we are open to having conversations with you about this and can continue this discussion further. We want to hear you out!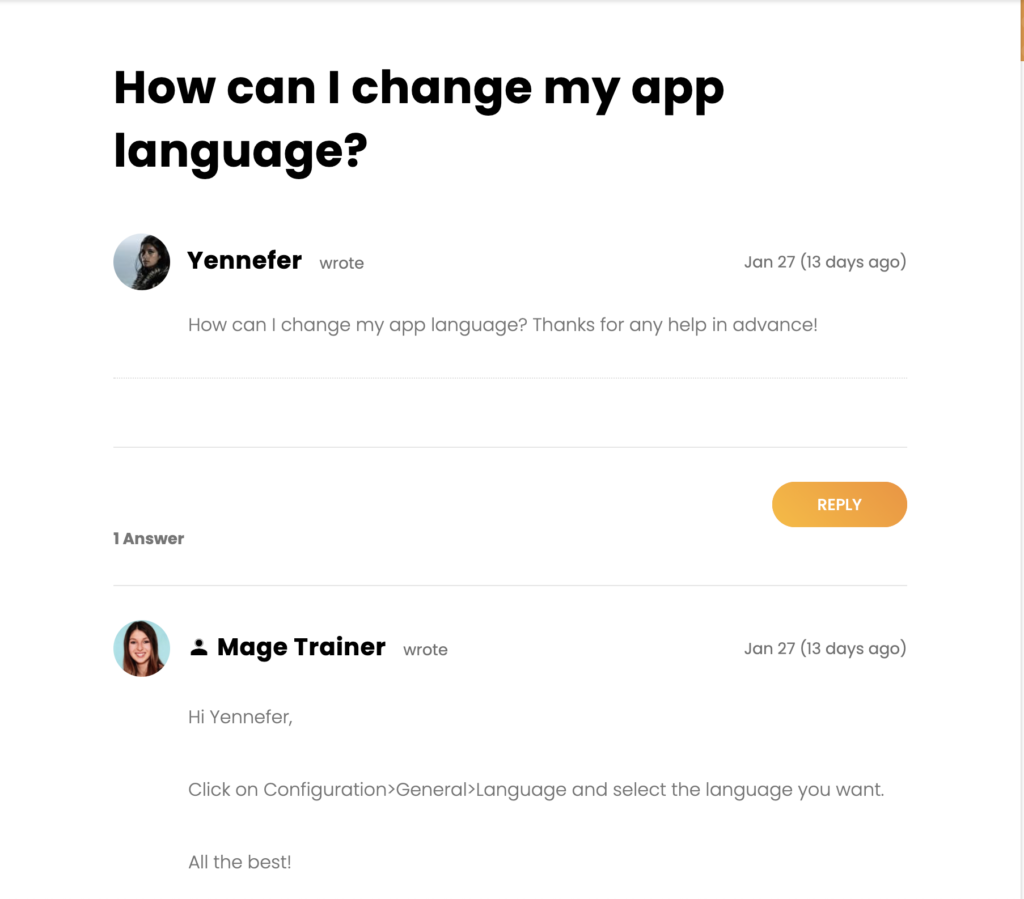 Joining the conversation when users discuss negative experiences or discuss alternatives
Hi [user's name or users' names]! We appreciate the fact that you decided to discuss your experience of [negative experience the customer mentioned or the alternative discussed] openly on our forum.
This gives us a chance to react and creates a field for discussion. It would be really helpful for us if you could provide us with some more details about [negative experience/alternative]. [When exactly did it occur? / What was the most frustrating aspect for you? / What features does this alternative tool provide that we don't? / What makes this alternative more attractive than our product or service?]
We genuinely want to offer our customers the best possible [experience/product/service], so we can assure you that we will act upon the information you provide us with.
Looking forward to continuing this discussion with you!
How to resolve possible conflicts between knowledge base users
Hey there! We appreciate the fact that you use our knowledge base regularly and want to share your opinions and thoughts.
However, this portal operates based on some clear [terms and conditions/internal rules/regulations].
It's not a place for aggressive debates, arguments, or, even worse, discussions that lead to insulting other users.
That's why I need to ask you not to continue responding to this thread. Also, if you plan to engage in any other discussions, please do so according to our rules.
Let me summarize the outcome of your conversation: [summary – listing the essential points from the thread that were written before the argument started].
Now that the issue has been summarized, this topic will be closed and you won't be able to add new comments. I hope you understand this decision.
Ready to answer some challenging questions?
LiveAgent gives you the power to design your own customer email templates, thus helping you to improve the customer service. Curious about all the opportunities?
Frequently

asked questions
Should customer service agents or knowledge base moderators engage in every conversation?
No, there's no need for your representatives to engage in every conversation or discussion on customer forums or within a knowledge base. A knowledge base is referred to as a "customer self-service tool" for a reason. It should be organized in a way that empowers customers to look for information and educate themselves mostly independently. When they want to consult about something or ask for someone else's opinion, they can start a thread and interact with other customers or users.
Your representatives should facilitate these processes and engage only when they notice that customers can't find the information they are looking for, other customers are providing wrong or misleading answers, or if a discussion goes in the wrong direction.
Is it worth creating basic rules for using a knowledge base?
Yes, it's always a good idea to write down rules or conditions that knowledge base users must follow in order to use the resources and information gathered there. Transparent rules will make it easier for your agents to manage the knowledge base and react to unwanted behavior. And remember that, without proper moderation, a knowledge base or customer portal, like any other resource co-created by users, may quickly become chaotic and turn into an unorganized mass of different threads and discussions.
Clear do's and don'ts will eliminate the number of cases where your representatives don't know how to react or are unsure whether they should engage in a discussion, intervene, or not. As a result, your knowledge base will be better organized and easier to use for your customers. You own your company's knowledge repository, which is why you have the right to impose some regulations and expect customers to obey them.
Is it acceptable to remove a user or customer who breaks the knowledge base rules multiple times?
As mentioned above, you own the knowledge base and let your customers use it, but everything that takes place there should be on your terms. To prevent situations when some customers constantly act in a socially unacceptable way, are rude, or start arguments, create a list of behaviors that won't be tolerated.
When creating knowledge base terms and conditions (or however you will name that list of do's and don'ts), highlight specific actions that will result in moderators intervening and, in the most difficult situations, in temporary bans or customers being removed from the forum. Do everything you can to communicate these rules to customers before they start using your knowledge base, then just make sure users follow the rules.