What is live chat software?
It is an online chat software that allows you to connect with your customers in real-time from anywhere. Live chat software not only enables your clients to contact you quickly and effortlessly but also gives you a competitive edge and allows you to create long-lasting impressions on your customers.
Types of live chat software
By far, the most popular and widely used is text-only live chat software. This type of live customer chat provides a casual chatting experience resembling messaging apps like Facebook messenger.
Other types of live chat software include video and voice solutions. They are usually not customers' most preferred way of contacting your business but they can be helpful when dealing with more complex issues that require in-depth explanations or video demonstrations.
It's important to note that many text-only live chat applications allow users to voice chat or video chat as well.
Features of live chat software
What are some of the main features and functionalities of such a chat solution? Let's have a quick peek at some of the features you may find the most useful.
Proactive message – It is a little pop-up window that initiates the interaction with your website visitors. It's a powerful tool for creating an engaging customer experience from the get-go.
Canned responses – Sending a pre-configured canned response saves time for both the chat agent and the customer.
Visitor tracking – This chat functionality allows you to gain deeper insights into your customers' behaviors as they move down the sales funnel.
Chat routing – Online chats can be routed to free agents as they come in, or they can be routed based on department, skillset, etc. This ensures that your customer support team isn't overwhelmed even on the busiest of days.
Real-time typing view – Being able to have a message sneak peek before the customer hits send allows you to increase your accuracy and response speed.
Pre-chat form – Create a custom form that allows you to gather visitor information upfront.
Mobile optimization – These days, mobile devices are all the hype, being able to provide prompt and accessible support is what increases customer loyalty.
Customization options – You can adjust the live chat widget according to your website design so it better represents your brand.
Reporting and analytics – You can study a robust amount of data like chat history, agent performance, visitor details, average time spent on chats and more. Much of this data is available via Google Analytics.
Chatbots – This is a type of software that simulates human interactions and answers simple customer queries. You can even implement an AI-powered chatbot that can better assist your clients using natural language processing.
Benefits of live chat software
Using a live chat app can dramatically improve your business performance while keeping your customers happy and engaged.
Why don't we look at the most significant benefits live chat service can bring to your business?
1. Customer experience – Your website visitors can have a highly personalized experience while messaging back and forth with a support agent. Companies seem more authentic and approachable when they talk to customers in real-time via live chat system.
2. 24/7 customer support – Site visitors can send a chat message even if none of the agents are online. You can configure your live chat to redirect them to a knowledge base or self-service.
3. Increased web conversions – Your sales team can pitch your products and services to potential customers then and there while keeping a relaxed, yet professional conversation in real-time.
4. Accessible and engaging – Customers don't need to spend time searching for your contact information. They can simply type their questions into a live chat and receive help immediately. Furthermore, you can have a multilingual chat widget that makes it possible for the customers to communicate in their native languages.
5. Builds relationships – Agents can observe customers' tone of voice so they can adjust to the situation. They can showcase more of their personalities and build trusting and helpful relationships.
6. Boosts productivity – While one agent can handle only one phone call at a time, they can easily chat with multiple website visitors. Combined with advanced features like canned messages or chat automation, you can further streamline your contact center's workflow.
7. Increased first contact resolution – The customer service rep can quickly answer questions from both new and returning users. There is no need to have long email threads when clients can get their queries answered right away.
8. Collecting data – Harvesting a huge amount of data allows you to make better-educated decisions about your products and services, as well as your sales and marketing strategies.
9. Low cost – Implementing a reliable live chat service is way more budget-friendly than setting up a call center.
10. It's your customer's favorite – Over 81% of customers are satisfied with the live chat solution.
Cost of live chat software for website
It's difficult to determine the average price of live chat software in general. It greatly depends on multiple factors like whether it is a subscription-based service, the pricing model of that particular solution, how many features it encompasses, etc.
However, we can conclude that, in general, you can pay anything between 16$ – 150$ a month per agent.
Pricing models of live chat software
Here are some of the examples of various pricing models that can be applied to website chat software.
Per ticket – you pay for each incident (ticket) that is generated when a customer contacts you via live chat
Per license – this model charges a subscriber for each user of the software
Per device – you pay according to the connected devices
Per agent – you pay for each agent that uses the service, e.g. paying for a month per agent
Per module – you will be charged based on the particular module you use
How to choose the best live chat software
First and foremost, write down what you want to use the live chat software for. Is it going to be your primary way of communicating with your customers? Will it be the driving force behind closing business deals? Make sure it is crystal clear what will be the main use case for the live chat software solution you'll adopt. Then you need to decide which option best suits the size of your business and whether it can be integrated into your other business applications. Also, don't forget to check for any limitations or features that the live chat software will not support.
Here are some of the strategies to help you decide which online chat option best suits your needs.
Support
One common question comes to mind. Will you be able to reach out for help when you need it? Having a reliable support channel is crucial for your live chat experience to be a positive one. With technology, things can go south really fast, and it's important that you have a quick reply and a helping hand anytime you need it.
Ability to scale up/down
As your business grows, the chat volume will inevitably grow with it. You need to employ a live chat software solution that you can scale up or down based on the needs of your contact center.
Software limitations
Some software options don't allow for much customization and some don't let you have advanced features like unlimited chat history, chat tags, or file sharing. It is up to you to decide where you are willing to put up with some inconvenience.
Collaboration options
How much of a collaborative experience can your team get? Can they transfer online chats between each other, share files, add tags visible to their co-workers, and communicate with each other seamlessly? Those are important questions you need to be asking yourself when choosing the live chat software for you and your team.
Integrations
We can't stress enough how important it is that the solution you decide to go for has a substantial amount of integrations. It not only maximizes the value of your purchase but also ensures that your customers have a unified experience across multiple platforms.
Top 15 providers of live chat software
1. LiveAgent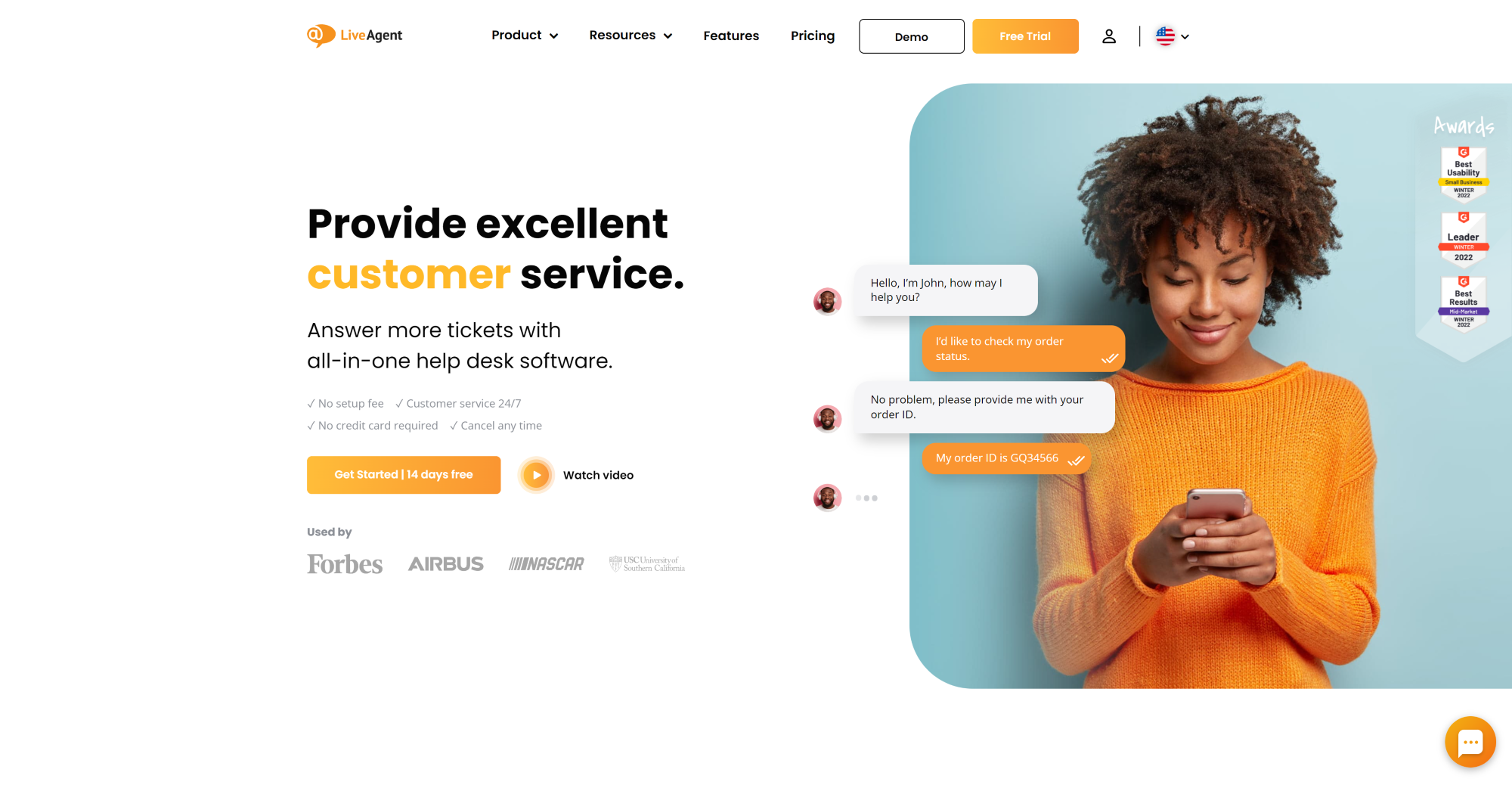 Best live chat software for small & medium-sized businesses in eCommerce, Saas, etc. that take customer centricity seriously.
LiveAgent is a web-based solution that provides a quick and reliable live chat widget with multiple advanced features. Furthermore, you can customize it to perfectly fit your branding. This solution allows you to easily turn website visitors into paying customers and provide them with excellent customer service.
Key features:
Proactive chat
Chat routing
Unlimited history
Customizable chat widget
Automation options
Real-time typing view
Reporting and analytics
Self-service portal & knowledge base