Customer service software is the key ingredient in an exceptional customer experience. However, finding the right software is challenging as most providers offer similar features and promise to help you accomplish the same goals. To help you choose the best software for your business, niche, and industry, we've curated a list of the best customer service solutions of 2023. We'll be comparing each software's feature list, price, and customer ratings from independent software review sites.
What is customer service software?
A customer service software is software that streamlines customer communication across different channels. Each software is different in the way it handles incoming customer messages. However, most software transforms messages from various communication channels into tickets and stores them in a shared, centralized inbox.
Customer service software is generally used for customer support purposes; however, it can also be used by sales, accounting, IT, or marketing teams within one organization. Apart from being useful for traditional businesses, the system can also benefit non-profit organizations, government agencies, and educational institutions.
How does customer service software work?
Customer service software connects with your everyday customer communication channels, including email, phone, live chat, social media integration, messaging apps, and even customer service portals.
When a customer contacts your business on any of these channels, the system automatically creates a ticket. For example, if the customer uses a real-time channel, such as the phone or live chat, the system automatically starts ringing to alert online support agents. Once an agent picks up the call or chat, the agent and customer can begin communicating in real-time.
However, suppose a customer uses a channel like email, social media, or a messaging app to contact your company. In that case, the system will simply create a ticket and assign it to a specific department/agent based on predefined criteria.
Businesses and organizations that don't utilize this technology often experience customer dissatisfaction and churn because many customer messages slip through the cracks or don't get answered fast enough.
Having a system like this allows any business or organization to improve their customer communication processes as it eliminates device and account monitoring by keeping all messages in one place. As a result, it saves time and enhances productivity and response times which contribute to greater customer satisfaction.
Components of a customer support system
Email
Customer support software can easily replace your web mail or mail clients such as Gmail, Outlook, and Mail. It offers more functionality and flexibility and goes way beyond just sending and receiving emails.
A customer service software provides advanced collaboration and email skills based on routing options, customizable email templates, complete customer profiles, customer segmentation options, and SLA monitoring. It also includes agent collision detection features that ensure agents don't waste time working on the same tickets or erase each other's work.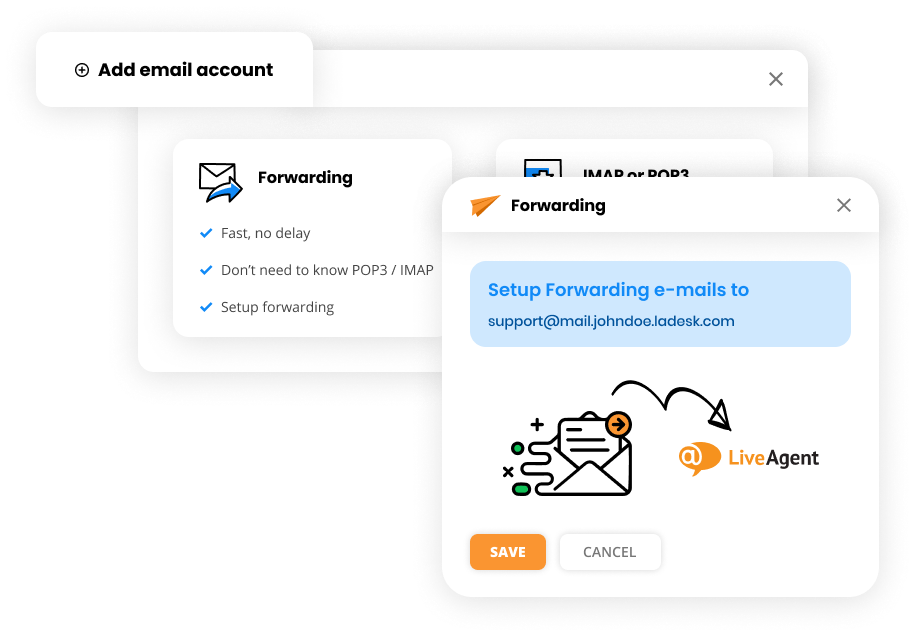 Live chat
Live chat is the preferred communication channel for 42% of online customers because it's hassle-free and easily accessible. Instead of searching for your contact information, your customers can quickly contact you on your website with the click of a button.
Live chat is also a great proactive customer support tool for solving real-time problems that customers can experience while browsing your website or attempting to check out.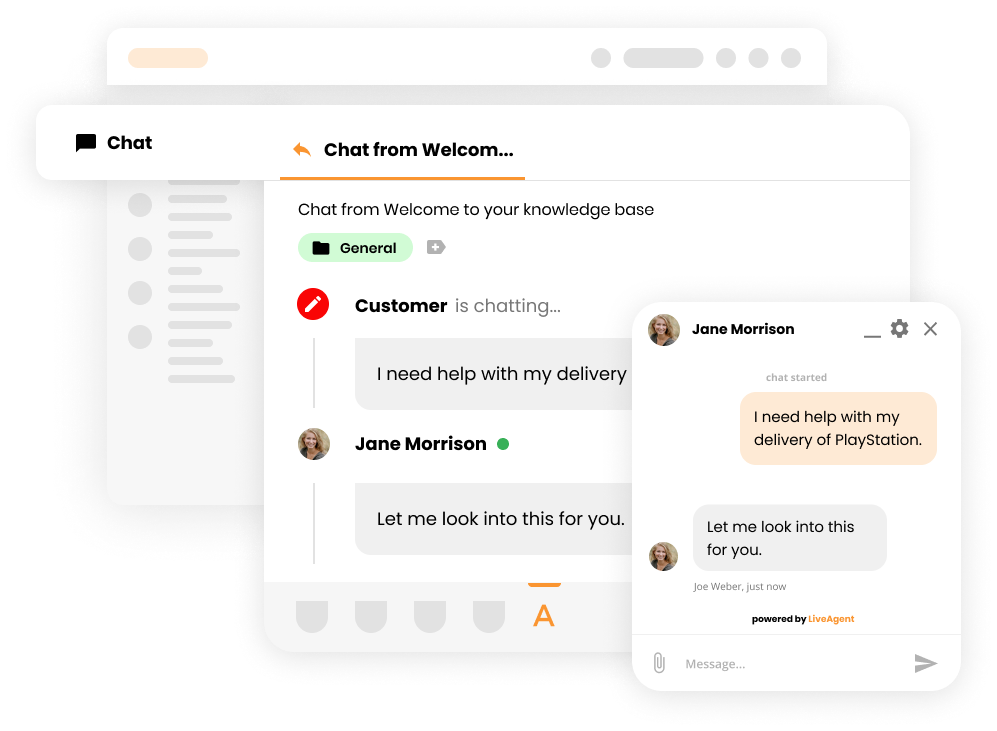 Call center
Excellent customer service software should contain call center capabilities because it provides flexibility and significant savings. For example, instead of spending money on hardware and international calling minutes, you can provide worldwide support for affordable price.
Even though many consumers prefer digital channels, calling is still the best option for problems that require quick solutions. Speaking to a support representative can ensure both parties understand each other and there are no misunderstandings.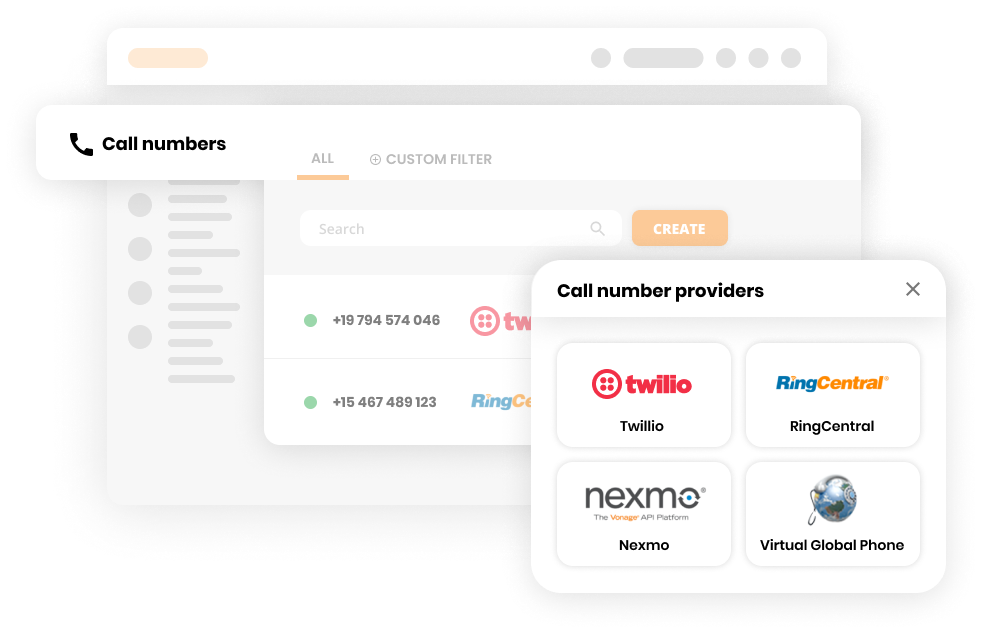 Digital natives like Gen Z prefer social media communication because it's an always-on channel. Other consumer groups turn to social channel as a last resort, namely after they've failed to reach a company's support department and exhausted all other options.
It's important to note that not every business needs to have a presence on every platform. However, most consumers expect most companies, organizations, and educational institutions to have an active Facebook, Instagram, and Twitter page that they can turn to for customer support.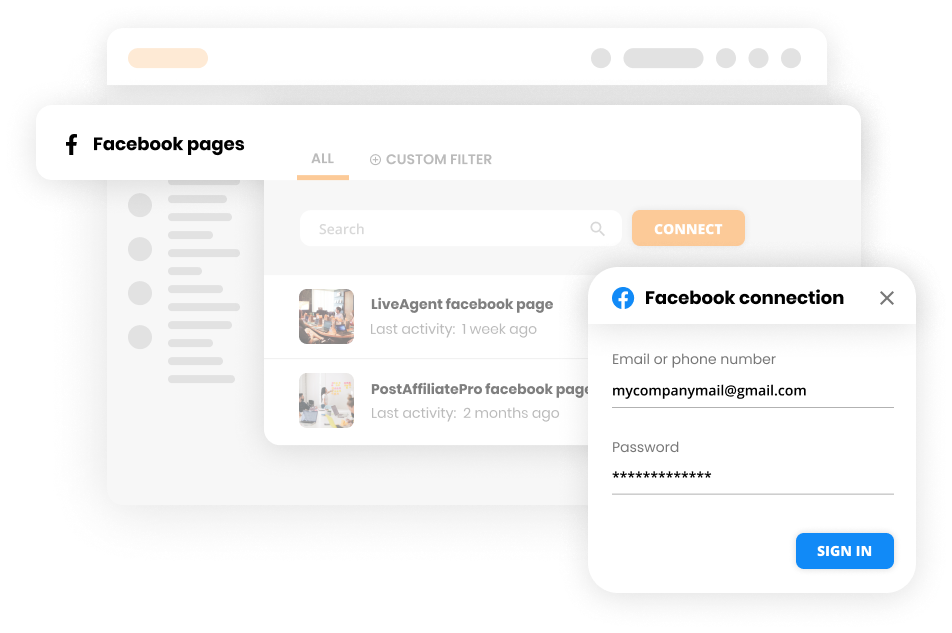 Messaging apps
Messaging apps like Messenger, Viber, WhatsApp, LINE, and Signal are gaining popularity in customer service because they offer an easy way to communicate with businesses. In addition, customers are familiar with these apps as they use them to communicate with friends and family, so contacting companies is super convenient.
In addition to that, messaging apps don't require users to wait on hold or to engage in the customer conversation actively. Instead, customers can respond in their own time and still receive relatively quick responses to their questions.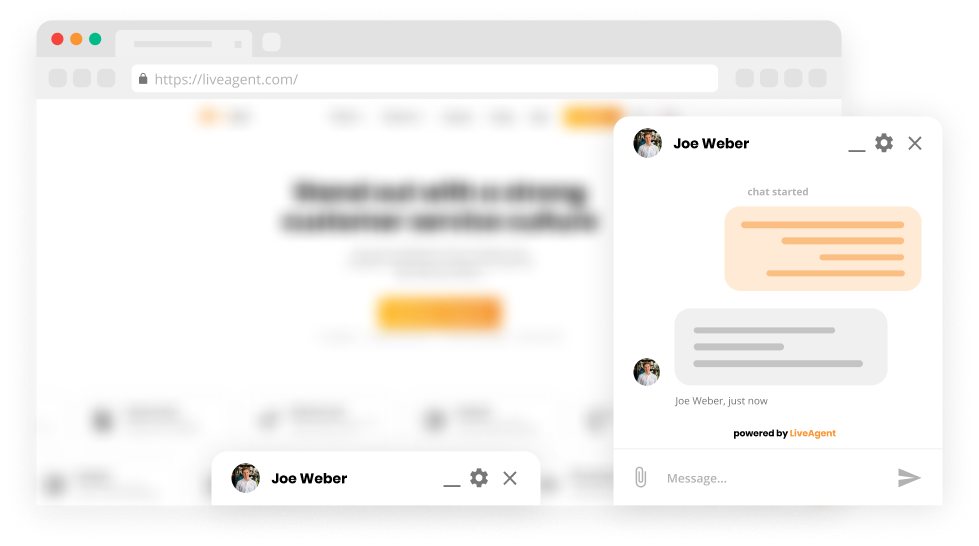 Self-service
The modern customer doesn't want to waste time contacting customer service. Instead, they search for answers to their customer questions independently by scouring your website for FAQs, verified community forums, or any related resources.
Having a dedicated knowledge repository that outlines basic processes, policies, or how-to's, can significantly decrease ticket volumes and take some pressure off your employees.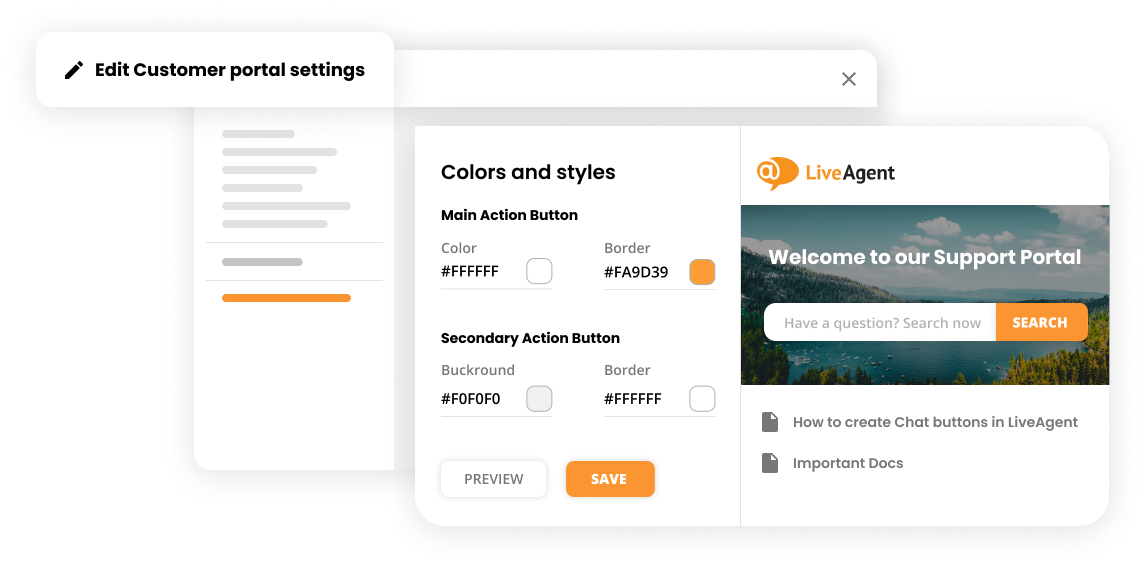 Why use customer service software solutions in your business?
Using customer service software solutions can benefit your business in countless ways. There are tons of use cases that we can outline — from decreasing cart abandonment to boosting customer satisfaction, revenue, and loyalty.
The reason why you can do so much with this customer service tool is that it is versatile. It can be used by universities, healthcare providers, financial institutions, e-commerce businesses, SaaS startups, and everything in between to achieve different goals. Furthermore, the solution is fully customizable, scalable, and adaptable, so making your dreams a reality is just a question of setting up your customer support solution in the correct way and utilizing it to its fullest potential.
Strengthen customer relationships
The best way to strengthen customer relationships is to engage with your customer base and provide personalized service. A help desk software solution is the perfect tool for engaging with customers, as it makes the whole process streamlined and hassle-free. For example, there's no need to search for Tweets or comments in your notifications to join customer conversations. Instead, simply answer each message as you go, directly from your customer service management software with customer history on hand.
As for personalization, customer support software can help you because it stores essential customer data alongside their messages. By having all contextual information consolidated in one dashboard, you can easily provide quick, knowledgeable, and personalized service and strengthen relationships with customer at the same time.
Solve customer issues quicker
Thanks to automatic ticket routing, messages from your customers will always be automatically assigned to a support agent that's best equipped to answer them. By eliminating any standstill and creating a feeling of responsibility, you can improve response times by nearly 23%.
Moreover, by providing your customers with real-time support options like live chat, you can assist more customers and solve more problems faster.
Dramatically improve customer satisfaction and loyalty
Gaining loyal customers and improving customer satisfaction is easy. With multichannel customer service software, you can resolve customer issues proactively. For example, proactive chat invitations can come in handy when shoppers on your site are ready to check out but need some assistance with the process. In addition, help desk solution can help you determine when is the right time to reach out based on real-time monitoring tools that showcase which pages your potential customers are browsing and for how long.
Decrease response time with self-service
Most customers want to resolve their issues independently without contacting customer support. By providing your existing and potential customers with a self-service hub containing resources such as how-to-articles, FAQs, and even community forums, you can decrease response time and improve the customer service experience. When customers find answers to their common questions independently, they won't have a reason to contact you or to wait around for a response from your staff.
Improve support agent productivity
Customer service software tool like gamification can boost employee productivity by bringing a game aspect to the workplace. Agents can beat new records, receive badges, and level up, increasing productivity and promoting healthy competition amongst teams and individuals.
Benefit from customer support automation
Working on resolving customer issues day in and day out can be challenging and lead to customer service agent burnout. However, customer service tracking software contains features that can make your agent's life easier and more productive. For example, automation ensures your agents can focus on complex customer issues instead of focusing on mundane, repetitive tasks such as changing ticket statuses or following up on unanswered emails.
How to choose the best customer service software?
While one software might be the best choice for one company, it may be inadequate for another. It's important to realize that every business has different needs and wants to accomplish different goals. For example, while one company may be content with simple chat software, others may need a complex solution that supports multichannel communication with customer.
Before you choose or even research customer service software, you need to understand your goals and requirements. Think about what you want to accomplish with the software and consider your budget as well. It might be the case that the perfect all in one solution might be out of your reach financially. Once you've jotted down your expectations for the software and set a budget, you can start exploring your options.
To ensure you get the most out of your customer service software, we recommend you look for a system with most, if not all, of the following features.
Key features of customer service software
Streamlined ticketing system
Ensure that the channels you want to connect with your customer support software are supported. For example, if you want to make and receive phone calls from your customer service software, ensure that it contains a built-in blended call center.
Supported channels
If you want to support your customers on messaging apps like Facebook Messenger or WhatsApp, ensure that the software offers a functional social media channel integration with them.
Built-in CRM
Don't settle for a type of customer service software that doesn't offer a built-in CRM. You'll want to have access to customer data within your help desk system, so you don't have to waste time logging in and out of different applications to provide knowledgeable service.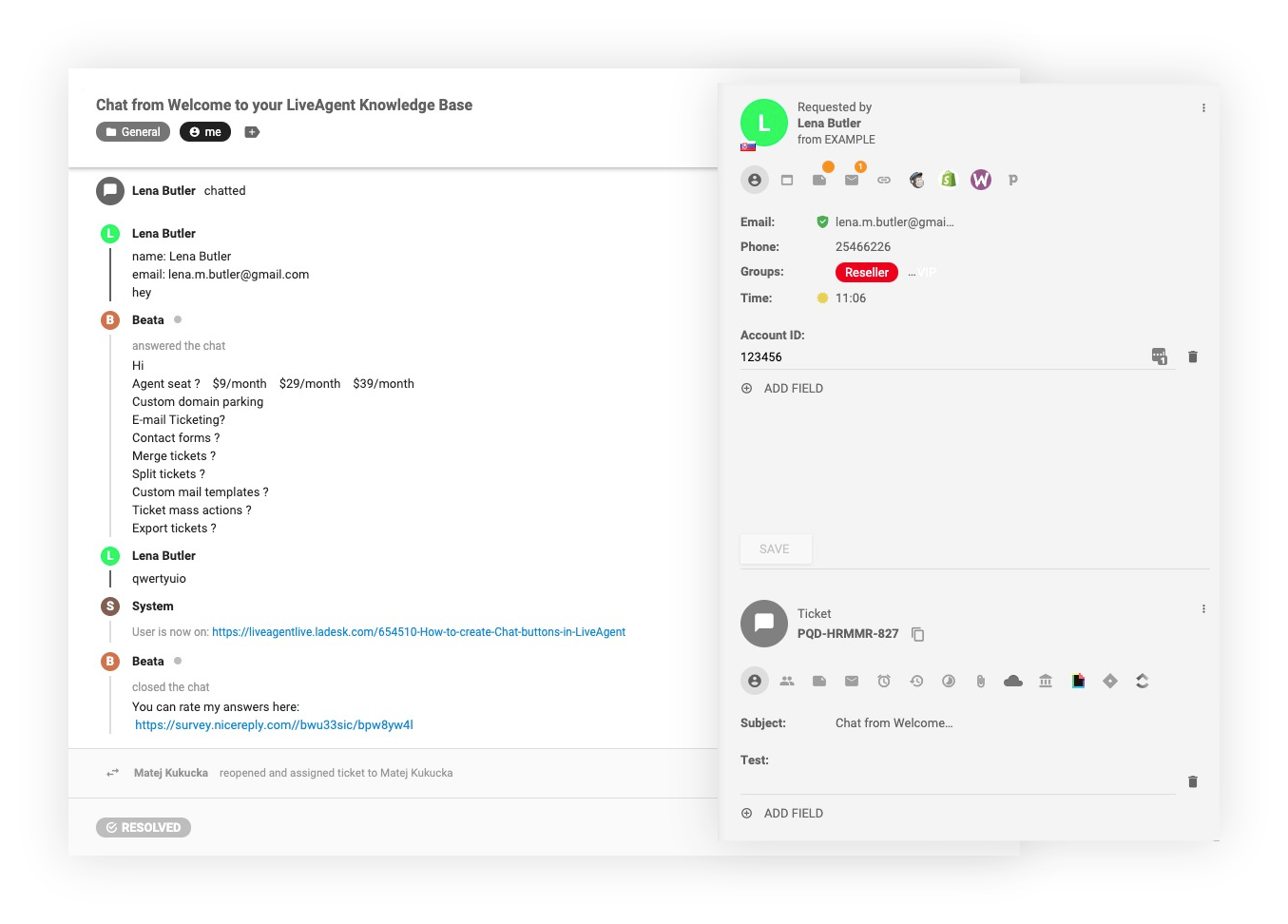 Automated Distribution
Automated ticket distribution ensures that incoming tickets are always routed to the most appropriate department and agent. It also ensures that tickets are never stuck/waiting to be answered without anyone taking responsibility for them.
Automation & Rules
Automation rules can improve customer service workflows and customer interaction. For example, by automating specific processes and actions such as sending follow-up emails, your support agents can save time and money. The saved time can be used for dealing with more complex customer queries, while the money can be pumped into better agent training or sales/marketing campaigns.
Integrations
Ensure that the system you choose has active integrations with the tools you like to use daily. The whole point of customer service software is to improve your productivity and minimize the number of external tools you use. By integrating your help desk with third-party apps like Shopify, for example, you can view your customer's orders/refunds directly in your customer service software.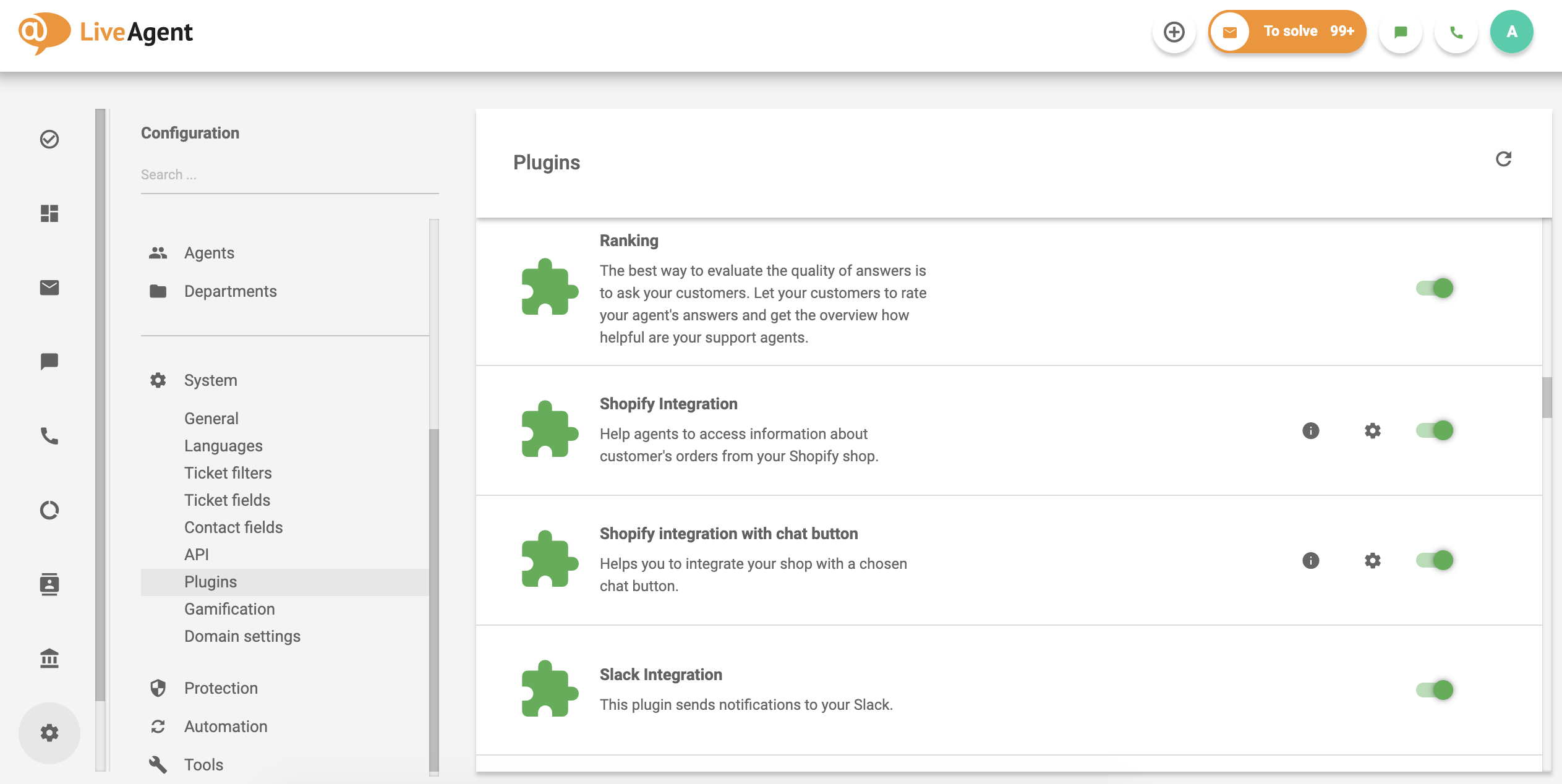 Reporting & Gamification
Having access to accurate data insights can help every business improve its sales, marketing, and support processes. For example, if reports from your system indicate that you have a high call abandonment rate during lunchtime, it could mean that you need to add more call support agents to that shift as it is one of your peak hours and customers are waiting on hold for too long.
On the other hand, gamification can promote healthy competitiveness amongst your customer service team and customer service agents. By being awarded reward badges and levels, your support agents can feel motivated to perform better. Improved productivity will affect how many tickets they resolve and how fast, which can save you money and improve customer satisfaction at the same time.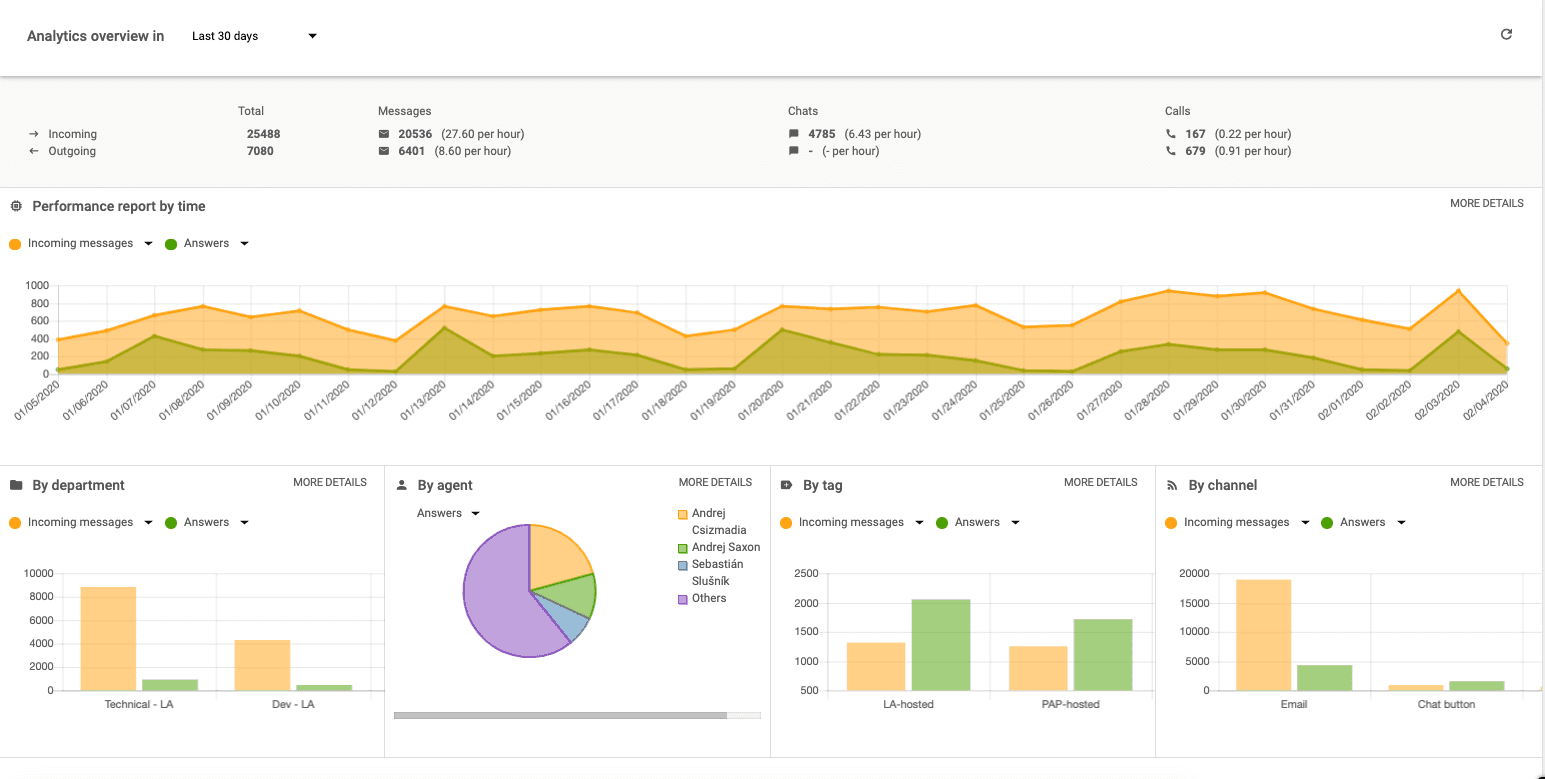 Design your own templates
LiveAgent gives you the power to design your own customer email templates, thus helping you to improve the customer service. Curious about all the opportunities?
Price
Consider your budget and how much you're willing to spend. Please note that the most popular customer service software solutions can be pretty pricey. Instead of paying a premium price for a mainstream brand or simply deciding that a customer service software is simply too expensive, why not consider alternative solutions? Many alternative customer support systems offer free plans and often even more features than their popular competitors.
Support
Research whether the software you're opting for offers free, year-round, multilingual, 24/7 service. Moreover, check out the vendor's self-service options, and if you want to go a step further, try contacting them on live chat or email to see how long it takes them to respond to your query. By testing their responsiveness first hand, you'll have a pretty good idea of how their service will be like once you're a paying customer.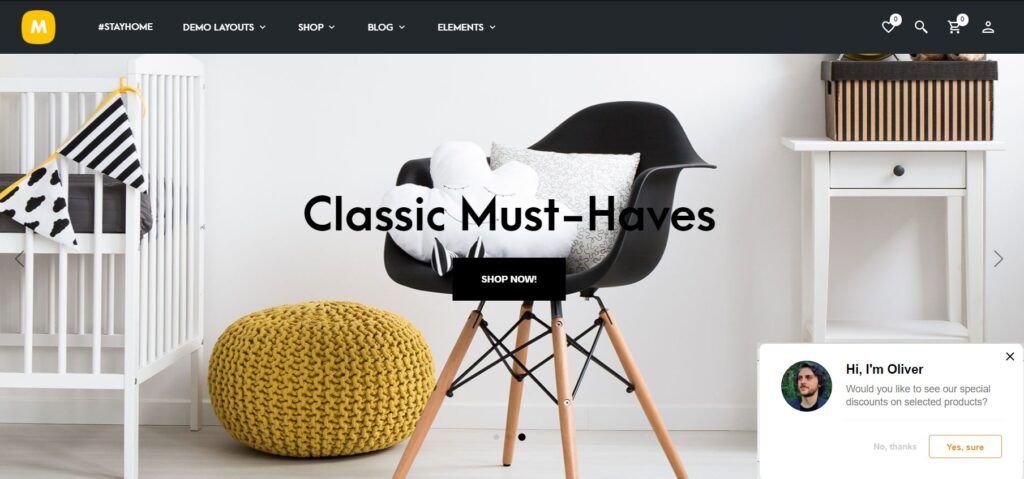 Consider the types of customer service each vendor offers. If you're a fan of contacting support on live chat, make sure that the company you choose offers live chat support. If you're more into talking it out, find out whether your preferred vendor offers toll-free numbers and offers support at an appropriate time for your time zone.
Ability to scale up/down
Many businesses experience seasonal changes that can affect how many support agents they need to employ. For example, travel and hospitality businesses boom in the summer months, so they may need to onboard additional support agents to answer the high volumes of incoming emails, chats, and calls.
Similarly, eCommerce businesses experience an influx of customer support tickets during certain times of the year when sales campaigns like Black Friday are live. Therefore, it's crucial to have flexible customer support software that enables you to add on and remove support agents as needed.
Growing businesses can also benefit from flexible customer service software. It's good to know that the system you choose can grow with you and won't cause you any headaches in the future when it comes to supporting more and more agents and customers.
Software limitations
Consider the limitations of each software that you want to use. Are there features that you'd like to use, but the software doesn't offer? Are there missing integrations? How's the uptime? Asking hard questions like these is extremely important as software limitations can affect your work and your customer's satisfaction with your service.
Collaboration options
Last but not least, research what kinds of collaboration options are available. Does the software you're eyeing offer internal chats and calls? What about internal ticketing, private notes, and agent collision detection? Remember that the customer service app you choose should elevate your support processes and make it easier to work with your colleagues.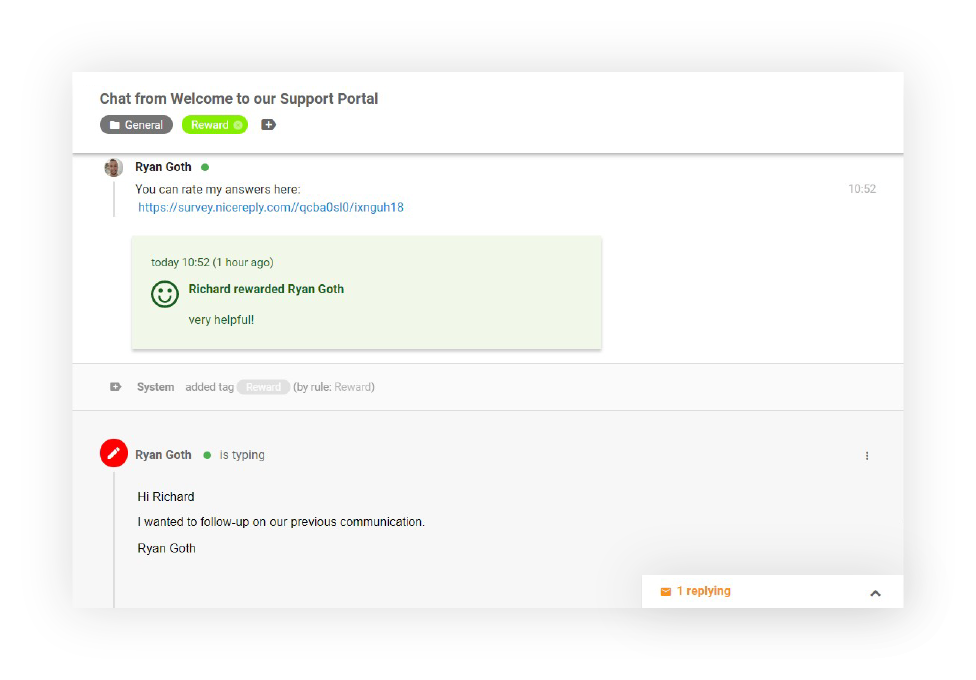 Top 20 customer service software providers
1. LiveAgent
LiveAgent is a multichannel help desk and live chat software that's great for companies of all sizes. Whether you're a small business looking to expand your reach or a large enterprise, LiveAgent can be the all-in-one customer service solution for you. The system is fully customizable and offers its users excellent automation and collaboration options.
It's packed with over 140 help desk features and offers a robust list of integrations with third-party applications and software.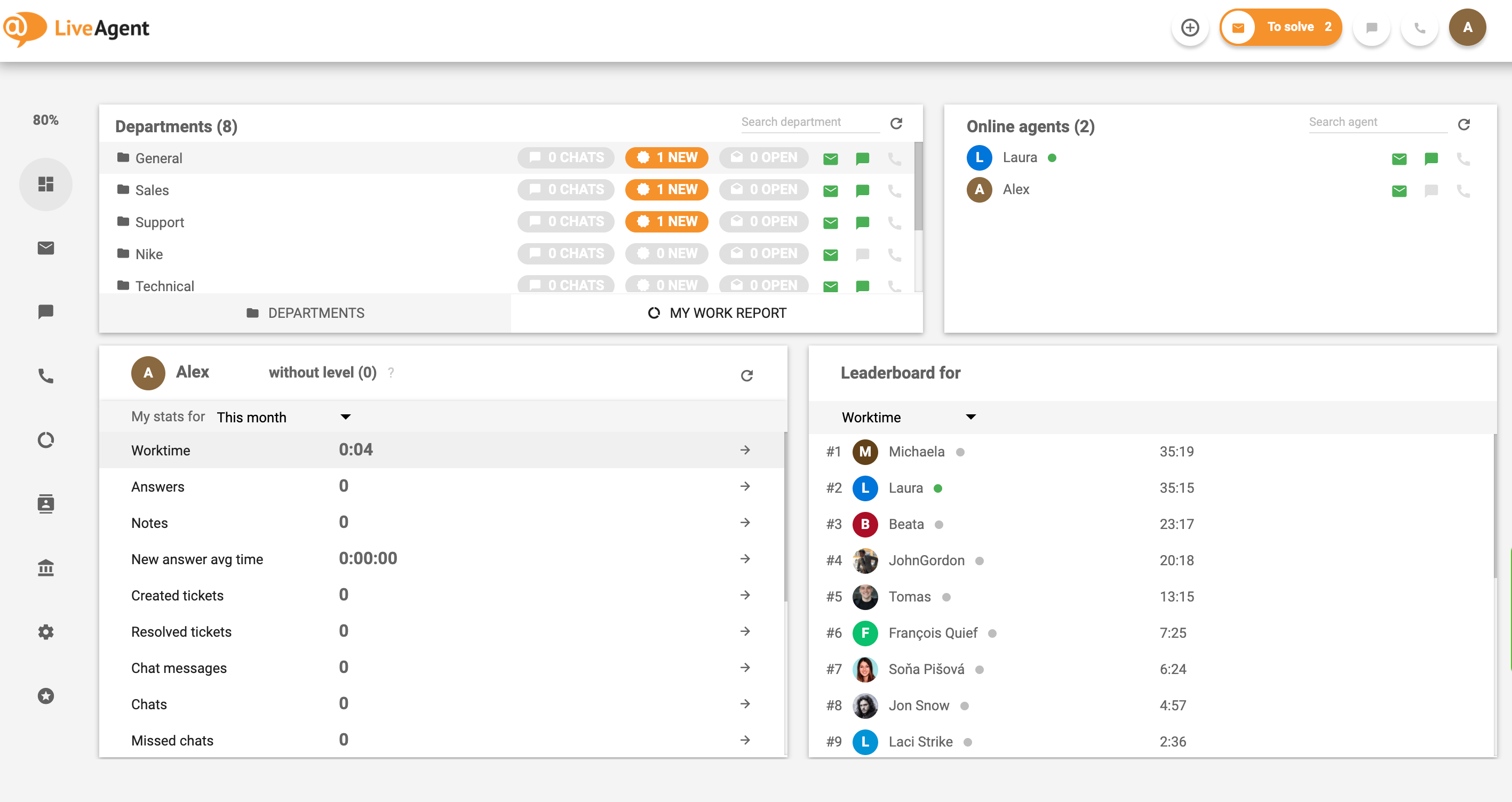 Key features
Shared centralized inbox that receives tickets from all channels
Native live chat widget that's ranked as the fastest and leanest on the market
Website visitor monitoring options, proactive chats, and a chat integrated knowledgebase
Real-time typing-view
Customer portal including internal and external knowledge bases, community forums, and FAQs
Social media support including Facebook, Twitter, and Instagram
Twitter social listening/monitoring options
Integrations with Messenger, Viber, Slack, Shopify, and other 143+ customer support tools
Robust reporting and data analytics tools
Gamification
Built-in CRM with customizable input fields
Countless automation options
Tags, departments, and various ticket routing/assignment options
Internal chats, calls, private notes, and internal tickets
Pros and cons
Across different software review platforms, LiveAgent users praise the software's versatility and incredible support team. In addition, users love the number of features and integrations available, as they can take on challenges that they simply couldn't with other customer service powerful tool.
When it comes to LiveAgent's cons, some users say it has a slight learning curve, and getting the maximum from the software can be difficult without contacting support. However, as mentioned above, LiveAgent's support team receives high praises because they're available 24/7/365 and will go above and beyond to make sure LiveAgent will meet and exceed your and customer expectations.
Price
LiveAgent customer service platform offers three different monthly subscriptions and a completely free version of the software.
Small – $9 per agent per month
Medium – $29 per agent per month
Large – $39 per agent per month
If you want to give the All-Inclusive plan a try, we offer a free 14-day trial— no credit card is required.
2. MailChimp
MailChimp is an all-in-one marketing platform for small businesses that can be used to create email newsletters and track their performance. In addition, MailChimp users can segment their customers into different groups, making it super easy and convenient to send out personalized marketing messages.
The email automation platform also offers Website & eCommerce plans that feature an eCommerce website builder, SEO tools, sales reporting, and social posting.
The platform integrates with hundreds of customer service tools, including LiveAgent, enabling LiveAgent users to subscribe and unsubscribe their customers from specific mailing lists directly from their help desk software.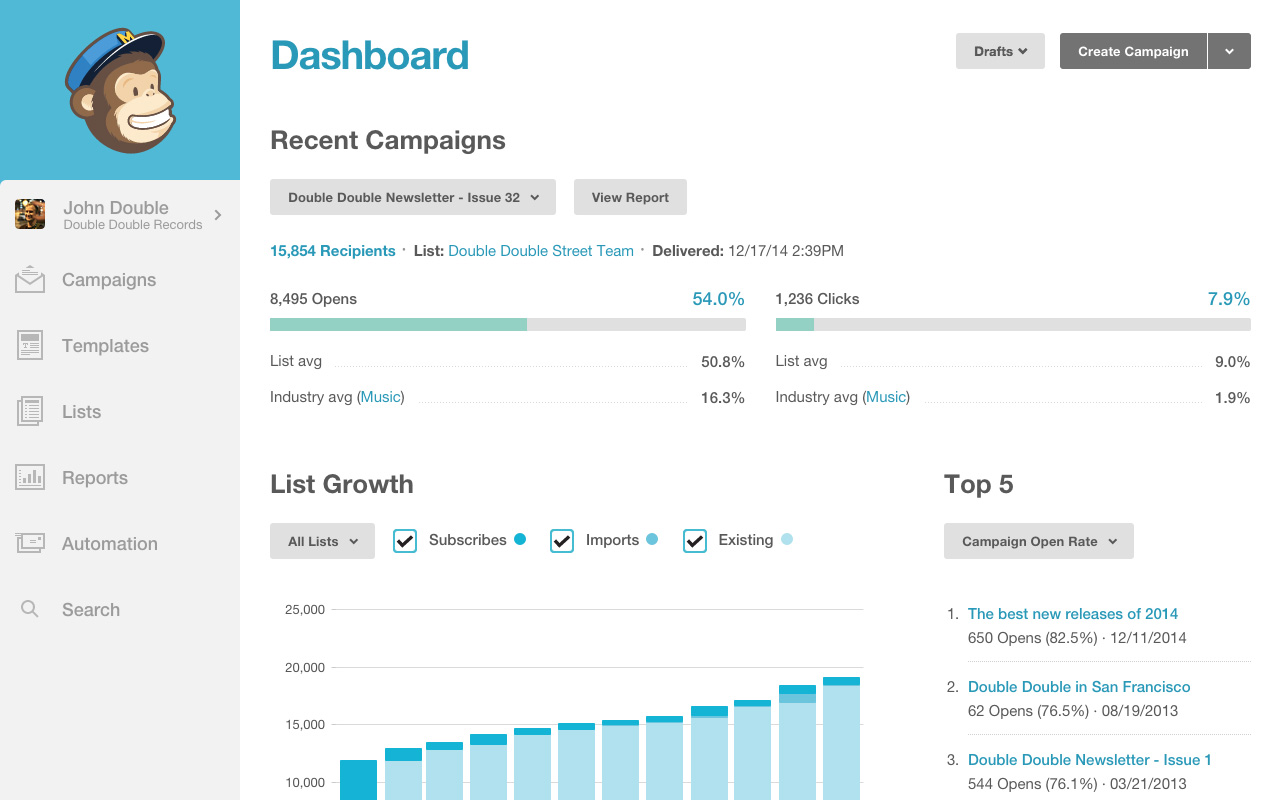 Key features
Email automation
Audience insights
Behavioral targeting
Email templates
Landing pages
Pop-up forms
Retargeting ads
Customer journey builder
A/B testing
Pros and cons
MailChimp users rave about how great its features are for small businesses and how simple it is to use. For example, its drag and drop email builder makes it easy to format beautiful emails, and its vast integration list makes it easy to sync data with external CRMs and the like.
Some cons mentioned by MailChimp users include waiting over 24 hours to hear back from their support team and the software's price tag. For example, some users feel that other solutions offer comparable features for a fraction of the price.
Price
MailChimp offers a total of five paid subscription levels and a free plan.
Marketing
Essentials – starting at $9.99 per month with 500 contacts
Standard – starting at $14.99 per month with 500 contacts
Premium – starting at $299 per month with 10,000 contacts
Website & eCommerce
Free – $0 per month + 2.0% transaction fee and Stripe processing fees
Core – $10 per month + 1.5% transaction fee and Stripe processing fees
Plus – $29 per month + 0.5% transaction fee and Stripe processing fees
Learn more about connecting MailChimp with LiveAgent.
3. Slack
Slack is a real-time messaging platform that businesses use for both internal and external communication. The messenger is great for facilitating collaboration amongst teams and sharing company-wide information.
The platform integrates with LiveAgent customer service software and notifies users every time they're assigned a new ticket or anytime they receive a reply to an open ticket by sending them a Slack message. The Slack notification is sent from a bot and provides a direct link to the ticket in question.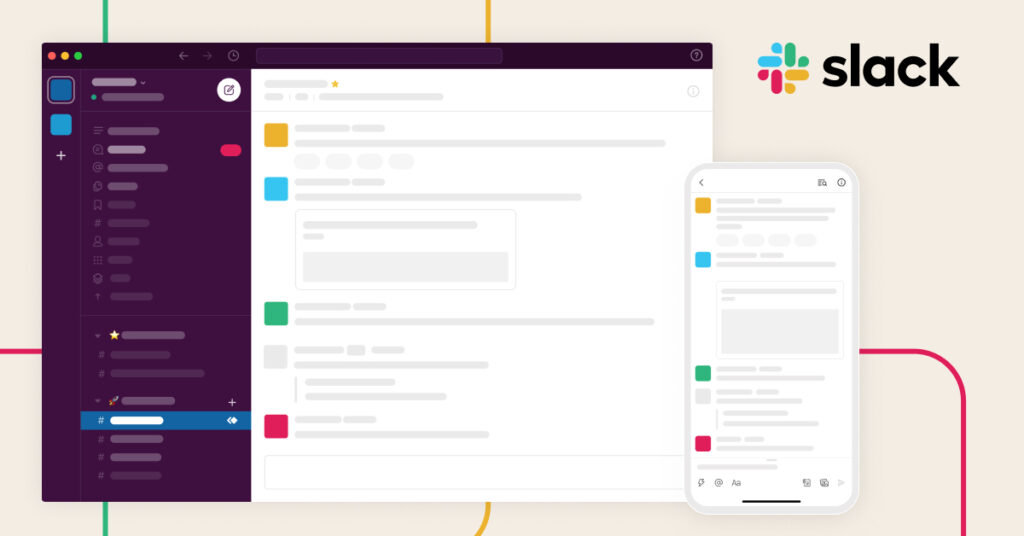 Key features
Instant messaging
Voice and video calls
Screen sharing
Conferencing
Mobile app
Pros and cons
Slack is praised for its ease of use, customization options, and rich integrations. The messaging platform has quickly won the hearts of big and small businesses because it's one of the best free collaboration tools on the market.
Many users can't find much negative to say about Slack. Most reviews explicitly state that they would be nitpicking if they were to say something negative about the platform.
Price
Slack offers three paid subscriptions as well as a free version.
Pro – €7.50 per user per month
Business+ – €14.10 per user per month
Enterprise – Custom pricing
Learn more about the LiveAgent/Slack integration.
4. PipeDrive
PipeDrive is a cloud-based customer relationship management (CRM) tool that helps salespeople manage leads and deals. It employs automation and AI to eliminate repetitive administrative tasks and offers data-driven reporting.
PipeDrive offers its users a fully functional mobile app and integrates with almost 300 third-party applications. The LiveAgent integration enables LiveAgent users to create and edit new and existing PipeDrive deals directly inside the LiveAgent ticket info panel.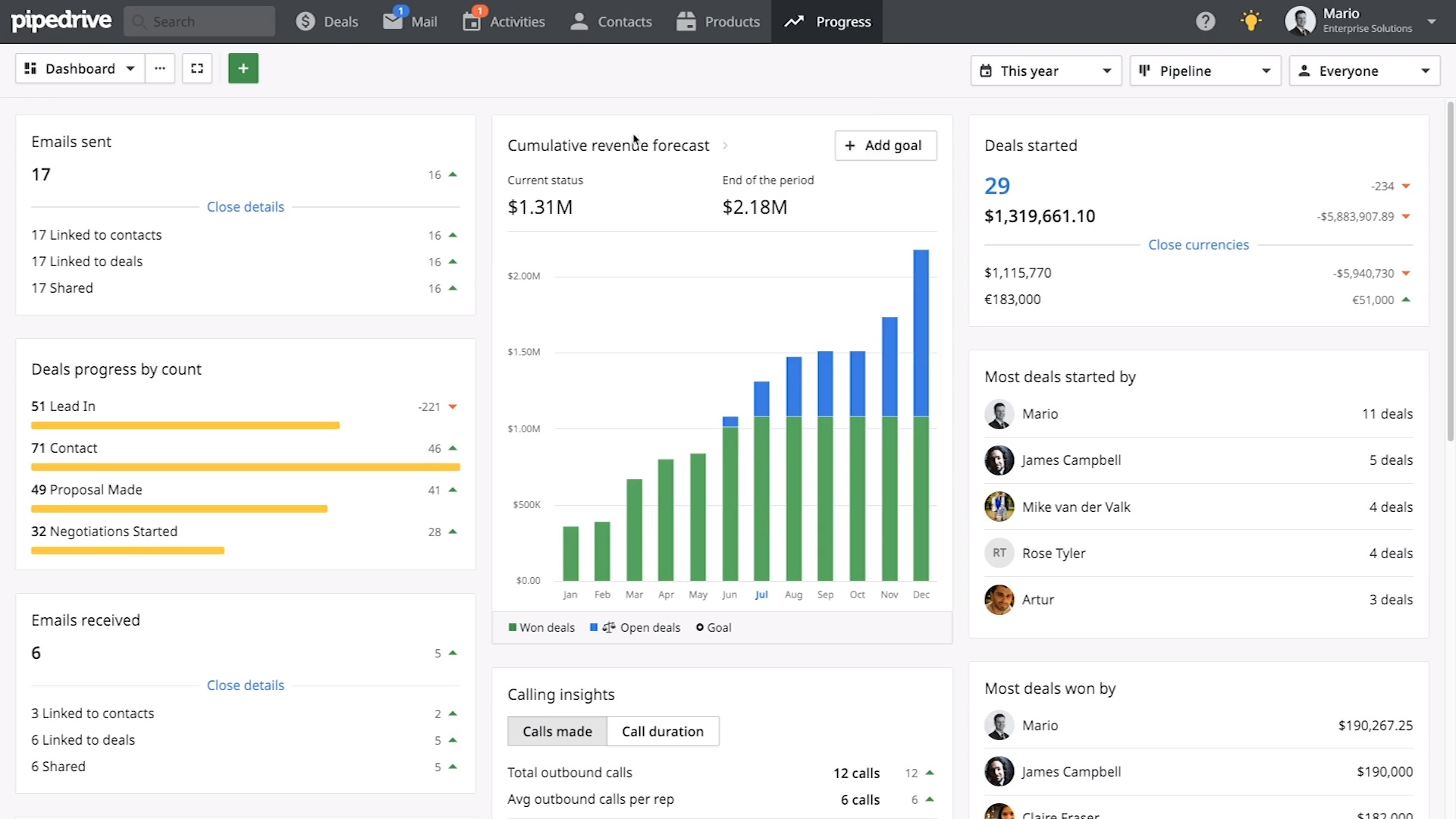 Key features
Visual pipelines
Custom fields
Chat integration
Contacts timeline
Automation and AI
Outbound calling
Sales goals and reports
Pros and cons
The CRM stands out because of its simplicity and ease of use. Users enjoy the intuitive interface and the visual format in which they can see leads moving through the sales funnel. However, for some users, PipeDrive is a bit too simple. Reviewers have stated that they would enjoy more complex automation options and would welcome a dedicated notification section in the app, as currently, they receive notifications by email only.
Price
Essential – €18 per user per month
Advanced – €33 per user per month
Professional – €59 per user per month
Enterprise – €99 per user per month
Learn more about connecting PipeDrive with LiveAgent.
5. ClickUp
ClickUp is a fully customizable task management application suitable for small, medium-sized, and larger teams. It's ideal for creating to-do lists, projects, reminders, and tracking goals. In addition, ClickUp is an excellent single platform alternative to Slack or project management tools like Asana as it also offers real-time chat, comments, and tags.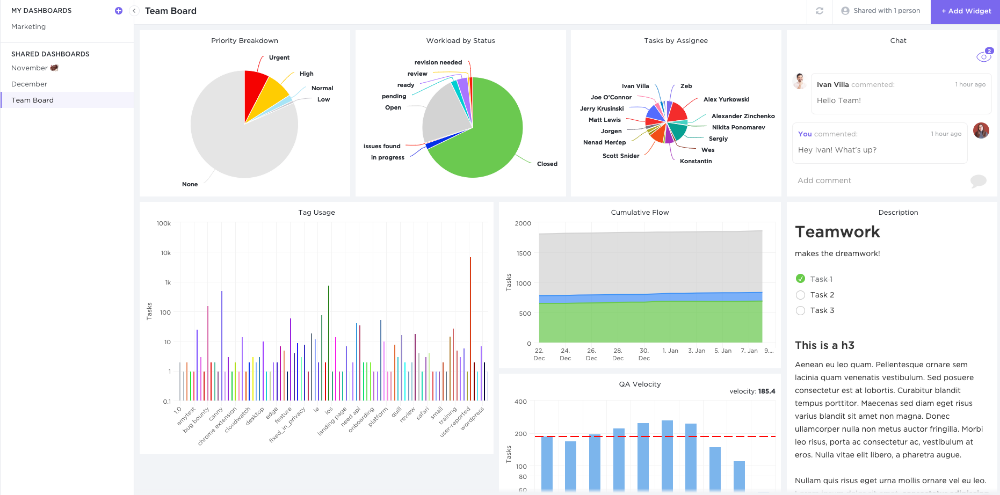 Key features
Checklist templates
Goals
Workload charts
Reminders
Wiki and docs
Automation
Time tracking
Scheduling
API
Reporting
Collaboration tools
Pros and cons
ClickUp users love its customizability, ease of use and also praise the mobile app. However, it's important to note that the app has come off complex to some and does have a learning curve. Another negative aspect mentioned by ClickUp users is the guest interface that is hard to navigate.
Price
ClickUp offers one forever free plan and three paid plans.
Unlimited – $9 per user per month
Business – $19 per user per month
Enterprise – Custom pricing
Discover how you can use ClickUp with LiveAgent.
6. Socialbakers
Socialbakers is a social media platform that helps businesses of all sizes engage with their customers. It combines social listening, content analysis, and AI persona mapping with analytics and benchmarking to create the best possible outcome for your social media marketing strategies.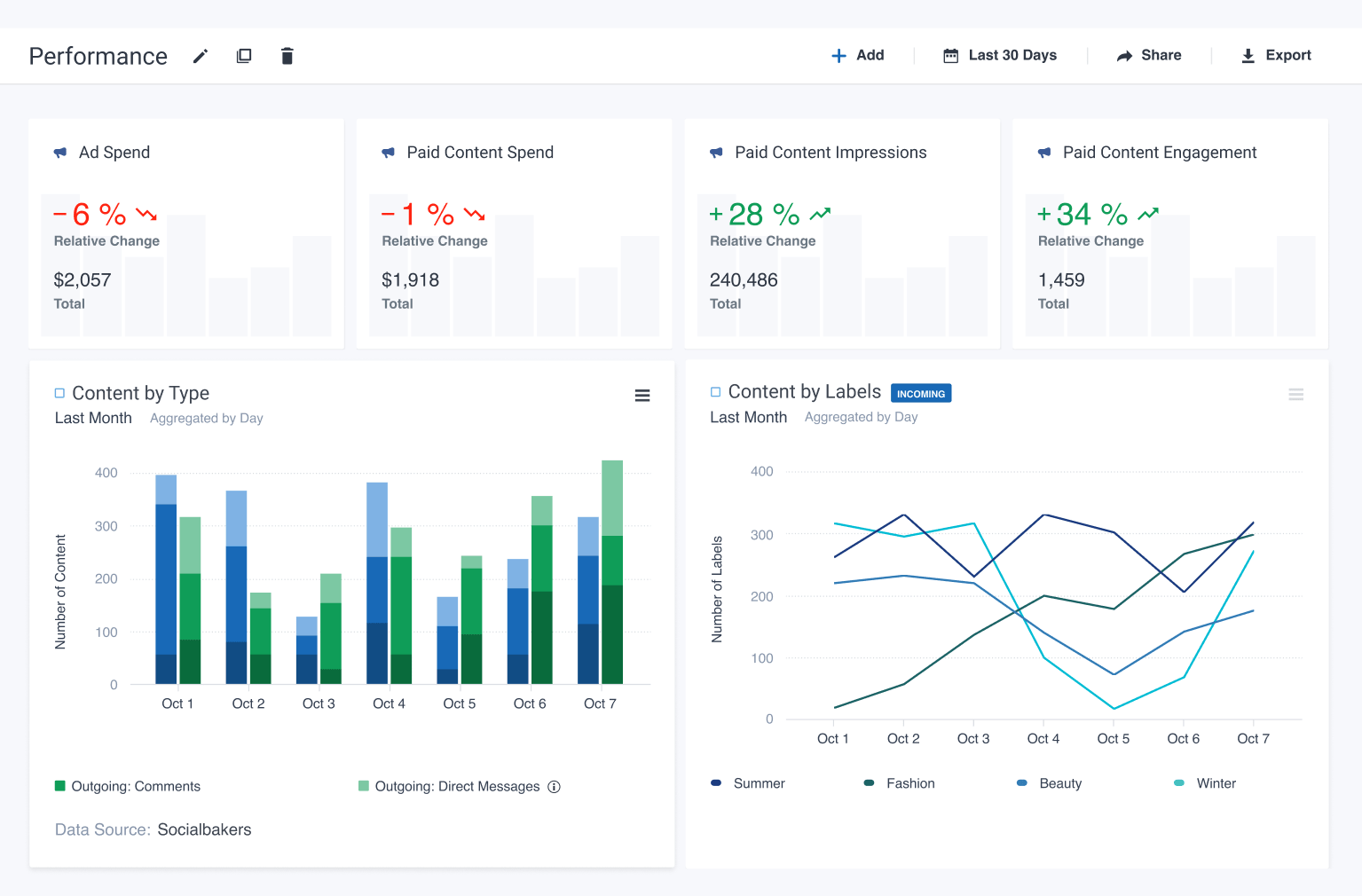 Key features
Social listening
Audience analysis
Influencer marketing campaigns
Content intelligence
Content publishing and scheduling
Analytics and benchmarks
Community management
Social AI chatbot
Pros and cons
The Socialbakers customer service software is praised for its ease of use and data collecting from Instagram and Facebook. On the other hand, it's criticized for not drawing data from newer social media platforms like TikTok.
Price
The Essentials – $240 per month for ten profiles or $480 per month for 20 profiles
The Complete Socialbakers Solution – Custom pricing
Learn more about integrating Socialbakers into your LiveAgent workflow.
7. Buffer
Buffer is a social media management platform that promises to improve social engagement for small businesses. It offers automated post publishing, campaign analytics, hashtag planning, comment scheduling, and custom reports.
Buffer integrates with nearly 30 other solutions, including Zapier, automate.io, and integromat, so the possibilities are endless.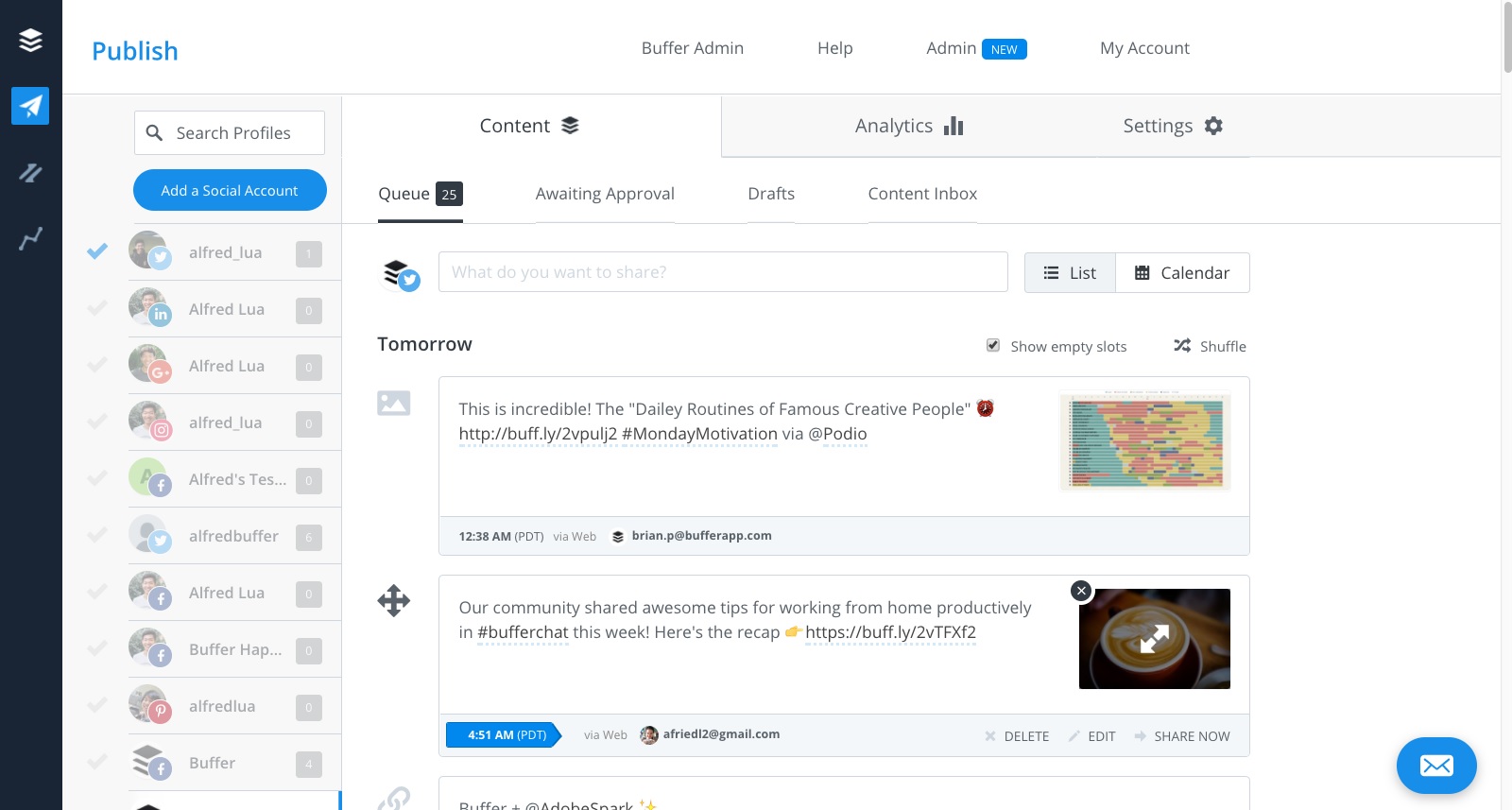 Key features
Instagram, Facebook, LinkedIn, Twitter, and Pinterest plugins
Post scheduling
Instagram stories scheduling
Instagram hashtag manager
Comment sentiment
Reporting and analytics
Pros and cons
Similar to the Socialbakers platform, Buffer is praised for its simplicity. Users love that they can easily showcase post layouts and edit them directly inside the app. On the other hand, the consensus seems to be that there is a missing integration with TikTok.
Price
Buffer offers one free and three paid publishing plans. It also provides two paid analytics plans.
Publishing
Pro – $15 per month
Premium – $65 per month
Business – $99 per month
Analytics
Pro – $35 per month
Premium – $50 per month
8. Nicereply
Nicereply is a customer satisfaction survey tool used by customer support teams. The software offers one-click customer satisfaction surveys that can be embedded into emails or integrated into live chat widget. The software is easy to use and enables users to create beautiful and easily customizable NPS, CSAT, and CES surveys.
When integrated with LiveAgent, customer feedback can be easily provided to your agents after each live chat session or after viewing each email conversation.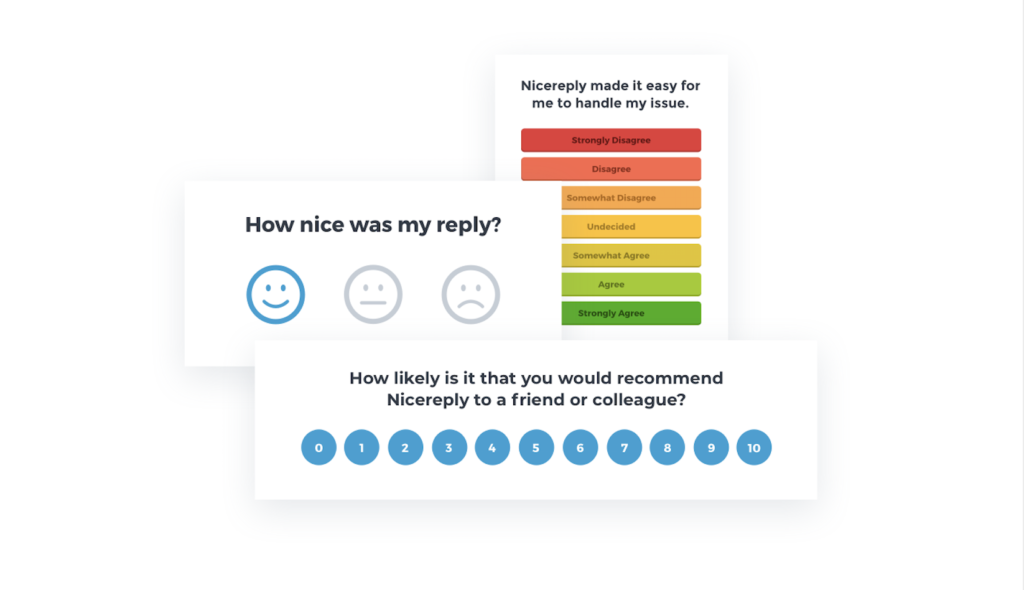 Key features
CSAT, NPS, and CES surveys
Post resolution surveys
Mobile ready surveys
In-signature surveys
Code-free customization
Automated trigger settings
Custom survey domains and thank you pages
API
Analytics and reporting
Pros and cons
Nicereply is an excellent solution because it integrates with major help desk software solutions, including LiveAgent, Zendesk, Freshdesk, and HelpScout. Its users compliment how easy it is to create and modify surveys and their automatic deployment. Criticisms include not being able to add additional contacts to live surveys and a lacking survey cloning feature.
Price
Nicereply offers four paid plans and a free 14-day trial that doesn't require any credit card to get started.
Mini – $39 per month
Start – $79 per month
Grow – $159 per month
Business – $239 per month
Learn more about integrating Nicereply surveys with LiveAgent's chat widgets and email signatures.
9. Trello
Trello is a list-making application that can help teams and individuals organize tasks, projects, and reminders. The application has a Kanban board style UI, making it easy to move tasks between different lifecycle stages.
LiveAgent customer service software and Trello can be used together to ensure all agents stay on top of their tasks. For example, whenever a new card or to-do list is created in Trello, Trello can automatically send you a LiveAgent notification in the form of a ticket.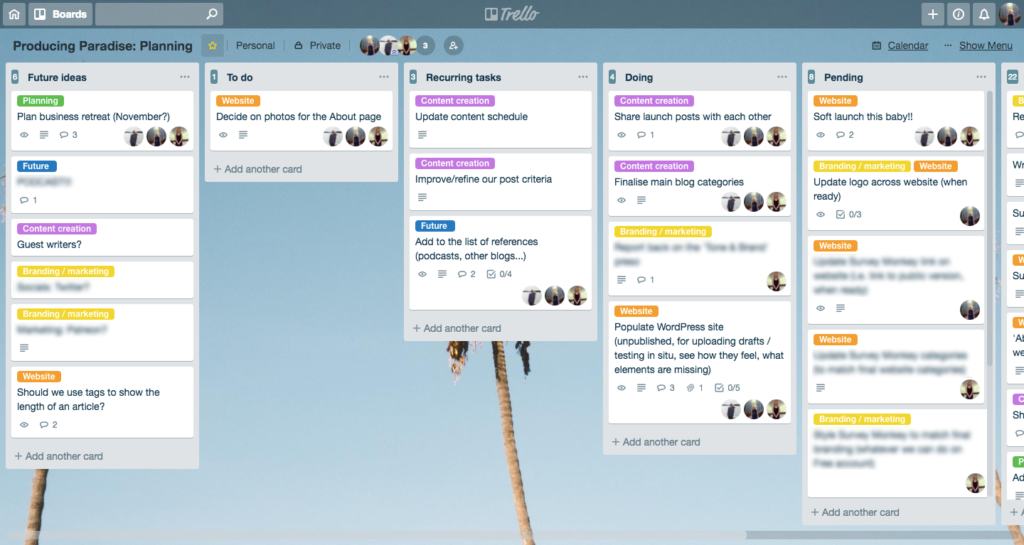 Key features
Kanban boards
Unlimited cards
Unlimited storage
Advanced checklists
Custom backgrounds and stickers
Dashboard, timeline, workspace, and calendar view
Pros and cons
Trello is great for personal and professional task management. It's intuitive and easy to use and offers a variety of templates for different categories of tasks. Users also love that they can attach any type of media to any card. On the other hand, there is a slight learning curve with Trello's automation features. Some users also wish they could modify fonts and different task colors to distinguish between high-priority tasks easier.
Price
Trello offers a free version of the software and two paid subscriptions.
Business Class – $12.50 per user per month
Enterprise – Custom pricing based on the number of users
Find out how to integrate Trello with LiveAgent.
10. Monday.com
Monday.com is an open cloud-based platform that enables its users to create unique tools and applications to aid their workflow. For example, the platform can create project management, sales, CRM, marketing, design, HR, IT, or DevOps applications.
To eliminate human error and repetitive tasks, Monday.com users can take advantage of the platform's robust automation options and view their workflows in a map, calendar, timeline, or kanban style board.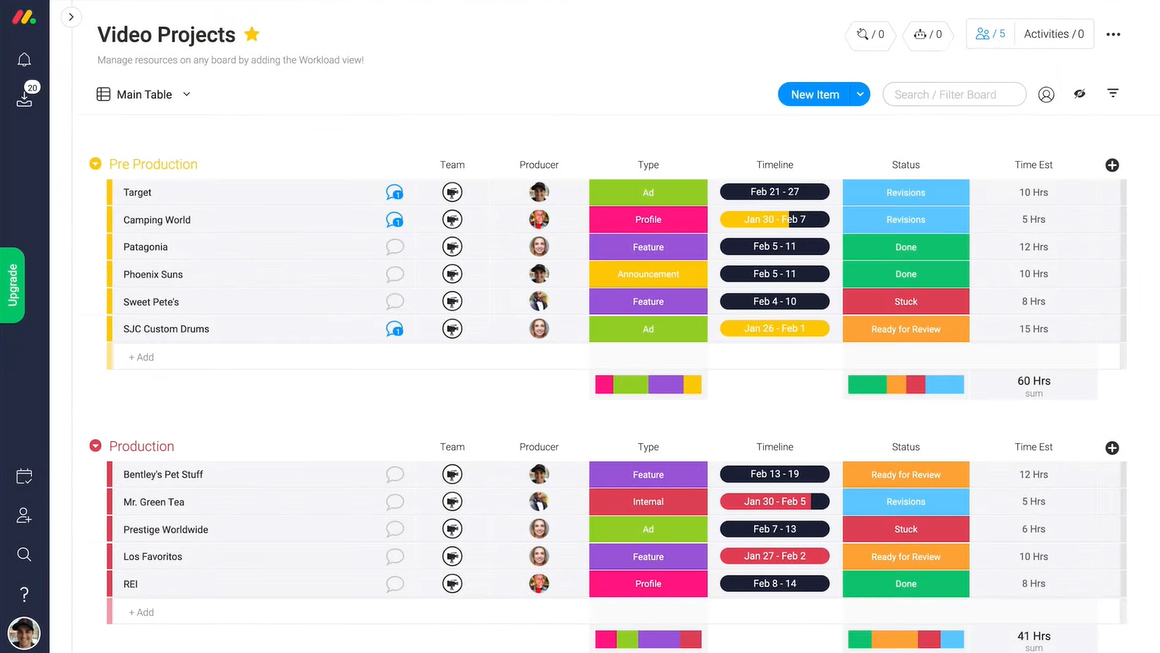 Key features
Whiteboard collaboration
Embedded documents
Updates section
Activity logs
Kanban, timeline, map, calendar, chart views
Time tracking
Automation
Pros and cons
Monday.com's users love how it keeps their work organized and how easy it is to delegate to others. The notification system is excellent, ensuring no members of the team miss any changes. Criticisms include glitchy automation and a lacking a thorough onboarding process.
Price
Monday.com is offered to individuals for free. In addition, businesses have the option to choose from four paid subscription options.
Basic – $10 per user per month
Standard – $12 per user per month
Pro – $20 per user per month
Enterprise – Custom pricing
Learn more about connecting Monday.com with LiveAgent.
11. ActiveCampaign
ActiveCampaign is a user experience automation platform ideal for small and mid-sized businesses. The service cloud solution offers email, marketing, and sales automation as well as customer relationship management. In addition, the software promises to improve customer engagement via powerful segmentation and personalization across various channels.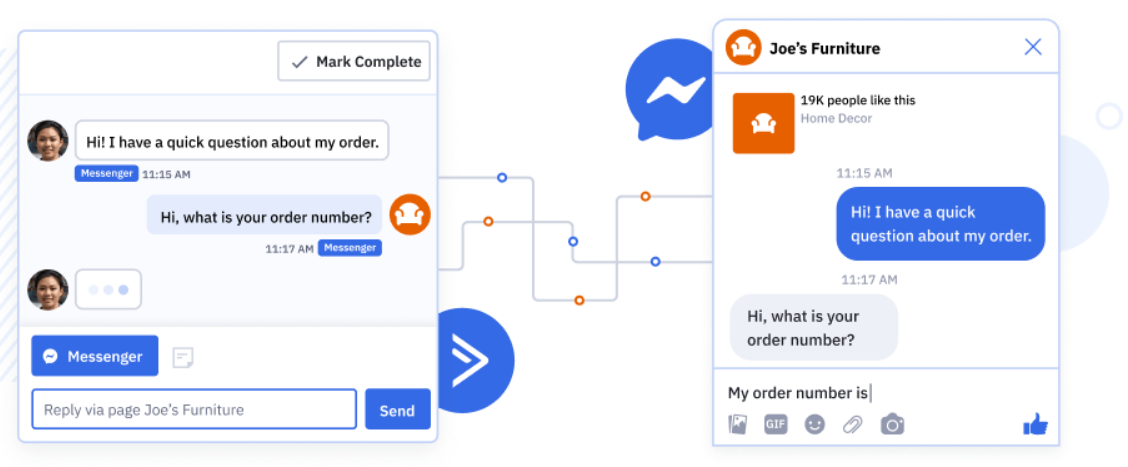 Key features
Marketing & email automation
Drag and drop email builder
Site and event tracking
Landing page
Lead capture forms
Lead scoring
SMS prospect nurturing
Reporting
CRM
Pros and cons
ActiveCampaign users praise their customer support team, as well as the implemented step-by-step guides and video tutorials. They also love the insights they gain from customer engagement tracking features, as well as the long list of available integrations. On the other hand, some users experience glitchy automation, which can lead to delays.
Price
ActiveCampaign offers four paid subscription plans. However, plan pricing is dependent on the number of contacts you have (the more contacts, the higher the pricing).
Lite – starting at $15 per month
Plus – starting at $70 per month
Professional – starting at $159 per month
Enterprise – starting at $179 per month
Learn more about improving your help desk productivity with LiveAgent's ActiveCampaign integration.
12. Jira
Jira is a bug tracking and project management tool used by agile software development teams. The software enables its users to create and organize issues, delegate tasks, and track work activity.
Using the Jira integration with LiveAgent customer service software users can easily create new tasks and issues directly from the ticket panel, saving data input time and eliminating platform hopping.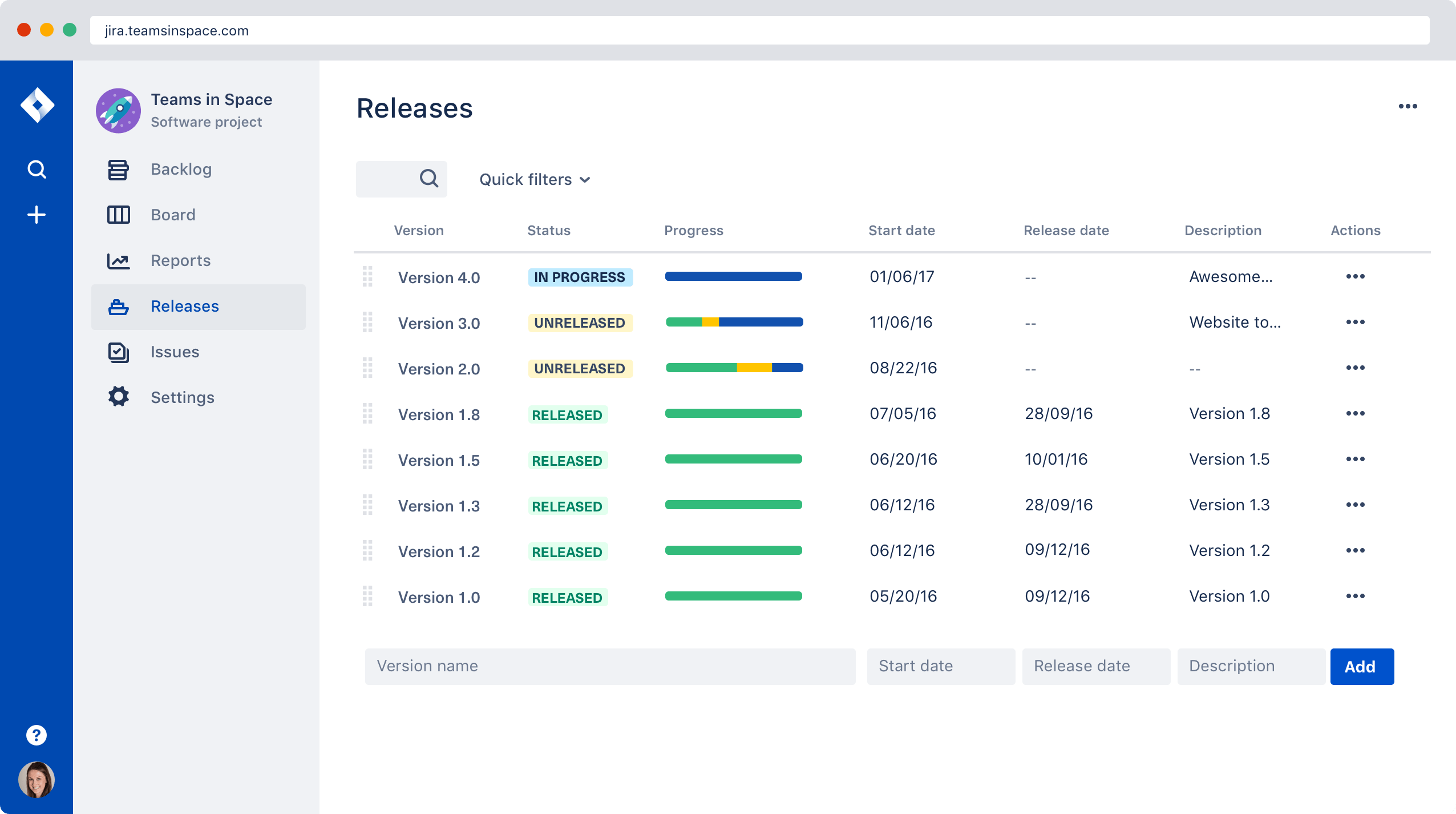 Key features
Scrum and Kanban boards
Roadmaps
Agile reporting
Commits, branches, pull customer requests
Deployment status
Feature flagging
Favorite version control
Automation
Pros and cons
The agile software is praised for its workflow customization options, advanced search filtering, and speed. However, some users report being overwhelmed with options, stating there's a learning curve with Jira. Others say that the mobile app needs work, as it's not very user-friendly.
Price
Jira is offered for free to small teams of 10 and under. Larger groups can choose from three paid subscription plans.
Standard – $7 per user per month
Premium – $14 per user per month
Enterprise – starting from $122,250 per year (801-1,000 users included)
Discover how to use LiveAgent's native Jira integration.
13. LiveChat
LiveChat is a live chat and help desk software that is suitable for businesses of all sizes. It's a multi-channel support software that streamlines all messages into a shared inbox. The software is known for its beautiful chat widgets, integrated product cards, and chatbot automation.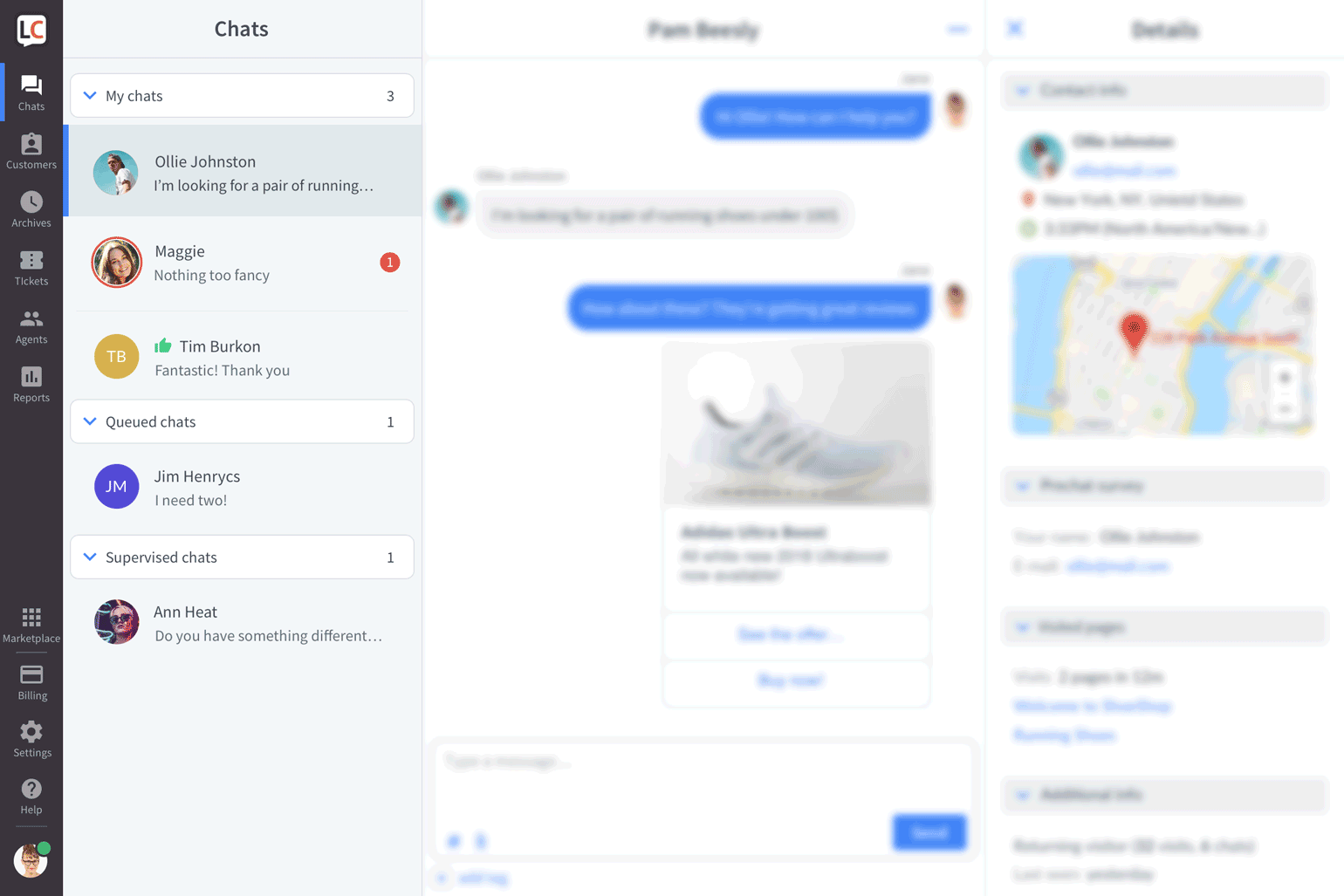 Key features
Offers native live chat feature and Facebook Messenger, email, SMS, and Apple Business Chat integrations
Message sneak peek
Multi-web support
Offline messages
Ticket management
Reporting
Proactive chats
Chat window translations
Pros and cons
LiveChat users praise its functionality, message previews, chatbot, and analytics. However, some would be even happier with LiveChat if they added features like embedded links in chat windows or customer cart previews.
Price
LiveChat is offered in four subscription tiers.
Starter – $19 per month per user
Team – $39 per month per user
Business – $59 per month per user
Enterprise – Custom pricing
14. Klaviyo
Klaviyo is a marketing automation platform that offers customer segmentation, benchmarking, and data analysis. The platform specializes explicitly in email and SMS automation, promising to deliver personalized content and increase customer engagement.
LiveAgent's integration with Klaviyo enables you to subscribe your customers to your Klaviyo mailing lists directly from the LiveAgent customer service software.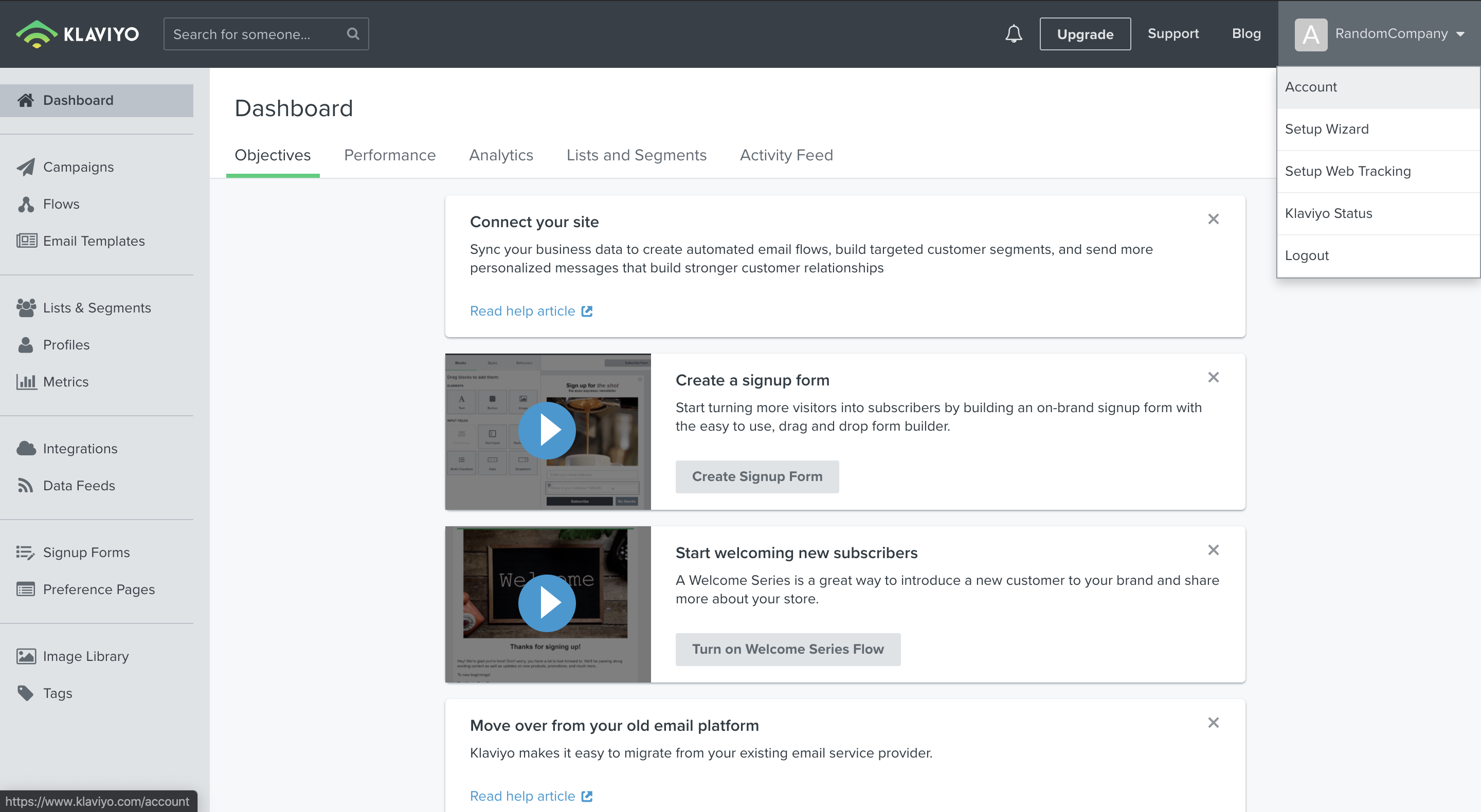 Key features
Flyouts, pop-ups, and embedded form types
CRM
Segmentation
Data science, benchmarking and reporting
Social advertising
Campaign management
A/B testing
Email, SMS, and MMS flow designer
Pros and cons
The marketing automation platform is praised for its ease of use, segmentation options, and two-way synchronization with other applications. As for criticisms, some users report having trouble rearranging flows (specifically CRM campaigns).
Price
Klaviyo charges per usage only. There are no contracts. You'll only have to pay for the number of contacts you email and SMS each month.
Learn more about integrating Klaviyo with LiveAgent.
15. Freshdesk
Freshdesk is a cloud-based omnichannel help desk software that offers bots, self-service solutions, and intelligent automation. It's great for streamlining customer support request into a single dashboard and for collaborating with others.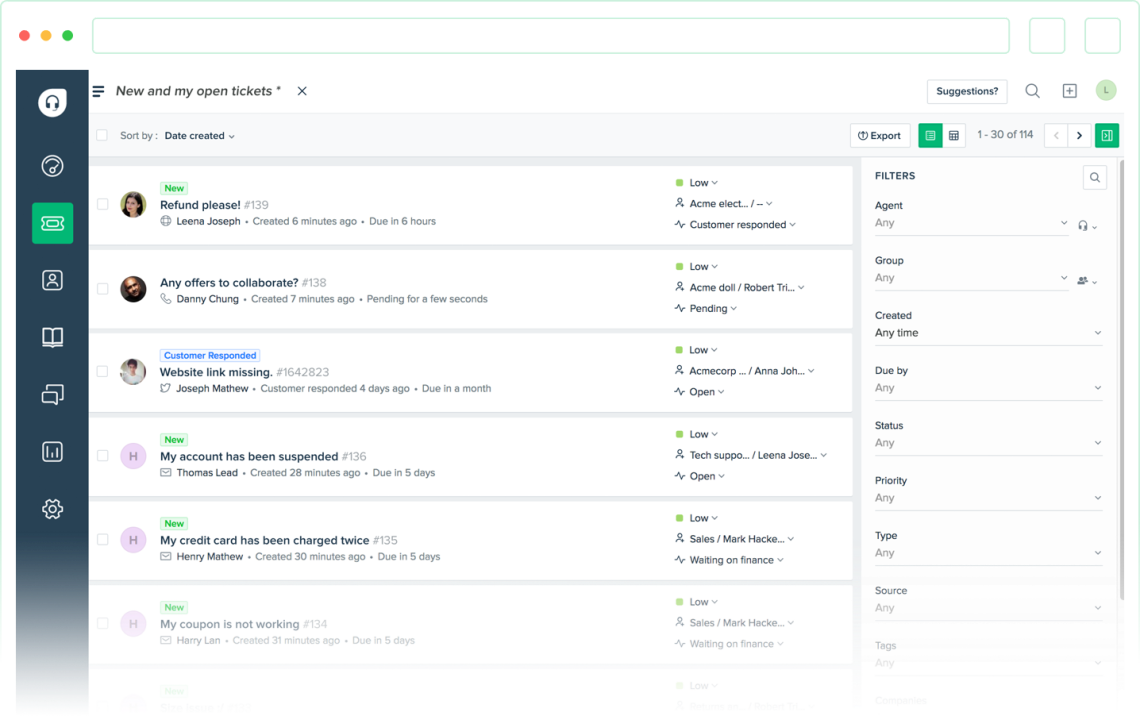 Key features
Email
Ticketing
Customer self service knowledge base
Automation
Reporting
Bots (email, assist, article suggester, etc.)
Social, chat tool, phone
Pros and cons
Freshdesk users applaud the software's ease of use, integrations, and collaboration options. However, some users would welcome a few tweaks, including a multi-tab ticket view, faster loading speeds, and faster responses from Freshdesk's customer service team.
Price
Freshdesk can be used for free with an unlimited number of agents. However, if you need more advanced features, you can choose from seven paid plans.
Helpdesk
Blossom – $19 per agent per month
Garden – $45 per agent per month
Estate – $69 per agent per month
Forest – $125 per agent per month
Omnichannel
Estate Omnichannel – $99 per agent per month
Forest Omnichannel – $169 per agent per month
16. Google Analytics
Google Analytics is a platform that tracks website and advertising traffic. Users can easily create reports and investigate spikes or dips in clicks, visits, and views. It's an excellent tool for gaining insights about your target audience and improving advertising ROI, content, as well as your products.
By integrating Google Analytics with LiveAgent, you can track all live chat sessions. Having this data at hand can help you evaluate the impact that live chat has on conversions or your agents' effect on your company's sales.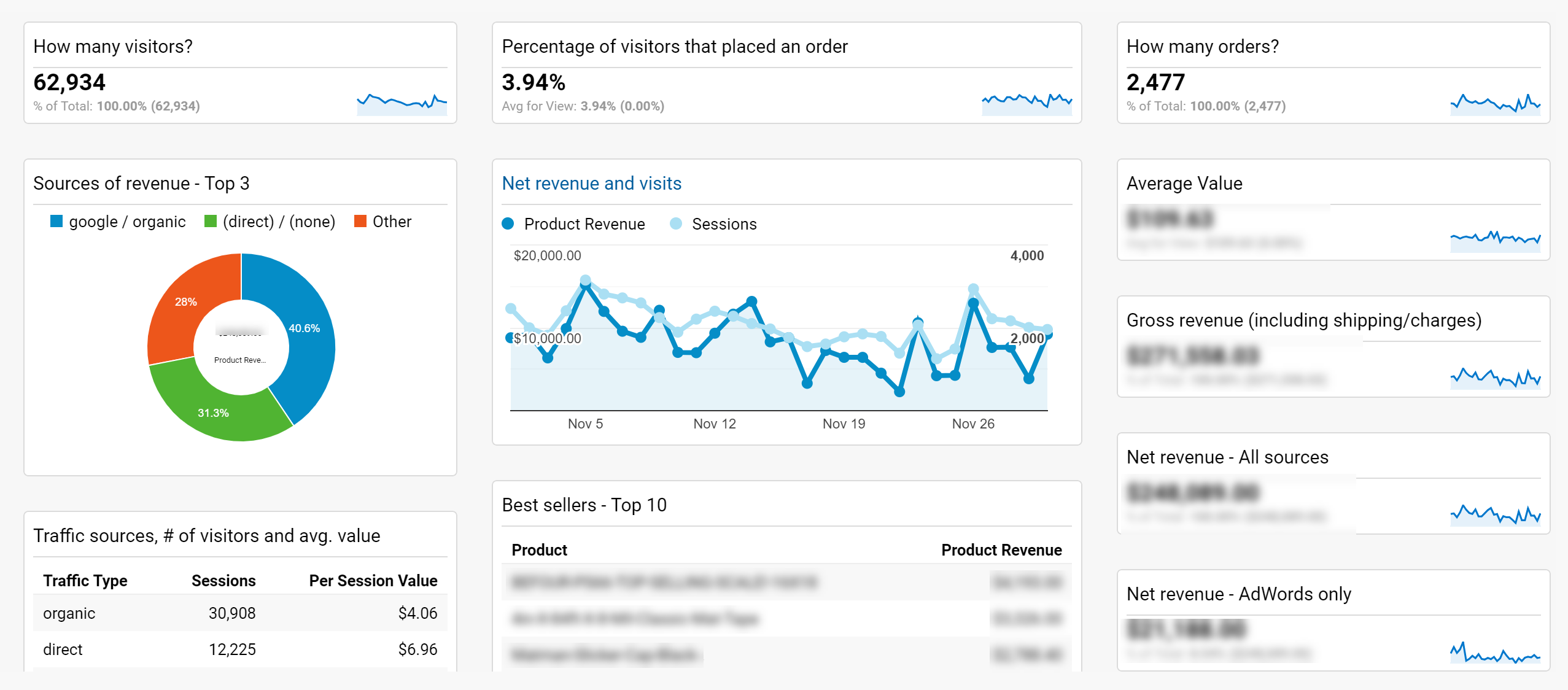 Key features
Digital session analytics
Event tracking
Reporting
Segmentation
Entry and exit pages
Conversion, engagement, and retention metrics
Pros and cons
Google Analytics is easy to get up and running, and above all, free to use. It tracks all the necessary metrics, including the number of visitors on your site, average page views per session, session duration, and much more. However, analytics users state that the app is quite complex and does have a learning curve.
Price
Google Analytics offers a free and paid version. The free version is ideal for small to medium-sized businesses. The paid version of the software has more functions and has custom pricing, so you will need to contact sales for an exact quote.
Learn how to integrate Google Analytics with LiveAgent.
17. Intercom
Intercom is a business messenger that companies use to communicate with existing and potential customers. The software offers live chat, bots, self-service platforms, and a ticketing system.
It integrates with wide range popular apps, including LiveAgent. The integration syncs customer data and messages received via Intercom and then streamlines them into LiveAgent.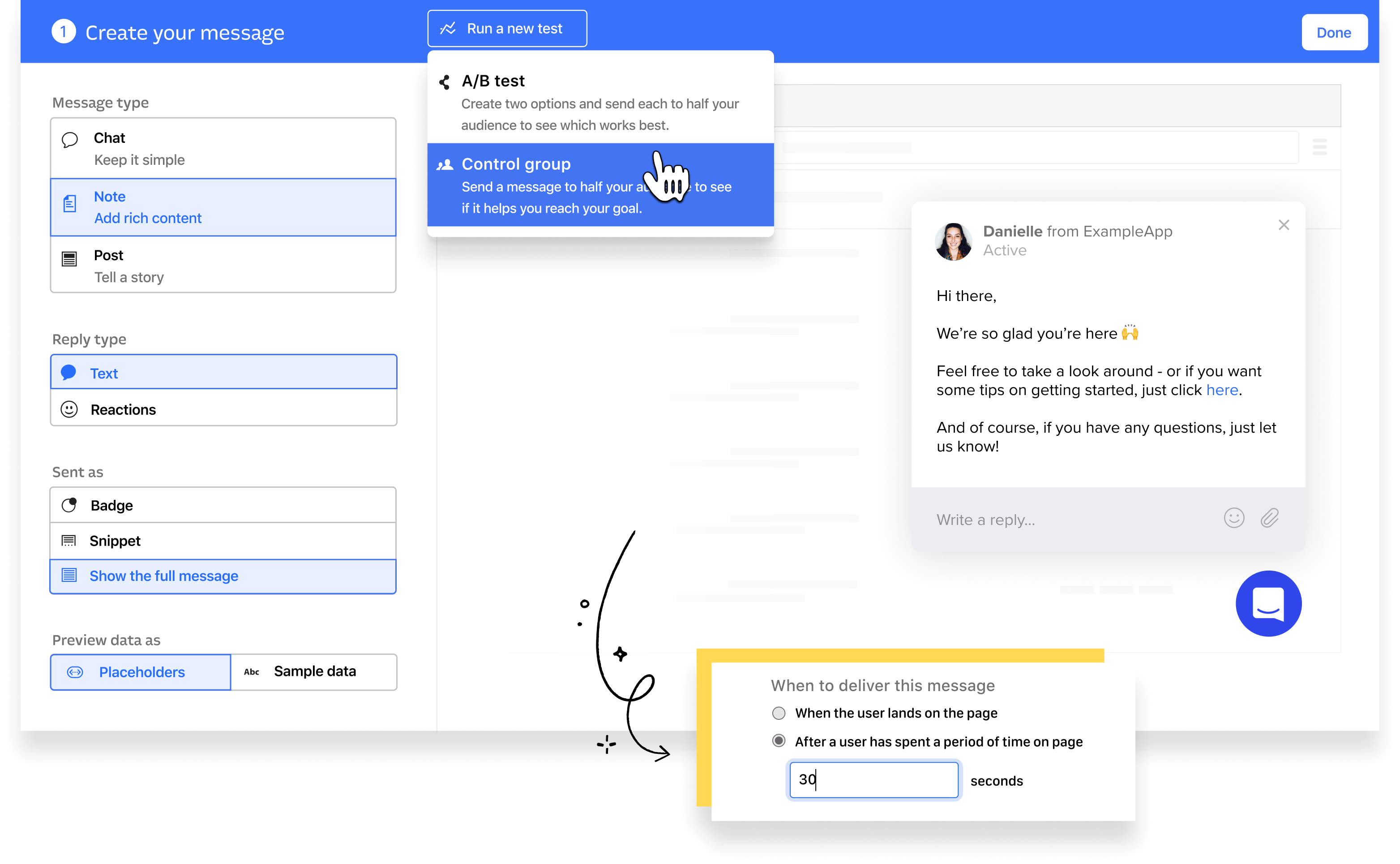 Key features
Live chat
Shared inbox
Chatbots
SLA management
Reporting
A/B testing
Help center
Product tours
Pros and cons
Intercom users enjoy the shared inbox, ease of use, and customer engagement options. However, some customers report having trouble with certain features and modules like filters, articles, and outbound marketing. They also say it has a learning curve.
Price
Intercom offers three different subscription plans — conversational marketing, conversational engagement, and conversational support. Each plan has custom pricing.
Learn more about integrating Intercom with LiveAgent.
18. Klaus
Klaus is a conversation review and quality assurance platform that promises to improve customer service quality through easy and systematic internal feedback. The software analyzes and rates each conversation using sentiment analysis and a complexity filter powered by machine learning.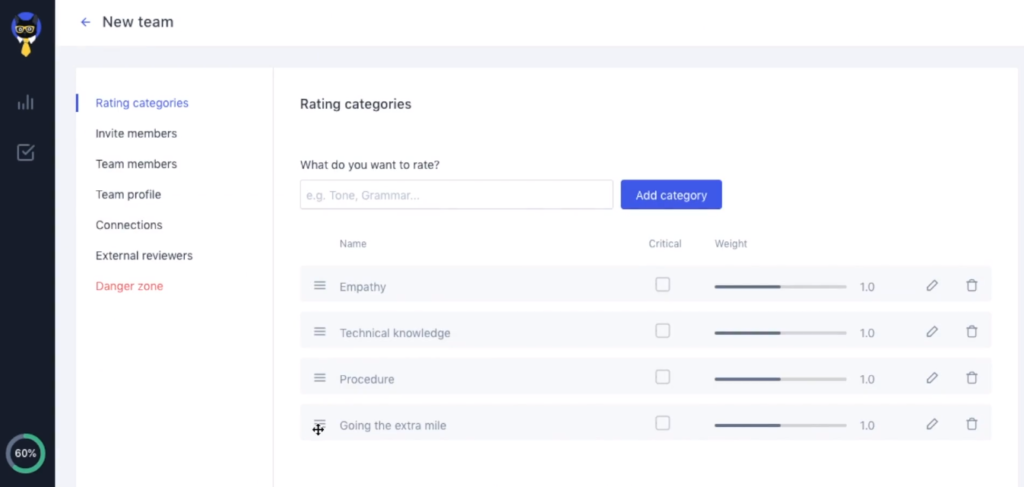 Key features
Sentiment analysis
Unlimited conversation reviews
Unlimited peer and self-reviews
Dynamic scorecards
Filtering
Goal review
Root cause analysis
Reporting
Pros and cons
Klaus users love the easy setup, aesthetic interface, and robust reporting tools. Most users couldn't find anything negative to say about the software — and resolved to listing minor nuisances such as occasional slower loading speeds or missing features (that are currently in production).
Price
Klaus offers custom pricing. To get a quote, visit their website and fill out a contact form on their pricing page.
Learn more about integrating Klaus with LiveAgent.
19. Zendesk
Zendesk is a multichannel customer service app that utilizes AI-powered bots and a robust ticketing system. In addition, it offers self-service, audio calls, and reporting capabilities, making it an excellent choice for businesses of all sizes.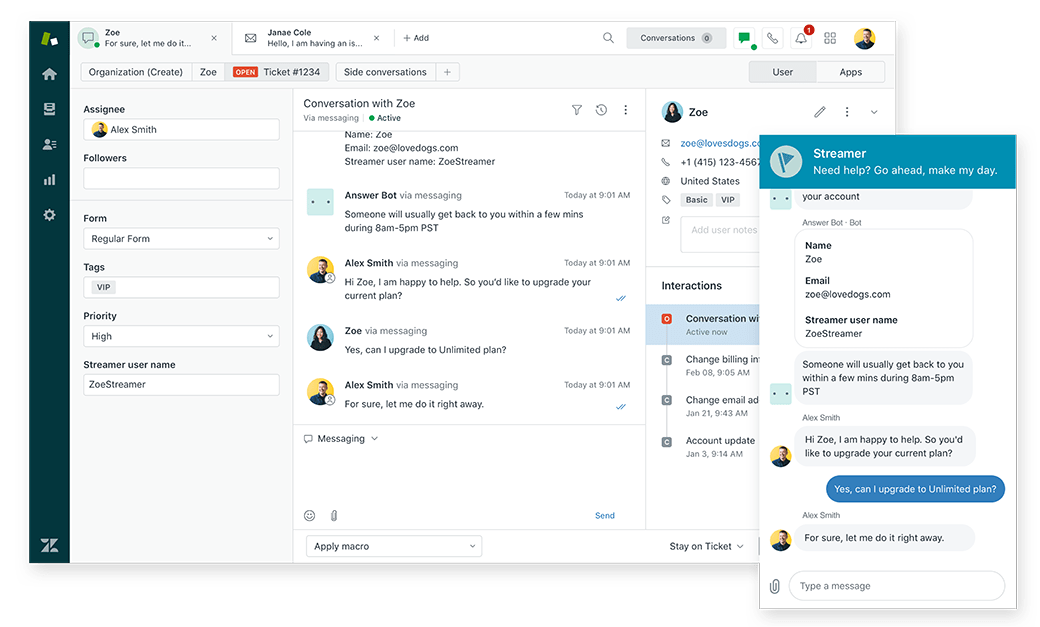 Key features
Ticketing
Live chat
Self service knowledge base
Reporting
Automation
Pros and cons
Zendesk users praise its ease of use and customization options. They love that the interface is user-friendly and that the ticketing system connects with WhatsApp, email, and phone. However, some users wish existing features offered more advanced functionality (for example, triggers and automation).
Price
Zendesk offers five service plans, three foundational support plans, and three sales subscription tiers.
Zendesk Suite for service
Suite Team – €49 per agent per month
Suite Growth – €79 per agent per month
Suite Professional – €99 per agent per month
Suite Enterprise – €150 per agent per month
It gets even more powerful – €215 per agent per month
Zendesk Support
Support Team – €19 per agent per month
Support Professional – €49 per agent per month
Support Enterprise – €99 per agent per month
Zendesk for sales
Sell Team – €19 per agent per month
Sell Professional – €49 per agent per month
Sell Enterprise – €99 per agent per month
20. SurveyMonkey
SurveyMonkey is one of the most popular free online survey tools. The platform offers fast survey creation, easy customization and sharing, and robust sentiment analysis. Moreover, it provides a feature that enables users to measure collected responses against industry benchmarks.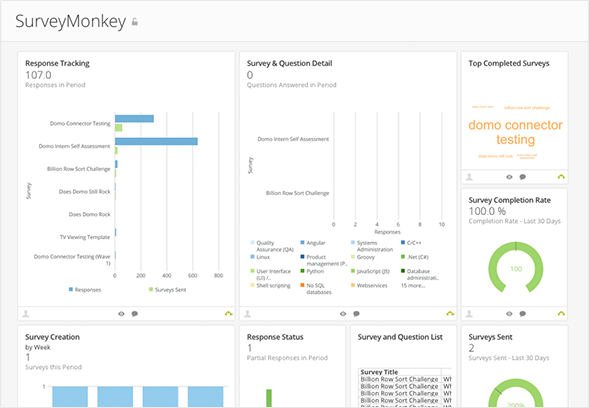 Key features
Unlimited surveys and survey questions
Survey personalization
A/B testing
Industry benchmarks
Multilingual surveys
Survey control sharing
Comments
Analyze features
Pros and cons
SurveyMonkey is praised for its easy setup, ease of use, and built-in suggestions that can help you choose the right kind of wording and features for your survey. Criticisms include a lack of minor customization options like changing a survey's background color or uploading a custom logo.
Price
SurveyMonkey can be used for free, but if you're looking for more advanced features, you can look into their paid plans.
Business plans
Team Advantage – €30 per user per month
Team Premier – €75 per user per month
Enterprise – Custom pricing
Personal plans
Premier Annual – €99 per month
Advantage Annual – €36 per month
Standard Monthly – €39 per month
Customer service software compared
1. LiveAgent
When comparing value for money, LiveAgent is the best support service software– it offers more features for less. It provides the most robust ticketing system, live chat, and call center software. The software also provides 24/7 personalized service across all channels.
2. Zendesk Support
Zendesk Support is a strong contender with a user-friendly ticketing system, AI bots, and rich social integrations, including WhatsApp. Although pricier, it does offer most of the core functionalities of LiveAgent.
3. Freshdesk
Freshdesk is another excellent platform to consider. It offers live chat, ticketing, calling, and social media support. It's easy to use and set up and has the same core capabilities as LiveAgent provided for a higher price.
4. LiveChat
LiveChat is an excellent customer service platform that offers advanced live chat features. The chat widgets are clean and modern and are one of the best at showcasing eCommerce products beautifully. However, if you're looking for more than just chat software, such as a help desk with an integrated call center, LiveChat isn't the best option for you.
5. Intercom
Intercom is an excellent messaging service that connects with multiple channels. It offers bots, a shared inbox, and a self-service knowledge base software. However, the software for customer service doesn't provide call center capabilities, is on the more expensive side, and doesn't provide its customers with a personalized customer success team that's available 24/7.
Conclusion
Using customer service software is paramount if you want to improve your customer service processes, and customer satisfaction while generating more revenue. However, to find the right solution, you need to consider what you want to achieve, what features you need to accomplish that goal, and how much money you can afford to spend.
Customer service expectations are at an all-time high– and to keep your customers from churning, you need to be able to meet or exceed their expectations. A customer service software will ensure you always respond to your customers on time and in a personalized manner.
Frequently

asked questions
How to manage customers data securely through customer service software?
Customer support software are secure solutions that utilize encryption 2-factor authentication and are certified and protected by several security measures. Managing customer data through customer support software is the safest option because every user has unique login credentials. As a result, there's no need to log in and out of multiple devices and accounts.
How to provide a customized experience (for both agents and customers)?
Creating personalized experiences for customers is easy if you have access to behavior tracking software and customer management software. By monitoring your customer's behavior on your site and consulting existing CRM data, you can create high converting, personalized messaging.
Is customer service software customizable to your business needs?
Most customer service software is flexible and fully customizable, allowing businesses to scale up with the software as needed.
Does customer service software come with analytics and reporting?
Most customer service software offers analytics and reporting. Some tools offer more in-depth analysis, while others provide more basic reporting.
Will customer service software allow you to scale seamlessly?
Yes, customer service software is generally flexible and adaptable to your business and its growth.
What's the best customer service software?
LiveAgent is the best customer service software because it offers the most advanced features for the lowest price.
How to choose the best customer service software for your business?
To choose the best customer support software for your business, you need to write down what you want to achieve and decide what you need the software to do to accomplish it. Then, with your budget in mind, research options on software review sites like G2, Capterra, or SoftwareAdvice.