As a quick and efficient way to get in touch with people, email is a huge part of business communication. It can be a great way to build relationships with potential clients, existing customers, team members, stakeholders, and potential collaborators.
However, if you're not careful, your emails can come across as unprofessional or even rude.
In this blog post, we will take a look at some examples of poorly written emails and discuss how to avoid making the same mistakes yourself and then having to come up with apology messages.
The importance of bad email examples
Email is one of the most important tools in any business owner or employee's toolkit since this method of communication can be used for everything from marketing, through cold email outreach, to customer service. However, if not done correctly, email can do more harm than good.
That's why it's useful to have some examples of unprofessional email practices to refer to before sending out any messages to potential customers or colleagues.
By knowing what not to do, you will be able to write effective business emails instead of ones that don't even get opened or – worse still – harm your professional image.
How to avoid bad email titles
The subject line of every email you send needs to be concise and relevant to the content of the message. As such, always state the topic of your email in the header and not just something vague like "hello".
For instance, if you are sending an email to connect with someone who you met at a recent event, a subject line such as "Nice to have met you at the conference last week" will provide some context to the recipient. They will know exactly what the email is about and make for a much more effective email than just "Hey, let's catch up", which is likely to be ignored or skipped in a crowded inbox.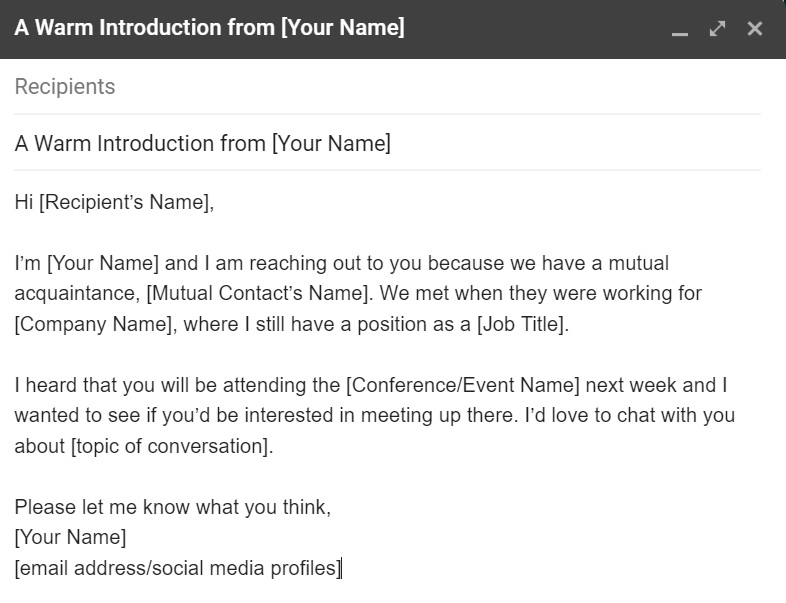 It is even more important to clarify what your message is about in the subject line if you are cold emailing, as the recipient won't recognize your sender's name.
When an email is replied to and the conversation moves along, it's typical for the subject line to be prepended with "RE: ". This is an acceptable practice as long as the topic of the discussion hasn't altered, in which case it's best if the header changes to stay relevant to the current subject and a new email thread is created accordingly.
Additionally, you should always avoid using all caps or excessive exclamation points in your subject line, as this can come across as aggressive or unprofessional. What's more, the use of such formatting or punctuation could trigger spam filters and prevent your message from landing in the recipient's main email inbox.
Examples of bad emails subject lines
URGENT!!!!
We need to talk
Can I pick your brain?
Quick question
Just following up
Hi there!
How are you?
Re: Re: [Topic]
Fwd: Fwd: [Topic]
Have you seen this???
How not to write a bad email
For the email body, it's important to use a courteous and professional tone. This means not using any slang, abbreviations, or jargon that the recipient might not understand, as well as emoticons that have no place in formal communication.
It's also best to avoid making jokes, witty remarks or sarcasm, as it doesn't translate well in text and could lead to awkward or even unpleasant misunderstandings. The same goes for complaining or gossiping about colleagues or home life, which should be confined to personal emails.
Additionally, keep your email messages as brief and concise as possible. No one wants to read a long and rambling email, so get straight to the point and provide any relevant information or attachments up front.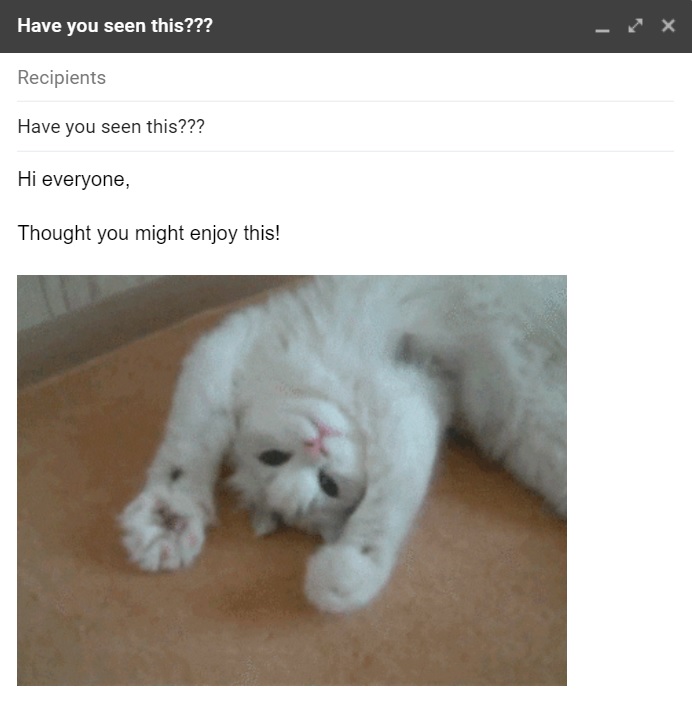 Excessive capitalization in the body of the email, as in the case of the subject line, can also come across as aggressive and potentially trigger spam filters. It is also unnecessary to use different colors and/or fonts because custom text might still show up in the default way for the recipient or, worse still, be illegible.
Starting the body of your message with a poor and ineffective line opening is another surefire way to make a bad impression. Some of the commonplaces include "Hi there", and "I hope this email finds you well". These lines are often overused and clichéd.
Formatting your email as something other than a business letter is another blunder. This includes the aforementioned capitalization, colors and fonts, as well as adding videos or images that are not relevant to the discussion.
Another element of a bad email would be the inclusion of unclear Calls to Action (CTAs) or their overuse. An instruction to the email recipient telling them what to do next, such as "Please call me back at your earliest convenience", can be effective. However, if your CTAs are vague or there are a number of them, they could be ignored completely.
What might be included in a bad email
Slang
Abbreviations
Jargon
Emoticons
Jokes
Witty remarks
Sarcasm
Complaints
Gossip
Too much information
Long blocks of text
Excessive capitalization
Unnecessary use of colors and/or fonts
Poor or ineffective opening line
Irrelevant images, videos, or other media
Unclear or overused CTAs
Personal signature image
Wordy disclaimers or messages after the signature
Unprofessional email examples and templates
URGENT!!!!
Hi [Name]!
Sorry to bother you, but I need help with [Pain Point] IMMEDIATELY!!!
PLEASE GET BACK TO ME ASAP!
Thanks in advance!!
[Your Name]
---
We need to talk
Hey,
How's it going?
Do you have time for a quick call? I need to ask you for a favor.
Cheers,
[Your name]
Subject: Can I pick your brain?
I'm just wondering if you could do me a quick favor?
I was hoping you could call me back at your earliest convenience. Please let me know if that works for you.
Thanks
---
Quick question
Hello [name],
I hope thus email finds you well. I wad wondering if you could help me out with a [Pain Point] I'm facing.
I've tried reaching out to [Colleague's Name] but their too busy right now, so you're help would be much appreciated.
Kind Regards,
[Your Name]
---
Just following up
Dear [name],
Thank you for your email. I apologize for the inconvenience. However, I can not help you with that problem.
Please call customer service at [phone number].
Thank you for your time.
Sincerely,
[Your name]
The contents of this message and any attachments are confidential. If you have received this email in error, please inform us by replying to this message and then delete it. Copying, forwarding, or in any way revealing the contents of this email or any attachments to anyone is forbidden. The integrity and security of this email cannot be guaranteed over the Internet, hence the sender is not liable for any damage that this message may cause.
---
Hi there!
Hello [Name],
I'm [Your Name], a [Position] from [Company Name].
[Website]
We sell [Product/Service], which helps people in [Industry] solve [Pain Point].
[More Info]
If you would like more information, you can go to the [Product/Service] page by clicking below.
[Click]
If you have any questions, please don't hesitate to get in touch with me and I'd be happy to answer.
[Questions?]
Kind Regards,
[Your Name]
[LinkedIn]
---
How are you?
Hi [Name]
Good to catch up with you yesterday. It would be good if you have time to talk again soon to carry on discussing [Topic]. I think we could do some great things together.
By the way, have you heard about what happened with [Colleague's Name]? We'll have to chat about it in person next time!
Best wishes,
[Your Name]
---
Re: Re: [Topic]
Hi all,
Me again
Sorry, I forgot to include the attachment.
Here it is this time:
[Attachment]
Best,
[Your Name]
—————————————————————————–
Hi all
Further to our discussion last week about [Topic], I'm attaching a document below with all of the additional information you might require.
Best,
[Your Name]
—————————————————————————–
Thanks for attending the meeting yesterday. I'll be sending out some more details next week.
Best,
[Your Name]
---
Fwd: Fwd: [Topic]
Hi all
Would anyone know how to help [Name] with [Pain Point] (please see the messages below)?
This is outside my area of expertise.
Best
[Your Name]
—————————————————————————–
Hello [Your Name],
I've just received the message below and thought you might be able to help more than me.
Please let me know and get back to [Name] directly if you would be able to offer any assistance.
Kind Regards,
[Colleague's Name]
—————————————————————————–
Dear [Colleague's Name]
Name of Mutual Contact] suggested that I get in touch, as they think that your knowledge in [Area of Expertise] could help me solve [Pain Point] that I'm facing.
If you would be able to assist me in any way, it would be great to schedule a call whenever you have time.
Sincerely,
[Name]
---
Have you seen this???
Hi everyone,
Thought you might enjoy this!
[Inserted gif]
[Your Name]
Bad email practices
Including too many recipients in the "To:" field – use email lists if you are messaging many people at once.
Cc'ing or Bcc'ing someone without their knowledge – include someone in a conversation only with their consent, otherwise it can lead to misunderstandings.
Forgetting to attach a file that was mentioned in the email – this is a common mistake and can be frustrating for the person you're emailing. You will also have to then send a follow-up email with the attachment, possibly cluttering up the recipient's inbox.
Sending large attachments – if you send a large file, upload it to a cloud storage service like Google Drive or Dropbox and share the link instead.
Replying All when it's not necessary – only include everyone in the conversation if your response is relevant to every single one of them.
Forwarding a forward – avoid passing around an email so many times that the original message is barely recognizable. If you forward a previous email, trim it down to the relevant parts.
Not including a greeting (such as Dear) or a closing (e.g. Kind Regards) – these are basic manners that should not be overlooked when starting or closing an email.
Omitting a "from" name – if you don't include your name in the email, the recipient may not know who it's from. This can be especially confusing if you're replying to an email thread where the other participants' names are visible.
Not proofreading your email before hitting send – always take a few moments to read over your message before you send it off, to avoid any embarrassing typos or grammatical errors.
Sending an email when you're annoyed – it's always best to wait a few hours (or even better, a day) before hitting send on an angry message you'll regret later.
Writing something in an email when you could say it to the recipient face-to-face – if possible, it's often better to have a conversation instead of trying to hash things out over email.
Failing to use a professional email address – if your mail is something like "iluvkitties@gmail.com", it's time to create a new one for business purposes.
Insufficient personalization resulting from insufficient research – generic messages are more likely to be ignored. Take the time to learn about your recipient and what they might be interested in before you start writing.
Lacking benefits for the recipient – every email should have a purpose and that purpose should be clear to the person you send it to. Make sure your message is something that they will find useful or interesting.
Leaving out a signature altogether – at the very least, include your name and contact information so the recipient will know how to get in touch with you. You can also add your job title, company, and other relevant information such as social media profiles.
Sending messages to the wrong recipients – although particularly embarrassing, it can happen more easily than you might think. Always double-check the recipient(s) before you hit send.
Get rid of your bad email practices
Templates by LiveAgent will help you improve your communication, all you have to do is choose the right one.
Summary
Bad business emails can cost you time, money, and clients. Remember to proofread your messages, be respectful of the recipient's time, and make sure your email has a purpose.
By following our simple tips and not repeating the bad examples mentioned above, you'll be sure to make a good impression with your business correspondence.
Frequently

asked questions
What causes people to make mistakes in their business emails?
The most common reasons are being in a hurry and not taking the time to proofread messages, or due to a lack of email etiquette. Some other causes of mistakes are not being in the right frame of mind (such as being frustrated), lack of concentration (e.g. from tiredness), or distractions (for example, from other people in the office).
Why is it important to avoid making mistakes in business emails?
Doing so can damage your professional image. If you make a mistake in an email, it could reflect poorly on you and your company. Additionally, if you're not careful, you could end up sending sensitive information to the wrong person. So it's always best to be cautious and double-check your work before hitting send.
How can I avoid making mistakes in my business emails?
First, take the time to learn about proper email etiquette. Second, proofread your message before you send it. And finally, if you're not sure about something, don't hesitate to ask a colleague or friend for help.
Contact your company's human resources department, internal knowledgeable base or academy page or refer to any of the numerous online resources regarding this topic. You can also ask a coworker if you need some advice more urgently, though be wary that they may not be accurate.
When is the best time to send a business email?
It depends on the situation and the recipient, but in general it's best to avoid sending emails late at night or early in the morning. At these times, the recipient may not be able to read your message or respond right away. People often check their emails at the start of the working day or during breaks such as lunchtime, so these tend to be more optimal times for sending emails in order for them to have the greatest possible impact.