Ensuring customer loyalty and reaching new potential clients are two high priority objectives of all digital marketing strategies. They are not easy goals to achieve, but there are specific actions that you can take to acquire new customers and keep your existing clients happy.
So how can you do it? Communicate with consumers directly and inform them about your products or services while providing value. You can consolidate their trust in a mutually beneficial way– customer onboarding.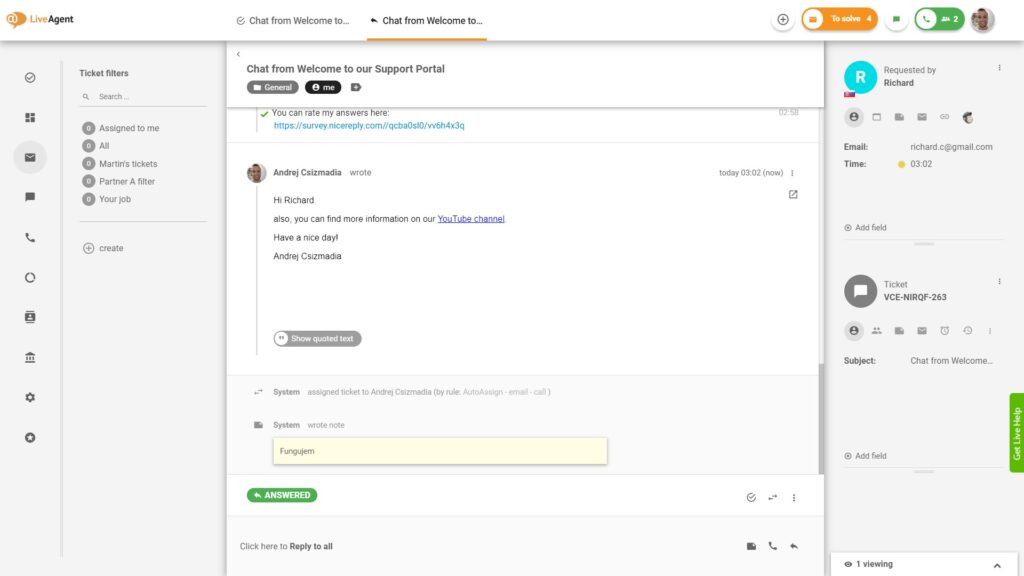 What is client onboarding? Why is it important?
When a customer buys a product or service, the merchant does not want them to regret the investment. After all, a satisfied customer is more likely to buy another product from the same business. And this is where onboarding comes in. It's a method for guiding the customers towards the correct usage of the products or services they have purchased.
If you want to improve interactions between your business and customers, implementing an onboarding strategy is a good option. By doing so, it will be easier to communicate with them and to create value. In essence, onboarding is a part of a larger strategy concerning the relationship with a new client.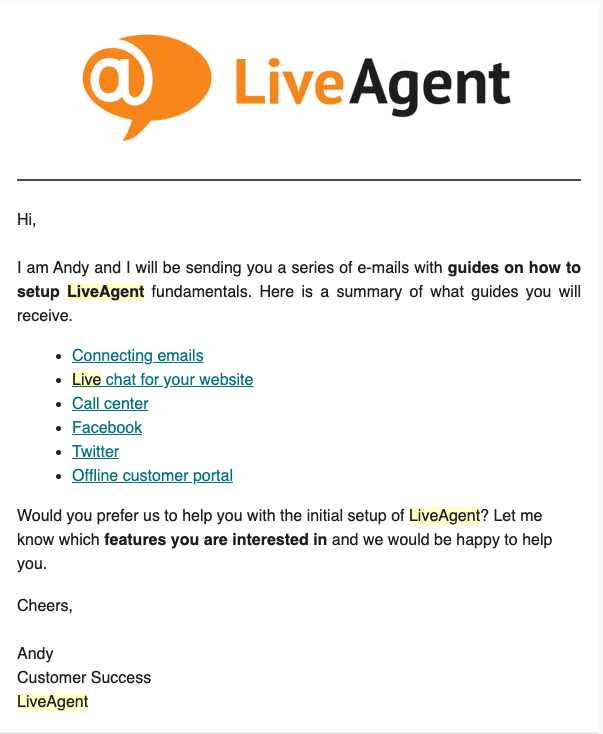 But what does it have to do with digital marketing?
Considering that marketing is mainly based on digital tools, channels, and strategies, it is essential to invest in practical, efficient, and successful communication channels, such as email marketing. That's why most of your onboarding strategy should be applied through personalized and targeted emails that are sent to new users.
If you receive such an email, don't be surprised if it includes a message about verifying your email address. This is for not only the vendor's security, but ultimately also for your own.
5 client onboarding email template ideas
Onboarding welcome email
Hi [name],
Thanks for joining [name of company].
We built [product/service] to [story behind it, explanation what pain points your offering solves].
We are really curious why you signed up for [product/service].
Your feedback will really help us improve our products, as we always aim to deliver exactly what our customers want.
Share your thoughts by replying to this email.
Over the next few weeks, you can expect a few more emails from us. All these messages will help you get the most out of [product/service].
We'll also share our tips and tricks on how we use [product/service].
Thanks!
[name and company]
---
An onboarding email template that comes from an actual human being
Hey [name],
I'm [name], the founder of [company name], and I'd like to personally thank you for [signing up to our service/buying our product/subscribing to our…].
We established [company name] to [mission/values of company/pain points that a product/service solves].
I'd love to hear what you think of [product/service]. Is there anything we should work on or improve? Let us know!
I'm always happy to help and read our customers' suggestions.
[name and company]
"Thank you for joining us" onboarding email template
Hey [name],
I really appreciate you joining us at [company], and I know you'll love finding out how easy it is to deliver outstandingly personal support to every customer.
We started [company] to help [small] businesses [of all size] grow, and I hope that we can achieve that for you.
If you wouldn't mind, I'd appreciate it if you answered one quick question: why did you [sign up for a service/ buy a product/subscribed]?
I'm asking because knowing what made you sign up helps us make sure that we're delivering what our users expect.
Reply to this email and let me know your opinion.
Over the next couple of weeks, we'll be sharing some tips from [industry], checking in with you and showing you how some of our other customers use [company/product/service] to grow their businesses.
Thanks, [name of the CEO], [company name]
The "Welcome to your trial" email
Hi [name],
Welcome to [product/service name]. Your X-day [number of free days] free trial starts today.
What will happen next?
We'll be sending you some hot news from the [name of the industry] industry and our best tips for [product/service]. Keep an eye on your inbox so you don't miss any message from us.
Want to reveal the full potential of [product/service name]?
Choose a plan below…
[paid plan link]
The product-focused welcome email
Hi [name],
Welcome to [product/service/company]. We're super happy to see you on board!
We're sure that [product/service] will help you overcome [pain points] thanks to providing [key benefits of product/service].
Get to know more about [product/service] by watching [title] video.
You'll be guided through [name of service/product] by [name], our expert in [area of expertise], to ensure that you get the very best out of our service.
And that's not all that we got for you! More insightful resources like our guides [link] or video tutorials [link to a video] are at your disposal.
Take care!
Client onboarding email template subject line examples
Welcome to [company], [name and surname]
[name], welcome to the [company] community!
[name], let's get you moving!
[name], you deserve the best
Welcome to [company], [name]. Your quotes are here!
New to the [company] world?
Are you feeling lucky?
Interested in opportunities?
Did you say "[noun associated with a company name]?" Welcome to [company]!
Ready to [activity associated with your company product/service]?
Ready to step up? Welcome to [company]
Here's how to get started with [product/service] from [company]
Log in to your [company] account
4 Ways to Get Started with [product/service]
Welcome to [company]: Important Next Steps
Welcome! Here are the top 5 things to know
Welcome to the world of [company]
Welcome to [company]! Make yourself at home
Welcome to Your New Favorite [product]
Client onboarding email templates – tips & best practices to follow
1. Know your customers
Knowing the user is essential in all areas of an organization but, when we are talking about client onboarding, it becomes mandatory.
2. Customize your onboarding
Each user can have a different problem that needed to be solved or different expectations of a product or service provider, so your onboarding emails should acknowledge this. Can you imagine a hairdresser doing the same haircut for all of their customers?
No? (If your answer is yes, send me the address of that hairdresser because that cut must be phenomenal!)
3. Ensure your customer's success, and quickly
If a customer has bought your product or service, it's up to you to deliver great results to them and to do so as soon as possible. Therefore, do your best to help them make the most of your product or service as quickly as you can. Show them that it is worth the time and money invested.
4. Don't give a hungry man a fish, teach him how to fish
Now that you've instructed your client how to use your product or service, they know about all the benefits the product can bring them. In a short time, your clients achieved their first success thanks to your product.
But did you teach them how to achieve this result, or did you bring the result to them?
Don't let your clients depend on the onboarding team. They must have autonomy and enough knowledge to be able to work with the product on their own. Your role is to help them succeed with the product on their journey.
5. Structure your onboarding team well
Your onboarding team is a part of the puzzle that must ensure all of the elements are successful.
Everything must be planned and organized well, with professionals at your side to take on the client's problems.
Client onboarding email templates – Frequently asked questions
Ready to put our onboarding templates to use?
LiveAgent is the most reviewed and #1 rated ticketing software for small to medium-sized businesses. Onboard your customers today with our free 14-day trial. No credit card required.
Frequently

asked questions
When should you send a client onboarding email?
Your first onboarding email should be sent a few minutes after your client registers or buys a product/service. Why a few minutes after? Because sending an automated email right away seems too artificial. It may be obvious that you are sending automated emails, but try to come across as personal as you can.
How long should a client onboarding email be?
Your onboarding email should be between 60 and 130 words. Keep the welcome message as short and simple as possible. You don't want to overwhelm them right away.
What's more, every time you onboard a new customer, ask for feedback so that you can continually improve your process.
What structure should my onboarding email have?
Content should be short, scannable, and presented in small chunks. Recipients spend seconds skimming over emails, only picking up on general keywords and topics. If they spot something relevant, they will slow down and read your message more carefully. Start by writing your email, then remove half of the words and review them to remove some more. After that, you'll be getting close to having only the key information left.