As the majority of today's business correspondence is handled by email, it's essential to both start and end emails on a strong note. However, with all the attention given to email subject lines and beginnings, email endings are often overlooked.
In fact, ending a business-related email properly is just as important as starting an email. The right kind of email ending leaves the recipient with a positive final impression, motivates the reader to take action, identifies the sender and their intentions, and provides the recipient with your contact information (so it's easy for them to get in touch with you.)
Read on to learn all about how to end business emails appropriately and take advantage of our list of professional email closings and closing line examples that are appropriate in a variety of contexts.
What to include at the end of your emails
1. A closing line
Before you send out your email, make sure it contains a short closing sentence that creates a smooth transition between the main subject of your email and your sign-off. This closing line can state your gratitude for the recipient's time, indicate that you're open to further communication, be a call-to-action, or alternatively be a statement that shows you anticipate a response.
2. Closing (sign-off)
Unless you're very close with the recipient, every business email requires a professional closing, that can be either formal or casual based on the type of relationship you have and the context of your communication. The most commonly used email sign-offs are "Regards" and "Best" but we've prepared a whole list of examples (down below), both formal and informal.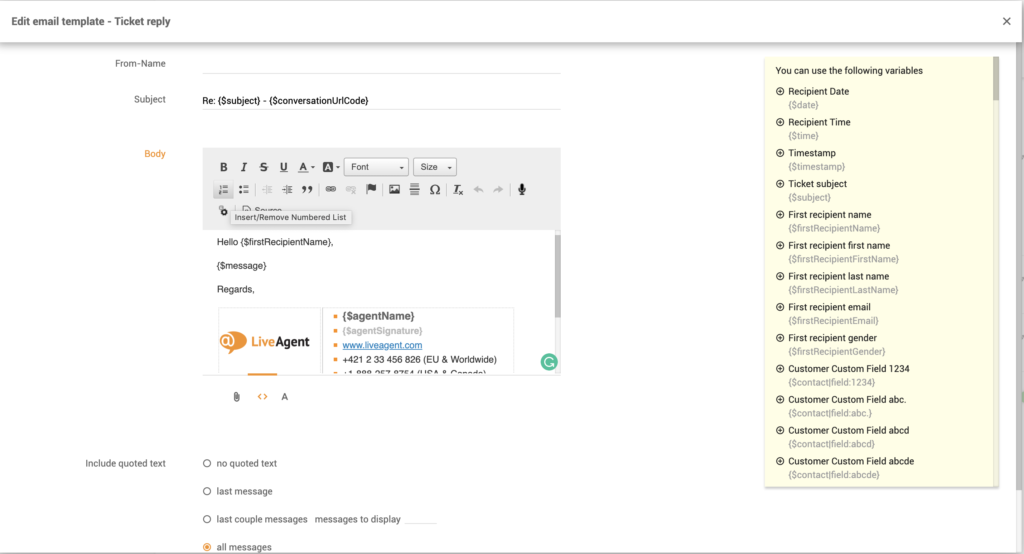 3. State your name
Always include your full name (first and last name) in your email signature if you are writing to someone for the first time. For conversations with colleagues, or people you already know and have exchanged multiple emails with, it's enough to sign off with your first name. Please note, it's advisable to not end a conversation with nicknames unless your nickname is widely known and used instead of your first name.
4. Title and company
Make sure to add your current job title and company name in your email signature so there is no room for confusion over who you are, especially if you're cold-emailing potential customers. If you're applying for a job, we advise you to leave your current employment information (email and phone number) out of your signature.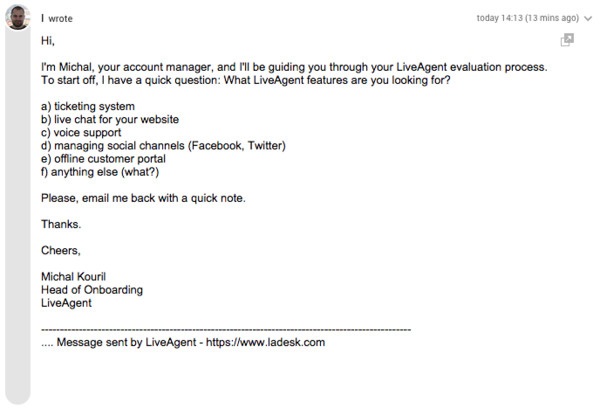 Even though the recipient of your message already knows your email address, it's always useful to provide additional contact information in your email signature, such as your direct phone number, as some people might prefer to reach you through other communication channels.
6. Additional resources
You might also consider adding links to your signature. The link could be a link to your website, your LinkedIn profile or other relevant social media accounts, a landing page you want to promote, your online portfolio, your online calendar, or your latest blog post, etc.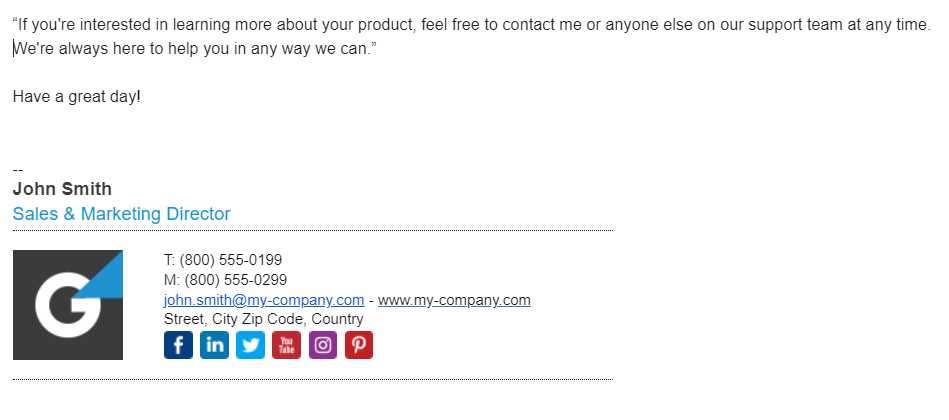 Examples and templates for ending emails
Professional email sign-offs and closing phrases
When deciding what type of sign-off to go with to end your business email, think about who you're emailing and why. If you're not sure which sign-off would be the most appropriate in a given situation, it's better to opt for a more formal closing phrase. "Best", "Regards", "All the best", and "Best regards" are some of the safest email closings that can be used in all situations and all types of emails. Here a few more examples of the most common and widely used professional email closings:
Formal email closing phrases:
Regards,
Best regards,
Kind regards,
Best,
Best wishes,
With best wishes,
All the best,
Sincerely,
Yours sincerely,
Sincerely yours,
Yours faithfully,
Warm wishes,
Casual email closing phrases:
Talk soon,
Until next time,
Cheers,
Take care,
Good luck,
Have a great weekend!
Have a wonderful day!
Have a productive day!
Enjoy your [day of the week]/week/weekend],
Happy [day of the week],
Happy holidays,
Hope this helps,
Closing phrases showing appreciation:
Thank you,
Thanks,
Many thanks,
Thanks again,
Thanks so much,
Much appreciated,
With appreciation,
I appreciate your [help/ input/ feedback]
Thank you in advance,
Thanks for reading,
Thanks for your help,
Thanks for your consideration,
Thank you for your [patience/ time/ cooperation].
Email closing line examples
Based on the context of your email message, you can also add a short email closing sentence prior to your sign-off. Use one of the following tried-and-true email closing lines to ensure you end your message on a positive note and let your recipients know that you anticipate their response or further dialogue.

Looking forward to hearing from you.
Looking forward to your reply.
Look forward to connecting soon.
I look forward to seeing you next week.
Hope to hear from you soon.
I would appreciate your reply.
Hope your week's off to a good start.
Happy to help if you want to know more.
Please feel free to contact me anytime.
If you have any questions, please email or call me.
If there's anything I can do to help you, just drop me a line
If there's anything I can help you with, just let me know.
If I can be of any further assistance, please let me know.
I am at your disposal for any questions or concerns you may have.
You can reach me at [phone number] if there's anything you'd like to discuss.
If you require any further information, you can schedule a call with me using this link.
Do not hesitate to contact us again if there's anything we can help you with.
I look forward to doing business with you in the future.
I enjoyed working with you and look forward to…
Thank you once more for your help in this matter.
Thank you for taking your time.
Thank you for taking this into consideration.
I'd love to hear your feedback.
I'd really appreciate your feedback on …
Please let me know what you think.

How to end a cold sales email
Figuring out the right way to end a cold outreach email might be challenging for any sales professional. Here are some examples of what you can include at the end of your cold sales emails to nudge a prospect to reply:
"If you'd like to learn more about how [Company] can help you [reach specific goals], feel free to book a time in my calendar here: [link]. I look forward to hearing back from you."
"Are you available for a 10-minute call on [date and time]? Just let me know what works best for you, I'd be happy to work around your schedule."
"Do you have 5-10 minutes to discuss how we can help [their company] achieve [specific goals]? If so, how does your calendar look this week?"
"It would be great to hear your thoughts and even explore how this [solution/ tool/ strategy] would fit with [their company]. Do you have 15 minutes this week?"
"If you'd like to hear about this in more detail, I would happily spend 30 mins telling you everything you need to know. Just let me know if you have any questions or would like to have a more in-depth conversation."
Design your own templates
LiveAgent gives you the power to design your own customer email templates, thus helping you to improve the customer service. Curious about all the opportunities?
How to end a sales follow up email
Follow-up emails are a must in any cold emailing strategy. Here's how you can end a sales follow up email to encourage your prospect to respond even if your previous attempts to connect with them were unsuccessful:
"If you are the appropriate person to speak with, what does your calendar look like? If not, who do you recommend I talk to?"
"Are you the right person to speak to regarding this? If not, could you help me find the relevant decision maker? I look forward to your response."
"I would really like to have 20 minutes of your time as I feel we can really add value to your [area of operations]. Can we book a call or a meeting?"
"Have you given any additional thought to my proposal? I'd be happy to do a quick review of it on the phone and answer any and all questions you may have. What time would suit you for a quick conversation?"
"Please let me know when you have had a chance to take a look at this info and would like me to give you a call to discuss. I'd be happy to answer any questions you have."
How to end a post-purchase/customer welcome email
Post-purchase emails and customer welcome emails are some of the most critical emails in email marketing campaigns that are aimed at building long-term customer relations. Here's how your email closing statements might look like for these types of emails:
"Thanks again for shopping with [Brand]. If you have any questions or need help – let us know! We'll do everything we can to make sure you love your experience with us."
"If we ever fail to live up to your expectations with the quality of our products, delivery times, or anything else – you can always reach out to our customer support team at [email] or [number]."
"If you're interested in learning more about your product, feel free to contact me or anyone else on our support team at any time. We're always here to help you in any way we can."
"I'd love to hear what you think of [product] and if there is anything we can improve. If you have any questions, please reply to this email. I'm always happy to help!"
"Thanks again for signing up for [product/ service]. We're always around and love hearing from you. If you ever need help, have ideas, or just want to say hello, please get in touch, and we'll get back to you within a few hours."
How to end a customer service email
When you're ending your customer service emails, it's always a good idea to encourage your customers to reach out in case they have any other questions, issues, or concerns. You should also reassure them that you're always ready to help. Here are some helpful examples that you can use to wrap up customer service emails:
"I will get in touch with our product team and will get back to you within thirty minutes with a complete answer. In the meantime, let me know if you have any more questions, comments, or concerns."
"We love to help our customers get the best out of our products. If there's anything else we can assist you with, don't hesitate to reach out."
"Please, let us know if you still cannot [ … ] so we can help you solve this issue and make sure you enjoy your [tool/ app] as soon as possible. Thanks again for contacting us, we're always happy to help."
"We're always here to answer any questions or concerns you may have. Please feel free to contact our support team at [phone number], or reply to this message and we'd be more than happy to help."
"We would be grateful if you would leave a review on our Facebook page as your insights could help others that are in your shoes. Thanks again for letting us know and feel free to contact us in case you have any questions."
How to end a customer apology email
When it comes to writing customer apology emails and dealing with frustrated customers, you should restate your apology again at the end of your email, and say that you appreciate their patience and understanding:
"Once more, I sincerely apologize for the inconvenience. Please contact our customer support team for any further concerns you might have – our agents are always here to help."
"I have relayed your feedback to the rest of the team and can assure you that this mistake won't happen in the future. That said, if there's anything else I can help you with at the moment, please feel free to reach out and I would be more than happy to help."
"Thank you again for your patience and for bringing the issue to our attention. In the meantime, we're going to give you [details of your offer] as an additional apology. If there are any other issues that need to be addressed, please don't hesitate to contact us."
"Thank you for your patience and understanding. Rest assured, we are doing everything in our power to not let this happen again. If you have any more questions or come across any other issue, let me know, I'll be happy to help."
"Once again, accept our apologies. We sincerely appreciate your understanding in this matter. Please feel free to reach out to me with any questions you may have – I'm just an email away!"
Summary
An email end is usually just a closing remark or a short sentence followed by your signature, yet finding the right words and the right tone to close your email message often requires a great amount of thought. How you end an email can actually make a huge impact on the recipient's decision to answer your email. Knowing how to end professional emails is the key to efficient business communication, leaving the reader with a positive impression, and increasing email response rates. If you're not sure how to end your next business email, the above-mentioned examples of email closings might come in handy.
Frequently

asked questions
Why are email closings important?
Since an email closing is the last thing your recipient reads, it can be a motivating factor in how quickly they respond – or whether they are going to respond at all. By finishing your email in a polite, professional and appropriate way, you have a better chance of receiving a positive response.
Which sign-offs are not appropriate for a business email?
Even if you have a casual relationship with the recipient, unprofessional closings should be avoided in any type of business communication. These "unprofessional" closings include "Have a blessed day" (or anything else with religious overtones), "Peace out!" (or any other slang), "Thx" (or any other abbreviations), "See ya later" (or any other informal sign-offs), "Yours truly"/ "Love" (or anything else that suggests devotion).
How should you format an email closing?
While it's important to end a business email in a professional way, proper formatting is also critical for making a good final impression. Make sure to include a comma after your closing remark, then add a space and type your full name, followed by your title, company, and any contact information you want to provide.