After spending months on developing a product or service, the obvious thing is to launch it out into the world; and email marketing is a good channel to spread the word about your new product. But if you rush the launch, it can harm both the product and your business. The right thing to do is to plan the product launch properly– choose the right channels to send the word out, leverage the best possible product launch email templates, make the message attractive and engaging, and so on. However, before we dive deep into product launch email templates and best practices, let's start with the basics.
What is a product launch email and why is it important?
Whether you are just starting a new business, or you're an established player, introducing new products and services is the key. Once you have gone through the starting a business checklist, and you have your product range ready, it's time to start promoting.
A product launch announcement is a series of activities that aim to promote and publicize a new product or service. From sending an informative message to let the customer know about your new product, to inviting them to the official launch event.
Businesses often use email to generate anticipation and enthusiasm before the launch of their product. This helps attract attention and ultimately generate more sales once the product is available.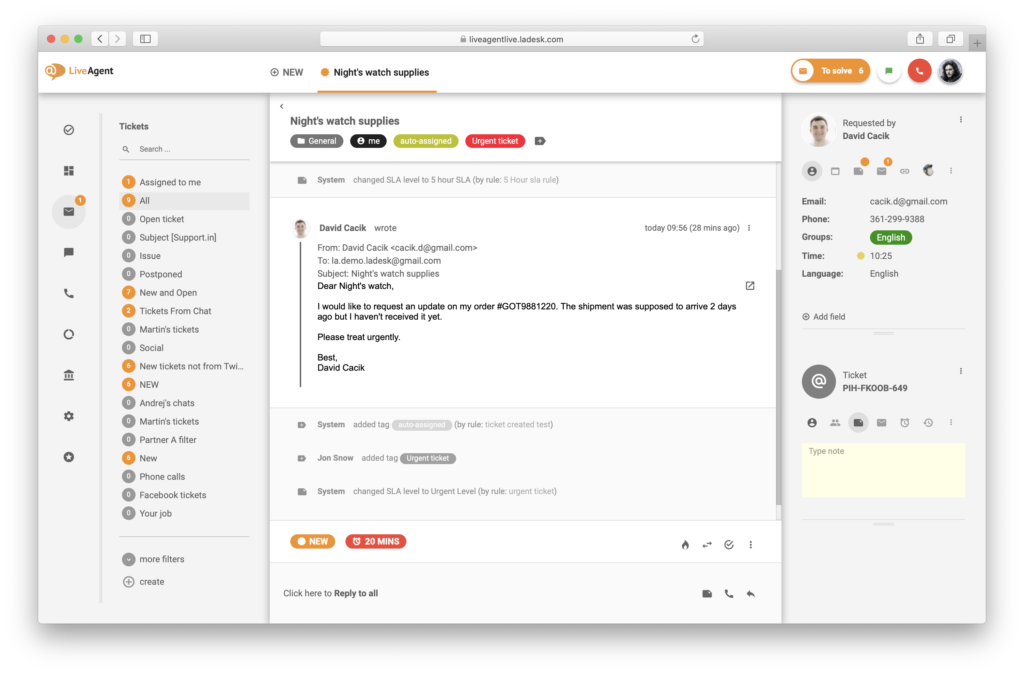 But what exactly is a product launch email? A promotional product launch email is a type of email that companies use to promote their products, services, offers, and campaigns. It is an important part of the business announcement process because it enables you to address your target audience directly.
Unlike transactional emails that inform customers about their order or account information, promotional emails generally strive to convert subscribers into customers or to up- or cross-sell. Product launch emails are also categorized as promotional emails.
In a SaleCycle study, more than 50% of respondents said they purchase products presented to them via marketing email once a month.
With well-written promotional emails, it doesn't take much to convince potential customers to buy from you.
In essence, writing highly-converting promotional emails is the key to hype up your product and increase sales. Let's see how you can do just that, one type of promotional email at a time – starting with a product launch email.
5 product launch template ideas
There are thousands of examples of product launch emails. After a single Google search, you can find many templates and descriptions of successful campaigns. For your convenience, we've curated a list of 5 product launch email templates that we find the most compelling.
Software release announcement template
Hi [name]!
We are super excited to announce our new [name of a digital product/service].
[1-liner description about the product and its function]
During the past few months, we have been working really hard to improve our [product/service], and we believe that [name of the offering] will help you enjoy your experience with [company] even more.
So what is [offering] all about?
[explain the purpose of your product or service, focusing on the features, add visuals].
[if applicable] You can download our app directly from the App Store or the Google Play Store.
[CTA button]
Happy testing!
Best,
[your name & company's name]
---
New feature release announcement template
Hello [name]!
Our new, updated version of [product/service] is finally up and running!
We made sure to [briefly explain what makes the updated version better than the previous one].
Ready to test the updated version?
Click on the button below to get started!
[CTA button]
Best,
[your name & company's name]
---
New physical product launch template
Dear [name],
The new [product name] is finally available!
What makes the [product name] different is [give an intro to the Product and say why your audience need it]
You can order your [Product] directly from our store or find it [name of a platform].
[Add if applicable] The first 100 people that place an order will receive [an extra product/discount/free shipping/unique feature].
[CTA button]
Best,
[your name & company's name]
---
Product or service launch email – short template
Hello [name],
We couldn't be happier to welcome [Product or service] into the [company] family.
But what is [a product] actually? It's a [short description of a product]. You may have heard about such solutions before, but we assure you that [Product] is one of a kind.
Bold statement? Just look at this list of benefits that [product name] brings!
Benefit 1
Benefit 2
Benefit 3
…
Pretty convincing, huh? You have to test our [product/service] to learn about its full potential.
[CTA button]
Enjoy!
Best,
[your name & company's name]
---
Conversational product launch email template
Hi [name]!
What's your #1 challenge right now? Please think about it for a second…
And now let me guess – it's [a problem that your product/service solves], right?
No need to worry, our [product/service] is available and ready to make your life easier.
Now you'd like to ask how you can get it, correct? Got you covered! You just need to click the link below and place your order. Yep, right there, this small [color] button:
[CTA button]
Have fun exploring, and let us know what you think!
Best,
[your name & company's name]
Remember to always personalize your emails and write straight-to-the-point copy that answers the following questions:
What is the upcoming product?
How does it work? (in simple words)
Why does your audience need it [now!]?
How can they get it?
7 enticing email subject lines
The content inside your email is important, but nobody will read it if you don't use a killer subject line first! Remember – it has to be eye-catching. We have a few examples for you.
Struggling with [a problem]? We've got you covered! [Product]
It's finally here! Meet [Product]: You will now get [benefit]
New [product or service] from [company]: A solution to your [problem]
Say hello to [Product]! Now [benefit] is at your fingertips
Tired of [problem]? Worry no more! [Product] is here to help you out!
Available Now: [product], the Solution to [problem]
[Product] is now live. Read this email to learn how you can get it.
Problems With [Problem]? Have you tried [Product]? Absolute news on the market
Product launch emails – tips & best practices to follow
Plan, plan, plan!
How often do you plan to send emails to your subscribers, and what will the emails contain? The first step for creating successful email campaigns is to develop a strategy, research your audience, and schedule the emails inside your editorial calendar.
Highlight what you are missing
Your product exists to help people with a specific problem. Whatever it is, now is a good time for your audience to think about that problem and how your product can eliminate it. Therefore, it's important to highlight the value of your product in every email.
Identify a clear and consistent call to action (CTA)
Think about what action you want your subscribers to take after they read your email. Are they subscribing to a separate list for exclusive product updates/announcements? Should they spread the word on social networks? Do they have the option to pre-purchase the product? There are many questions you can consider for your CTA, but stick to one to avoid confusion.
If you plan to promote your new product or service across multiple channels, make sure your message is consistent. This means that the copy should have the same writing style, the images should be cohesive, and the CTAs should prompt users to take one specific action.
When should you send a product launch email?
As already mentioned above, bringing a new product into the world is an exciting time. After spending hours, weeks, and maybe even months putting together this novelty that your audience will love, you deserve to present it with pride.
It's never too early to think about how you're going to promote your product and when you are going to do so. We don't want to get into too much detail, so let's just focus on the basics.
Your product launch email should be sent the moment your product or service is ready to be used or available to be purchased online or in stores. We advise you to send a sneak peek announcement email prior to launch to inform your audience that your product will be available soon. However, remember that your product launch email must be sent only once your offer is available for purchase.
Ready to put our product launch email templates to use?
LiveAgent is the most reviewed and #1 rated customer satisfaction software for small to medium-sized businesses.<br> Try it today with our free 14-day trial. No credit card required.
Frequently

asked questions
How big should my email database be?
This is different for every business. If you are selling mass B2C products that are available for many types of customers (like a mobile phone, a scarf, or an economical car), your database will be huge, consisting of hundreds of thousands of contacts. But if you offer a highly-specified B2B shipping management software, your database will be smaller. The most important part is to segment the database according to different buyer personas.
What's the perfect length of a product launch email?
As a rule of thumb, promotional emails should be short and sweet. Your email should convey the message using the least amount of text possible. You are not writing a detailed product manual or listing all the available features. The aim is to present the benefits of your newly launched product or service and to persuade the reader to click the CTA button placed in your product launch email.
Should I write a plain text email or send an email in HTML?
The difference between a plain text email and an HTML email is the formatting. A plain text email contains only text without any formatting options. It also enables you to embed simple visuals or gifs into the email copy. On the other hand, an HTML email can contain images, colors, and other text formatting options. Choosing which email is better for your company depends on your email marketing strategy, branding, style guide, and other factors. It seems reasonable to use emails based on the HTML code, especially in the case of B2C products, as this kind of email gives you more options to visually present your product. However, 62% of marketers say they send hybrid HTML and plain text emails to their subscribers.