As much as every business wants to please their customers each and every time, it's not always possible to say yes to all customer requests. Embracing the idea that the customer is always right makes it harder to figure out how to say no to customers without disappointing or losing them. However, when a customer demands something that is not available, unreasonable, or simply impossible to provide, everyone involved in direct interactions with customers should be perfectly aware of how to say no to customers in a polite way.
How to say no to customers without losing their business
How to say no to customer requests or demands without making customers angry, frustrated, or disappointed? Here are some basics to keep in mind whenever you have to write a rejection letter to your customers or prospects.
Reframe the 'no' using positive language, which is the only communication you should use when writing a rejection letter.
Keep a simple rejection letter format: show appreciation, break the news, tell why, offer help, and close on a high note.
Use empathy statements to show you understand a customer's feelings (i.e. I totally understand that …, I know how frustrating it must be …, etc.)
Always provide a dedicated explanation of why you are not able to fulfill a customer's request (i.e. something goes against company policy).
Assert your refusal without giving false promises to customers (i.e. don't promise to implement a feature in the near future if you are not really planning to do that).
Find the closest alternative, if possible. Even if it won't work for the customer, they will still appreciate your effort.
Make sure a customer understands you are saying no to their request, not to them personally.
If things change, follow up with the customer to let them know you are now able to fulfill their request.
How to say no to a customer: 7 Rejection letter templates
Whether it's a fear of a bad reputation, ruining your relationship with a customer, or completely losing their business, rejecting customer requests can be challenging if you don't know how to do it in a professional way. In fact, learning how to say no is an essential skill, especially for those working in customer-facing positions. A polite refusal is often your best bet if you have to reject a proposal.
Below are some standard rejection letter templates you can use (and personalize) for your customer interactions.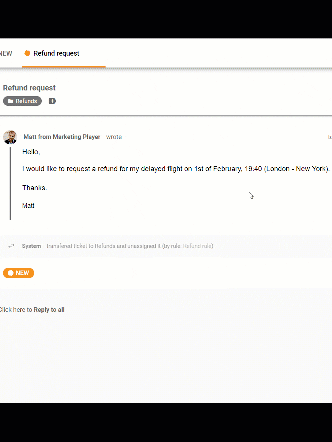 How to say no to a customer feature request

Hi [NAME],
Thank you for emailing and bringing this feature to our attention. I could definitely understand how our customers would benefit from it.
Right now, we don't have anything like that in place, however, we've actually heard that request quite a lot, so we'll possibly implement it very soon. I'll talk to our development team and find out if that could be added to a future release.
In the meantime, please let me know if there's anything else that we can help you with and have a great rest of the week!
Best,
[YOUR SIGNATURE]

How to say no to a customer asking for a feature that was removed

Hi [NAME],
Thanks for reaching out. This feature was removed from our product because it was slowing down the app loading time for most of our customers, including those who never used it. So we are not likely to bring it back any time soon.
I totally understand that it must be frustrating for you to lose a feature you relied on. But if needed, I could recommend you an alternative tool that has it. Regards,
[YOUR SIGNATURE]

How to say no to a customer asking for a discount

Hi [NAME],
Thank you for choosing [COMPANY NAME]. We're happy that you've decided to buy our product and we can't wait to have you on board!
Regarding your discount request, unfortunately, we won't be able to offer you a discount at the moment. We believe that our service offers more value for your money and besides, it would be unfair to our other customers if we make an exception.However, we do run promotions sometimes, you can find them on our website at [LINK], or you can subscribe to our monthly newsletter to be up-to-date with our future offerings.
Please let me know if you would like me to add your email to our mailing list.
Best,
[YOUR SIGNATURE]

How to say no to a customer asking for a refund/ return/ exchange
Dear [NAME],
Unfortunately, I'm unable to process your refund/ return/ exchange request because the product has been damaged after the delivery.
I understand this is not the message you wanted to hear and it must be disappointing given that you didn't get to use it much.
We do accept this damage was most likely caused unintentionally, so as a gesture of goodwill we'd be happy to provide you with a 20% discount off your future purchase. Simply use this code: [NAME] to redeem it.
If you have any questions, please let me know. I will always do whatever I can to assist you.
Regards,
[YOUR SIGNATURE]

How to say no to a customer asking you to do their job for them
Hi [NAME],
I have attached a short instruction that will walk you through the process of doing X. You can easily get this ready in less than no time.
In case you do face any difficulties, please don't hesitate to reach me. We can get on a call and I will guide you step by step.
Regards,
[YOUR SIGNATURE]

How to say no to a meeting with a client
Hi [NAME],
I'm so glad you're interested in cooperating with our company on your new project.
As much as I'd love to meet to personally, I'm unfortunately unavailable to travel this week due to existing commitments and can't give you the time you deserve to discuss this further.
However, I'm happy to start the conversation now via email if that works for you?
[DETAILS YOU PLANNED ON DISCUSSING]
Would love to hear your thoughts on this. And if you'd prefer to discuss in person, I'm available [DATES] and would be happy to talk more about it then.
Thanks for understanding,
[YOUR SIGNATURE]

How to say no a client's project
Hi [NAME],
Thanks a lot for sending us the details of [PROJECT NAME], it really sounds like a great opportunity!
However, after reading through the proposal and having a discussion with my team, we've decided that unfortunately we won't be able to take on this project.
Though we'd love to move forward with this, at this moment we simply don't have enough resources that this project deserves.
Should things change in the nearest future, I will definitely be in tough and let you know.
Best regards,
[YOUR SIGNATURE]

Ready to put our rejection templates to the test?
LiveAgent is the most reviewed and #1 rated customer satisfaction software for small to medium-sized businesses. Try it today with our free 14-day trial. No credit card required.
Frequently

asked questions
What is a rejection letter?
A rejection letter is a formal letter to inform an applicant that he/she will not be hired.
What do you say in the rejection letter?
The letter should briefly summarize the principal reason for not hiring an applicant. The letter should end with a thank you note. Moreover, the rejection letter should be sent within a week of the interview.
How do you write a good rejection letter?
The letter should be addressed to the applicant and written in the third person. It should be professional, polite, and brief.