Every business has to deal with angry and complaining customers every once in a while. Whatever the reason for customer dissatisfaction, proper and timely response can make a difference between keeping a frustrated customer loyal or completely losing their business. Considering that 95% of unhappy customers tend to share bad experiences with others – either personally or through social media/ review sites – knowing how to deal with an angry client and how to respond in a professional way is an absolute 'must-have' for anyone working in customer-facing positions.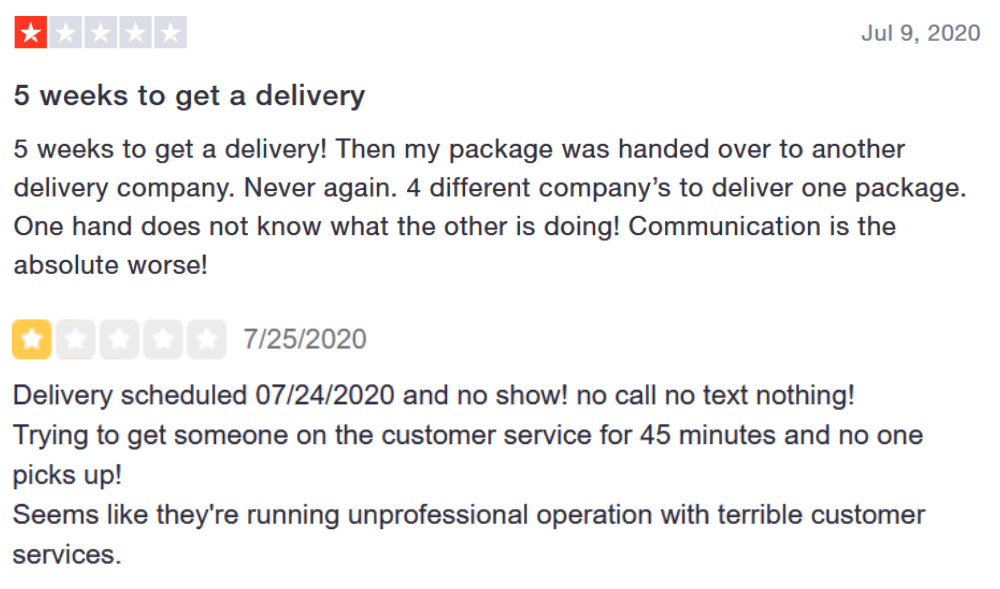 How to respond to unhappy customers
When replying to an angry customer email, there are a few key points to remember and include in your message:
Respond as soon as possible to avoid spreading the negative word-of-mouth.
Apologize for the customer's negative experience, show empathy and understanding.
Take responsibility for whatever your company may have done wrong.
Provide an explanation for the situation, if possible, and ensure it will not happen again.
Offer some incentive, a reasonable discount or refund, where appropriate.
Encourage the customer to respond with further questions, comments or concerns.
8 Customer service email templates for responding to angry/ complaining customers
Writing an apologetic letter is not an easy task. To handle customer frustrations and complaints smoothly and effortlessly, you may use the following email response templates for some of the most common issues that can occur. Don't forget to personalize your message. You will not help your case if you send a generic email to an unhappy client. Using proper and personalized negative feedback response templates can help soften a rough situation.
The customer had a poor service experience
Hi [NAME],
Thank you for reaching out. First, I would like to apologize for your negative service experience with our tech support team.
I want you to know that your complaint and feedback will give us the chance to improve and serve our customers better in future, so I've forwarded your complaint to our
customer service
management team for further investigation.
I can understand how frustrating it must have been [whatever the customer experienced]. Although we strive for 100% customer satisfaction, it's clear we've fallen short in this case, but we'll do everything we can to make sure this doesn't happen again.
I'm sorry once again for your poor experience. Let me know if you have any more questions, comments, or concerns.
Best,
[YOUR SIGNATURE]
The customer is dissatisfied with the purchase

Hey [NAME],
Thanks for your email. We're so sorry to know you were disappointed with our product. Could you please let us know more about why you weren't satisfied? We'll do our best to address your concerns.
If the item arrived damaged in any way or not as described – we would be happy to send you a replacement as soon as possible. Or, if you would like to proceed with a refund, then of course we can do that for you right away.
Please let us know how you would like to proceed and our apologies once again for your unpleasant experience.
Kind regards,
[YOUR SIGNATURE]

Handling a delivery delay

Dear [NAME],
I'm so sorry to learn your order hasn't arrived. I understand how frustrating this must be for you. We didn't intend for this to happen, however, due to some unforeseen circumstances, we are experiencing some delays.
I've tracked your package via [carrier] and it's currently listed as [status]. If you'd like to check on its progress, here's the link you can use: [link]
Please get in touch with me right away if your package has not arrived by [date] by responding to this email. Alternatively, you can call me directly at [number].
Once again, I sincerely apologize for the inconvenience.
Thank you for understanding,[YOUR SIGNATURE]

The customer received the wrong items

Dear [NAME],
We are very sorry for the mix-up with your order and any inconvenience it has caused. I know a mistake like this can be very upsetting. We always try to do our best to get our orders right 100% of the time, but unfortunately, mistakes can sometimes happen.
We have put your order on priority so the shipment with the correct items is delivered at the earliest. If you'd like to track the package, here's the link you can use: [link]. If you have any questions in the meantime, feel free to contact me directly.
And we do have one small favor to ask. Could you please return the unwanted items within the next [number] days? There should be an adhesive prepaid return label inside the box.
Thanks for your understanding and cooperation, and once again, we apologize for the error.
Sincerely,
[YOUR SIGNATURE]

There was no response to the customer's previous email

Dear [NAME],
I am sorry for the delay in getting back to you. We are in a tight schedule right now and this has caused the delay. But I totally understand your frustration – your email deserved a timely response.
As you requested, we've updated your account settings and informed our tech team about the problem you're having with your account management page. Please, get in touch with me directly if you experience any further issues on our website, I'll be happy to help.
Once again, our apologies for the delay in response. We'll continue to do our best to speed up and improve our customer service delivery.
Regards,
[YOUR SIGNATURE]

The customer demands an exception

Dear [NAME],
I'm so sorry to hear that there were unable to meet the return window for [name of item].
Unfortunately, our company policy clearly states that all returns and exchanges must be made within 30 days after your item has been received. For more information, you can read our full return and exchange policy on our website here: [link].
While we can no longer issue a product exchange, we'd like to make it up to you by offering 10% off your next purchase. Simply use this coupon code [CODE] at checkout.
Once again, I apologize for any inconvenience this may have caused. Please let me know how else I can help.
Best regards,
[YOUR SIGNATURE]

The customer left a negative review

Hi [NAME],
Thank you for taking the time to give us your feedback. We're so sorry your experience with [COMPANY] didn't match your expectations. We'd like to learn more about your specific situation and make things right, if we can.
If you wouldn't mind giving us a call at [number], it would be greatly appreciated. We look forward to speaking with you and working towards earning back your business.
Regards,
[YOUR SIGNATURE]

The customer is leaving

Dear [NAME],
I am really sorry to hear you are leaving us! As much as we'd love to regain your trust and keep you as a customer, I completely understand your frustration and I offer my deepest apologies for any inconvenience we have caused you.
Please let us know if you have any additional questions, concerns, or comments, or if we may be of assistance at any point in the future. We wish you all the best with your business.
Sincrely,
[YOUR SIGNATURE]

Ready to answer angry customers?
LiveAgent is the most reviewed and #1 rated customer satisfaction software for small to medium-sized businesses. Try it today with our free 14-day trial. No credit card required.
Frequently

asked questions
What do you say to an angry customer?
You can try to calm the customer down and ask them questions about the problem to diagnose and try to solve it. There is nothing wrong with being nice to your customer.
What should you not say to an angry customer?
Don't criticize, blame, or complain. Don't argue, state the obvious, or try to correct facts. Don't use sarcasm. Don't assume that the customer's complaint is based on fact.
How can you identify an angry customer?
You can tell when a customer is angry by looking out for these five tell-tale signs:
1. They use foul language (swear words).
2. They are sarcastic.
3. They use accusatory language.
4. They are confrontational.
5. They use short, choppy sentences.