Customer complaint management is an integral part of any company's business strategy. Customer complaint management systems (CCMS) are formal processes for receiving, recording, and resolving customer complaints. CCMS has three primary phases: capture the complaint, analyze the problem, and implement the solution.
This article examines the industry's leading customer complaint management software and what sets them apart.
What is a customer complaint management system?
Provides business owners and managers with the necessary tools to track all customer complaints and resolutions.
It helps businesses communicate more effectively with customers through various channels of communication.
Allows business owners to ensure that all complaints are dealt with quickly with canned responses.
Provides a way to track complaints in real-time while controlling which department fields tickets.
Captures complaints into a central system that businesses can employ for ongoing analysis and improvement using the service cloud.
Effectively monitors staff performance when dealing with customer complaints.
How do customer complaint management systems work?
Customer complaint management systems allow organizations to obtain feedback. Companies can use this to resolve issues and decrease complaints in the future. In addition, users can search through knowledge databases to answer their questions immediately before speaking to an agent.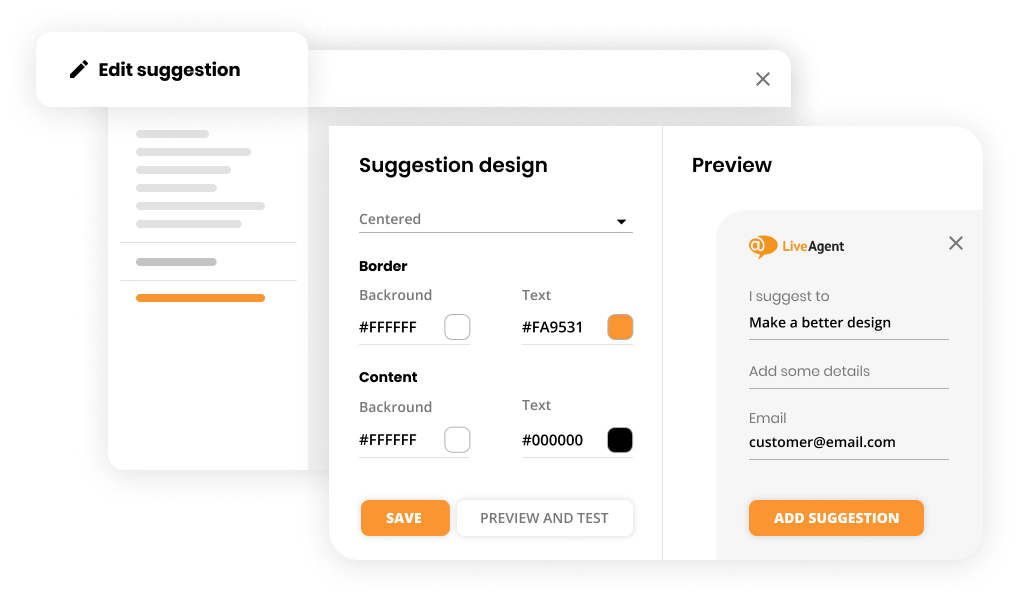 Each software uses different tools to collect feedback and communicate with customers over various social media and online channels. An organization can handle complaints better with a variety of metrics and reports like:
Customer satisfaction score
Service level agreement
Service level objectives
The collected data is input into the CRM system for future analysis to improve future customer complaint interactions.
So how exactly do complaint management systems provide higher levels of customer support?
Customers complain directly or via social media platforms like Facebook or Twitter.
CMS systems respond with possible solutions and requests for more information.
If needed, agents work with customers to resolve the complaint quickly.
Components of customer complaint management systems
When evaluating customer complaint management systems, your team should be well-versed in the basic components that will benefit your organization.
Ticketing
Ticketing allows customer service agents to efficiently use a single interface to respond to inquiries. When a customer service agent receives a complaint through any channel, this interaction turns into a ticket. Agents can find these tickets in a universal inbox, allowing quick and efficient customer responses. Agents can then be assigned tickets and handle them within multiple departments. Ticketing provides a great user experience by organizing all communication and improving task management.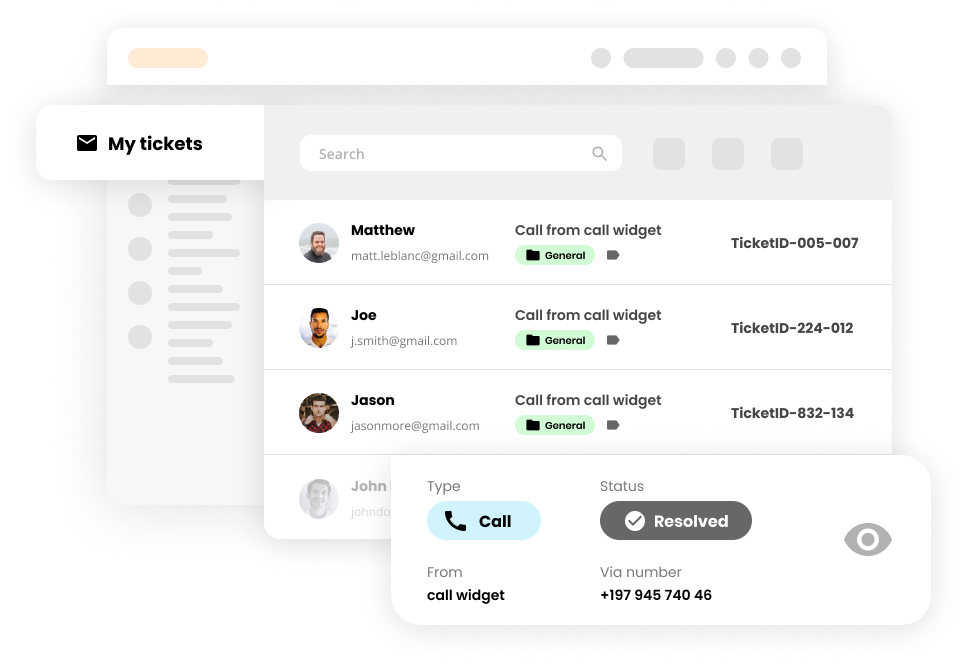 Live Chat
Live chat software allows you to chat with customers quickly when they have a problem. You can help your customers resolve their issues quickly and efficiently with automation features, or connect them with the right support agent. Moreover, the best customer complaint management systems will enable you to assist customers via live text, video, and audio chat. Live chat is one of the most frequent channels for customer complaint tracking, feedback management, and quality assurance management.
Call Center
Customer complaint management software allows your team to assist customers in their time of need via a call center. Calls are distributed to available agents as they come in. If you don't have a call center, you won't be able to receive incoming calls or dispatch staff appropriately.
The social media management component of complaint management systems collects customer complaints about different social media channels. Marketers and support teams can use this information to improve complaint management and further manage your digital presence.
Customer portal
Customer portals allow you to set up a structured and informative portal for your customers. These portals allow you to share information with your customers and respond to complaints. By creating community forums, an informational database, or an FAQ section, customers spend less time talking to agents.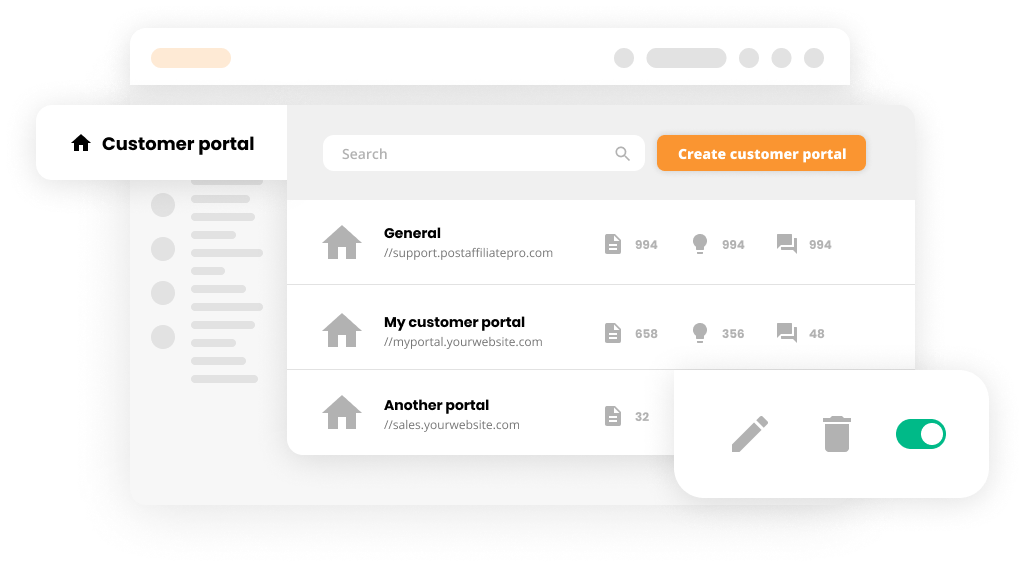 Knowledge base
Your knowledge base is an integral part of your customer portal, providing customers easy access to information at all times. The best inbound call center software allows you to keep multi-knowledge bases for the best customer complaint management.
Key features of an effective customer complaint management system
The following key features make up an effective customer complaint management system:
Email alerts (when an automatic response is sent).
The ability to track previous complaints received from the same customer.
Agents can track complaints to allow more accessible communication between business and customer.
Customers can find answers anytime.
Customer complaint analytics can improve future interactions.
The four major categories of customer complaints are: common, frequent, critical, and emerging.
By implementing an effective complaint management system, you can take advantage of customer complaints the fastest. Customer complaint management software should include the following features:
Timestamping
Timestamping is the attachment of a timestamp to interactions and can record when the complainant contacts the organization and when they receive their reply. It can also be helpful in legal cases. There are two main types of timestamps: digital and analog.
Digital time stamps involve using technology like computers, GPS systems, or satellites for recording timestamps.
Analog time stamps use marks created manually by someone at a particular time.
Task escalation
Task escalation in a customer complaint management system provides a way to increase the priority of complaints. Escalation may occur in a team-based environment where several people solve most or all problems. A simple example is assigning a higher priority to a telephone call if it involves supporting several users under subscription instead of a user with no plan.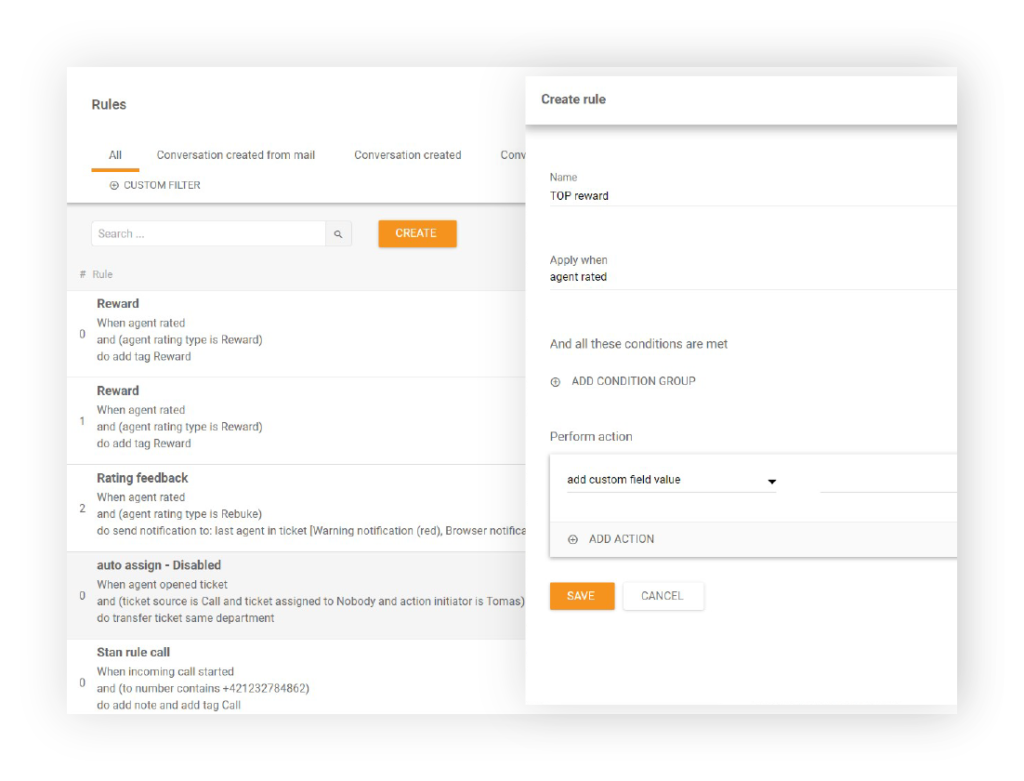 Customer complaint software will ask customers to provide certain information when they submit a complaint. This information may include their name, phone number, email address, and description of the problem, allowing companies to contact the customer and resolve complaints quickly while gaining relevant data. This will ensure a smooth customer experience, satisfy customers and ensure better service quality management.
Notifications for all parties involved in the complaint management process
An efficient system will notify all relevant employees and managers of a new complaint as soon as the system logs it. These notifications will include:
The agent who's responsible for investigating the complaint.
The agent who's responsible for resolving it.
The agent needed to approve any actions taken.
These notifications ensure that the proper agents are involved, and responsible parties can't neglect their duties.
Automated email task notifications for managers and stakeholders
Automatic email task notifications save time and ensure complaints get resolved quickly. For example, an automated task notification might trigger when a customer complaint is received so that someone can review it immediately.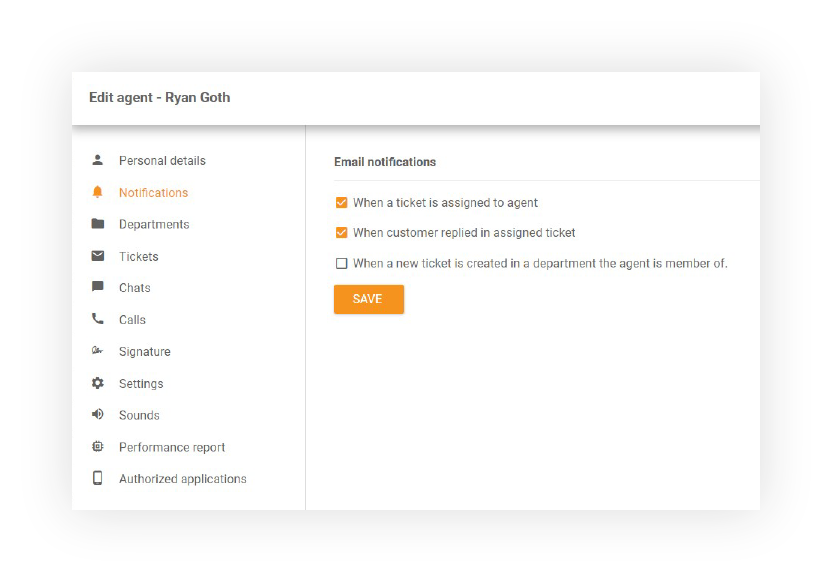 Self-service portal
You can add automatic features to your self-service portal. For example, your service portal allows you to field all customer complaints promptly, making customers feel heard. In addition, customer satisfaction tools that enable companies to track and manage complaints can lead to benefits such as increased customer loyalty.
Hybrid ticket system
Hybrid tickets contain all traditional ticket IDs, including your customer's complaint and essential information. This system allows you to save customer communications under a ticket ID. An agent knows about the problem regardless of which channel the customer uses.
Customer insights
Using customer complaint management systems in your business allows your agents to instantly see the customer details of the complaint they are fielding. Your customer insights give you the context to deliver support and service to help resolve complaints quickly.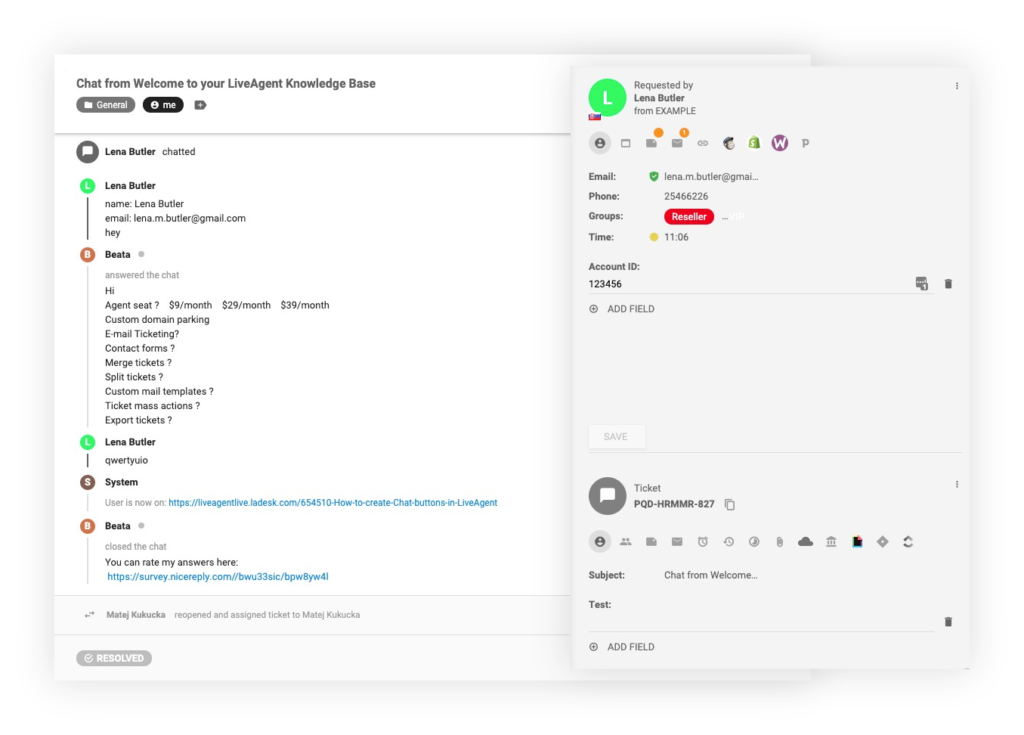 How to choose the best customer complaint management system
You should research what complaint management systems other companies in your industry use. After you understand your competitors' process, it's time to consider what you need. What you need is something that is flexible, provides a great user experience, and can be altered based on the kinds of complaints you receive.
Commitments
When choosing a customer complaint management system, you must be aware of the software's commitments. You commit to a payment plan that charges you per agent per month with various service levels based on your business size. Some systems like LiveAgent allow you to commit to a yearly plan.
Price
Companies need to consider pricing models when choosing a customer complaint management system. Most customer complaint management systems offer you numerous service levels to select the functionality that fits your needs and budget. Your price is determined by the services you choose and how many agents are on the plan.
Tired of searching?
Are you still looking for software that will help you improve your customer service? LiveAgent may be the solution for you!
Support
When choosing a customer complaint management system, you want to ensure that your team can quickly help customers through communicative tools. A customer complaint management system with 24/7 support and chat is helpful, especially if you have a large or remote team working in different time zones.
Make sure your customer complaint and service quality management system offers multiple ways for your customers to contact you. Be it email, live chat, phone, or more. The customer complaint management system should allow disgruntled customers to contact you quickly.
Ability to scale up/down
You should be able to operate a customer complaint management team of any size from anywhere in the world. No matter your current business size, you want to choose software that meets your business's current and future needs. By selecting a system that lets you scale your monthly subscription up or down, you will be able to adjust your business to slow or busy times.
Collaborative options
Be it a VoIP provider or chatting with customers, you must choose a customer complaint management system that features collaboration. By using omnichannel software, you can further increase the effectiveness of employee and customer collaborations.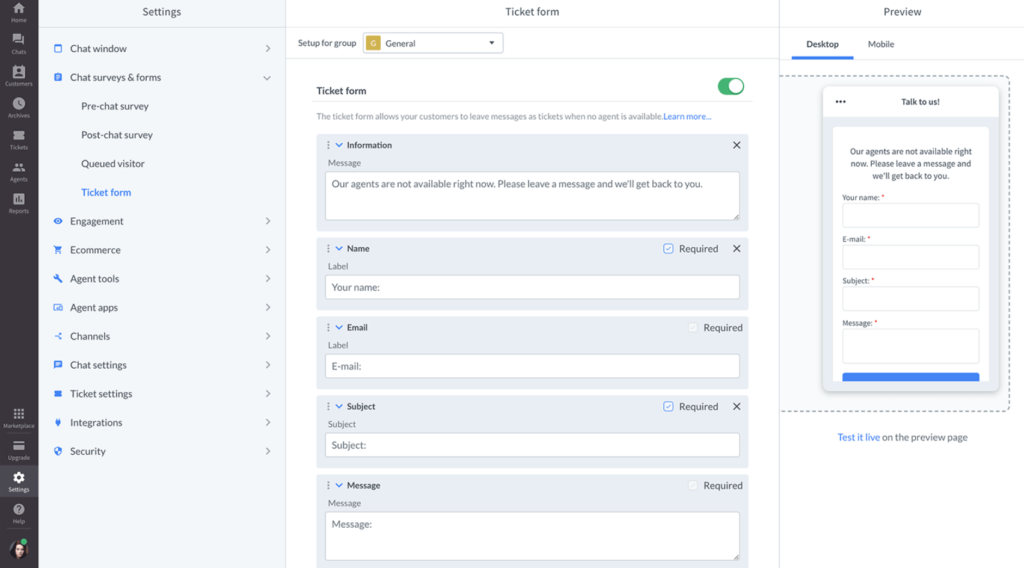 Software Limitations
To choose the best customer complaint management system for your business, you must know your software's limitations. For example, consider the size of your existing staff and select software that best serves your customers, be it contact channels, inbound calls, video support, or text chat. Moreover, make sure your call center software does not limit your business practices or call quality management.
Demo version of customer complaint management systems
When choosing a customer complaint management system, it is essential to familiarize yourself with the software before choosing one. It is best to do this with a demo, which will show you how the software works and help you achieve your goals. Your team will be able to ask any questions about the software at this time, which gives you the advantage of familiarizing yourself with your customer complaint management system before buying it. Make sure it fits your customer service needs before you make a purchase.
Keeping up with your customer service is no easy task. Nevertheless, by using the LiveAgent demo version, you can experience firsthand the wide range of advanced features and try it out yourself before taking any action. It's imperative to note that demos are just a demonstration of how the system works and nothing more. However, demos provide a way to see the software's inner workings.
Looking for the right CCM software?
LiveAgent offers wide range of features and integrations so everyone can find what they need. Wanna see it for yourself?
What is the best customer complaint management system?
LiveAgent is the best customer complaint management system and the most reliable solution for user feedback because of:
Its user-friendly interface
Excellent price-to-value ratio for business owners
Powerful reporting tools that measure product trends
Other competitors like Zendesk offer users similar features with different payment plans. In addition, Apptivo's mobile-friendly interface syncs up with other apps on your phone, so you don't need to re-enter passwords.
The user review management process in Apptivo is very similar to LiveAgent's but is not as focused on user feedback. In addition, Apptivo does not include user-friendly features such as chat integration or push notifications like LiveAgent. Another competitor, TeamSupport, provides full-service support for teams and businesses. This company implements over 200 review management processes. However, the system is not as user-friendly as other options.
Benefits of using a customer complaint management system
The number one priority of most companies is to provide excellent customer service. This has been proven time and time again. Exceptional customer complaint management leads to an increase in the quality of sales processes, brand loyalty, and positive word-of-mouth. To handle customer complaints best, you need the best customer complaint system.
A customer complaint management system uses analytical tools to analyze and collect data from complaints. Positive and negative reviews provide insight into customer behavior to improve future interactions.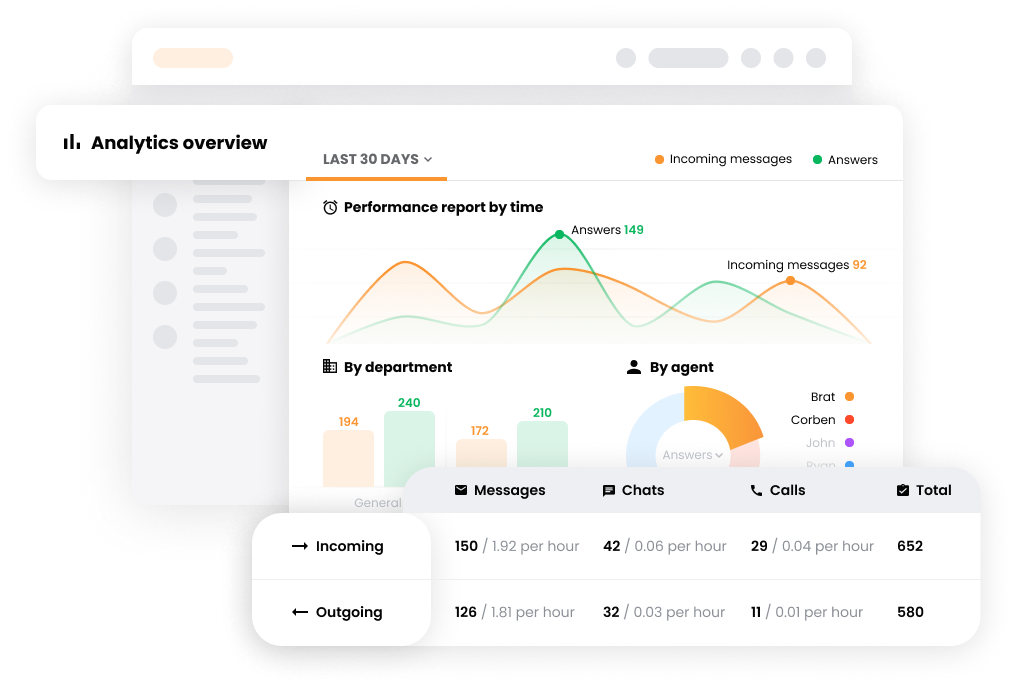 Implementation of customer complaint management systems
Implementing a customer complaint management system is quick and easy and can drastically improve your customer service response. Creating such a system does not take much time or money, as it can be designed around your current systems and resources. Once you have implemented a customer complaint management system, learning management is vital. You must train your team to get the most out of it to assure the best service quality management. You may have to upgrade some software and pay monthly usage fees per agent, so be prepared for some investment.
Cost of customer complaint management systems
The price range of customer complaint management systems varies. Some management systems offer free versions or free trials and have varying payment plans. Costs differ per software, but typically, the more agents you have, the better deal you can probably get on the cost per agent.
Top 20 providers of customer complaint management systems
To allow your small, medium or large business to handle customer complaints best, we have compiled a list of the 20 best customer complaint management systems. There is bound to be an option available to meet your customer complaint management needs with various features, benefits, downsides, and price options.
1. LiveAgent
LiveAgent is an excellent customer complaint management system and more, giving your team the tools needed to connect with customers and improve customer interactions.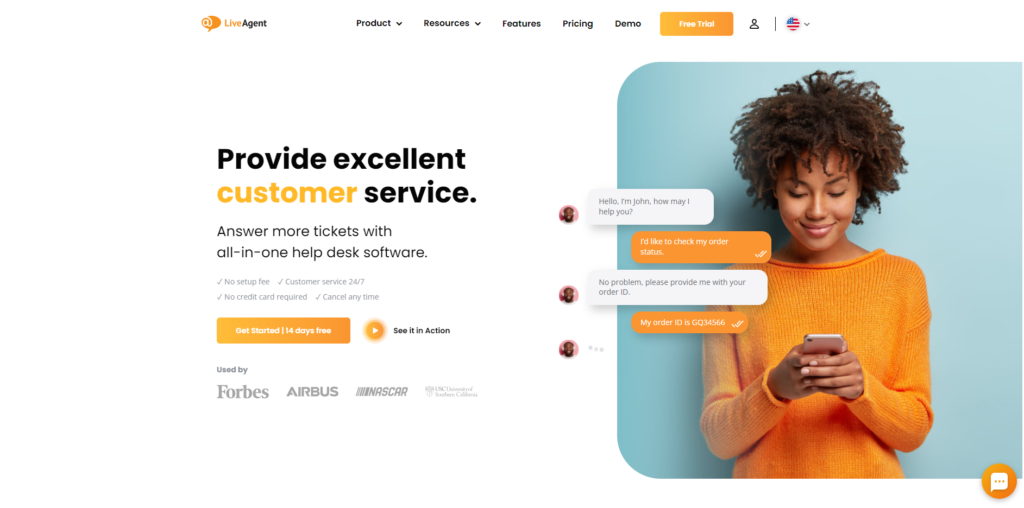 Recommended for small to large-sized businesses in e-commerce
LiveAgent software can assist small, medium, or large businesses in all customer complaint needs. This is because of the ability to quickly interact with customers using omni-channel support while assessing your team's progress with analytics. In addition, LiveAgent integrates with many Voice over Internet Protocol providers. They also have the best chat widget on the market.
Key features
Complaints are recorded directly into one log accessible from the LiveAgent Control Panel for better service quality management.
The complaint management solution allows customers to attach invoices, order information, and screenshots.
Customer complaint reply templates let agents save time by automatically responding with frequently used phrases and content.
Managers can assign complaints to specific agents for fast handling of the complaint.
Agents can track complaint status changes in the Control Panel with complaint statuses, change notifications, and task lists.
Customers are automatically notified of any updates to their complaints via email.
Pros
LiveAgent allows easier online communication with customers.
Easy to implement in daily business practices.
Allows to manage all communication channels with one tool.
Cons
Some embedding options may be for specific software.
Requires setting up to customize features.
While the free version might be enough for small businesses, scaling may require an upgrade to the paid version.
Price
LiveAgent is one of the only pieces of software to offer a free version with limited features in addition to their free trial version. LiveAgent offers multiple service levels and prices, including $9, $29, and $49 a month. No credit card is required for LiveAgent's free trial.
2. Apptivo
According to Apptivo, their software increases customer satisfaction through complaint management. In addition, it differs from other cloud-based software because of its lead capture tool and web-to-lead form.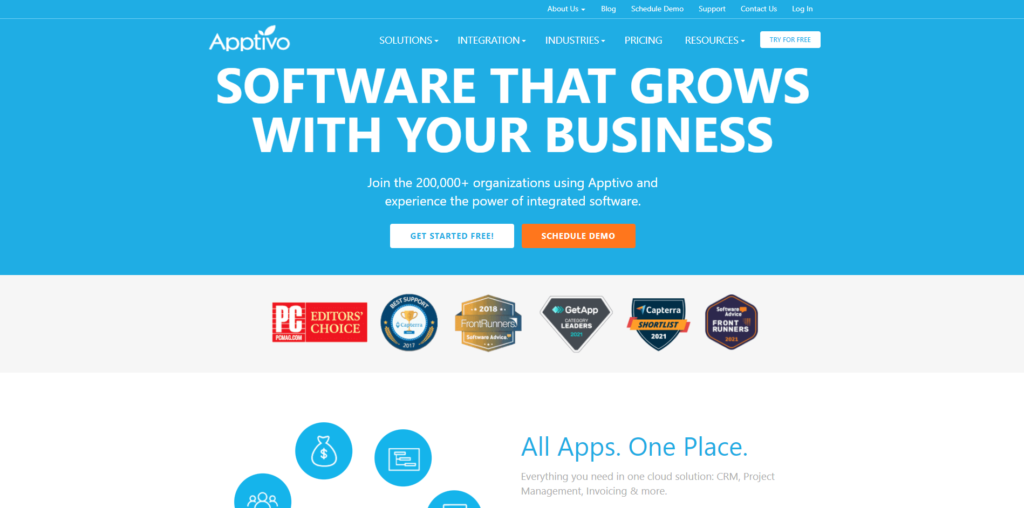 Recommended for small businesses looking to customize
Apptivo is different from other systems because it is very customizable and allows you to select features that suit your business at lower plan levels. In addition, Apptivo is compatible with Google, making Apptivo a convenient choice for small businesses looking to manage customer complaints with customization.
Key features
Manage customer contacts from a single location.
Track customer interaction history.
Assign customer complaints to agents and reps for follow-up.
Track customer interactions, including date, time, and agent involved.
Track the status of customer complaints.
Add customer complaint notes to attachments and documents.
Receive customer complaints by email or set up customer feedback forms to collect customer complaints on your website.
Pros
Easy to read and informative layout.
Helpful customer onboarding and customer service.
Ability to customize customer complaint actions.
Cons
Software integration can be complex depending on your system.
Creating email templates can be confusing.
Some industry-standard features are missing.
Price
Apptivo offers a free version of their software with limited features. Appirio's pricing plans start at $10 per user per month to access their product features. Apptivo has a free trial version of the software if you wish to try all their customer complaint management features before buying.
3. TeamSupport
TeamSupport is software that helps companies and other organizations manage and resolve customer complaints with a suite of products for accessibility, feedback management, and complaint handling.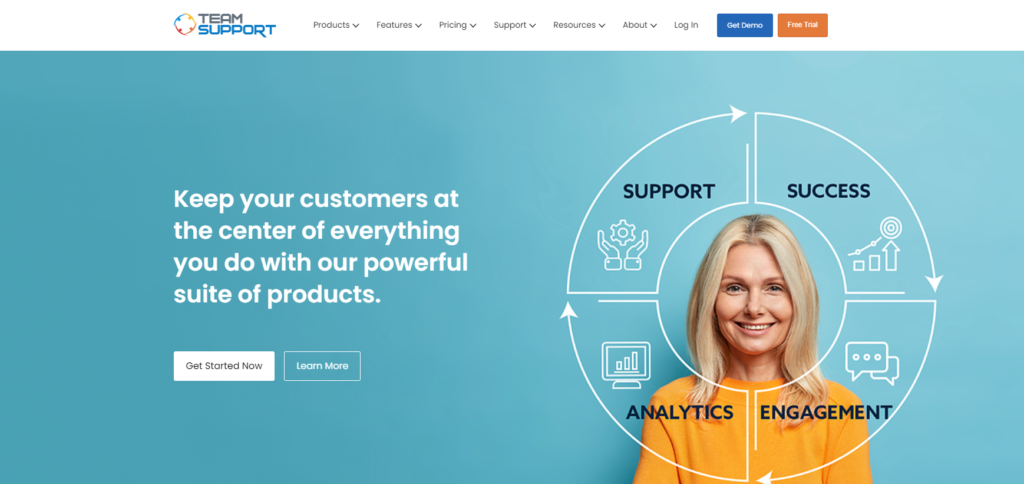 Recommended for B2B technology companies
TeamSupport complaint management software is recommended for B2B customer service businesses. Their large selection of stock reports sets them apart from other systems. With TeamSupport, customers can easily submit feedback directly into the system or use third-party tools.
Key features
Users can submit a ticket anonymously or sign in to submit it with their email address.
Teams receive alerts when new tickets are submitted and assigned for follow-up.
Tickets are reassigned to another team member if needed.
Teams can view historical complaint data like customer volume, common issues by product line, and department.
Users can enter company-specific notes for all tickets.
Users can post announcements within the customer service portal that will be visible to all customers.
Customers receive notifications when agents update their tickets, and they can view past conversations for reference.
Pros
Integrates seamlessly with Outlook and is offered at an affordable price.
Allows for both incoming and outgoing tickets.
Easy to implement and deploy.
Cons
Confusing and non-intuitive setup.
Somewhat limited functionality and features.
Interruptions in chat can occur.
Price
TeamSupport offers a $50 and $69 per month per user option, offering different features. Unfortunately, TeamSupport does not have a free version of their system, but they have a free trial version.
4. Freshservice
Companies use Freshservice complaint management software to analyze, report, and resolve customer complaints efficiently. There is also a mobile app that agents can use to manage complaints on the go.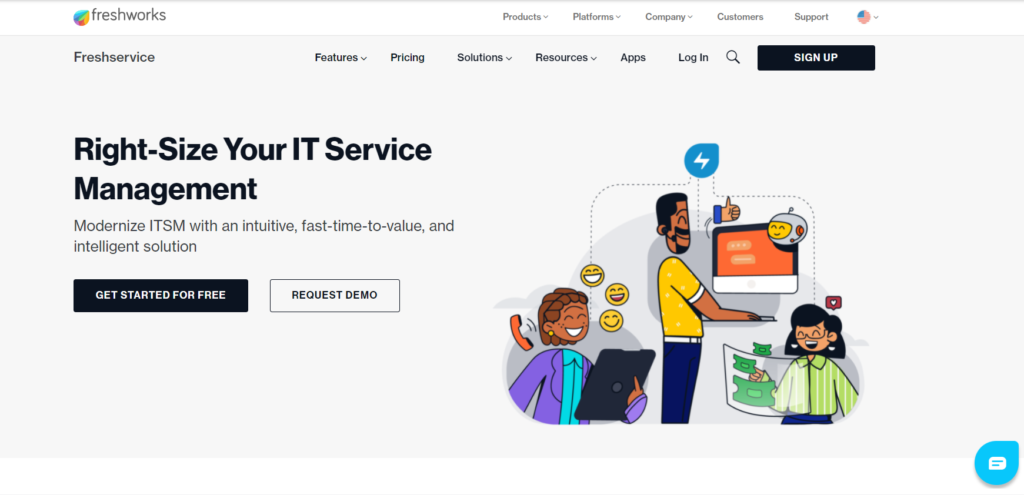 Recommended for IT helpdesk needs
Freshservice stands out because of its emphasis on managing the IT helpdesk needs of various organizations to manage complaints effectively. With various IT management features, Freshservice can integrate with any size business.
Key Features
Ability to communicate with customers through a hosted phone system.
Call recording.
Complaint follow-up and tracking from start to end.
Complaint history.
Activity tracking and approval workflow.
Call center management.
Pros
Helpful support team with consistent updates.
Workflow automation for specific needs.
Simple to use interface.
Cons
Difficult to utilize some components.
Missing some industry-standard features.
Translation services can be inconsistent.
Price
Freshservice offers a 21-day free trial. There is a $19, $49, $79, and $99 monthly option with the ability to purchase a yearly plan. You must get a higher-priced plan to access all the available features. Still, Freshservice does give the option to add extra agents for $.20 per agent per month. Freshservice does not offer a free version.
5. Zendesk
Zendesk is a customer complaint management system that allows companies to track and respond to customer complaints and claims to be one of the leading options in this market.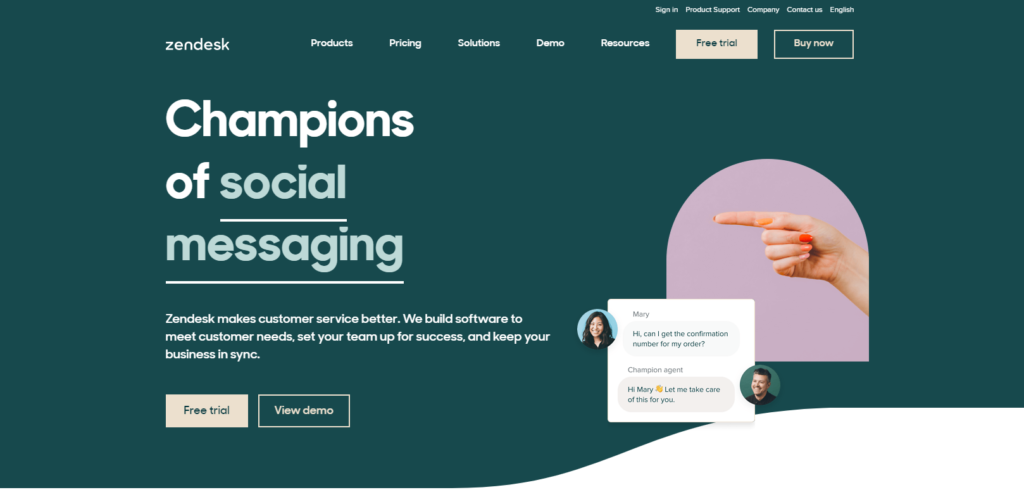 Recommended for business flexibility
The Complaint Management System from Zendesk is designed to help businesses stay flexible as they grow. Zendesk enables organizations to easily connect with customers, identify problems and fix them as quickly as possible. In addition, Zendesk integrates with other essential services within the customer's business, such as marketing automation services, for increased business flexibility.
Key features
The software automatically assigns cases by adding tags and comments.
Route customer complaints to the most appropriate customer service agent.
Supported in over 40 languages.
Unique help centers, support channels, and business rules for brands.
Omni-channel customer support.
Feedback loops allow agents to track the progress of their cases across multiple support channels.
Pros
Robust reporting and analytics tools.
Function rich.
Video, chat, and phone features.
Cons
Sometimes, the system has trouble uploading data.
Can be difficult to communicate with Zendesk agents.
Does not have the needed features at all price levels.
Price
Zendesk offers a variety of software features and service levels. There is a $19, $49, $79, and $99 service. Zendesk offers a free trial version of its customer complaint management system. However, there is no free version of Zendesk, and you must contact them for a quote to match your specific needs.
6. Avochato
The Avochato customer complaint management software allows you to register, investigate, and take action on customer complaints. This software is designed around user research, emphasizing how customers use their programs.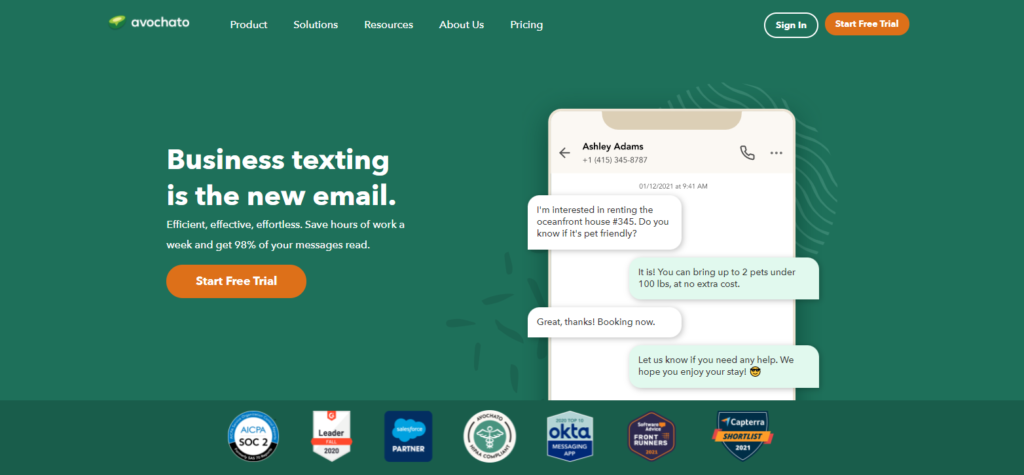 Recommended for businesses utilizing SMS messages
Avochato has no programming requirements and can be utilized by teams of many sizes. Avochato is recommended for those who want to reach customers using text messages. Avochato can be used by several businesses that utilize text like realtors, e-commerce, insurance agents, and auto dealerships.
Key features
Agents can handle many conversations at once.
Automated text message and chat communications
Send automated texts based on factors like triggers.
Integrates with systems like Slack, Salesforce, and Microsoft Teams
Best-in-class security and robust integrations support large global teams.
Pros
Helpful support and easy to send messages.
Custom fields for mass broadcasting.
Analytics provided for messages.
Cons
Text numbers can be called, which can be a problem.
Does not integrate with customer reputation management systems.
Can only contact customers on a one-on-one basis.
Price
Avochato has various levels of pricing which offer different features. There is no free-to-use version of the software, but there is a 14-day free trial version of the system. In addition, there is a $19 and $35 version. For an account with more than ten users, you must contact Avochato directly for a quote.
7. HappyFox
Happyfox is a complaint management system for organizations to improve their customer service.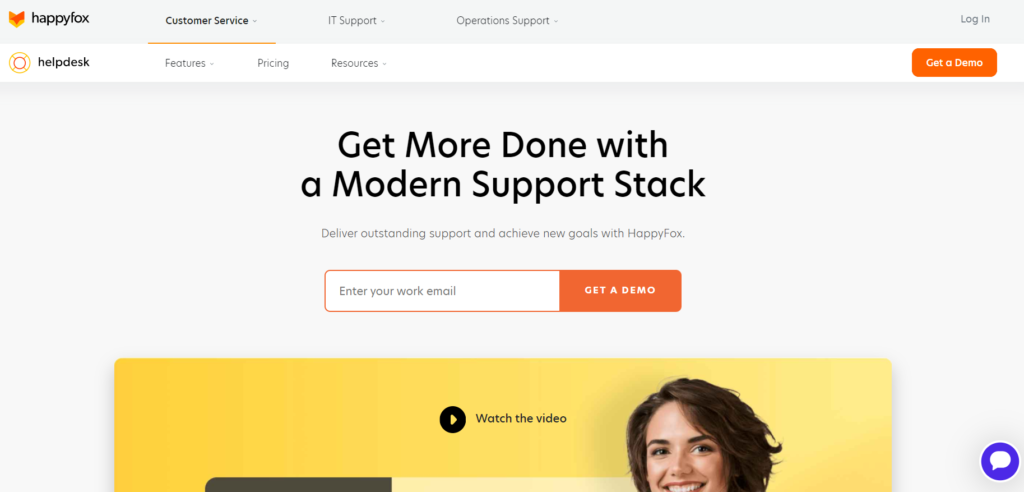 Recommended for easy-to-use ticketing
In comparison to competitors, Happyfox's easy-to-use and integrated ticketing features make cross-platform management easy.
Key features
Incorporates various channels to receive customer complaints like phone, email, and chat.
The complaint management software helps categorize the complaint based on product or service type.
Happyfox provides an option to check complaint history.
Clients can view complaint details submitted by themselves or other clients.
Every complaint assigned to an employee is copied in the complaint management software of that particular employee with its status and all relevant details.
The complaint management features in HappyFox provide a complaint response time.
Pros
You can set up automated responses.
Ticket forms are customizable.
Ability to track service and maintenance requests.
Cons
Requires staff to be trained on the system, which can be a significant time investment,
Difficult to set up the system.
Lackluster knowledge base options.
Price
Happyfox offers a variety of service levels and options. Although Happyfox offers a free trial version of their software, they do not provide a free-to-use version. To get a quote for all services, you must contact Happyfox directly.
8. Freshdesk
Freshdesk is a complaint management system that allows businesses to track, reply, and resolve customer issues. In addition, Freshdesk's customer portal has an array of social media connectivity allowing for a seamless transition from issue to complaint.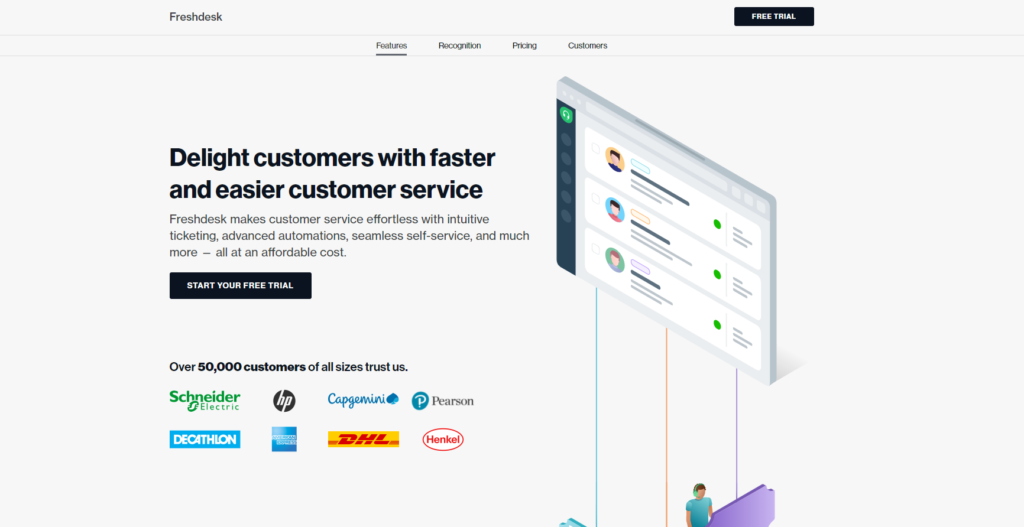 Recommended for utilizing AI
Businesses of all sizes can use Freshdesk. Its robust features and various price plans have options for every business. Freshdesk is set apart by its affordable price tag, AI, and chatbot abilities. In addition, because Freshdesk works on all mobile devices, customer service teams can access it anywhere, anytime.
Key features
Allows users to prioritize complaints and track complaints created in Freshdesk.
Omni-channel support system.
The self-service support portal allows agents and customers to get instant help.
Integrate Freshdesk with Freshrelease to enable project management functionalities.
Integrate Freshdesk with PagerDuty to handle escalations and incidents better.
Create scenario automation to solve tickets faster.
Pros
Allow multiple people to work on different issues from one email.
Online training makes learning convenient.
Easy synchronicity with third-party software.
Cons
Does not always display team names in conversation.
Key features are missing or only accessible at higher levels.
Slower software speed.
Price
The price for Freshdesk is per agent per month, and there are four plans to choose from: a free plan, $18, $47, $83. The plans have limited features unless you pick the best one. Nevertheless, if you pay for a full year at once, you will save money. Freshdesk offers a free trial version that shows you all of the system's features.
9. Front
Front is a complaint management system that helps companies keep track of their customer complaints. Front utilizes analytics to find common problem areas and make it easy for customers to request help with specific problems.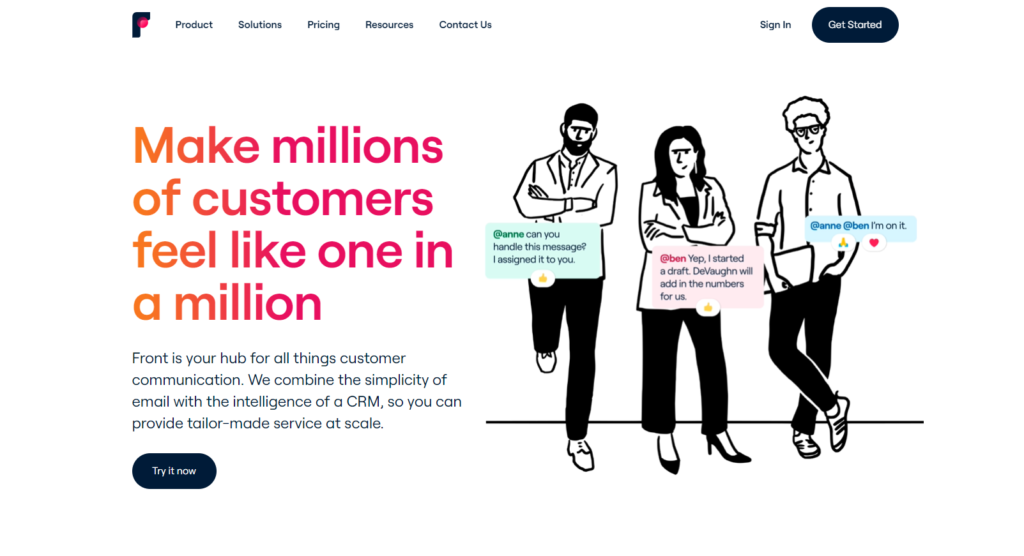 Recommended for a "help desk" style approach
Front offers a help desk-style interface that is easy to use for customers, which distinguishes it from other options. Front is recommended for complaint management in small to medium businesses. Although Front works great for complaint management of any size business, it is more complicated to use at larger companies.
Key Features
Automatic call routing.
Communication hub allows companies to offer tailor-made services at scale.
You can map a complaint escalation path and create complaint types for front-end compliant communications.
Enables users to share complaint conversations with a team.
Integrates seamlessly with existing helpdesk platforms to make complaint management accessible.
A searchable database and storage for complaint history.
Pros
Easy communication with internal and external teams.
The ability to share, assign, comment on, snooze and resurface issues.
Shared inbox tool, so everything is documented for easy access.
Cons
Niche limitations.
Easy to misplace folders and documents in the system.
No knowledge database.
Price
Front offers three pricing plans, each with different features: $19 and $49 per month, per agent. You can pay yearly for an account, and if you are interested in the top plan, you must contact them directly for a quote.
10. Zoho Desk
Zoho Desk allows any business or brand to manage customer complaints effectively using chat applications, call center recordings, help desk tickets, and more from a single platform.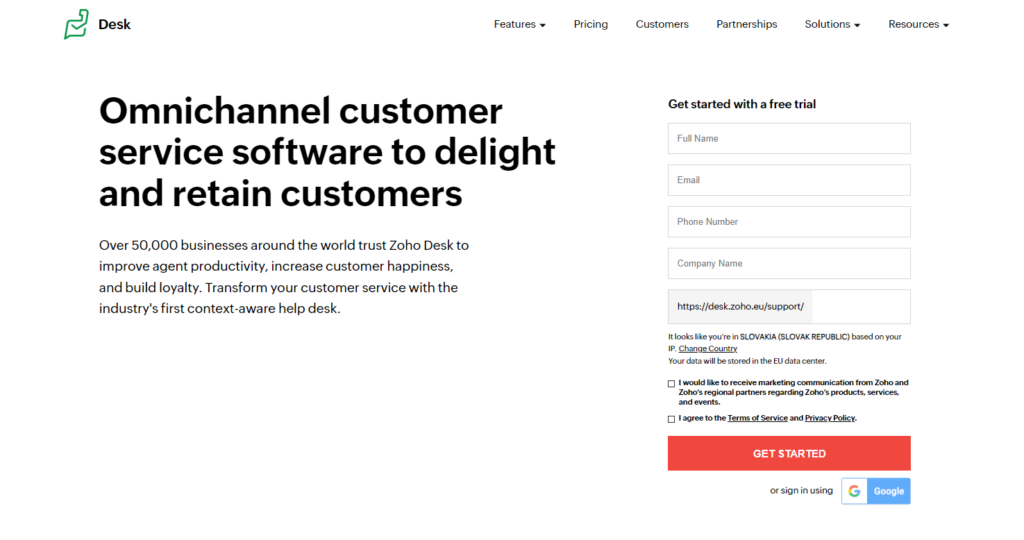 Recommended for high volume requests
Zoho Desk is recommended for small to medium-sized businesses. Its complaint management features are beneficial in industries that deal with a high volume of customer service requests, such as retail or hospitality. Zoho Desk stands apart from the others because of its issue tracking software.
Key features
Collaborate across teams, and track complaint statistics with omni-channel support.
Ability to collaborate across teams.
Analytics provide insight and impact.
A dashboard with information for agents and managers
Build your communications with ZIA, a contextual AI.
Automation of easy and repetitive tasks
Pros
Ability to easily assign tickets and monitor client support.
Ability to receive all steps and history for each ticket.
Handle communication from multiple channels on one system.
Cons
Tickets cannot be sorted by account.
No alerts when a ticket is passed from agent to agent.
Limited customization for web forms.
Price
Zoho Desk has four service levels, a free version with limited features, a $14, $23, and $40 per month per agent option. There is also 15-day free trial software.
11. GetMoreReviews
GetMoreReviews is the top tool for generating authentic reviews online using a customer complaint management system. In addition, it has features that assist agents in fielding complaints.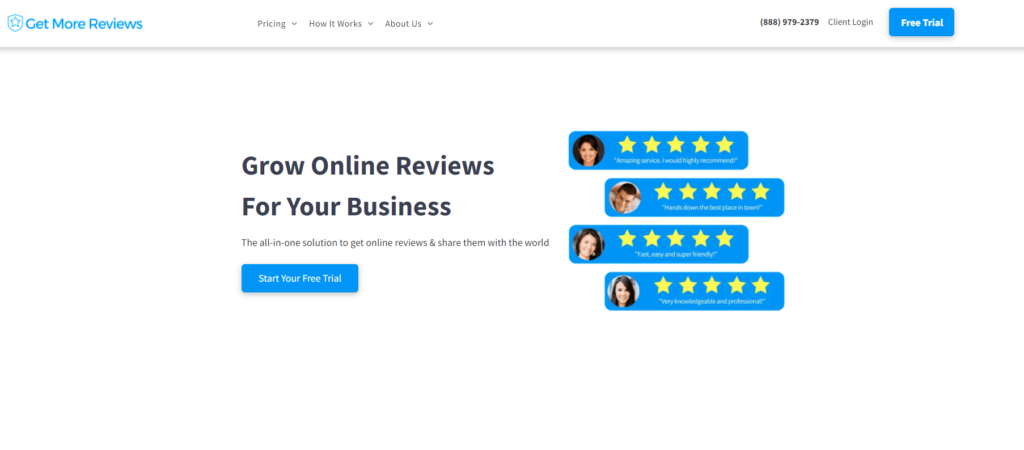 Recommended for businesses looking to build reviews
GetMoreReviews can help any small to large business generate reviews, so it is suggested for companies looking to develop 5-star reviews. It also incorporates customer complaint management features.
Key features
Ability to generate reviews online for your business.
The complaint process occurs within a centralized complaint inbox that serves as a single point-of-access.
A complaint escalation matrix allows you to assign complaint severity, complaint category, and complaint type.
Bad feedback handler and review reminder feature.
Pros
Easy for customers to leave feedback in a public forum.
Knowledgeable and helpful support staff.
Easily able to send review requests.
Cons
Can be clunky and difficult to figure out.
Unable to remove a large number of contacts at once.
Posts for review can be delayed.
Price
After a 14-day free trial, GetMoreReviews charges $99 per month. As part of this pricing plan, there is also free setup and customization. As there is no contract, you may cancel at any time.
12. Qualtrics CustomerXM
Qualtrics CustomerXM is a complaint management software that gives consumers a voice in the complaint resolution processes. The complaint management technology provides a seamless way for customers to file complaints in a large variety of formats, including social media channels and traditional complaint channels such as telephone and email.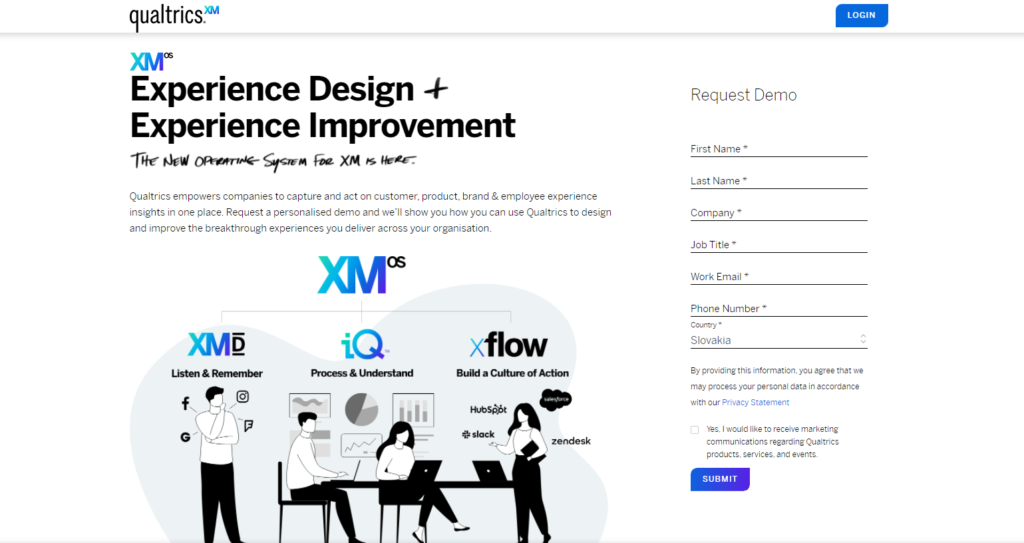 Qualtrics CustomerXM brings experienced customer service platforms to industries looking to handle complaints with a robust piece of software. While any sized business can use Qualtrics CustomerXM, it is suggested for medium to large-sized businesses. Due to its price and features, smaller businesses might find better options.
Key features
An intuitive dashboard that simplifies complaint collection so customers can seamlessly provide feedback through any channel
Captured data is used to simplify complaint collection so customers can seamlessly provide feedback through any channel.
A complaint self-service portal allows customers to fix problems themselves.
Seamlessly capture complaints from any channel – chat, social media, email, or phone.
Measure complaint satisfaction using a net promoter score, surveys, polls, and questionnaires.
Pros
Ability to send user surveys to customers.
Advanced features that are platform-specific.
Easily monitor customer and employee experience.
Cons
Dashboard encounters errors when manually downloading.
Not allowed to transfer the ownership of surveys.
Difficult to learn and requires team training for best effect.
Price
Qualtrics CustomerXM is not for all businesses, as the software is available through an annual plan that starts at $1,500 a year. In addition, Qualtrics CustomerXM has a free version with vastly limited features and a free trial version.
13. Issuetrak
Issuetrak is a complaint management software that tracks and monitors customer complaint data to help businesses improve their product or service. The Issuetrak complaint management system provides companies with a complaint portal and complaint sharing tools, allowing them to track and resolve complaints quickly and efficiently.
Recommended for issue tracking and process management
Issuetrak is recommended for almost any size business, but is specifically tailored to agile teams. Issuetrak can assist with many customer complaint solutions, but their specialty is analytics. Managers can track complaints across multiple markets and assign them to the appropriate department.
Key features
An on-premise complaint management system that helps companies manage their customer complaints.
Companies can record, track and understand what customers are complaining about.
Complaint trend information.
Complaint templates are unique complaint codes created to fit the complaint management needs of every business.
Complaints can be categorized automatically, saving time and reducing manual errors.
Visually depict complaints using complaint mapping.
Pros
Able to give clients access and allow them to see what you want them to see.
Can assign someone to work on a ticket after you.
Ability to pull raw data sets on anything that is needed.
Cons
Gives ticket requests while agents are working with other customers.
Lack of unlimited field customization.
Tricky installation.
Price
There is a free-to-use account that can have unlimited users. Furthermore, the system offers a free trial, and plans start at $59 per month. However, you will need to contact customer support for a detailed quote.
14. Desk360
Desk360 complaint management system automates the complaint registration process. Its status report generation feature is designed to generate complaint status reports for companies and their clients in real-time. Companies can access complaint details, history, and complaint-related actions with just one click.
Recommended for complaint report generation
Desk360 offers omni-channel support in ten different channels. Desk360 is recommended for businesses that want to utilize automatic complaint report generation—allowing you to check on the status of customer complaints in real-time. This makes Desk360 a solid fit for small to medium-sized businesses looking to streamline customer complaints.
Key features
Complaint workflow approval and routing control
Complaint registration & categorization.
Complaint escalation rules based on priority, product, region, etc.
Complaint status alerts notification.
A scalable solution for companies of all sizes
Customers can provide valuable feedback on the products and services offered.
Pros
Flexible support team, which is easy to contact.
Useful, functional, and simple to use.
Easy to integrate with other platforms like AI communication.
Cons
Calls do not automatically turn into tickets.
Limited platform support with in-app client management module.
Missing vital features and other features still need developing.
Price
The pricing of Desk360 varies, but offers a free version with limited features, a $24 version with most parts, and their top plan. You must contact Desk360 directly to learn about their ultimate goal.
15. HelpDesk
The Helpdesk customer complaint management system is a computer program that enables technicians to manage and report on customer complaints. In addition, the Helpdesk application coordinates with other methods such as phone or mail servers to ensure that all information about each complaint is stored correctly.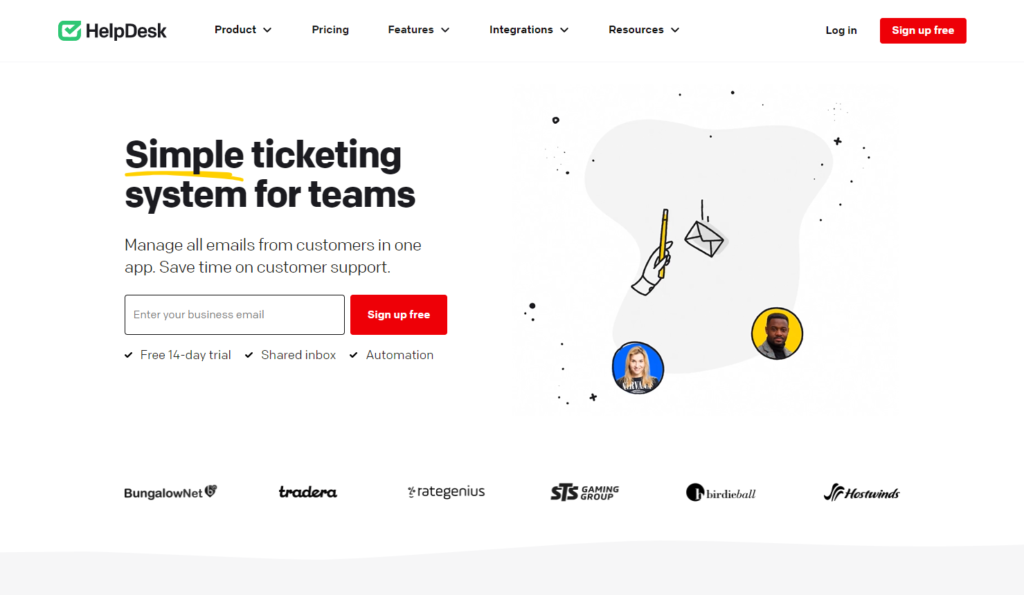 Recommended for proactive teamwork
HelpDesk works well as a customer complaint management system that allows teams to work together. Large organizations use this software to track and monitor client queries, complaints & feedback. Resolving customer issues in-house reduces costs and increases customer satisfaction.
Key features
Searchable Knowledge Base/FAQs that can be indexed and searched by keywords or phrases.
Predefined and customizable Help Desk ticket forms that collect and store vital customer information.
Efficient workflows manage the customer communication process.
Predefined and customizable Help Desk ticket forms to capture important customer details such as contact information, customer ID, and problem description.
Pros
Easy for agents to understand and can be accessed online.
Support team access.
Automated features.
Cons
No entry field for a due date.
Non-spam emails get caught in the spam folder.
No omnichannel support.
Price
You must contact Helpdesk directly for a quote, and they offer a free trial version of the software.
16. Bitrix24
Bitrix24 is a cloud-based customer complaint management system that offers organized, efficient ways to handle client complaints. The helpdesk enables users to record customer complaints or questions to create custom ticket fields, categories, views, and allows for company-wide tracking via a single portal.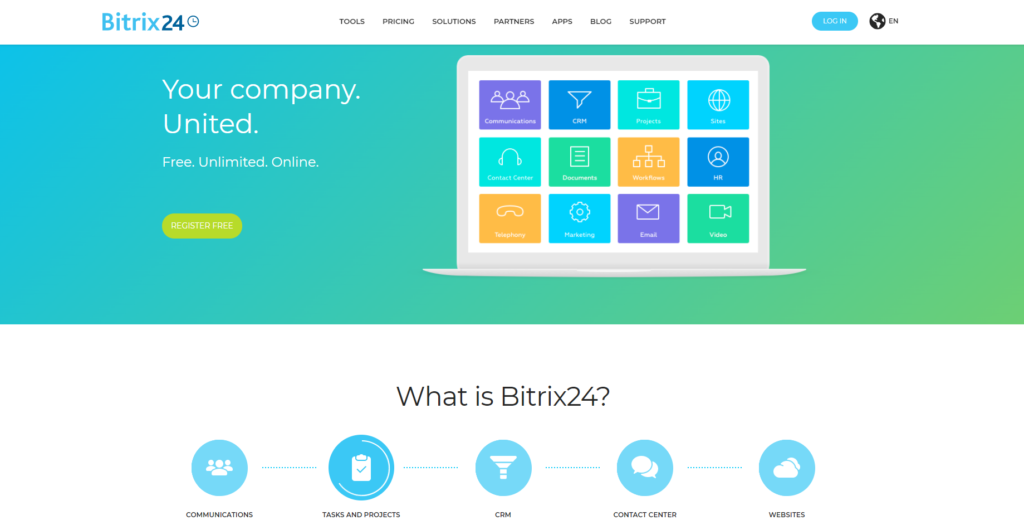 Recommended for an organized approach
Bitrix24 is best suited for small-to-medium-sized businesses that require a customer complaint management system that allows your team to be more efficient in getting complaints handled quickly with an organized approach.
Key features
Track customer interactions in one location while clients and customers can leave feedback and receive updates.
It includes user-friendly search, filters, and event notifications.
Bitrix24 provides reporting capabilities to measure performance, allowing for the development and expansion of processes.
The ticketing system includes a full-featured knowledge base that users can search for frequently asked questions.
Pros
Automates the sales process
Can manage leads from different sources on the platform.
Workload planning.
Cons
Multiple bugs in the system.
Hard to navigate interface.
No reporting structure.
Price
There is a 30-day free trial and a free plan. Furthermore, there are $49, $99, and $199 options, as well as $2990 and $24990 for on-premise businesses.
17. i-Sight
i-Sight helps companies identify the root causes of issues blocking their operations. The software can be used to investigate major customer service problems, such as equipment failures, labor challenges, billing disputes, and more.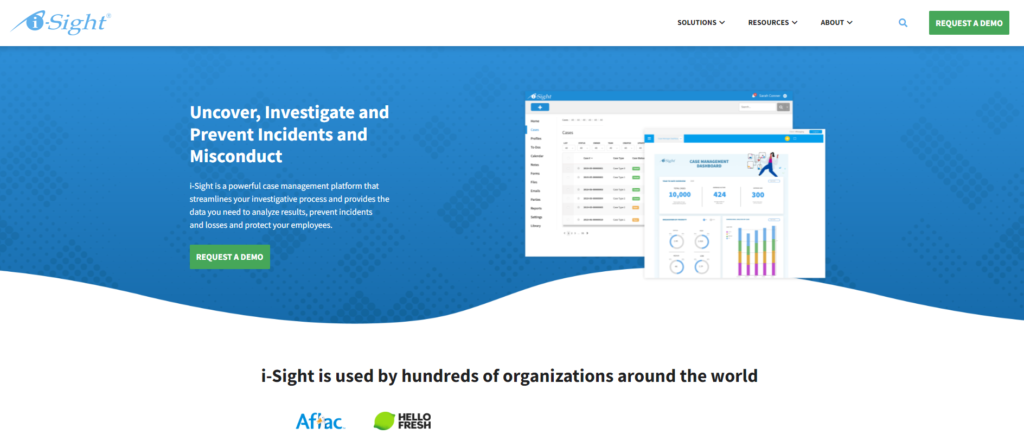 Recommended for identifying trends in requests
i-Sight is designed to route data from different sources into a central database for analysis. Because of this heavy focus on data analysis, this software is good for smaller businesses looking to grow and identify customer interaction trends.
Key features
Customer complaint tracking to ensure customer satisfaction across departments
Corrective and preventive actions (CAPA)
HIPAA and FDA compliance.
Archiving and retention of customer interactions
Alerts and complaint escalation features
Data management allows you to track customer complaints better.
Pros
Helpful customer service.
Ability to maintain a tracking log.
24/7 live support.
Cons
Searching for previous complaints can be difficult.
When the systems are down, the software goes down.
Missing several industry-standard features.
Price
You must contact i-sight to receive quote info on this product.
18. Wowdesk
Wowdesk is customer service management software that helps companies improve customer relationships by helping customers efficiently and effectively.

Recommended for growing businesses
Wowdesk is recommended for growing businesses managing complex customer relations across multiple contact channels such as phone, email, chat, or social media. Wowdesk is used across all sectors, from retail to healthcare.
Key features
Customer complaint tracking allows your team to track complaints across multiple departments.
Customizable branding for your business.
Issue auditing and form management solutions.
Automated call routing to streamline your call center.
Call center management to manage remote and in-house teams easily.
Pros
Powerful reporting tool.
E-mail, Chat, Facebook, and Twitter support.
Responsive customer service.
Cons
Requires training to get used to.
Need to define your workflow rules.
The mobile app does not have all of the features of the web browser.
Price
Wowdesk has a free version as well as a free trial version. There is a $6, $30, and $60 per agent per month option.
19. JIRA Service Management
JIRA Service Desk is an excellent solution for tracking customers' issues, problems, and requests in one place. With powerful features like custom workflows, flexible reports, integrated knowledge base articles, and time tracking capabilities.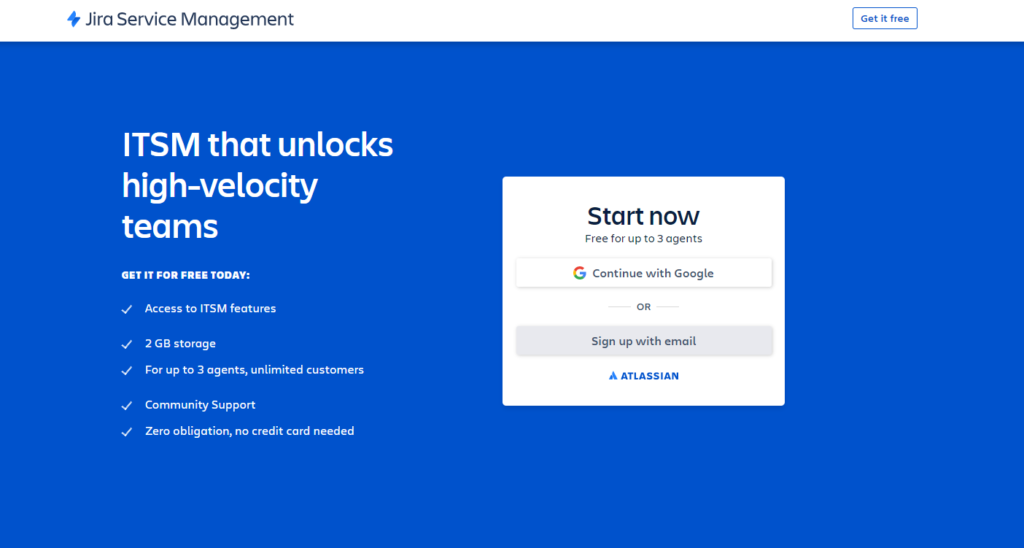 Recommended for completing tasks
JIRA Service Management was developed to provide issue tracking, reporting, and support cases for service desks to complete tasks quickly. It is recommended for small to midsize businesses.
Key features
Help desk and issue management resources for your team.
IT asset management, change management, and license management.
Knowledge base management so customers can quickly get answers.
Compliance tracking allows you to ensure support standards are met.
Pros
Notifications when tasks are assigned or completed.
Simple and organized workflow.
Customizable.
Cons
Missing features standard in other software.
Lacking integration in your apps.
Managing tickets can be overwhelming.
Price
There is a free trial version and free software with limited features for up to three agents. A $20 a month option allows up to 4-15 agents and a $40 version for 16+ agents.
20. Salesforce Service Cloud
Salesforce Service Cloud is an enterprise cloud-based customer service software platform. It empowers companies to deliver differentiated, 1-to-1 customer service across phone, email, chat, web, and social channels.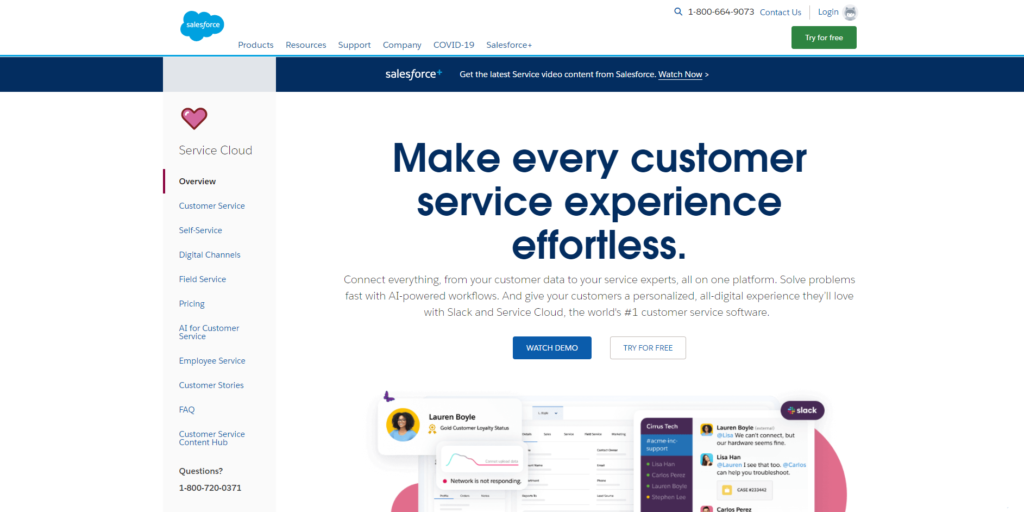 Recommended for the best interactions using real-time-data
Salesforce claims organizations are the first to utilize data capture and real-time analytics for customer interactions. Moreover, allowing you to provide customized customer service in real-time.
Key features
Call center management tools.
Call scripting, recording, and call logging.
Canned responses that allow you to respond to complaints automatically.
Customizable branding for your business.
Inbound call center with geo-targeting features.
Pros
Ideal for customer-facing workflows.
Easily keep track of business sales.
Ability to log all customer needs.
Cons
Limited formatting.
Interface may be confusing.
Inconsistent stability problems.
Price
There is a free trial version of Salesforce Service Cloud, but you must contact them directly for a quote.
Customer complaint management software compared
As you evaluate customer complaint management software for your business's needs, you will want to find which features will assist you in resolving customer complaints. The following are our picks for the best customer complaint management software on the market and what could make them perfect for your business.
LiveAgent
The power of LiveAgent comes from a robust customer service portal that utilizes several tools. It includes a responsive chat widget that allows customers to chat quickly with support staff. LiveAgent offers complete call center functionality, which enables your customer service teams to use voice over internet protocol (VoIP). In addition, LiveAgent is the only software to include unlimited call recordings. LiveAgent's ticketing feature automatically sorts your customer service interactions into detail-filled tickets. Tickets can be quickly sorted and sent to the correct departments. With a hybrid ticket system that utilizes omni-channel support, your team can communicate with customers across various channels using one software.
Avochato
Avochato is a customer complaint management software designed for managing customer service issues online. Using Avochato, you can address customer complaints from receipt to resolution in a single system. Avochato integrates with popular customer relationship management systems and provides features that help you keep your customers happy by managing their concerns quickly and efficiently. In addition, Avochato sets itself apart from other software on the market by allowing customizable messages on a large scale for SMS texting.
Zendesk
Zendesk can be installed on a customer's servers, eliminating the need for a full-time customer service representative. Zendesk requires very little hardware or technical expertise to manage, setting itself apart from competitors. Zendesk can help businesses of all sizes, especially those that are actively growing.
Zoho Desk
Zoho Desk is customer complaint management software that was designed with customer service in mind. It provides an easy way for customer service agents to access customer information, view customer history, previous conversations, and more. ZohoDesk enables customer service teams to provide better support by streamlining the entire customer experience from the moment a ticket is submitted until it's resolved.
Freshdesk
Freshdesk customer complaint management software represents an intelligent choice for companies to expand their customer service options. It's an effective way to provide superior customer service without having a dedicated customer service team on hand 24/7. This means that the burden of responding to customer complaints doesn't fall to existing employees – setting Freshdesk apart from other competitors.
Is a trial version of customer complaint management system useful?
Yes! A trial version of a customer complaint management system allows you to use all features and functionalities. Still, it restricts your work after the expiry of that defined period unless you purchase the product. Free trial versions help you to understand the software and all its features. In addition, it allows you to see how the customer complaint management system works with your team.
Stand out from your competitors with a strong
customer service culture​
Conclusion
The best all-in-one complaint management system for customers
There are countless customer complaint management systems on the market, but LiveAgent's features are superior. LiveAgent offers all-in-one customer service software for online businesses to manage agents and clients better using analytics, allowing your team to manage your company's contacts, tasks, chats, and complaints in one place. In addition, LiveAgent can be used with any chat provider such as Google Talk or Facebook Messenger and is mobile-optimized so agents can reply or manage customer complaints from mobile devices.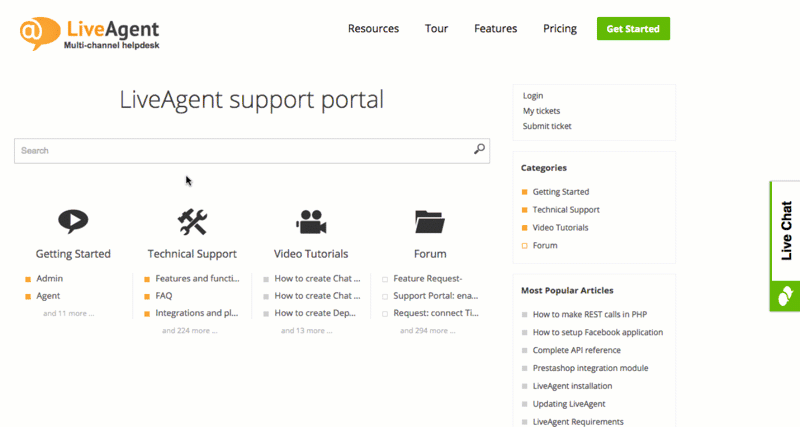 The best customer complaint management system for the price
LiveAgent offers the best value to features price point to provide support teams the features they need to manage communication with customers successfully. LiveAgent's flexible open architecture provides a stellar user experience and makes it suitable for companies of any size — from start-ups with one agent to large offices with 200+ agents. LiveAgent has multiple service levels, including a free version and a free trial version.
The highest-rated customer complaint management system
Customer support is a necessity for many businesses, and LiveAgent is the highest-rated customer complaint management system on the market, averaging 5/5 stars.

The easiest customer complaint management system to setup & use, and integrate
Customer complaint management software is effective when it's easy to integrate with your current operations, easy to set up, and simple for your team to use. LiveAgent's easy-to-use inbound call center software requires only minimal training and is very quick to set up. With LiveAgent's easy design, you can have agents field customer complaints on the first day. Increased accessibility, ease of use, set up, and price makes LiveAgent the most accessible call center software.
Find the best customer service software
LiveAgent can help you manage customer complaints with its wide range of tools, and therefore making it great choice for businesses of all sizes. Curious about all the opportunities?
Frequently

asked questions
How do you create a complaint management system?
Define what kinds of complaints exist and how agents should handle them. Write the complaint management policies, procedures, and forms (how to ask for feedback and how it will be responded to). Enforce these policies consistently and fairly through all levels of the organization. Analyze the data gathered from both employees and customers to identify trends, strengths, weaknesses, etc. Implement changes as needed by updating your documentation and employee training materials over time as you discover areas that need improvement.
Why is a complaint management system important?
A complaint management system is essential to a business for several reasons. Firstly, having a documented process can help you improve your products and services by identifying which areas are not meeting customer needs. A complaint management system allows employees from all departments to understand their roles in the process and help them learn from mistakes made by other staff members. In addition, understanding how customers feel about your products and services may help you make changes before they complain.
What is a complaints management policy?
A complaint management system allows employees from all departments to understand their roles in the process and help them learn from mistakes made by other staff members.
What are the five key factors of complaints handling?
There are five key factors relevant to the efficient management of customer complaints; set up clear guidelines, understand how different customers behave, develop complaint handling procedures, ensure company staff receive practical training, learn from mismanaged cases and take steps to prevent them from recurring.
What is the complaint management process?
The complaint management support process is designed to help investigate and resolve complaints within an organization and should have a defined scope to include all issues presented. Complaint management systems involve all levels of the business to investigate and resolve complaints. Additionally, data collected can improve your service in the future.
What to do if you are unhappy with your customer complaint management system after purchasing?
You should always try a free trial version of customer complaint management software to make sure it fits your needs. If you are not happy with your customer complaint software, you should immediately contact their customer support team. The policies of each company may differ.