Every organization operating in the digital world needs to verify the identities of its users or clients. When you are unable to meet people face to face in an office, check their ID, or ask them to sign papers, you have to use other means to check whether the information they share is correct and that their inventions are genuine. This is especially true when you operate a customer portal.
So how can you verify that your customers are who they say they are? One way to do it is by sending a verification email.
What is a verification email? Why is it important?
A verification message is a type of email sent to a user or a client after they have taken a certain action. This action could be creating an account, signing up for a newsletter, voting in a competition, or creating a support ticket.
A verification email should inform a user that they need to confirm their action. They can do so by clicking a link or a button placed in an email, or by entering a code that's been sent to them through a dedicated website.
Verification emails are the core of every healthy ticketing database. If there's any action that requires users or clients to provide their email address or a phone number, it should be followed by a verification email.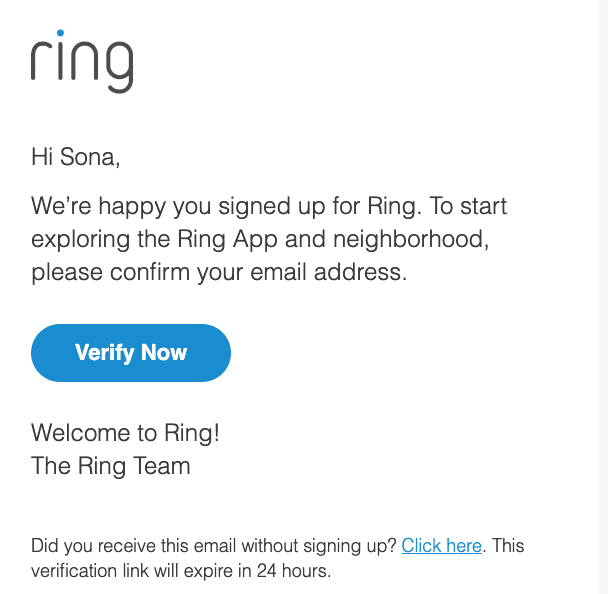 Requiring users to go through account confirmation helps reduce the number of unverified spam accounts. It also makes it easier for your marketing team to communicate with users or clients.
Furthermore, verification is helpful for users themselves because it reduces the risk of them creating an account using an incorrect or old email address they no longer have access.
When it comes to managing a customer portal, you also need to make sure that all accounts used to access it are valid and are owned by your customers or users.
Verification email subject line examples
Confirm your email address
Please verify your email for [company]
Verify your email address for [customer portal's name]
Welcome to [customer portal], please verify your email address
[name], please verify your account
[company] – account verification
[company] – email verification
[email address] – complete your registration for [company/customer portal]!
Activate your [company] account
Verification email
Your verification code
Your [customer portal] security code is: [code]
Check the verification code for [company]
Please verify your email address
Almost there!
You're almost done!
Verification email template ideas
Short verification email template
Hello [name]
You registered an account on [customer portal], before being able to use your account you need to verify that this is your email address by clicking here: [link]
Kind Regards, [company]
---
Hi [name],
We just need to verify your email address before you can access [customer portal].
Verify your email address [verification link]
Thanks! – The [company] team
---
Hey [name],
You're almost ready to start enjoying [customer portal].
Simply click the big [color] button below to verify your email address.
[button]
---
Verification email template emphasizing the value
Hello [name/email address]
Are you ready to gain access to all of the assets we prepared for clients of [company]?
First, you must complete your registration by clicking on the button below:
[button]
This link will verify your email address, and then you'll officially be a part of the [customer portal] community.
See you there!
Best regards, the [company] team
---
Verification email template with a confirmation link
Hi [name],
Thanks for getting started with our [customer portal]!
We need a little more information to complete your registration, including a confirmation of your email address.
Click below to confirm your email address:
[link]
If you have problems, please paste the above URL into your web browser.
---
Verification email template with a code
Hi [name]!
Your verification code is [code].
Enter this code in our [website or app] to activate your [customer portal] account.
Click here [open code in app] to open the [app/portal landing page].
If you have any questions, send us an email [email to your support team].
We're glad you're here!
The [company] team
---
"Thank you" verification email template
Thank you for choosing [customer portal] to deal with [client's pain point].
The [customer portal] offers all of the information you need to get the most out of our [product/service]] and much more.
To access your account, click on the big [color] button:
[Button]
Once again – thank you for joining our [customer portal] family!
Ready to put our verification email templates to use?
LiveAgent is the most reviewed and #1 rated ticketing software for small to medium-sized businesses. Try it today with our free 14-day trial. No credit card required.
Frequently

asked questions
When should I send a verification email?
It's best to send verification emails right after a user creates a customer portal account, so they can continue with the signup process and access the portal as soon as possible. For example, when a user creates an account using their email address, they should receive a verification email right away so that they are able to confirm it and take the next steps.
How long should my verification emails be?
A verification email should be very short and straight to the point. They should only be three to four lines of text. Inform the user what they need to do to proceed with the creation of their customer portal account. Use simple language. If a recipient has to take a certain action, they should know exactly what's expected of them.
Should I write a plain text email or send an email in HTML?
There's a big difference between a plain text email and an HTML email. Plain text emails only contain text without any special formatting. Plain text emails also allow you to embed simple visuals or gifs into the email copy. On the other hand, an HTML version contains images, colors, and other text formatting options. The right choice depends on your email marketing strategy, branding, style guide, and other factors.
In general, verification emails should be incredibly simple, so using a plain text email is usually a good idea.