Are direct messages on Facebook or Instagram important? Most businesses that are starting out on social media think that queries received through direct messages on social networks are less important than emails.
But actually, it's the opposite! Users spend more time on social media than checking their inboxes nowadays. That's why your company needs to provide outstanding customer service via social media as well as other communication channels and answer every message it receives from customers.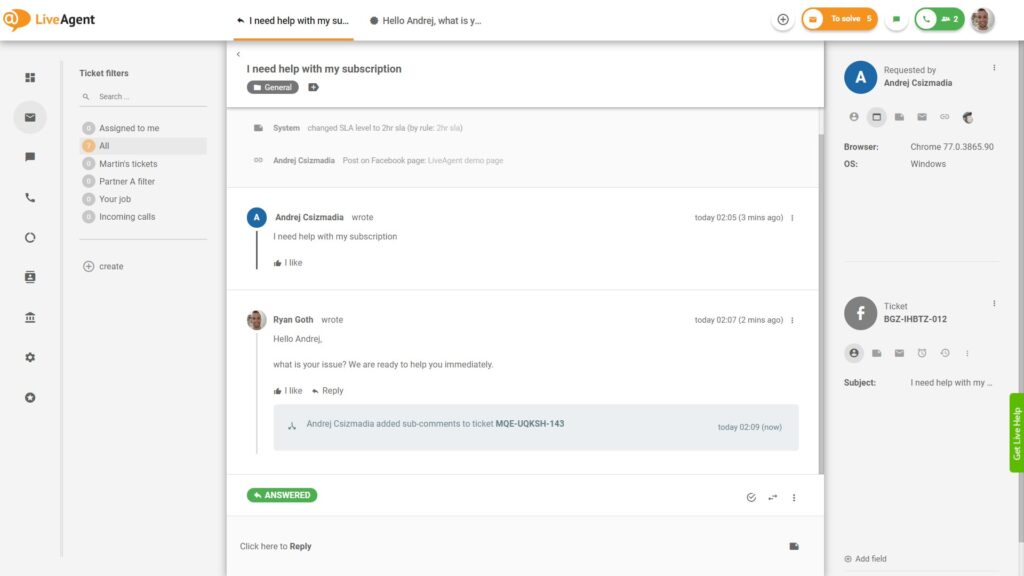 What is a direct message? Why is it important?
A direct message is a private message sent by a social media user either to another user or to a business account. The fact that other users can't see content that wasn't sent to them makes this kind of communication unique.
As far as open rate is concerned, a direct message from Facebook or Instagram has a very high value, exceeding 60% or even 80% compared to an average email open rate that is around 15-25% (source). This is simply because people use these social networks extensively. The more active your brand is on a particular network, the more relevant the inbox will be.
Hey there, [name]!
Thank you for contacting us!
My name is [rep's name], and I'd be happy to assist you today.
Could you specify your request so that I can try to help you, or pass your message on to a colleague who will contact you ASAP?
Best,
[rep's name]
P.S. If you like the content we post on our profile, how about you share our posts from time to time? It will help us reach more followers and grow our social media presence <3

Hello [name],
Thank you for notifying us about the problem with your order.
We are sorry that you received a [faulty/damaged] product, and we promise that this issue will be resolved as soon as possible!
Please provide us with the following information so that we can start the return process:
Order number, which you can find in your confirmation email or on the package.
Details about the faulty product.
Description of the problem.
As soon as you provide us with more details, we will inform you about the next steps.
Best,
The [company] customer service team

Hi [name],
We're glad that you are interested in our [product/service].
As you may have noticed, this product is currently out of stock. However, it will be available again on the [date].
As we will be restocking a limited number of items, we recommend that you sign up for a reminder list. Once you add your email, our system will notify you when the desired [product/service] is in stock again.
Good luck and happy shopping!
Best,
[name of a representative] from the [company] team

Hey [name],
Thank you for reaching out.
I've just checked the status of your order no. [order no.]. It has just been [packaged/shipped/delivered to a pick-up point], so you will receive it in [number of days] days.
You can track your order by following this link [link].
If you have any other questions, feel free to message me.
Best,
[name of a representative] from the [company] team

Hi [name],
Thank you for messaging and notifying us about that situation. I'm sorry you had to wait for so long without being contacted by our team.
If you submitted your inquiry via email, contact form, or live chat, you should have received a confirmation email with a dedicated ticket number assigned to your inquiry.
Could you please check that message and let me know the number of your ticket?
I will check the status of your inquiry right after you give me these details and will get back to you with more information and the next steps.
Sorry for the inconvenience!
Regards,
The [company] customer service team

Create an online personality
Be yourself. You are connecting with other human beings, so be transparent, honest, and empathetic. Convey your values or the values of your brand to your customers.
Be consistent
Ensure both public and private communication on social media have the same tone of voice. If the tone is relaxed and easy to digest on your public posts, do the same in direct messages. Don't be too formal. You don't want a sender to doubt if they messaged the right company, do you?
Respond quickly
Social media is an 'always-on' channel. Get used to responding to messages and comments as soon as possible, regardless of the context of the message.
Watch out for typos and grammatical errors
Make sure those who are taking care of your business account's inbox know how to write properly. If they have any doubts, recommend that they use a good spell-checker or ask for assistance from your editors.
Ready to use our social media templates?
Put them to the test with our free 14-day trial, no credit card required. Start replying to Facebook messages, Tweets, and Instagram comments today!
Frequently

asked questions
How long should my direct messages be?
It really depends, and there's no general rule. No digital message should be too long, however, your replies to customer messages shouldn't be too abrupt either. It's not a sales email in which you have to grab the recipient's attention in 2-3 sentences. Your potential or existing client is sending you a message, so make use of this opportunity and try to mesmerize them.
Greet the sender and try to be as comprehensive as possible with your message. Communication on social media is less formal than email communication and often occurs in real-time, so you can allow yourself to make some small talk before getting into the details.
How should I address users?
Social media communication is rather informal, plus if someone sends your company a direct message then you already know their name. That's why we'd suggest addressing senders by their first name to shorten the distance. If a profile picture indicates that you are dealing with an older person then you may decide to put "Sir/Madam" at the beginning of your message, but it's pretty unusual in social media communication.
Remember to use emojis, which are the second language of social media.
Can I store the data of users who have sent direct messages?
This depends on local privacy laws and the terms of use of a particular platform. You can use a tool to organize messages in a business social media inbox, but don't treat direct social media messages as another channel for cold emailing. It's a highly unusual practice that could result in a social media platform banning your account.