Providing exceptional customer service can be a contributing factor for gaining more clients and prospects that are loyal to your business and recommend it to others.
With the rise of social media, one of the activities that are without a doubt the most profitable for businesses is to extend customer service assistance to social media channels. This brings multiple benefits such as optimization of resources, speed, automated responses, and more.
However, social media customer service only operates well if it comprises of processes that are organized logically. It's not only about sending generic canned responses like "thank you for your message, we'll get back to you soon."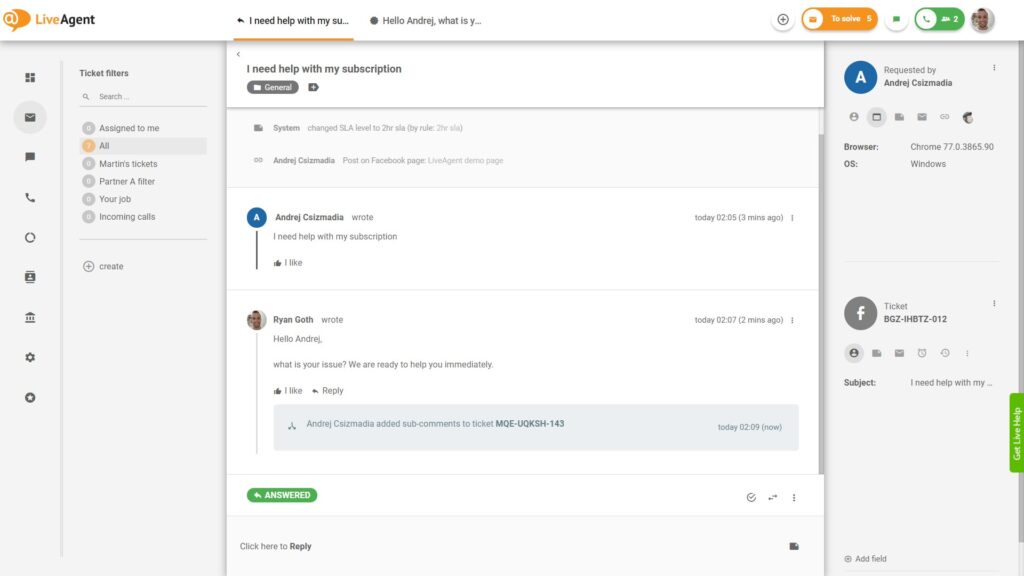 The work of social media customer service representatives must occur during predefined hours, and social media users must be informed about when that availability is. One of the worst customer service sins is to leave a customer hanging without informing them about when they can expect an answer.
If you decide to provide your customers with assistance via social media and do it right, you can expect many benefits. Below are a few of them.
Costs: the price of providing customer service through social networks is lower than through traditional channels, such as contact centers or email, because one representative can handle multiple queries at the same time.
Speed: social media platforms such as Facebook and Twitter eliminate the downtime that occurs with other customer service channels caused by response delays and hold times.
Social media is a direct and accessible form of communication because it enables companies to talk to customers without barriers, and through a channel the customers choose themselves.
Reputation: the use of Twitter and Facebook for customer service can improve a company's reputation as conflicts are resolved in a public way.
Extra knowledge: customer service through social media allows you to gather opinions and feedback from your customers in real-time.
Hello [name]!
Thank you for your message. Our customer service on [Facebook/Instagram/Twitter] is available every day from [X] to [Y].
If your matter is urgent, you can also visit our website [link] and message our customer service team using the live chat window – we're available 24/7 there!
However, if you can wait until tomorrow morning we're happy to assist you here 🙂
Best,
The [company] team

Hello [name],
Thank you for your message, [name]!
Our [restaurant/office/beauty salon/bar] is open every day from [X] to [Y] between [weekday] and [weekday].
We'd be very happy to see you here!
If you want to book a [table/service/appointment], you can do so via this link [link].
Best,
[company] staff

Hi [name]!
Thank you for reaching out to us. We're here to help you.
Our opening hours on weekdays are: [opening hours], and we also work on weekends from [X] to [Y].
Talk to you soon!
The [company] team

Hey [name],
We've got your message. Our social media opening hours are from [X] to [Y].
That's why we'll be able to answer your query tomorrow after [X] at the earliest.
It's best to contact our customer service team via this contact form [link to a contact form], via email [customer service email], or by calling them at [phone no.]. This is the fastest way to get assistance.
Best,
The [company] social media team

Hi [name]!
Thank you for reaching out. We're happy that you follow [company] on social media.
If you need assistance with solving your issue, please contact our customer service team by filling out this form [link to a form], calling them at [phone no.], or via the live chat on our website.
We're available [from X to Y/24/7] there and will be happy to assist you!
Have a great day!
Best,
The [company] social media team

Ready to use our social media reply templates?
Start using them today alongside our social media customer service software. Our free 14-day trial has full functionality complete with Facebook, Twitter, and Instagram integrations.<br> Try it today. No credit card required.
Frequently

asked questions

Yes – if your service times are limited, you should inform your customers about the hours you're able to assist them. It's best to put this information in the profile description. You can also include those times in a message window on Facebook. If there is any customer service channel available outside of your social media opening hours, you can also inform clients about it and let them know how to reach that available contact method.

There's no universal rule for that. You should make this decision based on your staff's availability (longer service hours mean higher salaries for customer service agents) and your customers' activity. For example, if you notice that your followers are most active during "regular" office hours from 9 to 5, it's logical to provide social media assistance during that time.

However, if your customers prefer to contact your brand via social media in the evening and don't submit many inquiries in the morning, it would make more sense and be more convenient for your users to provide social media assistance in the evenings.

It's not necessary for most businesses. However, if your brand operates globally and your customers are based in different time zones, it would be wise to have at least a few customer service reps working different shifts. Not so long ago one international airline surprised its users by stating that they only provided social media customer service between 8 am and 4 pm in the EDT time zone, which was not really acceptable for that type of global business.