Businesses that are active on social media receive various questions via direct messages. While you should aim to answer all messages, some messages are more important than others because they directly influence sales. If these messages are ignored, they may lead to churn.
One of these message types are questions about prices. Why? Because for most customers, prices is a decisive factor when buying products.
When looking for products or services, buyers analyze a number of characteristics such as the product's quality, brand, origin, and price. Some of these factors may have a bigger influence than others when making a purchasing decision.
For example, some consumers will be more concerned about a product's quality than others, while others will prefer significant financial savings. If a customer messages you asking about the price of a certain item, you can be sure that this information is what will affect their purchase decision.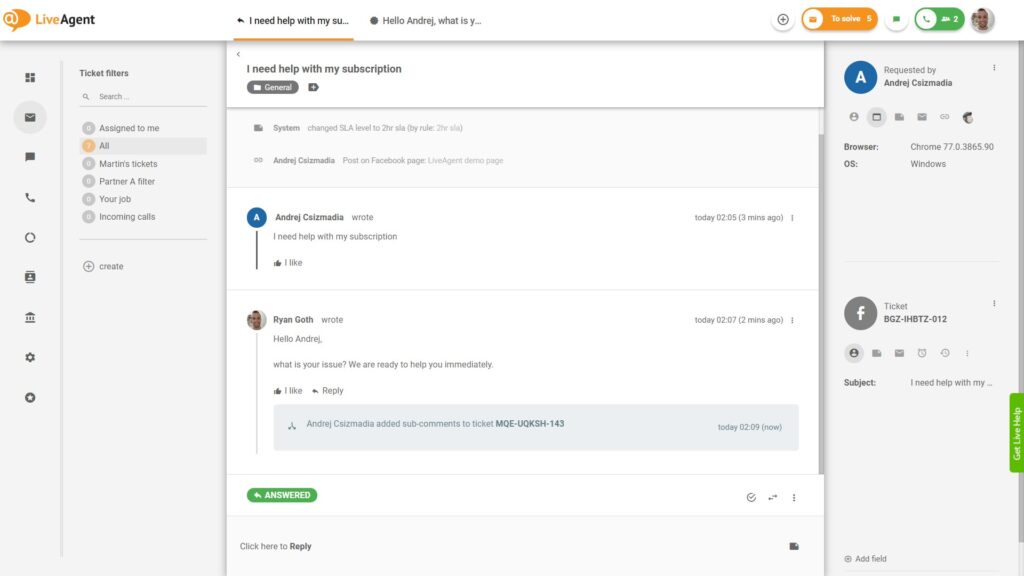 What level of influence does price have in the buying process?
Depending on each potential customer's habits, the value of a product will represent a factor of interest that could tilt the balance for or against making the purchase.
To help you understand this factor better, we will highlight the main elements of influence:
Some clients think that the price and the quality of a product are interlinked.
For others, the price is most important. There will always be clients who are looking for saving opportunities to stretch their budgets.
There are also stores that offer products for high prices, which defines the segment of customers they serve, representing those who can simply afford more expensive products or services.
The prestige of brands has a lot to do with the quality of their articles. However, the price exerts a great power of influence on the purchasing process since many people think that only the most expensive products are synonymous with excellence. On the other hand, brands that are unknown or offer fast-moving consumer goods are considered to have lesser quality items.
You probably know how price-sensitive your clients are. However, as already mentioned, if a customer inquires about the price of a certain product or service, you should do your best to answer their question as soon as possible. We've prepared a few templates that will help you to do just that.
Hello [name],
Thank you for messaging us. We are happy that you are interested in our [product/service].
Its current price is [price].
You can find more information about the [product/service] on our website. Just click this link [link], and it will redirect you to a dedicated landing page with the [product/service] description, price, and shipping information.
Happy shopping!
Best,
the [company] social media team
P.S. If you are interested in an installment plan, please follow this link [link]

Hi [name]!
My name is [rep's name], and I'm happy to answer all your questions.
First, I want to inform you that the [product/service] you are interested in costs [price]. Here's a dedicated [product/service] page [link], where you can learn more about it and place an order.
What's more, we have a special offer for online buyers – if you purchase [product/service] by the end of [today/weekend/week], you will get a 20% discount off your next purchase with us.
Just follow this link [link].
If you are interested in other products from the same category or want to compare prices, we can create a bespoke offer for you. Just let me know by answering this message.
Best,
[rep's name] from the [company] customer service team

Hi [name],
Thank you for your interest in [product/service].
You are lucky, because [yesterday/two days ago/last week] marked the start of our annual discount season, and the [product/service] is now available at a lower price of [price].
Follow this link to learn more about it and place your order.
Best,
[rep's name]

Hey there!
Thanks for reaching out, [name].
It's great that you are asking about the price of [product/service] because our seasonal sale starts [tomorrow/in two weeks/early next week].
Now [product/service] costs [price], but it's likely that its price will drop considerably as we're planning to offer a range of 30-70% discounts.
If you are willing to wait just a few days, you may save a few bucks. If not, you can obviously place your order today, and we'll be happy to deliver it within the next [two/three/four] working days.
Enjoy shopping!
Best,
[rep's name] from the [company] customer service team

Ready to try our social media reply templates?
Start using them today along with our social media customer service software. Our free trial is valid for 14-days and requires no credit card input. Try it today!
Frequently

asked questions
Should I answer questions about prices or send a link to a pricing page?
We would recommend answering a user's question directly. It's more convenient for them, and this is what they expect before messaging you. You should also add a link to a product or service of interest to shorten the potential customer's purchase journey.
Should I inform a user about an incoming discount?
If the price of a product/service a user is asking about will be lowered soon, you can recommend them to wait a little longer and buy it at a discounted price. However, you should always check with your supervisor if you are allowed to share this kind of information with potential buyers.
If a potential customer uses a different currency, should I convert the price to their local currency?
It's a really rare practice to convert prices based on a user's currency while communicating via direct messages. You can help the user to find information on how to calculate the equivalent price in their currency or where to find an exchange rate, but it's not advisable to share a fixed price converted into their currency since the exchange rate will change constantly.