Even if you run your business carefully and are very organized, you will have to deal with unhappy or unsatisfied customers sooner or later. You simply can't please everyone. Of course, you have to try, but if you fail, you need to face an occasional angry message.
If customers complain directly to you, you should be grateful. Customers have many opportunities to share their unhappiness with your business publicly, which can harm your brand's reputation. Receiving negative feedback privately in your social media inbox gives you more time and space to make things right before the negative experience gets out of hand. To mitigate the situation, use an apology email template to address and effectively resolve the issue.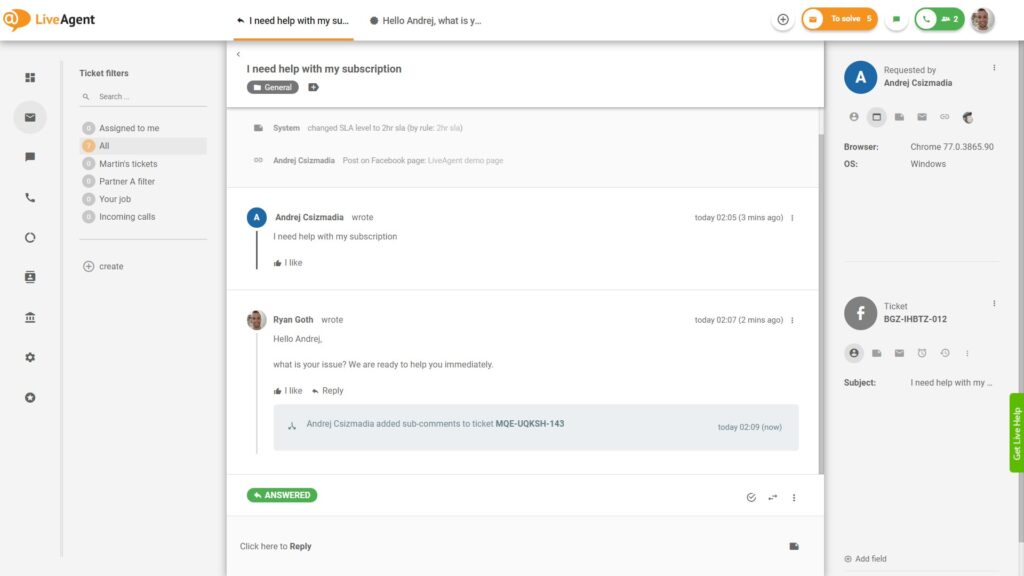 The basic model of complaint management
The causes of customer dissatisfaction stem from the differences between expectations regarding a product or service and its actual performance. Sometimes customer complaints are justified, and sometimes they're not. However, no matter the reason behind the dissatisfaction, you can't ignore the complaint.
There are several models for complaint management, but the following five steps are most essential and should be followed:
Contact the client: This is most the crucial part and the beginning of the procedure, starting once the client files a complaint. When they do, you should collect the customer's data, the date and time of the complaint, and a description of the problem.
Transmission to the functional area: If the complaint or claim was received by an employee that isn't a part of the customer service department, the complaint must be passed on to the right people without delay.
The cause of complaint: The client can express their anger or dissatisfaction in different ways, but the organization must determine the real causes. It is not about looking for culprits, but about preventing future complaints or claims.
Search for solutions. Solutions must be found by customer service reps. The resolution terms must be short; information and quality of attention are two fundamental pillars of problem resolution. Many clients are satisfied just by being heard, understood, and accepted.
Resolution of the problem. Once the solution has been determined, the measures taken to solve the problem must be carried out and communicated to the client in detail. This is the moment to thank them for their trust, offer explanations, and apologize. Don't forget to thank the client for having presented the complaint or claim.
Be careful how you approach negative feedback and the following business apology messages. Remember, even complaints can serve as stepping stools toward meaningful customer relationships, so tread carefully.
Hi [name],
I am sorry to hear that [the cause of the customer's complaint]. I understand how unpleasant this experience must have been for you, and I'm ashamed of our customer service.
This shouldn't have happened to you or any of our customers.
I'm forwarding your message to the appropriate department within our company.
I'm putting the highest priority on this problem you're facing, and our team is already working to resolve the issue and help you. I'll notify you right away when we have a solution.
I appreciate you spending the time to share your negative experience with us. This kind of feedback helps us grow and makes our company better.
Please let us know if you have any additional questions, concerns, or comments.
Regards,
[rep's name], the [company] customer service team

Dear [name],
Thank you for leaving your comment. We try very hard to make every customer's experience enjoyable, and we really regret not being able to meet your expectations this time.
We will do our best to resolve this issue as soon as possible and find a solution that works for you.
Please send us a message directly to this email [email address], and we would love to continue this conversation!
Best,
The [company] social media team

Hello [Name],
I am [name], and I am the [director/manager] of customer service at [company]. Our company is recognized for our exemplary customer service, and I sincerely apologize for your recent experience with us.
We have your contact details and will reach out to you as soon as possible to solve this issue.
If it's more convenient for you, please contact me personally at [phone/email], and I will do my best to resolve your problem.
Sincerely,
[name]
[position]

Hello [name],
Thank you for your message. All comments from our customers are important to us, and we are sorry to hear that you had such a frustrating experience.
I hope you can see from our reviews that your situation is an exception and could not be further from our high standards. This only makes us want to resolve this problem as soon as possible and ensure it doesn't happen again.
Please send a message to our customer service team at [email/phone] to inform them of all the details, and we promise to work out a satisfactory solution for you.
Best,
The [company] social media team

Dear [name],
Thank you very much for bringing this problem to our attention, and please allow me to apologize for the unacceptable treatment you have received.
Keeping our clients happy is our number one priority, and I would like to ask for another opportunity to retain you as a customer.
Please call me at [phone number] or, if you prefer, we can contact you at a time that is convenient for you.
Best,
[rep's name], the [company] customer service team

Ready to put our social media complaint reply templates to use?
Sign up for our free 14-day trial today, and reply to social media messages directly from your LiveAgent dashboard. No credit<br> card required.
Frequently

asked questions
Should I reply to all customer complaints sent via direct messages?
Yes, you should reply to all customer complaints. What's more, you should pay special attention to every piece of negative feedback you receive and investigate what caused those customers to be unsatisfied with your product or service.
Should I say sorry even if a customer is not right or their complaints are unjustified?
If a customer's complaint is justified and your company made a mistake, you should definitely say that you are sorry. If their complaint does not reflect reality, you should still be professional and treat the customer with respect, but you should try to prove that they are not right instead of apologizing.
If a customer's complaint is justified, should I compensate for my company's mistake in any way?
You should do everything possible to fix your mistake. If you sent a faulty product, replace it with a new one. If a feature of your software doesn't work properly, fix it as soon as possible. However, there are some issues you can't fix right away. In such cases, you should try to compensate for the mistake your company made. For example, if you run a restaurant and a customer is not happy with a meal they were served, you can offer them a free lunch or extra drinks as a form of compensation.