A recent study by Sitel Group showcased that 49% of people are more likely to share their positive experiences with businesses rather than negative ones (30% of respondents).
Regardless of being positive or negative, all feedback is valuable because it can help you see what you're doing right and what can be improved.
What is feedback?
In a business context, feedback refers to a customer using a product or service and communicating their level of satisfaction with it. Often times, customers also make suggestions for improvement.
As an example, in the case of an online store, an opinion could be shared about a purchased product, the service provided by support representatives, website design, or the product pricing, among many other things. It's generally up to each company to identify what they want to be evaluated on and actively seek feedback from clients. Clients might also share their feedback without being asked for it, in which case it will be even more valuable.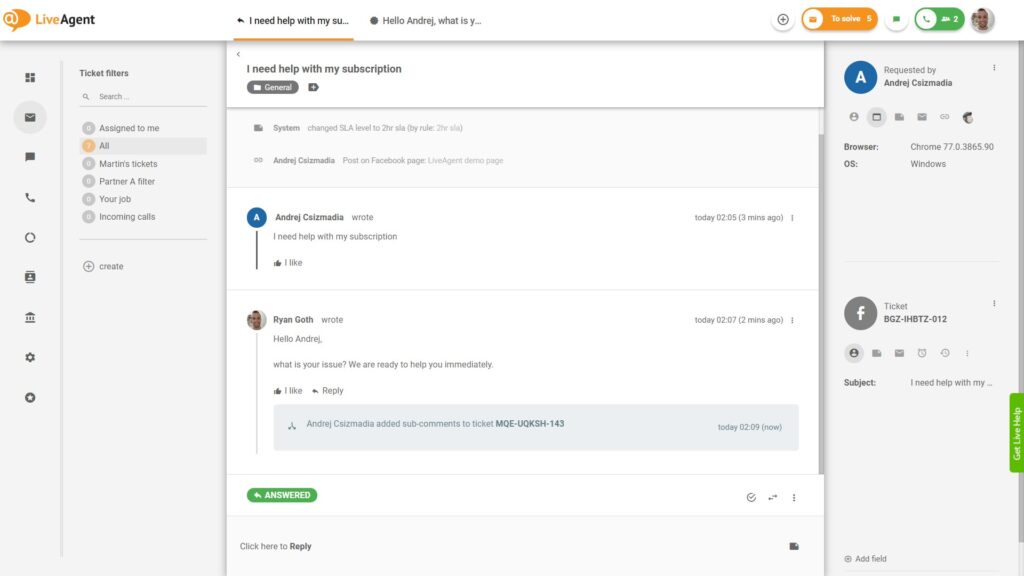 Why does customer feedback matter?
Customer comments are useful information that can help you understand how satisfied your clients are with your products and/or services. These insights provide a general idea about how your customers perceive your products and your company.
In addition to that, customer feedback:
Helps you optimize your products and/or services
The launch of a new product and/or service is usually supported by prior research of your target audience's needs and interests. The results of such a study can be very encouraging and uplifting. However, after your audience uses your product and/or service, their actual opinion may change.
By analyzing customer feedback, you can learn both the strengths and weaknesses of your offer. Most importantly, you can also understand what your customers have experienced while using your products and/or services. Based on this information, you can optimize what's needed to ensure you continue providing a quality experience for your customers.
Contributes to measuring customer satisfaction
One of the most important metrics that helps you learn how successful your products and/or services are, is your customer's satisfaction. You have to make sure that your customers are happy with your offer, even if that involves solving problems and meeting their needs.
Strengthens the link between users and the brand
Customers want their favorite brands to offer a more personal, less automated experience. By taking your customers' opinions into account , you're showing them that you care and are committed to providing them with the service they expect.
Moreover, involving clients in optimization of internal strategies increases their attachment to the business.
As a result, they will become your brand ambassadors, spreading information about your products and services in a beneficial "word of mouth" way without even being asked to do so.
Encourages business decision making
Making business decisions solely based on customer opinions has a consequence: the decline of a business, be it in the short term or long term. In competitive markets, it is unprofitable to make important decisions based on customer opinions.
However, clients' opinions can provide valuable data to support the development of future strategies.
Hi [name],
Thank you very much for sharing your experience with us.
We are really happy that your interaction with our brand was so positive.
I just want to let you know that we are acting upon your feedback to make some vital changes to the way we operate [list of changes].
As you can see, the opinions of our clients help us to provide better experiences and grow as a company.
Regards,
[rep's name], the [company] customer service team

Dear [name],
Having you and your family [stay/dine] with us was a pleasure for [company]. We really value the fact that you are being so open with us and taking the time to share your feedback.
I'm glad that you felt [positive point mentioned in the customer's message].
Hope to see you soon!
Best,
[company's owner]

Hi [name],
We're happy you are satisfied with the quality of our [product/service]. It means a lot!
Thank you for choosing [company], we're so thankful for outstanding customers like you.
Let us know if you need anything else.
Sincerely,
[name, position]

Hello [name],
I'm really proud that we were able to meet your high expectations! Thank you for taking the time to share your opinion with our customer service team.
It's such a pleasure to have customers like you.
We will do our best to make your future experience with us even better.
Best,
The [company] customer service team

Dear [name],
Thank you for sharing your story and experience with us! I'm so happy that our [product/service] has made such a difference for you.
There's one part of your comment that really caught my attention. Do you mind if we share your story with our team, and possibly, on external channels like our website or social media profiles?
Thank you very much for your trust.
Best,
[Reps' name and contact number]

Ready to put our positive feedback reply templates to use?
Use the templates in conjunction with our social media customer service software. Answer clients on Instagram, Facebook, and Twitter directly from LiveAgent.
Frequently

asked questions
Should I reply to all positive feedback messages?
Let's reverse that question – how could you not reply to a message with positive feedback? If a client is so happy with your product or service that they decided to share their opinion with you, it is without a doubt that you should answer their message and thank them for sharing their thoughts.
Can I share customers' positive opinions publicly?
If a customer left feedback in an already public profile comment, you have the right to share their opinion with the world. However, it wouldn't hurt to ask the author of the comment for their permission to share it across your social media. If you receive positive feedback through a private message, you definitely have to ask the customer before sharing their comment publicly. These rules don't apply to anonymous opinions or testimonials, but you should always aim to share positive feedback with the authors' names since it's more credible.
Should I do more than just thank a customer for positive feedback?
It depends on the internal policy of your company. There are companies that, for instance, send their clients vouchers as a "thank you", but it's a part of a bigger strategy. You could do something for a great customer and spontaneously send them a small gift, but remember that you'll likely have to do the same for every client that shares a new positive review. If you don't, you risk facing a negative backlash.