Forgetting to send follow up emails is one of the most critical mistakes sales and marketing professionals make when reaching out to prospects. Far too often, they focus solely on the initial pitch and completely neglect follow-ups. A whopping 70% of sales emails aren't followed up on, although as many as 80% of deals require at least five follow-ups before closing.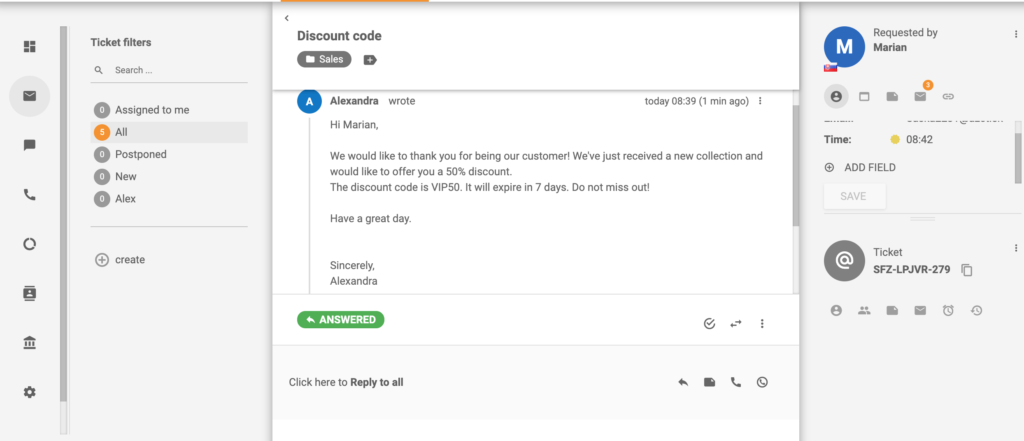 Getting back in touch with prospects ultimately helps businesses increase response rates and close more sales. In fact, follow up emails typically get better response rates than the initial email. A study conducted by Iko System saw a reply rate of 18% on the first email, 14% on the second, 13% on the fourth, and a massive 27% on the sixth. With the right follow up email templates at hand, your sales and marketing team can ensure more consistent communication with prospects and improve sales in the long run.
3 major follow up email mistakes to avoid
Sending too many emails
While there is no universal formula for the best number and frequency of follow up emails you should send (as it greatly depends on the kind of interaction you had with your prospect previously) – research shows that 2 or 3 follow-ups are the optimal number. As a general rule, it is recommended to wait at least two days before sending your first follow up email.
Giving up too soon
Statistically, if you don't receive a reply to your first email, you have a 21% chance of getting a reply to the second one, and a 25% chance that you will eventually hear back from the recipient after a breakup email or two. It might also take 5 follow-up emails or more to actually get a response from a prospect.
Lack of personalization
Personalization is key when it comes to email marketing as it can help your follow up emails stand out. Studies have revealed that emails with personalized subject lines are 26% more likely to be opened than those without, and that revenue is 5.7 times higher in emails that employ personalization.
Sales follow up email template examples
Deciding how to follow up with prospects who didn't respond to your initial email can be tricky as you need to find the right balance between adding value and being pushy/annoying. Below are 10 basic sales follow up email templates for different use cases that you can use as a jump-off point before creating your own.
We have also included a break up email template in case you don't hear back from a customer for some time.
Follow up email after a trigger event
Hi [Name],
I've noticed that you have read my last email and visited our website. I hope this isn't an overstep, but I just wanted to make sure you found what you were looking for, and wanted to see if you had any questions.
As I stated in my previous email, I believe [Product] can help [their Company] to [your value proposition].
Please let me know when is a good time for you, so I can hop on a call and walk you through how companies like [customer 1] and [customer 2] have benefited from our tool.
If you are not the right person to discuss this with, who would you recommend I talk to?
I look forward to hearing back from you.
[YOUR SIGNATURE]

Follow up email to share a special deal
Hello [Name],
I know I've already shared some information about [product or service] with you a while ago, but I thought you might be interested to learn about a new deal [Company] is offering right now.
[Details of the deal]
This deal is currently available through [end date]. If you'd like to hear about this in more detail, please let me know. I would happily spend 15 mins telling you everything you need to know.
Regards,
[YOUR SIGNATURE]

Follow up email to reconnect with a prospect
Hi [Name],
The last time we discussed [value proposition] you suggested that it wasn't the right time, asking me to connect some time around the end of the year.
So, should we pick up from where we left off? I'd be happy to do a quick review of our proposal on the phone and answer any pending questions.
Eager to hear back from you!
[YOUR SIGNATURE]

Follow up email after leaving a voicemail
Hey [Name],
I left you a voicemail earlier today to schedule a time to demo [Product]. We're excited to show you how we help our clients [achieve their goals].
I mentioned that I'd call again on [date and time], but feel free to reach me whenever works best for you at [phone number] or shoot me an email.
Regards,
[YOUR SIGNATURE]

Follow up email after an event
Hi [Name],
It was great connecting with you at [event name]. I hope you got a ton of value from the sessions.
I wanted to follow up with you since you expressed interest in learning more about [product/ service/ company]. Would you be open to scheduling a quick call this week to discuss it further? I'd love to learn more about your company's needs in this area and how we can help you achieve your goals.
Hope to hear from you soon,
[YOUR SIGNATURE]

Free trial follow up email
Hey [Name],
Hope you're doing well. It's been a few months since you tried [Product], so I thought I'd check-in and see how things were going at [their Company].
I know that sometimes our trial users don't end up signing up because the timing isn't right for them, and many consider [Product] to be a better investment after they've grown.
I want to offer you another free 15-day trial with no strings attached. Simply click here to activate your extended trial now.
If you have any questions or need assistance, just hit 'Reply' and let me know – I'm always happy to help.
Cheers,
[YOUR SIGNATURE]

Follow up email after a demo
Hi [Name],
Thank you for your time yesterday and sharing more insights on what you are trying to achieve and the challenges you are facing. We understand the bigger picture and we're happy that the demo gave you a better idea of how [Product] will help you reach your goals.
Ultimately, here are 3 main things [Product] will help you to accomplish:
[Feature #1]: Will allow you to [meet X goal]
[Feature #2]: Will help you [with Y challenge]
[Feature #3]: Will mitigate [Z issue]
As promised, I've attached additional information about [specific feature] that you asked about.
The next step is [action item]. Just let me know if you have any questions and I'd be more than happy to chat again. Also, feel free to give me a call at [number].
Best,
[YOUR SIGNATURE]

Hi [Name],
This is [your name] checking in about the guest post pitch I emailed a couple of weeks ago. I understand that you are having a busy week, so I thought I'd drop you a line and ask. Have you had a chance to look at it?
I'm excited to hear back from you! Let me know if you'd like me to add/remove something from the pitch.
Thanks,
[YOUR SIGNATURE]

Follow up email after no response
Hello [Name],
I won't take up too much of your time. If I don't hear back from someone, I know it's usually because they're either busy, not interested, or missing my emails. Could you please hit a quick reply and let me know 1 / 2 / 3 so that I could update your file?
1 – Too busy right now, email me again in a month.
2 – Not interested, please leave me alone.
3 – Haven't seen previous emails.
Thanks,
[YOUR SIGNATURE]

Follow up email for 'breaking up' with a prospect
Hi [Name],
I'm going through my contacts and realized that I haven't heard back from you about [product/ offer], which usually means one of two things: either the timing may not be right or you no longer have a need.
In either case, I don't want to keep bothering you. Would it be alright if I closed your file with us? Otherwise, if you would still like to talk, let me know a good time.
Thanks,
[YOUR SIGNATURE]

Bonus: Funny sales follow up email template to inspire your sales team
Hey [Name],
I feel strongly that [their Company] could benefit from our [Product/ Service] but I've struggled to get a hold of you lately.
This can mean only one thing – your office has become subsumed by a zombie outbreak. Fret not – if you provide a number corresponding with the one of the below options (#1-4), I'll know exactly how to respond:
1) There's a zombie gnawing on my leg as I speak. Please send over anyone you know with zombie-killing experience.
2) No zombies on my side but I'm interested in chatting for 5 minutes at ___ (please let me know a date/time that works for you).
3) The timing isn't great now but please reach back out in 3 weeks.
4) You irritate me more than zombies ever could. Please go away.
Looking forward to hearing from you, [Name],
[YOUR SIGNATURE]

Ready to test our sales follow up email templates?
Why not try them alongside our ticketing software? Take advantage of our free 14-day trial, no credit card required.
Frequently

asked questions
How do you write a good follow-up email for sales?
To write an effective follow-up email, you need to be patient. Sometimes it takes time and effort to get the response. However, do not spam the prospective clients because it could have an oppositive effect. And most importantly, don't send generic emails. The more personalized the email is, the better chance you have for a response.
Why should I send a follow-up email?
A good follow-up email can help you stay at the forefront of your client's mind. Most sales will be closed in the follow-up stages of the sales cycle, so the follow-up email is a direct way to get you closer to closing the deal.
What is a follow-up email?
A follow-up email is a message you send to people who have not responded to a previous email. Moreover, follow-up emails are usually sent after a couple of days.