Sales pitches can be tricky to get right. You want to make a good impression on your potential customers, but you also don't want to come across as too pushy or aggressive.
In this post, we will go through good practices for writing effective sales pitches and provide templates that you can use as a guide when creating your own.
So, whether you are just starting in sales or are looking for ways to improve your current sales pitch ideas, read on for some helpful advice.
The importance of a sales pitch
A sales pitch is one of the most effective methods of reaching potential customers and promoting your product or service. When done correctly, a strong presentation can be a powerful tool that helps you close deals and boost your business.
A well-written and delivered sales pitch will help you stand out from the competition, showcase your offers in the best light, build trust and credibility with potential customers, and convince them to take action.
How to title a sales pitch
If you think about making a business proposal, a face-to-face meeting in a brick-and-mortar store, or a telephone call may come to mind. However, expand to emails, social media messages, or even videos/webinars.
The title will depend on the format that you are using and the types of pitches. For example, if you are sending an email sales pitch, the subject line is your title and it could include a hook to draw in your prospect.
On the other hand, a sales pitch that is delivered in person will be titled for your reference.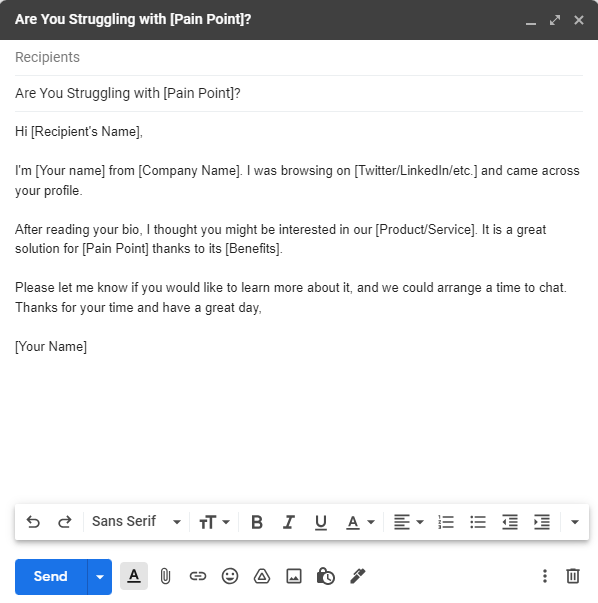 The title should be clear and concise so that your potential customers will know what the pitch is about. It should also be attention-grabbing to convince the recipient or user to open (if applicable) and read/watch/listen to your pitch.
Some more helpful tips include:
Starting your subject line with the word "pitch" so the recipient knows what to expect right away
Using the person's name to personalize the pitch
Adding in a newsworthy statistic in your subject line starting with a number or percentage
Mentioning a trending topic
Sales pitch subject line examples
[X] out of 10 of our clients solved [Pain Point] with [Product/Service]
[Recipient's Name], here are [X] ways to solve [Pain Point]
Experience an [X]% Boost Thanks to [Product/Service]
Pitch: Investment Opportunity in [Company Name]
How [Company Name] can help you achieve [Goal]
Are You Struggling with [Pain Point]?
How to write a sales pitch
The goal of a sales pitch is to grab the prospect's attention and encourage them to find out more about your offer. A great sales pitch should pique a potential customer's curiosity and convey clear value to them, so sometimes less is more, and getting quickly to the point is the most important factor.
It takes practice and skill to learn how to create and deliver a business proposal that will resonate with your target audience and persuade them to take action.
There are a few steps to follow that will make writing the perfect sales pitch simple, regardless of the type:
Know your target market – Research will help build a foundation of value for your pitch, increasing the chances of your prospect responding. Understand who you are pitching to, what they or their company does (are you familiar with their origin story, for example?), and what their goals might be.
Focus on the prospect's need – talking only about your product is the quickest way to make listeners lose interest. Your pitch should be about the customer, so think about what value your product brings them. For example, reducing costs, improving efficiency, and/or eliminating manual tasks resonate more than a list of features.
Pick the right channel – consider what would be the best way to deliver a sales pitch for both the prospect and the sector they operate in. A phone call might be the best way to reach someone in a more traditional industry, whereas a social media message may cut through with a recipient in an innovative startup. However, if you don't receive a response on one channel, you should try another method before giving up on the lead.
Personalize your pitch – while it's a good idea to start from a template, it should vary according to how and to whom you will deliver your pitch. Use different language for email pitches than you would via social media.
Inform the prospect of the next steps – always end with a call to action letting them know what to do.
What to include in a sales pitch
There are a few elements you should include in a call script sample for a successful pitch:
An introduction – who you are and why you're pitching
The hook – a line to grab the prospect's attention (if not already used in the subject line of the e.g. email)
Context – a short but enticing value proposition of why you are contacting your lead
A description of the product or service – what it is and how it can help the customer achieve their goals
Data, case studies, success stories, market research, customer reviews – evidence why the prospect should continue to engage with you
Your offer – what you are selling and why it's a good deal
A call to action – what you want the potential customer to do
Good sales pitch examples and templates
Cold email templates:
[X]% of our clients solved [Pain Point] with [Product/Service]
Hi [Recipient's Name],
I'm [Your name] from [Company Name]. I'm reaching out because we offer a [product/service] that I think could be a great fit for you.
Our [Product/Service Name] is a [Description], and it can help you thanks to its [List of Benefits]. This can be of great help with solving [Pain Point], as many of our existing customers have experienced.
If you're interested in learning more, I'd be happy to send over some additional information or arrange a time to give you a demo.
However, I wanted to let you know that I can currently offer it to you at the special price of $[X per month/year/for a one-off purchase], as long as you buy before [Date].
Thank you for your time, and I'd be happy to answer any questions you may have.
Best wishes,
[Your name]
[Recipient's Name], here are [X] ways to solve [Pain Point]
Hello [Recipient's Name],
If you're like most of our customers, you're probably looking for ways to [Pain Point]. Luckily, we have some great solutions that can help you.
Here are [X] ways to solve [Pain Point]:
• [Solution 1] – [Description]
• [Solution 2] – [Features]
• [Solution 3] – [Benefits] …
Please take a look at our website [URL] where you can find further information.
Kind regards,
[Your Name]
P.S. If you have any questions, feel free to email me at [Email Address] and I'd be more than happy to answer any doubts you may have.
Two-line email pitch:
Experience an [X]% Boost Thanks to [Product/Service]
Hey,
[Company Name] can offer [Benefits] for you.
Get back to me and I'd love to tell you more.
Best,
[Your Name]
Business pitch template:
Pitch: Investment Opportunity in [Company Name]
Dear Investor,
I am excited to share my latest startup with you. Our mission is [Mission]. We are currently seeking $[X] in funding to help us scale our operations. In return for your investment, you will receive [Y]% equity in the company.
We have a strong team of [Industry] experts who are dedicated to [Mission]. We have recently had success with [Accomplishments].
We believe that now is the perfect time to invest in our company. With your help, we can make a positive impact on the world.
Thank you for your time and consideration. If you would like to discuss this opportunity further, please don't hesitate to contact me at [Email Address] and I'd be happy to chat with you.
Sincerely,
[Your Name]
Elevator pitch example:
How [Company Name] can help you achieve [Goal]
Hello [Recipient's Name],
Are you looking for a way to [Goal]? If so, then I have the perfect solution for you.
My name is [Your Name] and I am a [Position] at [Company Name]. We are a [Company Type] that specializes in [Speciality]. What makes us different from other companies in our industry is [Unique Selling Point].
We have a team of highly skilled and experienced professionals who are passionate about helping our clients achieve their goals. To date, we have helped [X] clients achieve [Achievements].
If you would be interested in talking further about a potential collaboration, we arrange a meeting at a time of your convenience.
Speak soon,
[Your Name]
Are You Struggling with [Pain Point]?
Hi [Recipient's Name],
I'm [Your name] from [Company Name]. I was browsing on [Twitter/LinkedIn/etc.] and came across your profile.
After reading your bio, I thought you might be interested in our [Product/Service]. It is a great solution for [Pain Point] thanks to its [Benefits].
Please let me know if you would like to learn more about it, and we could arrange a time to chat.
Thanks for your time and have a great day,
[Your Name]
Phone Pitch Example:
[Product/Service] Cold Call Script
Hi, [First Name]!
Thanks so much for answering, my name is [Your Name] and I am a [Position] at [Company Name]. The reason for my call today is that we offer a [Product/Service] that I think would be perfect for you and your team.
I understand how busy you are, so I'll just give you a quick overview of what we offer. Our [Product/Service] helps our customers overcome a common problem that they face, which is [Pain Point].
This is because it is [Description], with functionalities such as [Features].
I'd be more than happy to send over additional details via email to arrange a time for a demonstration if you're interested.
Many thanks again for your time,
[Your Name]
Sales pitch good practices
Tailor it to the specific needs of your customer.
Keep it simple – don't try to cram too much information into your pitch. Stick to the essentials and explain them clearly.
Be persuasive – use strong arguments and compelling language to make your case.
Prepare to answer questions – your prospect is likely to ask for more details about what you're offering. Be ready to address any questions they are likely to ask so you can keep the conversation moving forward.
Consider your tone of voice and body language – the way you pitch is just as important as what you say. Be friendly and positive, presenting openly and confidently.
Practice, practice, practice – the more you rehearse, the better your pitch will be.
Streamline your sales across every important channel
Get the LiveAgent multi-channel ticketing system to organize, streamline and deliver your sales communication in no time. Start your free trial today.
Summary
Sales pitches are one of the most important tools in a salesperson's arsenal. They can make or break a deal, so they must be done correctly.
By following the tips and good practices and creating the best sales script for a given situation to each of your different prospect's individual needs, you can be confident that next time you will deliver a successful pitch.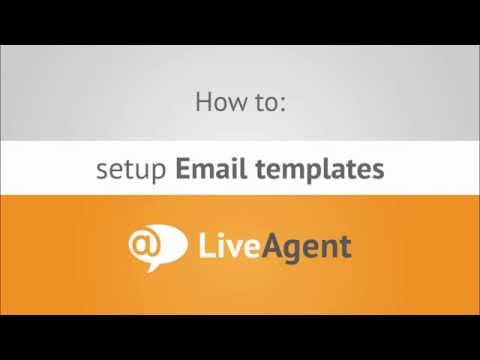 Frequently

asked questions
Why might a sales pitch fail to have the desired effect?
The first mistake can be using over-familiar greetings such as "How was your weekend?", which can put the prospect off straight away if you haven't met them before. Another is using too many "I" statements, as time spent talking about yourself rather than your offer is generally wasted.
How can I judge if a prospect might be ready to make a purchase?
Some factors that will influence a customer's readiness to buy include their need or desire for the product or service, their availability of funds, the urgency of the situation (e.g. a time-limited offer), and their feelings towards both the selling company and you as the person pitching.
What is the right level of personalization for a sales pitch?
If your message is too generic, it might fail to be a successful sales pitch. So, if it could be delivered to any prospect, then it's almost certainly not sufficiently tailored to the one you're currently delivering it to. Conversely, overcomplicated explanations of product features or capabilities during the prospecting stage can also put off potential customers who aren't yet ready to discuss the details of your solution.
What should be avoided when delivering a sales pitch?
The most significant thing to be avoided is making promises that you can't keep will reduce the impact of your sales pitch, as your prospects will eventually be disappointed with your offer if they move on to start the purchasing process. It's better to be realistic about your products/services from the beginning and let their strengths (as well as any weaknesses, for credibility) speak for themselves.
How can I deliver a sales pitch in the most effective way?
The pitch is crucial for holding your audience's attention and keeping them engaged throughout. Tell customer stories that are relevant to your product or service. Consider your body language and tone of voice, as you want to come across as confident and enthusiastic but not arrogant or pushy. Try to build rapport with your audience and make them feel comfortable before trying to seal the deal.
What is the best way to close a sales pitch?
Thank your audience for their time and for listening to your sales presentation, let them know that you will follow up with them shortly, recap the main points of your presentation (i.e. remind them of the benefits of using your product or service), and ask open-ended questions. Finish by asking the potential client for a commitment, which could just be to sign up for a subscription or agree to a future meeting rather than immediately making a purchase.
When is the best time to deliver a sales pitch?
Usually, after you've already established a relationship of trust and got to know the needs of the person you're pitching to. It's essential to build credibility and rapport before making a pitch if possible so that the listener is more likely to be receptive to your message. Consider if the prospect is already familiar with what you're offering or whether they are at all interested in making a purchase.
What if I don't know anything about a prospect before pitching to them?
This could be the case of an elevator pitch that you would deliver to someone you meet at e.g. a conference, before following up with an email. An elevator pitch is a very short sales pitch delivered during an elevator ride from one floor to another, in which case your presentation needs to be concise and engaging enough to hold the listener's attention for that brief time.
Which type of sales pitch is most effective?
Some pitches can be more aggressive while others are more subtle, and some focus on the product features while others look at the benefits to the customer base. In any case, the most effective type of pitch is the one that communicates effectively with the customer, resonates with them, and is tailored to help them understand how the product can meet their specific needs.
How can I build trust with a prospect?
When you focus on the needs of the customer rather than the features of your product or service, you show that you understand their problems and are interested in helping to solve them instead of putting your own interests (i.e. selling) first. This creates a sense of trust and rapport, which makes it more likely that they will be willing to listen to what you have to say and ultimately buy from you.