Companies can build their brand awareness and increase customer trust by regularly sharing valuable and easily readable – or digestible – content via email. These snippets of information contain summaries of recent news or important updates according to an established schedule and are known as email digests.
The specific type of content that is included in such messages depends on the specific industry that a business is in, and the frequency of these digests can be daily, weekly, or monthly depending on how much information there is to be shared.
You're undoubtedly familiar with email digests because many successful companies use them very effectively – however, it may be the terminology that you aren'tfamiliar with.
Why send email digests?
Regular roundup messages serve multiple purposes, depending on the business sector and the frequency with which they are sent. Some of the best reasons for sending email digests are that they:
Build relationships and trust with customers and subscribers ( by keeping them in a regular contact loop)
Are courteous and show that you care about your users' time (as important info is summarized for the reader)
Increase traffic to your website, as a result of providing snippets of info and linking to more details on your page.
Drive awareness.
Can be fully customized to contain personal information about a customer's previous interactions with your business and its products or services.
How to design an email digest
Email digests often contain large amounts of information summarized in easily readable formats. Naturally, this often includes graphic elements – after all, a picture tells a thousand words. So how should you design this type of email?
Balance the amount of text and visual elements, with the copy complimenting graphics.
Create a consistent layout, using color, size, position, and alignment, etc., to make the content easy on the eye.
Include sufficient white space (which doesn't necessarily mean the color white), giving breathing space between the important elements of the email – i.e. the copy, images, CTAs, and links.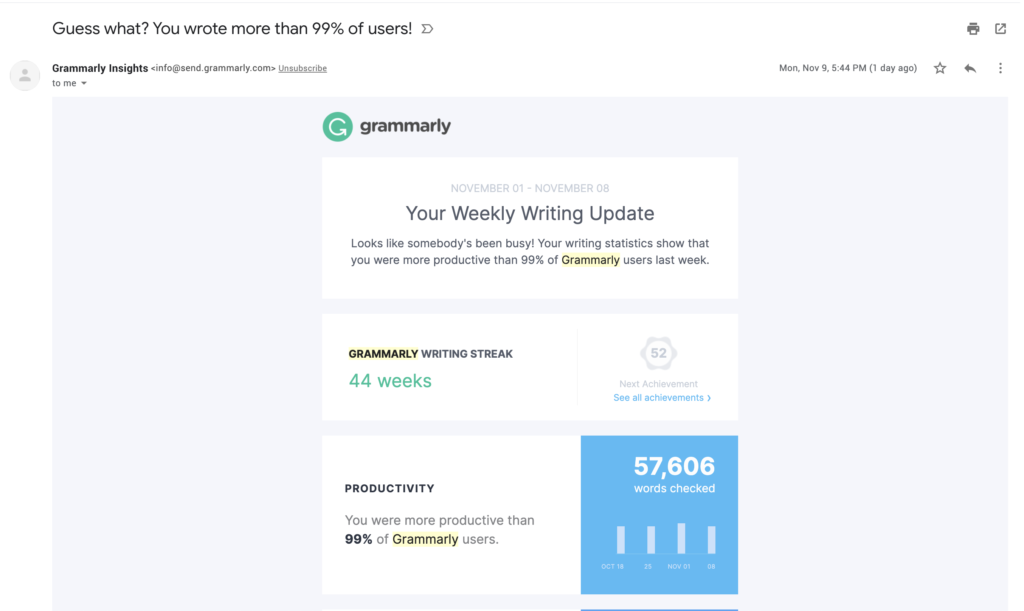 Email digest subject lines
[Company name] Update [Month] [Year]
Everything that you might've missed [today/this week/this month]
We've been busy making some changes…
A summary of [company]'s recent updates
Your [daily/weekly/monthly] [activity] summary
Here's how you go on [today/this week/this month]
Congratulations! You were in the top [X]% of [activity] for [today/this week/this month]
Want to know how others are getting on?
Email digest templates
Email digest template 1 – business performance
Dear [name],
It's time for your regular roundup from [company]. Here is the month in numbers:
Statistic 1
Statistic 2
Statistic 3…
Below you can see the changes in some important metrics:
[Graphic of company data]
Look out for another update landing in your inbox next month.
Best,
[Name], [position] at [company]

Email digest template 2 – company update
Hello [name],
Have you heard everything that's been going on at [company name] recently? Maybe you missed the news about [announcement].
We've also made some updates to our [product/service], which, as a current user, we're sure that you'll be interested in:
New feature
Update
Fix…
What's more, we're already well underway on our plans for the next [week/month], including:
Plan 1
Plan 2
Plan 3…
As usual, we'll update you again next [week/month], when those changes will hopefully have been implemented.
Regards,
The [company] team

Email digest template 3 – activity summary
Hi [name],
Do you know how you got on [today/this week/this month]? Well, there's no need to guess, as we've got all the important numbers for you right here.
Here is your [day/week/month] in numbers:
[Visualization of personal stats]
For full details of your [daily/weekly/monthly] roundup, you can read the report that we've generated for you here: [link]
We'll be in touch again [tomorrow/next week/ next month].
[Name] at [company]

Email digest template 4 – comparison with others
Hey [name],
Think that you've been performing well [today/this week/this month]? No doubt that you have! But here's how you got on compared to others:
[Graphical comparison]
As you can see above, you were in the top [X]% of all [product/service] users for [achievement] over the course of the [day/previous week/previous month]. Congrats!
Can you do even better [tomorrow/next week/ next month]? We'll be sure to let you know!
The [company] team

Free templates and a free 14-day trial?
That's right! Test LiveAgent's ticketing features, including our email templates. Save our email digests, customize them, and send them out directly from your dashboard today. With LiveAgent, fostering customer relationships is easy.
Frequently

asked questions
How frequently should an email digest be sent?
The standard frequency of regular roundup emails is either daily, weekly, or monthly, depending on how much information there is to update the recipient with. This will also depend on the industry you're in. Sending email digests more often than daily can be considered spam, even when there is a lot to share, whereas less often than monthly might mean being forgotten about.
Should email digests be personalized?
Email digests should be very tailored to the specific recipient, starting from their name and following up with personal info and statistics if applicable. The idea of this sort of communication is to deliver value in an easily readable format, which will help build up a relationship and trust with the consumer. This is a process that is greatly supported by the personalization of your messages, which makes the recipients feel more valued.
Is it best to keep the same format for my email digests?
While consistency is good, it's also a good idea to freshen up your communication from time to time. Keeping the same layout and sharing the same statistics, for example, makes it quicker for the reader to find out the information they are used to getting from your emails and to make comparisons between updates. However, you don't want the messages to become too repetitive and stale either, so it's important to spice things up from time to time.