Regardless of what you sell and who to — whether it's a repeat customer or a first-time buyer – well-composed and well-timed automated post-purchase emails can have an immediate positive impact on your business. These types of emails can help you keep customers engaged with your brand, nurture long-term customer relationships, and generate more repeat sales. Post-purchase email campaigns are also one of the easiest and most effective tactics for improving customer loyalty and retention. And since attracting new customers typically costs five times more than retaining existing ones – these emails should definitely be a part of your email marketing strategy.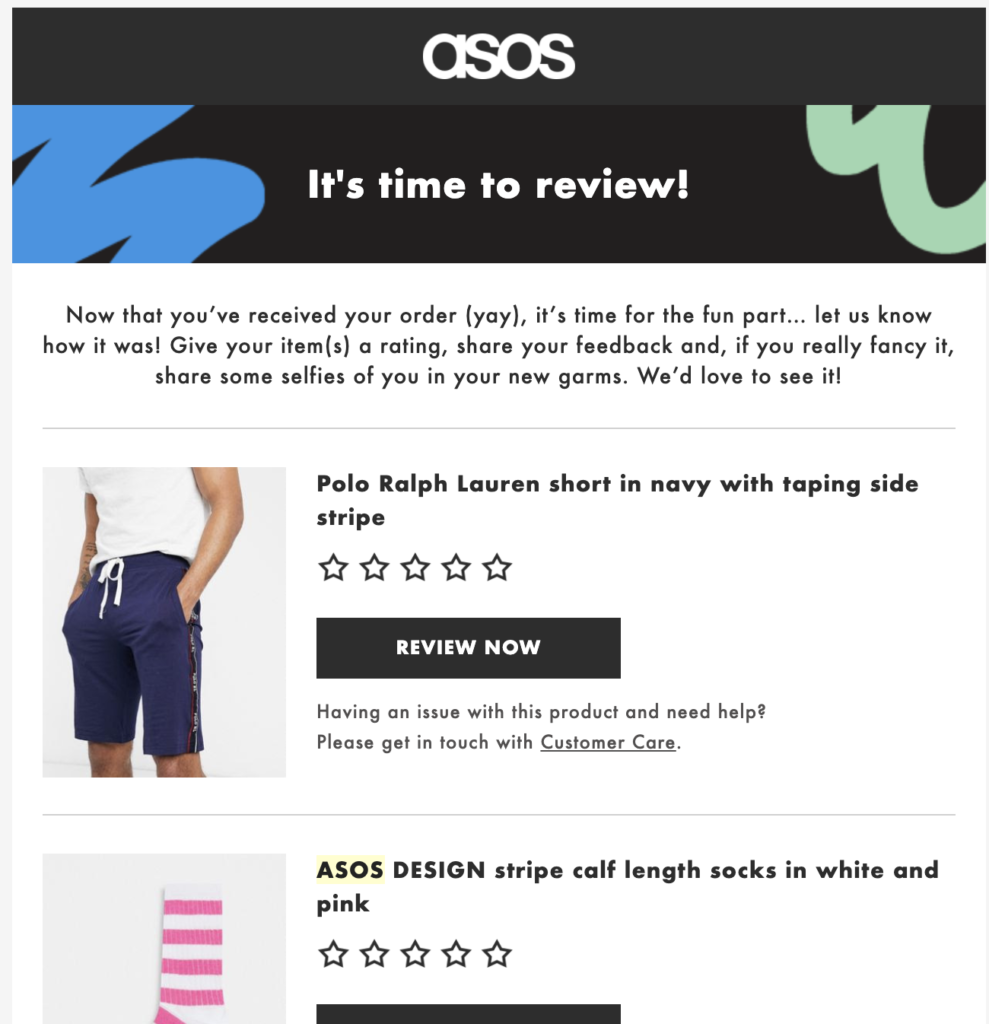 Why send post-purchase emails?
Post-purchase emails have the highest open and click-through rates of any email marketing campaign. In fact, according to the data by Klaviyo, post-purchase emails see a 217% higher open rate, over 500% higher click rate, and 90% higher revenue per recipient than your average email campaign. Research from Medallia (a customer experience firm) published in the Harvard Business Review also found that "Customers who had the best past experiences spend 140% more compared to those who had the poorest past experience."
Post-purchase emails can be used to:
Encourage customers to come back to your website
Lay the groundwork for the next purchase
Convert new buyers into repeat customers
Create a better customer experience
Build customer relationships
Attain feedback from customers
Post-purchase email subject lines
A token of thanks for your [Brand] purchase
Your order confirmation
A big thanks for your purchase today
Thanks for having great taste!
Awesome. Glad you found something you like!
Your order has shipped
Your order is on the way
We appreciate you as a customer – thanks for your business!
Can we ask you a question about your purchase?
How was your shopping experience with us today?
Did your purchase live up to your expectations?
Saying thanks just isn't enough
Our gift to you: 10% off your next purchase
Let us return the favor
A special thanks from us to you
A little treat for you to say thanks
Time to restock/ reorder
Running low? It's time to re-up!
Reorder now for free delivery/ 15% Off/ Bonus gift
Although subject lines are essential, don't forget to write a compelling business email closing part at the end. Keep in mind that these words are usually what stays with the reader.
10 Post-purchase email templates
Post-purchase emails may serve various purposes depending on what's most important to your business – whether it's to make customers feel special, remind them to replenish a product, cross-sell similar products or collect feedback – when done right, post-purchase emails are incredibly powerful. From order confirmation emails, to onboarding emails, below are 10 post-purchase email templates for some of the most common scenarios you can use when creating your own post-purchase email campaigns.
Order confirmation email
Hello [Name],
Congratulations! Your purchase on [Website.com] was successfully processed. Your order is now being prepared. You will be receiving shipping updates soon.
How was it to shop at [Website.com]? Help us serve you better, click here to take a quick survey. (It won't take you more than a minute – we promise!).
Here's your order confirmation:
Order number: ***
Payment method: ***
Items ordered: ***
Total: ***
Your Order Details:
[listing items purchased]
Thank you for shopping with [Brand],
[YOUR SIGNATURE]
Shipping confirmation email
YOUR ORDER HAS SHIPPED
Good news, [Name] – your items are on their way! Are you smiling? You're totally smiling. ☺
Here are a few things you should know:
Your order should arrive at your shipping address within [number] business days.
Items may be shipped in separate boxes with no additional shipping charges.
Updated tracking information will be posted to the carrier's website within 24 hours.
Here's what we shipped:
[Item 1]
[Item 2]
[Item 3]
TRACK MY ORDER
Thanks for shopping with us,
[YOUR SIGNATURE]
———————————————
HAVE QUESTIONS OR NEED HELP?
Let us know! We'll do everything we can to make sure you love your experience with us. Reach us at [email], [live chat] or [number]. We're available Monday – Friday **am – **pm.
'Thank you for your purchase' email
Dear [Name],
WE'RE HONORED that when it comes to [style/ footwear/ beauty, etc.], you think of us.
There's a lot of choices out there but you singled us out, and that means a lot. We just want to express how much we appreciate your business. When you're looking for something truly special, we hope that we'll continue to be the place you think of first.
Thank you!
[YOUR SIGNATURE]
P.S. If we ever fail to live up to your expectations with the quality of our products, delivery times, or anything else – you can always reach out to our customer care team at [number], [email], or [live chat].
Product recommendations email
Hey [Name],
Thanks for your recent purchase with [Brand]! Your order should have arrived by now, and we hope you are enjoying your new [products].
We thought that you'd like to know customers who made the same purchase also enjoyed the following favorites:
[Recommended product 1]
[Recommended product 2]
[Recommended product 3]
[Recommended product 4]
If you need any help with your next purchase, don't hesitate to reach out anytime.
Cheers,
[YOUR SIGNATURE]
Replenishment reminder email
[Name],
Greetings from [Brand]! Hope you're doing great.
According to our records, you ordered (products) a while ago and we would hate for you to run out. So, this a friendly reminder that it's time to restock, in case your supplies are running low.
RESTOCK NOW
Order in the next 24 hours and shipping is on us.
Let us know if you have any questions. We're here to help!
[YOUR SIGNATURE]
Next purchase incentives email
Hey [Name], we've missed you!
Maybe you've been away or just super busy but we noticed you haven't ordered in a while. So perhaps we can tempt you back with 10% OFF your next order?
We've actually added some cool new stuff we think you might like! Here's a coupon for 10% OFF your next purchase in the next two weeks (expires on ***): [CODE NUMBER]
SHOP NOW
If you have questions or need any help, just reply to this email and we'll get back to you as soon as we can.
Cheers,
[YOUR SIGNATURE]
Product-focused email
Dear [Name],
Congratulations on your new purchase of [product]!
You've made an excellent choice by shopping with us. At [Brand] we truly care about our customers and appreciate your business. If you have any issues at all, we'll work with you until you are completely satisfied.
Here are a few great tips on using your [product]:
[Product usage tip 1]
[Product usage tip 2]
[Product usage tip 3]
I will contact you in a few days to make sure everything is working well for you and to also share some Frequently Asked Questions (FAQs) about your new [product] that I'm sure will be very helpful.
If by any chance you will not receive your product within [number] days of placing your order, please do let us know right away. We'll be happy to assist you in any way that we can.
Once again, thank you very much for purchasing [product]!
Best,
[YOUR SIGNATURE]
Product survey request email
Name,
A great big thank you for shopping with [Brand]!
We love our customers dearly, and their opinions mean a lot to us. So, we put together a survey that gives you an opportunity to share your thoughts, so WE can improve your shopping experience – and YOU can take 20% OFF your next purchase for completing it. Click below to take the survey (it won't take you more than a few minutes) and receive your offer.
START SURVEY
Thank you for your participation.
[YOUR SIGNATURE]
Product review request email
[Name],
We wanted to say a HUGE thank you for shopping with us and we'd love to know what you thought of [Website.com]. If you can spare a few minutes to leave us a review, we'd be super grateful! Please be as honest as you want to be (we can take it).
Write a Review of [Brand]
We love you either way.
[YOUR SIGNATURE]
SaaS onboarding email
[Name],
Thank you for signing up and joining the [Brand] family! We built [Product name] to help businesses [achieve specific goals], and I hope that we can achieve that for you.
Over the last couple of weeks, we'll be sending you a few more emails to help you get maximum value from [Product name]. We'll be sharing some tips, checking in with you, and showing how some of our customers use [Product name] to [whatever the product helps to achieve].
In the meantime, you might find these resources helpful:
[QUICK VIDEO GUIDE]
[KNOWLEDGE BASE]
[COMPANY BLOG]
If you have any questions or hit any bumps in the road, please feel free to call us at [number], start a chat with our support team or visit our FAQs.
Until next time,
[YOUR SIGNATURE]
Live chat, ticketing, call center, and knowledge base all packed into one.
Discover over 180 advanced features including automation, gamification, and social media integrations.
Frequently

asked questions
What is the post-purchase experience?
The post-purchase customer experience is the communication and actions that take place after a customer makes a purchase from a business.
How do we provide post-purchase customer support?
You can provide post-purchase customer support by automatically sending a follow-up email with a link to knowledge base articles for 24/7 support.
What is post-purchase dissonance and what can companies do to reduce it?
Post-purchase dissonance is the negative feelings that occur after an individual has purchased a product or service. To reduce it, organizations should have a solid way to support their clients, including immediate problem solving and an easy way to reach support.