How does a call center software work?
Call center software is, first and foremost, a call management tool that automates the flow of incoming and outgoing calls.
The quality of call center support you provide is closely tied to the quality of the call center system you use.
This type of software usually facilitates the following operations:
checking the company database to identify the caller
matching the caller to their CRM profile if there is one, and displaying their information to the customer support agent
queuing incoming calls – this depends on the software's configuration (IVR, ACD, etc.)
facilitating the phone interaction between the customer and the agent
based on the outcome of the conversation, the software allows the agent to change the status of the ticket
enabling the completion of all the post-call activities – changing customer details, logging the interaction into other company applications, etc.
Of course, these are not all of the call center operations this type of software enables. Most of the automated call center software out there has additional capabilities like call recording, providing analytics, power dialer, etc.
Why use call center solution?
Call center software allows your customers to reach the customer care department as well as members of your sales team and talk to them in real-time. Although some may argue that in this modern age there are other ways to contact a business, the fact is that 50% of customers of different age groups still use phones to resolve their inquiries.
All customer-centric businesses are aware that providing a superior customer experience is what drives conversion, helps close deals, and reduces customer churn. Reliable call center software aids in this department tremendously. It allows your customer service agents to resolve customer issues quickly and efficiently while providing a high level of personalized service.
Having your callcenter solution integrated with other business apps will streamline the operations of your call center. And in turn, you will boost your KPIs, increase conversions, enhance customer retention, and provide better service.
Who uses call center software?
Every call center uses some type of call center system regardless of if it is only for its computer telephony integration (CTI) feature to make and receive calls, or for the modern automated experience.
Different contact centers have different needs and requirements for call center applications. Therefore, it's crucial that you carry out research and evaluate which call center software solution is the one that will benefit your business the most.
Types of call center software
Because call centers can be so diverse, there are various types of call center software to accommodate everybody's needs.
Following are the call center solutions based on how their technologies get stored:
Hosted call center solutions – the software is handled by the provider
Cloud call center software solutions – the call center software with all its technology is stored in the cloud and hosted by a vendor
On-premise call center solutions – all the necessary technology is located on-premise
And these are the call center solution types based on their operations:
Inbound call center software – allows companies to manage incoming calls
Outbound call center software – enables businesses to reach out to their potential customers and prospects via cold calling, customer surveys, etc.
Blended call center software – this type of call center software allows the agents to make both inbound and outbound calls and handle customer queries across multiple communication channels
Benefits of call center software
Let's have a look at some of the benefits a call center system can bring to your business.
Excellent customer experience
The truth of the matter is that picking up a phone and talking to an expert is way quicker and easier than writing long emails trying to come to a solution. Customers appreciate their inquiries resolved quickly without the need to wait hours, sometimes days, for a response from your customer service team. Sprinkle in a bit of personalized care and friendliness from the staff, and you're looking at satisfied customers who look forward to doing business with you again.
Increased conversions
Did you know that engaged customers buy 90% more frequently and are willing to spend more per transaction? Reliable call center software helps keep your clients satisfied and engaged with your business.
Cost-efficient
With call center agent software, you're paying a lower price for a robust set of features. You can easily operate a 24/7 contact center handled entirely by a remote team of customer care reps.
Improved customer service management
Working hand-in-hand with other business applications, call center software enables you to always stay on top of your customer interactions, solutions to their issues, and more. It helps your team stay organized and focused even on busy days.
Builds rapport with customers
It's necessary to keep up a professional, but still friendly image. It allows you to build relationships with your customers and even boosts the word of mouth marketing.
Multichannel support
Various call center software can be connected to email, live chat, SMS, social media, and more to help you provide a holistic customer experience.
Enhanced productivity
Not only can you provide a 24/7 service, but also advanced features like interactive voice response (IVR), automatic call distribution (ACD), automatic callback, skill-based routing, and predictive dialer boost the productivity of your contact center agents.
Better security
Keeping customer data safe is one of the most important aspects of running a successful business. Most call center software provides integrated security features and performs actions like instant cloud backup.
Higher KPIs
Call center metrics like average handle time (AHT), first contact resolution rate, call abandonment rate, average hold time, and many others are directly correlated to the call center phone software you use. For example, thanks to your call center system being connected to customer relationship management (CRM), the first contact resolution rate in call centers is between 70-75%.
Call analytics
The more insights you can get, the better. Providing advanced analytics and reports allows you to study call center performance, agent utilization, the average speed of answer, and others. This not only helps you optimize your call center operations but also identifies any outliers among your agents.
How to choose the best call center software
To be able to identify the top call center software for you, it is recommended to write a list of needs and requirements for your contact center solution.
Do you want to add phone support to your contact options? Are phone interactions a primary way to contact your business? Do you plan on expanding your call center in the future?
Ask yourself as many questions as you can come up with. It will help you make more educated decisions and choose call center software that will truly encompass all your business needs.
Following are some strategies that you can use when picking the call center management software for you.
Support
Nobody expects to run into issues, but it's better to be safe than sorry. When choosing call center software, go for one that has reliable customer support that can quickly solve any potential issues. Keep in mind that if you're waiting for the provider's support, your customers may be waiting for yours.
Security
Have a really good look into how robust the security features are. You don't want to underestimate the importance of keeping all private information and customer data safe and secure.
Ability to scale up/down
It's only natural that when your business grows, so does the volume of customer interactions. Pick a call center system that you can scale up or down based on your needs so you can expand your business without having to worry about insufficient call center capabilities.
Software limitations
No software is perfect. There are some limitations you will have to deal with, no matter how robust or expensive the software you choose is. Maybe it's missing a customizable popular feature you'd like to explore. Or maybe the fact that there is no real-time monitoring of phone calls is a problem for you. Decide which software limitations are dealbreakers and which ones you can learn to live with.
Collaboration options
In a contact center environment, your team has to be able to work together seamlessly. When choosing call software, look at the features that facilitate collaboration. How easy it is to transfer a call from one agent to another? Are they able to share internal notes and make internal calls or send internal messages? Features like these tend to get overlooked but they affect contact centers' productivity more than people realize.
Network reliability
Your day-to-day operations in call centers greatly depend on how reliable the network you use is. Don't forget to check the network reliability of the contact center software you consider purchasing.
Integrations
Being able to provide a unified experience to your customers is what makes a difference. Offering a great integration capability is what makes it possible for your software to connect with different sites so you can create a smooth and consistent experience for your clients.
Top 25 providers of call center platforms
1. LiveAgent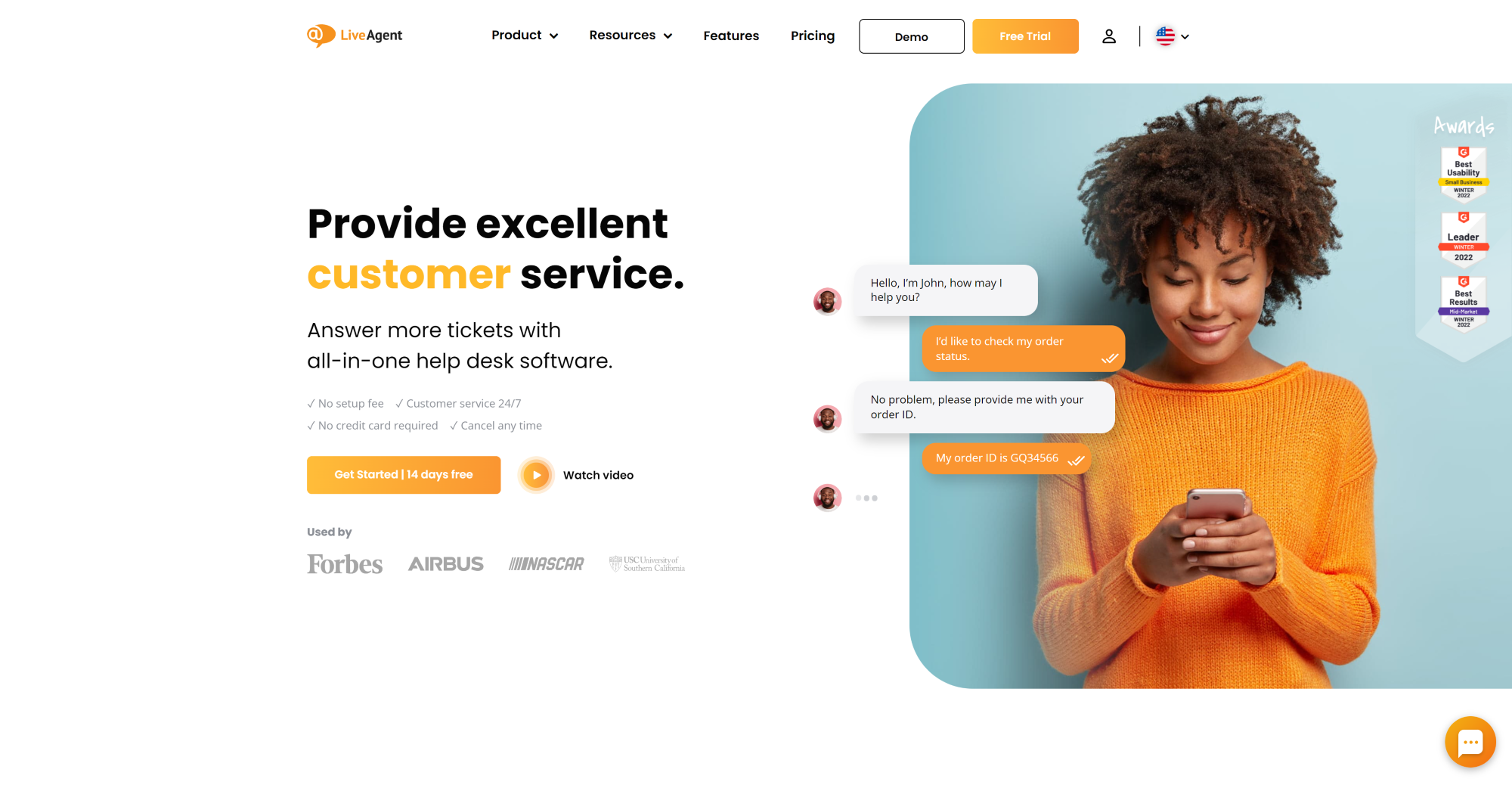 Best call center software for businesses in the fields of eCommerce, Insurance, SaaS, etc. that look toward future expansion.
LiveAgent is a helpdesk solution used by over 40 000 customers around the world that provides reliable call center software and many other advanced features. With multiple automation options and a large number of available integrations, you will never struggle to provide excellent customer service.
Key features:
Inbound and outbound call center
IVR
ACD
Automatic callback
Ticketing
Unlimited call recordings
Call center management
CRM integration
Self-service portal & knowledge base
Analytics and reporting