Abandoned shopping cart has always been one of the biggest challenges that online retailers have had to face. In fact, Statista revealed that the global shopping cart abandonment rate was 69.57% in 2019. Such a high shopping cart abandonment rate equates to a lot of potential revenue loss for many businesses.
While it's impossible to entirely eliminate cart abandonment, you can minimize it with a number of key tactics and strategies such as making the checkout process as easy as possible, offering proactive live chat support on your checkout page, and sending out abandoned cart emails to those who struggle to complete the checkout process.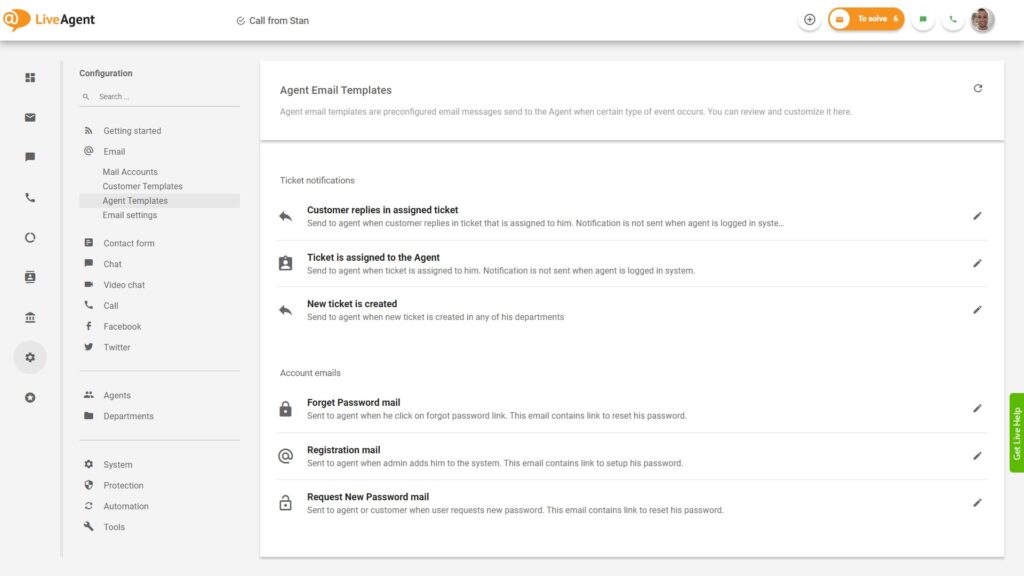 Abandoned shopping cart emails are one of the most efficient, revenue-generating emails marketers can send to their prospects. According to Moosend, 45% of all cart abandonment emails are opened, 21% of all cart abandonment emails are clicked, and 50% of those clicks lead to a recovered purchase. This means that you can bring back almost 11% of shoppers by simply reminding them about their abandoned carts.
Catchy subject line: 64% of people decide if they will open an email solely based on the subject line. Make sure to create killer subject lines as it might be your only chance to attract your customer's attention in a flooded inbox.
Personalization: Personalized emails always have better open and click rates. Abandoned cart emails can be personalized by addressing the customer by their name and listing the items they left in their cart.
Timing and frequency: Consider building a three-email sequence to re-engage with abandoned shoppers, and set the first email to send out within the first-hour of cart abandonment. A study by Barilliance found that sending your first email during the ideal time can result in a 20.3% conversion rate.
Low-commitment CTA: Give a clear call to action while avoiding high friction words like 'buy' and 'pay'. Instead, it's recommended to use lower commitment alternatives such as 'Return to your cart', 'View my cart', 'Take another look', etc.
Social proof: With 91% of people regularly or occasionally reading online reviews, social validation is proven to affect online purchasing decisions. Use reviews and testimonials to build trust and credibility and convert the unconvinced.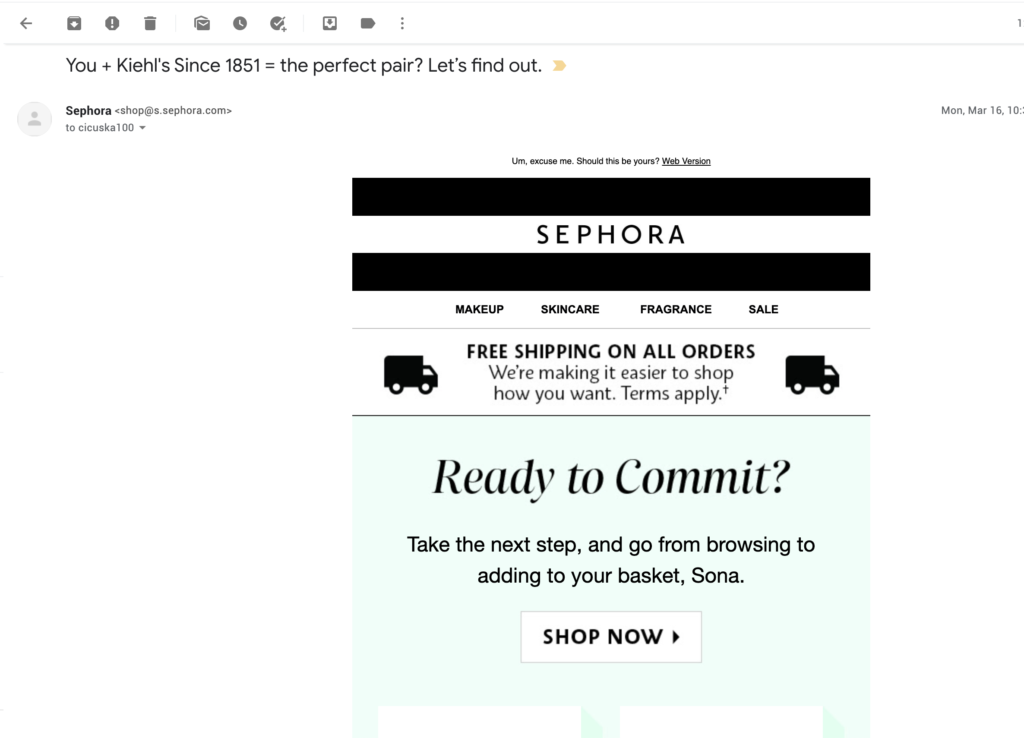 We saved the items in your cart for you.
You left some stuff in your [Company name] shopping cart.
The items in your cart are waiting for you.
[Name], your cart is about to expire.
3…2…1 Time is running out. Grab your [product name] now!
Only a few [product name] left, [Name]. Get yours.
Hey, it's almost sold out.
Get [product name] while it's still available.
Are you gonna make it? Your cart expires soon.
Cart expiring in 10…9…8…
You are about to lose your cart…
We might be unable to hold on to your cart, final call!
[Days] left: save your shopping cart now.
Almost there…
Did you forget about me, [Name]? 😱
[Name], your cart is wondering where you went.❤️
Your cart MADE us send this reminder. 🙂
Does this cart belong to you, [Name]?
[Name], don't let [product name] get away from you.
[Name], we heard you were interested in [product name].
[Name], should we hold [product name] for you?
Hey, [Name], where did you go?
You've come so far, [Name], don't give up!
Come back and save big. Discount inside!
X% off my shopping cart? Yes, please!
[Name], free shipping for your cart items!
Complete the purchase and get X% off.
Take X% off your cart before it's gone.
Would X% off your cart seal the deal?
Crafting attention-grabbing cart abandonment emails that convert can be a challenge. Here are 10 basic abandoned shopping cart email templates that you can use in your email marketing campaigns to improve your cart abandonment rate and win back prospects and customers who abandoned their baskets.
The 'Happy to help' email template
Hi [Name],
I noticed that you added some [Brand] items to your cart but have yet to check out.
I just wanted to make sure all your questions are answered, and that you're not having any problems with the checkout process.
I'm committed to doing everything I can to help you out. If you're having trouble placing your order online or have any questions, simply reply to this email. Otherwise, you can finish your check out here:
RETURN TO BASKET
I look forward to hearing from you.
[YOUR SIGNATURE]

The 'Free shipping' email template
[Name], your favorites can be shipped to you for FREE!
Did you know that you're eligible for free shipping?
Not everyone gets this offer. Lucky you! Simply use this code [code number] at checkout and get your package delivered free of charge.
[cart details]
FINISH CHECKING OUT
Trouble checking out? We're here to help! For any questions, just email us at [email address] or call us at [phone number] Monday through Friday 8 am – 6 pm EST.

The 'Discount offer' email template
Hey [Name],
We noticed that you left some great stuff in your cart. To make it worth your while, here's a 10% discount off of your entire purchase if you complete your order in the next 24 hours.
Just enter this code [coupon code] at checkout! But hurry as this code will expire shortly …
TAKE ME BACK TO MY CART
Here's a reminder of what you added to your cart:
[cart details]
Issues? Just call us at [phone number] or drop us an email at [email address].
[YOUR SIGNATURE]

The 'The final countdown' email template
[Name],
Did you leave something behind?
Oh yes, you did. A bunch of your favorites from your wishlist are still waiting in your cart.
Now is your chance to complete the order — the clock is ticking and we can't hold them for you any longer. The demand is simply too high.
[countdown timer]
[cart details]
RESTORE MY CART
Don't miss this opportunity.

The 'Grab this offer' email template
Hi [Name],
What happened? You almost ordered:
[cart details]
We've got a special deal for you! Use discount code [code number] when you checkout and save 10% on your order. The deal is available to you for the next 48 hours. Click this link to head back to your cart and grab your discount:
BACK TO [NAME'S] CART
P.S. If the discount coupon doesn't work, simply notify us by responding to this email. We will resolve it.

The 'Check these out' email template
Hi [Name],
It's been a while since you left your shopping bag. Come back and show it some love. A simple click will do, and it's all yours.
[cart details]
GET MY BAG
Here are some recommendations. Just for you.
[personalized product recommendations]
Having trouble checking out? Email us at [email address] or give us a call at [phone number].

The 'See what people say' email template
Hey [Name],
Your shopping cart is about to expire. Still thinking about purchasing these items?
[Cart details]
RETURN TO CHECKOUT
If you still can't decide, check out some reviews from recent purchasers:
[Review 1]
[Review 2]
[Review 3]
[More reviews]
Questions? Concerns? Please don't hesitate to contact us!

The 'We've saved your items' email template
Hey [Name],
Heads up! To make your life easier we've saved the items that you recently put in your cart. Hurry back before they sell out! (Side note: shipping and returns are always free, so there's no harm in just going for it.)
Here's what you picked:
[cart details]
VIEW MY CART
If you're on the fence or have any questions, call us at [phone number] or email us at [email address] – we're around 24 hours, 7 days a week.
P.S. Take a peek at WHAT'S NEW THIS WEEK at [www.companywebsite.com]

The 'Great choice' email template
Hey [Name],
This is [Name] from [Company]. How's it going?
I saw you left some products in your cart but didn't put the order through. Did you need any assistance?
By the way, I really like [item/ items a customer picked], great choice!
If you need anything – let me know, I'm happy to help. Just shoot me an email. You can return to your cart by clicking the button below:
RETURN TO MY CART
I hope this helps.
[YOUR SIGNATURE]

The 'Back to your cart' email template
Hey [Name],
Looks like you left some [items] in your shopping cart on our site. Please, allow me to transport you back to your shopping cart. Free of charge.
Feel free to click literally any link in this email. They all go back to your shopping cart.
TELEPORT TO YOUR CART
If you have any questions or need a hand, just reply to this email and a customer service Ninja will help you out.
Cheers,
[YOUR SIGNATURE]

Free 14-day trial with no credit card input?
That's right! Save our abandoned cart email templates and start sending them out directly from LiveAgent. Find out just how easy it is today!
Frequently

asked questions
Is it worthwhile to reduce the cart abandonment rate?
There's only one answer to this question, and the answer is yes! According to data on shopping cart abandonment, e-commerce brands lose $18 bn in annual sales revenue because potential customers leave stores without completing orders (source). In addition to reducing the cart abandonment rate, you should also focus on creating and implementing a thorough cart abandonment strategy.
What is the average cart abandonment rate?
It may come as a surprise, but the average cart abandonment rate across all industries is almost 70%. Every 7 out of 10 potential clients don't finalize the purchase process (source). This doesn't mean that it's okay to reach that benchmark, but you can rest assured that it's a normal challenge that every e-commerce business has to face.
Send one email reminding a potential client about the items in their cart, but don't be too pushy or spammy. After all, you don't want any valuable contacts to unsubscribe from your marketing communication simply because you're too pushy.