According to data from research by Publicis Sapient, 87% of buying decisions begin with an online search (source). It's not surprising – when someone is considering purchasing a product or service that they've never used before, it's common practice to seek opinions about it from others. And 88% of consumers trust online reviews as much as recommendations from friends and family (source).
Buyers want to be certain that their investment will live up to their expectations and be the right product for their needs, rather than end up being a disappointment. And it's your job to provide customers with enough trustworthy and useful information to make it easy for them to make that final buying decision.
A great way to convince potential customers that your company can solve their problems is by providing real-life examples. Case study emails can do this by being the social proof that showcases how your customers use your products or services and what results they get. That could be driving sales, increasing productivity, or improving customer service, just to name a few examples.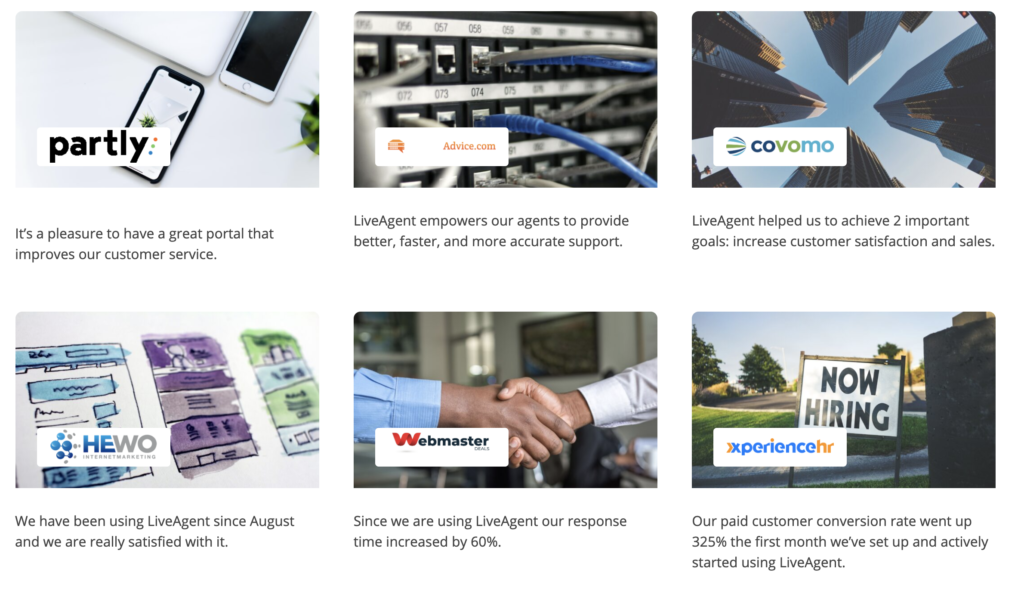 How is a case study defined?
In marketing, a case study is an analysis of a campaign, project, or use case. A case study should show clear results, determine whether they are a success or failure, identify the factors that lead to that outcome, and recommend solutions or actions to put in place in the future.
The aim of a marketing case study is to prove to potential customers that you can help them with a certain problem. It is a piece of content that tells the story of how your company assisted a previous or existing client with overcoming a particular pain point.
Case studies are an important element of the marketing funnel and are best used near the bottom of it since this kind of content is usually read or sought out by prospects who are close to making a purchasing decision. That's why you should do your best to present your case studies to a wider audience.
Using a case study template is a good way to guarantee that your campaign has what it needs to draw customers' attention and motivate them to take the last few steps to make their purchase.
Case study email subject lines
A case study about how [product/service] can help you with [pain point]
Look at what we achieved together with [name of existing client]
Why you should give us another go: a case study
Do you remember trying [product/service]?
We'd love to write a case study about what we achieved together!
Let's share the story about your time using [product/service]
Case study email templates
Case study email template 1 – results of using a product or service
Hi [name],
As someone who is interested in [topic], we thought you might find [product/service] useful for solving [pain point].
To show you how successful this has proven for our existing clients, we've put together a case study about our cooperation with [name of existing client].
In the report, which you can find attached to this email, we show:
When and where you should use [product/service]
How you should use [product/service]
What results you can expect to achieve by using [product/service]
Hopefully, you find this case study interesting. Don't hesitate to get in touch if you have any more questions.
Kind regards,
[Name], [position] at [company]
[Case study PDF attachment]

Case study email template 2 – try a product or service again
Hello [name],
You recently tried out [product/service], the solution for [pain point] brought to you by [company].
Many users are actually so overwhelmed by the potential of [product/service] that they have difficulty imagining how it would fit into their workflow.
That's why we teamed up with our customer [name of existing client] to show you how they implemented [product/service] in their business to boost [metric] by [X]%.
We hope that this report, which you can read by clicking on the button below, will help you overcome any doubts you might have about our product.
[Read the case study]
If you have any queries I'm happy to help.
Best,
[Name]

Case study email template 3 – requesting participation
Dear [name],
I'm sure you're as happy as we are about the success of our recent cooperation on [project] together.
According to our analysis, our [product/service] helped you to:
Achievement 1
Achievement 2
Achievement 3
That's why, with your consent, we'd like to share a case study of our work together on the "[case studies/success stories/our previous work"] page of our website [link].
Please let me know if you agree, or if you need any further information.
Best wishes,
[Name] from [company]

Test out our robust help desk features with a free trial.
Free for 14-days, no credit card required. Take advantage of our all-inclusive features including a virtual call center, native live chat, and ticketing capabilities.
Frequently

asked questions
How should I share a case study?
There are a few methods that work well, all of which could be embedded in, attached to, or linked from a case study email:
Create PDFs – these standalone files are easy for marketers to attach to emails or share via download links for campaigns. PDFs can assist sales reps in demonstrations or to overcome objections, and may help potential clients with comparing different solutions to their issues.
Host them on your website – a dedicated "success stories" or "our previous work" page should be easy for visitors to find (if not on the home page) and be widely shared (e.g. link in an email), have a clear structure from goals through processes to results, and consist of an engaging copy.
Write blog posts – share the results of your case study with a wider audience by writing about it in a way that is specifically targeted to them and their needs, which addresses how a specific challenge was overcome in the past without focusing on your company.
Make videos – leverage peoples' increased consumption of video content to communicate your value proposition in a powerful and engaging way.
Why use a case study?
They are one of the best ways to provide social proof that your business will be able to help potential customers solve their problems. Case studies can provide evidence that your company offers high-quality and reliable products or services because past results clearly show how they have been used by other clients to achieve their aims or overcome hurdles. It should come as no surprise then that case studies are one of the main elements of the content strategy for many marketers.
What is the best way to write a case study?
Usually in the third person, meaning from the perspective of an independent reporter. Case studies are more like news stories than features, so they should contain facts and quantitative figures. They are best suited to the middle, appraisal stage of the sales funnel, when prospective clients are already familiar with your products or services. Yet unlike most other content that is utilized at this stage of the buyer journey, case studies are all about displaying the best of what your brand has to offer by showing off what it has already achieved. Don't start bragging or overselling yourself though – focus on how you can solve particular problems and describing how it is to cooperate with your business, reinforcing your claims with actual quotes of appraisal from previous clients.