When your company is talked about positively and is mentioned by a reputable outside source, like an industry media source or an expert, it's something you can be proud of. This type of media attention is usually indicative of your business booming, and your initiatives being appreciated in the business world. This type of recognition can help you build brand awareness and position you as a leader within your sector in the eyes of potential customers and subscribers.
This type of message is one of the announcement examples you need to master. You can also use brand mentions to build trust with existing customers or users. But to capitalize on your company's positive references, you need to tell the world about them first. One of the best methods you can use to inform your clients about a new mention of your brand is by sending an email that lets them know about it and informs them where they can read that specific piece of content.
There may also be times when one of your products or services is discussed in an external article, but there is an incorrect or missing link to your website, or the anchor text isn't suitable. This reduces the impact of your brand mention because you will receive less traffic than you would if the link was correct. In this case, you should kindly ask the publisher to update their mention to something that you suggest.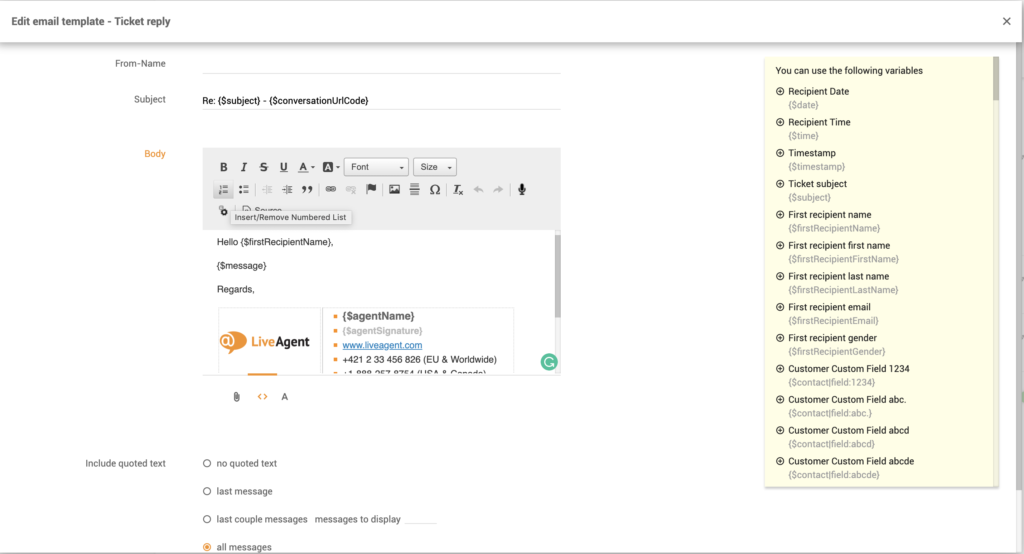 The various types of new brand mention emails
There are several different yet closely related types of new brand mention emails. You might need to send just one, or maybe even all of them, depending on the circumstances. They serve the purposes of:
Informing your clients about a mention of your brand – spread the word about a glowing reference from an authoritative source to your existing customers to build trust
Requesting a backlink to your website from the organization that mentions you – thank the external source for the name drop but ask for the option to redirect readers to your page with a backlink
Suggesting a change to the referral link or anchor text – specify a certain page that you'd prefer users to be directed to or a suggest a more relevant wording in the mention
New brand mention email subject lines
Check out our mention in [external publisher's name]'s new [article/blog post/other content]
Read more about the subject of [topic] over on our partner's site
Could you please include a backlink to [company] in [title]?
Thanks for the mention! Here's a link that you could add…
Request to change the anchor text mentioning us in [title]
Would you be able to update your backlink to [company name]?
New brand mention email templates
New brand mention email template 1 – inform clients about referring content
Hi [name],
There is a great [article/blog post/other content] over on [external publisher's name]'s website [link] that we think you might find interesting.
The article which mentions our brand discusses the following topics:
Topic 1
Topic 2
Topic 3
As you can see, they have some nice things to say about us, which is always a privilege when it comes from such a well-respected source.
We hope that you enjoy reading, and remember that you can find our content on the subject of [topic] here [link].
Best,
[Name] from [company]

New brand mention email template 2 – asking for a backlink to be added
Hello [name]
We really appreciate you mentioning our brand and what you had to say about us in the recent [article/blog post/other content] called [title].
However, we have noticed that there is no link to our website where we are mentioned, and we think that it would be helpful for your readers if they could be directed there.
Do you think that it would be possible for you to include the following in an update to your post?
"[Suggested anchor text & backlink]"
Thank you in advance, and please let us know if you would like any further content to be included with the mention as well.
Kind regards
The [company] team
New brand mention email template 3 – request to fix or update backlink or anchor
Dear [name],
I'm reaching out to you in regards to the mention [backlink] of our brand in your [article/blog post/other content] named [title], which can be found here [link].
We think that it could be beneficial for both your readers and our users if the [anchor text/backlink] was changed from [current anchor text/backlink] to [suggested new anchor text/ backlink].
Your time is appreciated and I look forward to hearing back from you about this request.
Best wishes,
[Name], [position] at [company]

Need to generate more traffic, and improve engagement?
Sign up for our free, 14-day, all-inclusive trial starting today! More sales and better customer service awaits.
Frequently

asked questions
Can I include the content containing the new brand mention in an email?
A mention of your brand from a completely independent organization doesn't give you the right to use the quote just because it references the name of your business. This is actually a good thing, because having an unbiased, positive review of your brand from a reputable, authoritative source will help build credibility and trust with both new and existing customers. You can't therefore include the text that mentions your brand in an email, unless you get permission from the owner to do so. However, it's a good idea to inform your users about the mention with a link to where they can read the content that mentions your business.
How can I get a link to my own website included with a brand mention?
When external websites or blogs have links to your website, they help drive traffic to it. These so-called backlinks help raise the profile of your brand and increase recognition with an audience that differs from your existing user base. Backlinks also help improve search engine optimization (SEO), which can contribute to your website appearing higher in search engine results (SERPs) for queries on platforms such as Google.
Therefore, if an external source mentions your brand but doesn't contain a backlink to your website, you should contact the publisher and kindly request that they update the piece of text to contain anchors directing to a page of your choice. We have included an email template to help you just do that.
What if I find some external content that could or should mention my brand?
If you read a piece of text that is published externally and think it's relevant to your brand, you can email the author or owner to ask if they will consider adding a backlink to your website. If you're trying to obtain a backlink from a particular, highly regarded, authoritative site, you could even send the company an email offering to fix any broken links you find on their webpage, and suggest that they use a replacement URL that mentions your brand.