So you've spent a long time planning and organizing a great webinar, and everything is in place for the day of the event. Your presentation has been prepared and practiced, speakers have been arranged, you've created an event page, and the streaming equipment and software have been tested. The most important points have all been covered, right? Wrong. If the best webinar in the world takes place but there's no one there to watch it, did it even happen?
As such, one of the most important aspects of webinar prep is encouraging people to register their attendance and then ensuring as many of them as possible actually attend the webinar when it takes place. There are countless ways to promote your webinars, including paid advertising and posts on social media platforms.
However, email marketing remains one of the most popular and most cost-effective advertising solutions. Thus, webinar sneak peek emails are one of the best ways to promote your upcoming online conference or talk.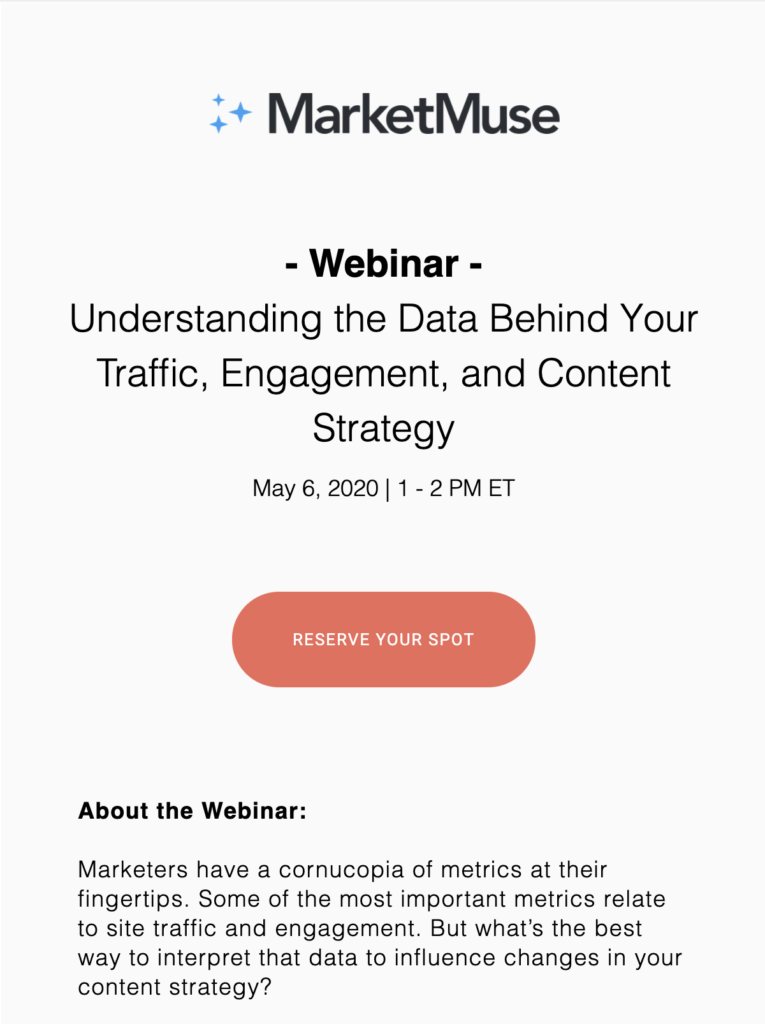 Content of webinar sneak peek emails
Before your webinar takes place, it's advisable to send out a series of messages to the people in your email database. For people to attend Zoom meeting conferences or webinars, they have to be aware of it even happening. Start with an invitation email, follow it up with a registration confirmation email, and finish strong with one or more reminder emails close to the webinar date. Most of these emails should include the following snippets of information to give your email recipients a preview of what they can expect:
The time and date of your event – people obviously need to know when the webinar will take place so they can save the date. Remember to include the time zone you're referring to as online conferences can attract a global audience
Proposed value – promote your event by outlining what your audience can learn during the webinar, and, most importantly, how the information will help them solve problems they are facing
Details about the speakers – include information like their names, background, photos, presentation titles, and past experience that makes them experts on the given topic. Include links to their YouTube channels, Instagrams, and other social networks so that your audience can familiarize themselves with them and their past work.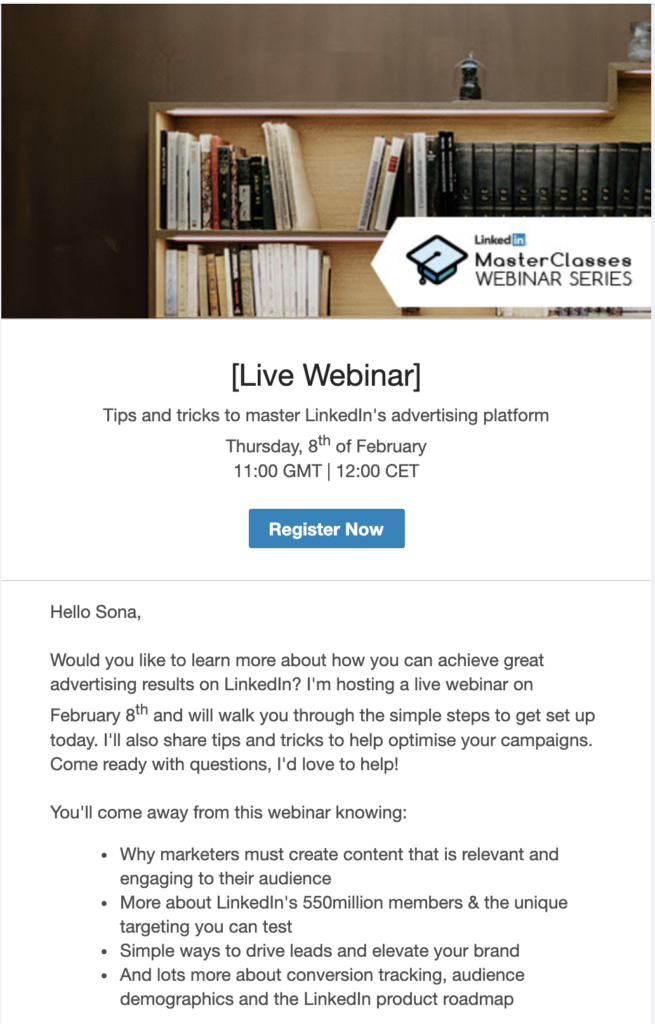 Webinar sneak peek email subject lines
Your invitation to [company]'s webinar on [topic]
You won't want to miss the upcoming [title] webinar
Sign-up complete! Here's what you can expect…
[Title] webinar registration confirmation and insights
Reminder: our online event takes place [today/tomorrow/this week]
Don't forget about the upcoming [company] webinar!
Webinar sneak peek email templates
Webinar sneak peek email template 1 – invitation with preview
Hello,
We wanted to provide you with additional info about our upcoming webinar, [title], which will be taking place at [time including zone] on the [date].
We've secured [X] speakers that will cover a wide range of topics in the [subject] area, including:
Speaker and presentation 1
Speaker and presentation 2
Speaker and presentation 3…
You can find more information about the speakers and the event here [link]. Click on the button below to save your spot.
[Sign up]
Best,
[Name] from [company]

Webinar sneak peek email template 2 – registration confirmation with insights
Dear [name],
Thank you for registering for our upcoming webinar, [title].
You're all signed up, and you'll be able to watch the live stream on the day of the event by following the link below:
[View the webinar]
Here are just a few of the things you'll be able to learn by watching the live broadcast:
Insight 1
Insight 2
Insight 3…
Check out the website [link] for more info or reply to this email if you have any questions.
Kind regards,
[Name]
Webinar sneak peek email template 3 – reminder with a video trailer
Hi [name],
We're just letting you know that the [title] webinar that you registered for is taking place [today/tomorrow/this week] at [time including zone].
Below you can watch a sneak peek of the event to get a taste of what you can expect.
[Video trailer]
More information about the webinar can be found on our website.
[Find out more]
See you soon!
[Name], [position] at [company]

Discover all that LiveAgent has to offer with our free 14-day trial.
No credit card required. Enjoy advanced features like live chat, automations, email templates, canned responses, and social media integrations.
Frequently

asked questions
How far in advance should I send a webinar sneak peek email?
Feel free to send the invitation as soon as your event has been fully planned. A registration confirmation should be sent as soon as a user has RSVP'd, to ensure they know that the sign-up process was successful. Finally, you should send out an email reminder one week before the event takes place, and another reminder 1 day before the event.
Should my webinar sneak peek email include a call to action?
You should always include a CTA button in an invitation email to make it as easy as possible for recipients to register for your webinar. Your CTA could feature phrases like "Sign up", "Register now", or "Reserve my seat", just to give a few examples. You could even include multiple CTAs, such as a "Read more" button that links to a page with more information about the event.
What results can webinars achieve?
The possibility to connect with potential clients is perhaps the main advantage of webinars, which is why you want to attract a large audience with well-written sneak peek emails. Successful webinars can: