Customer service is an essential pillar of every business. Irrespective of the industry, customer service is always at the forefront of your business. The level of customer satisfaction, which is directly related to customer service, influences customer loyalty and every company's bottom line.
As such, every company, no matter how big or small, should do its best to provide outstanding customer service for all of its users or clients. To be precise, customer service agents should strive to make customers feel taken care of and heard throughout the entire support process– from ticket creation to ticket resolution and closure.
This approach ought to apply to all communication channels, including phone support. But what exactly should customer service agents do, and what traits and skills must they have to be able to provide excellent customer service?
Characteristics of excellent customer service
Customer service is about people – both clients and customer service agents. You simply can't assign random employees with no supporting knowledge to work on the first line of customer communication. Remember that customer service teams are often considered the face of your company, so consider who will be put on the frontlines and what type of impression they'll make.
Under no circumstance should you leave the operations of customer service teams to chance. The person or people in charge should have an open communication line and a kind of "playbook" that will help them carry out their duties.
For your convenience, we've created a list of traits and skills that every person working in customer service should have and constantly work on improving. Check them out below.
Communication skills
Agents that work with customers have to be excellent communicators. They need to know how to relate to whoever is on the other end of the phone, email, chat, or counter. They should know how to speak clearly in a way that will be understandable for different people and will help squash all doubts or negative feelings that the customer may have.
Company and product knowledge
Undoubtedly, agents have to know the company they work for and the products or services they work with. They should be able to answer most questions, propose genuine and sincere solutions, and shouldn't be caught off guard with almost any question.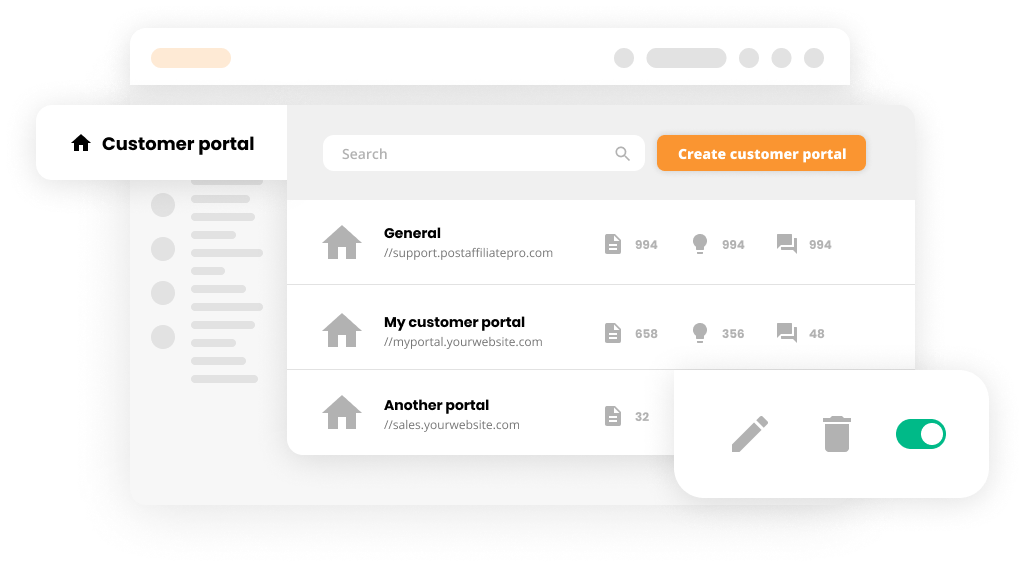 Problem-solving
Being quick and decisive is one of the most important qualities of a good customer service agent. That's what users or customers look for. They expect to get help fast and receive simple explanations that will either solve their problems or at least shed some light on their issues and present possible solutions.
Design your own templates
LiveAgent gives you the power to design your own customer email templates. Curious about all the opportunities?
Patience
On many occasions, customer service agents or managers will have to navigate unpleasant, tense, and complicated client interactions. That's why they must be patient and empathetic and able to work with all clients – even if they're furious and disrespectful.
Empathy and listening skills
Ideally, agents should know how to put themselves in the other person's shoes in order to understand their point of view. Sometimes clients have unusual problems, and agents must have as much information as possible to help and understand them empathetically.
Good memory and attention to detail
This will depend on the company, but ideally, agents should aim to know and remember the name of the person they are talking to. If your agents always call your clients by their name, they will feel confident and more connected to the company. Thanks to that, the whole communication process will be much smoother.
Hello! My name is [
agent
's name] from [company's name]. Am I speaking to [customer's name]?
[Customer confirms their identity]
Perfect. So, [customer's name], I'm calling about a
ticket
you created [X] days/hours ago. Can you confirm that you created the ticket, numbered [ticket number]?
[Customer confirms]
Thank you for confirming that. I started processing your inquiry, but it seems that I need some help from our tech team because [explanation]. That's why I will pause your ticket for [X] days/hours until I get all the information I need from them. Is that okay with you?
[Customer confirms]
Thank you for your understanding, [customer's name]. I appreciate your patience and promise that I will do my best to resolve your issue as soon as possible. I will get back to you once I'm able to reopen your ticket. Please feel free to contact me anytime by calling [phone number] or sending an email to [email address]. Have a great day!
Hi! It's [agent's name] with [company's name]. Am I speaking to [customer's name]?
[Customer confirms their identity]
Thank you. I'm calling to inform you that the ticket [ticket number] you raised has just been resolved, and that's why I'm closing it. Please confirm that the issue you reported has been fixed.
[Customer confirms]
That's great to hear. You will receive an [email/SMS] confirmation that your ticket was closed in the next few minutes. Do you have any questions regarding this process?
[Customer either denies or presents their issue. The agent then tries to answer any questions and continues with the script].
I hope all of this was helpful. If you have any other questions, you can always contact us later or create a ticket using our
helpdesk
. Can I help you with anything else?
[Customer denies]
Okay, then have a great day, and feel free to get back in touch if you need!
Good morning, I'm calling on behalf of [company's name], my name is [agent's name]. Please confirm that I reached [customer's name/customer's ID].
[Customer confirms]
I'm contacting you to inform you that the ticket you created was resolved. You can check its status via our
help desk
by logging into your customer service dashboard and clicking on the [tab's name] tab. I hope that the issue you reported won't occur again and that your future experiences with our [product/service] will be seamless. Do you have any questions related to this process?
[Customer either denies or presents their issue. The agent then tries to answer any questions related to the process and continues with the script].
Thank you for taking the time to speak with me. Have a great day!
Frequently

asked questions
Should the client be informed why a ticket has been closed or paused?
Yes, it would be best if you always inform the client as to why you're closing their ticket. Even if it's only to say, "The issue you reported has just been resolved, so we're closing your ticket".
If you're putting a ticket on pause, it's even more important to let the customer know. Each time a ticket is put on hold, you have to communicate it to the client, explain why it's happening, and inform them how long it will take to resolve the matter or even how long it will take to reopen the ticket. Otherwise, clients may feel forgotten or uninformed, and this kind of situation won't provide an outstanding customer experience for them.
How long can a ticket be paused for?
There's no simple answer to this question. Your company and its agents should do their best to resolve tickets as fast as possible. People don't like to wait, and your customers are not an exception. That's why you shouldn't test people's patience by keeping their tickets on hold for too long. If you want to make sure that the service you provide is good enough, look for industry benchmarks.
This kind of data will show you how long it takes for other companies from your sector to resolve customer service tickets and how much time it takes to reopen a ticket, etc. Once you have that information, try to resolve issues faster than your competitors do.
What are the necessary customer service traits and skills?
Every person working in customer service should have and constantly improve their communication skills, problem-solving skills, and company/product knowledge.