What are business hours?
Business hours - the part of the day when a business is usually open.
Business hours are the hours during which a business' support staff usually works. Firms create hours of operation for customers to communicate with the support staff. The response time is decided depending on the office hours. Ultimately, no one wants customers waiting for the Helpdesk to reply when they are busy, asleep, or on vacation.
Several business hours can be chosen from different departments. This is beneficial when agents work at various times, or in different time zones. For example, the company's support staff is available 24 hours. Thus, workers will be only accountable for calls during their shift's business hours.
What are the normal business hours?
Normal office hours are usually from 8 am to 6 pm. It's usually from Monday to Friday. This applies except for the legal holidays.
But, you should always keep in mind that normal office hours and days differ based on the company's location.
How many business days are 48 hours?
48 hours means 2 business days. Business days are usually from Monday to Friday when the majority of professional businesses operate.
What are the working hours in the USA?
Working hours depend on the type of business. Official places, such as banks in the USA are usually open from 8 am to 5 pm – Monday to Friday. Yet, retail stores can be often open for longer hours even every day of the week. This usually all applies besides some public or legal holidays. Restaurants can vary based on the location of the business. Overall it is usually from 9 am to 5 pm.
How can customer service software help you manage your business 24/7?
Customer service software helps your agents manage all the inquiries from one place. No need for switching interfaces.
For instance, you can get all Email, Live Chat, Call center, Social Media related inquiries in one Universal inbox. Set up and automate your LiveAgent and reach your best customer service performance!
If you would like to know more about LiveAgents, read Customer service software.
But how does it help with your business hours?
Customer service usually works on shifts. It is hard to provide service 24/7 unless your company can afford to spend the resources to hire more employees.
Customer service software, such as LiveAgent provides a Customer portal, which can help you in many ways. One and the most important factor is the creation of Knowledge Base articles. Providing self-service can be through for example; Knowledge Base articles. This can provide customers assistance when the customer staff is not available.
LiveAgent also offers feature Business hours. This function allows you to set your office hours within the software. Setting up these helps your customer support prepare for their work shifts. It also sets up realistic customer expectations.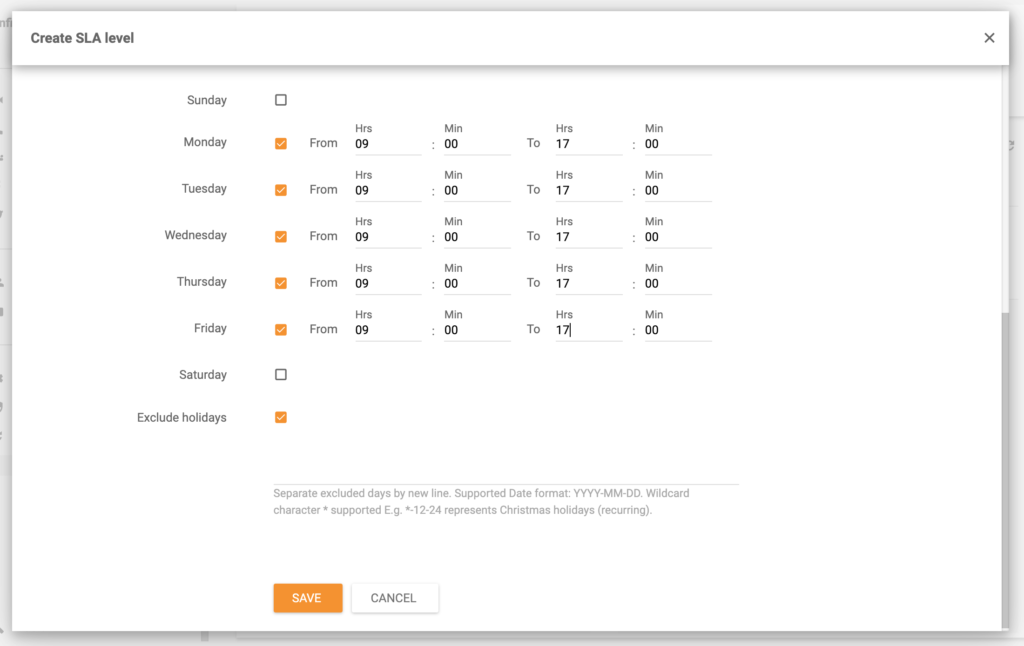 Learn more about LiveAgent's feature – Business hours.
Other customer service software benefits:
customer retention
customer satisfaction
spending less on resources
time-effective
higher profit
customer loyalty
customer community
Try out LiveAgent for FREE
Handle all customer inquiries from one interface. Start improving your customer service with a 14-day free trial right away!
Frequently

asked questions
What does a term business hours mean?
Business hours are the hours of the day when activities are usually conducted. Standard working hours vary by country. In many countries it is usually a period of time between 9:00 am and 5:00 pm (also called 9-5).
How to set business hours in LiveAgent?
To set working hours in LiveAgent, go to 'Configuration', then select the 'Automation' tab and then 'SLA'. In the next step you click 'Create level'. At this point, you can turn on and set the working hours by selecting 'Times are defined in subsequent working hours'. then you select a time zone, set working hours for each day of the week and 'exclude holidays' in which your company does not work.
What business hours should you set?
The working hours you choose should depend on the type of your business. When setting working hours, think about your target group - at what times they will want to buy your services. But the most important thing is to include and adhere to the opening hours in all the media in which you communicate.