Do you have a problem with a high bounce rate on your website? Or perhaps, you are wondering how to improve your customer service?
Did you know that; "Proactive chat invitations can produce 105% ROI and millions of dollars in positive business benefits?"
Proactive chat invitations can simply assist website visitors during different customer journey stages by inviting them to live chat with your agents.
LiveAgent is an advanced system that ensures it only invites visitors to chat with your support agents when you have enough available live chat representatives online.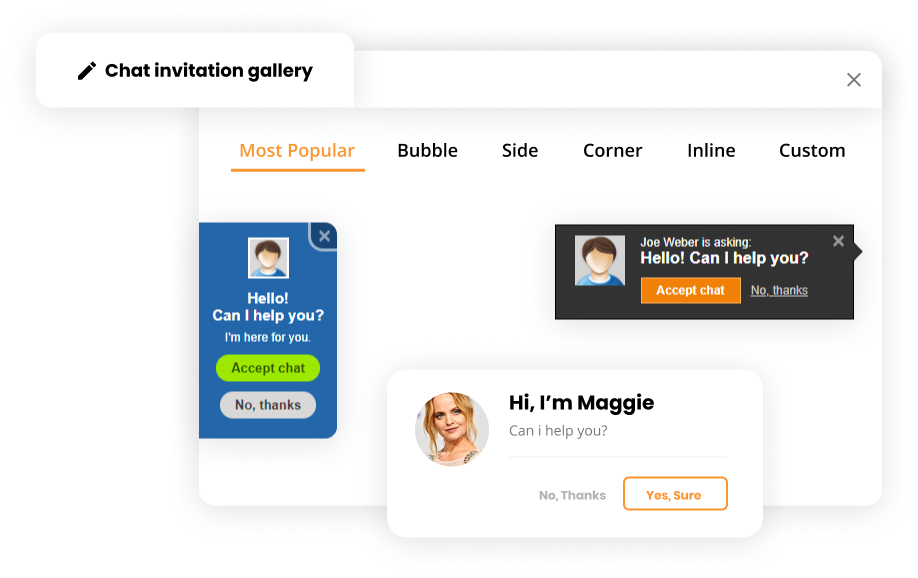 Real-life example:
For instance, you can invite customers to chat throughout the checkout process. As a result, you can build their purchase confidence, improve their shopping experience, and convert them into paying customers. All of this, by simply giving them an option to chat with a live agent.
More Proactive Chat Invitation Functions
Create multiple chat invitations for different customer groups
Create multiple proactive chat invitations to target different kinds of customers. Even though proactive chat invitations are automated, you should always strive for a personalized experience. Create a chat invitation button for new customers as well as returning. Use a unique welcome message for different pages on your website.
Easily create proactive chat invitations in multiple languages
Are you operating in more than one country? Or perhaps, you need to provide multilingual customer service/support. In either way, LiveAgent allows you to customize a proactive chat button for each language, which you can also assign to the correct department for an efficient workflow.
Wondering what languages LiveAgent offers? Check out LiveAgent's Multilanguage feature.
Reach out to the customer throughout the customer journey
LiveAgent's proactive chat invitations allow you to set preferred URLs to ensure maximum engagement for customers. You can target customers at strategic URLs/Pages, for instance;
FAQ page
Pricing page
Product page
Checkout page
Set a specific time for the proactive chat invitation
A lot of companies usually wait around 30 seconds before they approach the customer. Let the customer browse a little and reach out to them afterwards.
Automate your proactive communication messages
Although automation is a helpful feature, keep in mind that human interaction creates a difference. Therefore, try to make the message more personal. Don't sound like a robot.
Differentiate between New and Returning customers
Another great function is the ability to identify a returning and new customer. You can customize the chat invitation button for both types of customers.
Business benefits of Proactive Chat Invitations
Customers who engage in proactive chats are more interested in purchasing than customers who don't
Real-time convenience to visitors
Increased live chat conversions by 23% on average
Competitive advantage
Increased customer satisfaction
Customers have immediate access to help.
Try Proactive Chat Invitations for FREE
LiveAgent offers complex customer service software. Try it out for 14-days and test all the features, including proactive chat invitations.
Proactive Chat Invitations Design options
Side
Corner
Center
Custom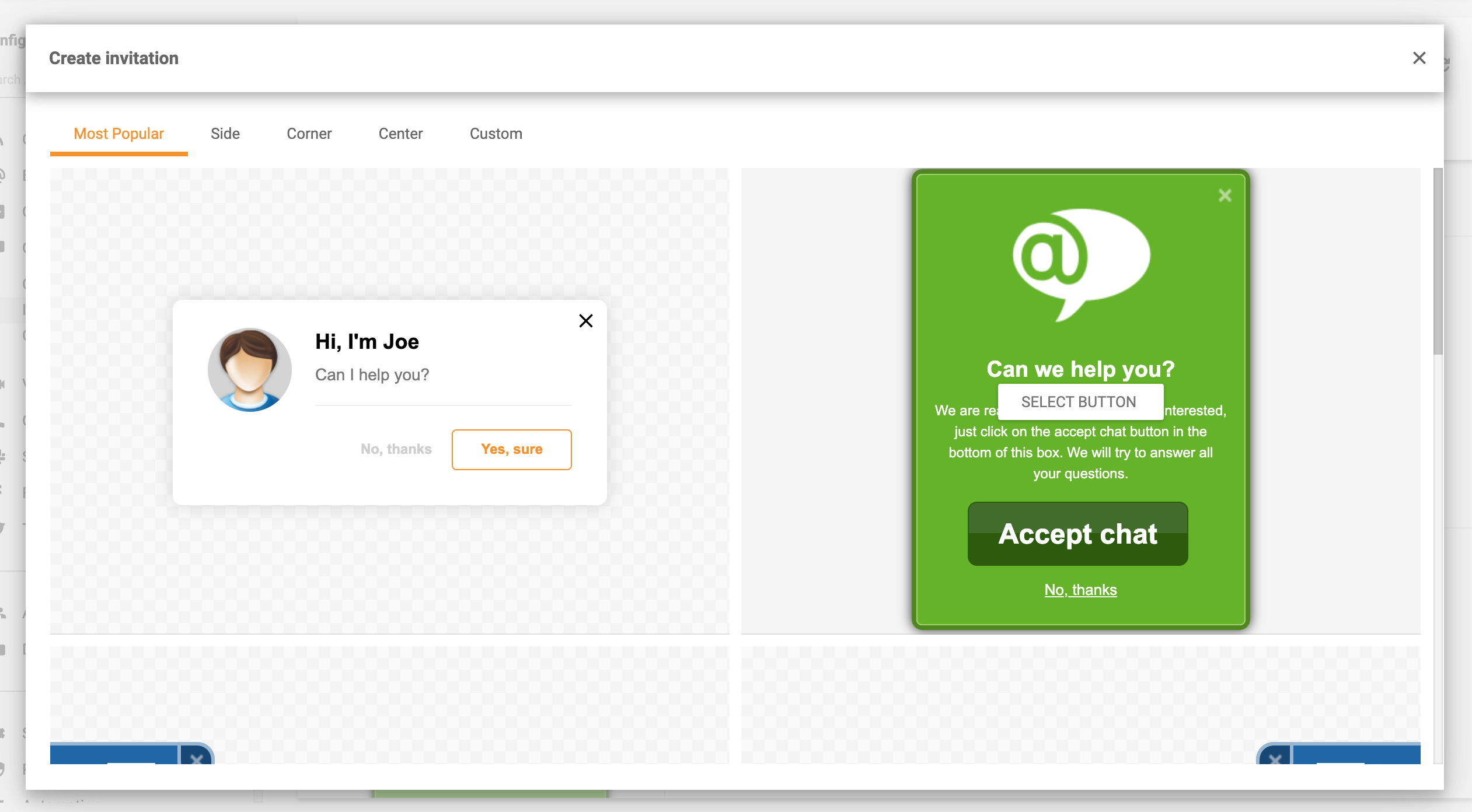 To view all design options, head to the Proactive invitation gallery.
Customize
Image
Text (Title, Welcome message)
Position of the proactive online chat button
Colors of the button
Available Settings
Enable leaving offline messages
Hide start proactive online chat button again
Enable hiding welcome message
Choose a language
Choose a preferred department
Bonus tips to effectively use proactive chat invitations
Don't be intrusive
When using proactive chat software, placing online chat invitation should act as an option, thus do not force it. It can become easily annoying, and the customer may decide to leave your website for a competitor. So if the customer decides to decline the chat, do not send chain messages to engage with them. They will let you know if they need your assistance.
Test it out
If you are unsure when, where, or how to proactively reach out to your customers, just test it out and see. But a good rule is to let the customer browse a little, preferably 30 seconds. After that, simply introduce yourself and let the consumer know that you are there to assist them if they need you. By testing it out, you will discover your customer's preferences. Perhaps, you will find out that you only need to use the proactive online chat at specific URLs, such as checkout or pricing page.
Knowledgebase resources
Here is a step-by-step guide for implementing a proactive live chat invitation.
Not sure what welcome messages to use? Here are Proactive Live Chat Invitation Templates to Copy & Paste.
Would you like to learn more? Check out the 25 best chat plugins for WordPress.
Try Proactive Chat Invitations for FREE
LiveAgent offers complex customer service software. Try it out for 14-days and test all the features, including proactive chat invitations.